Located in Toronto's Junction, 77 Wade Avenue will be a purpose-designed office building with collaboration space for the new digital-age office worker. At 8 stories and approximately 150,000 sqft, this tall wood building will be one of the tallest modern mass timber office and commercial buildings in Canada that is targeting LEED Gold.
Rethinking The Future Awards 2020
Third Award | Office Building (Concept)
Project Name: 77 Wade Avenue
Studio Name: bnkc architects
Design Team: Jonathan King, James Janzer, Jesika Steprans, Christian Burgsthaler, Chelsea Campbelll, Tyler Malone, Ramone Quiambao
Area: 150,000sf
Year: In-progress
Location: Toronto, Canada
Consultants:
Structural: Blackwell Engineering
Mechanical: Integral Group
Electrical: Integral Group
Energy Modelling: Integral Group
Sustainability: Integral Group
Mass Timber Design Assist: Structurefusion
Rail Safety Design: Arup
CM: Alliance 7
Photography Credits: Renderings by Klokwerks, and Circada
Client: Next Property Group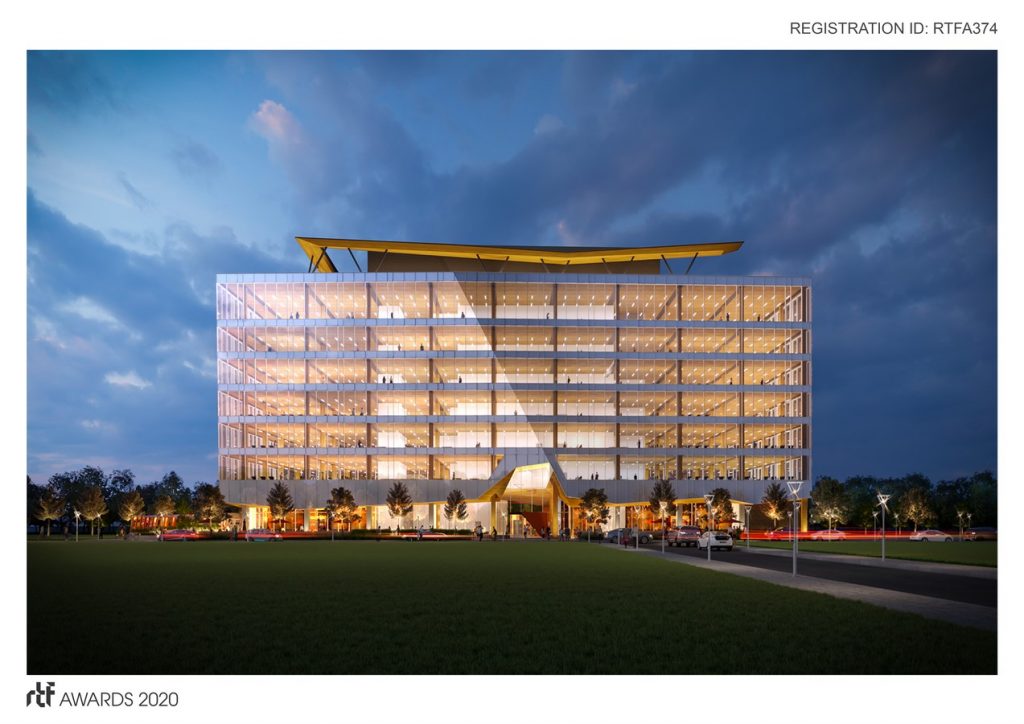 The key design intent of this project was to fuse the inherent warmth of an exposed wood structure comprised of composite mass timber with concrete and steel structural assembly elements. Unlike the construction of a 20th-century post and beam buildings, construction of 77 Wade optimizes the use of a mass-timber hybrid structural system by way of prefabricated components and just-in-time delivery and construction practices to achieve spans akin to traditional concrete and steel superstructure projects for modern commercial office buildings.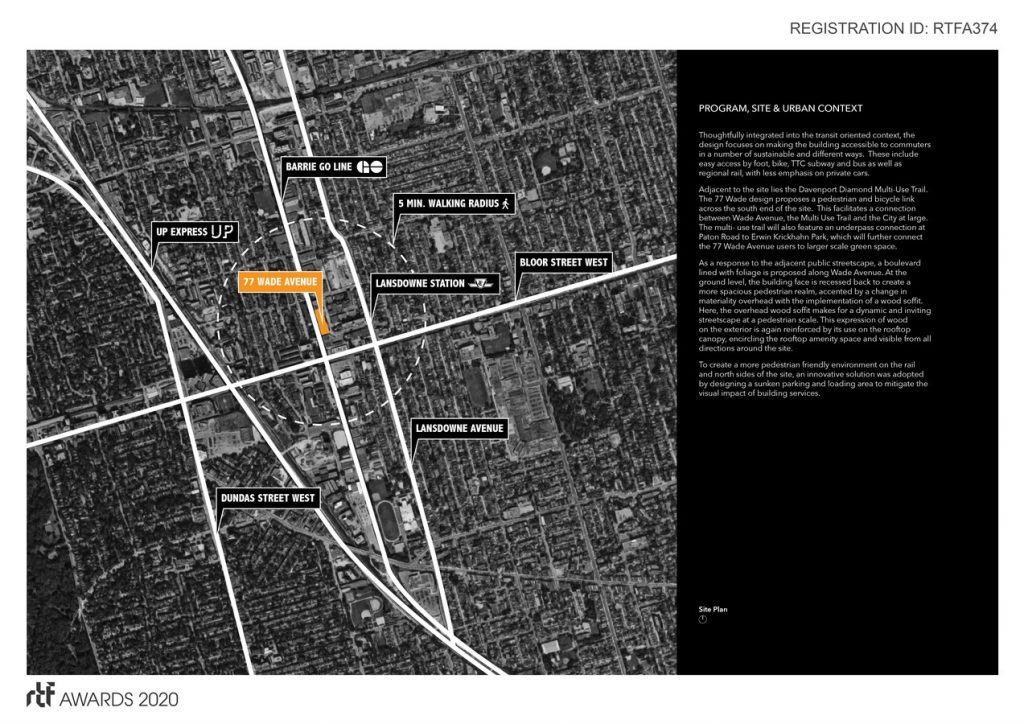 The overall design celebrates the advanced use of mass-timber construction within the ever-evolving architectural landscape. The development and design of 77 Wade maximize and streamlines the inherent structural and aesthetic qualities of exposed wood construction in a new and modern way; ultimately showcasing both our Canadian talent pool and our renewable wood resource. The building's envelope will be predominately clad in a folded plain of curtain wall to expose the innovative structure within, while also adding a dynamic form to the streetscape. The approach to the building is unified with an origami-based geometric soffit and organic front entrance, retail and flexible collaboration spaces.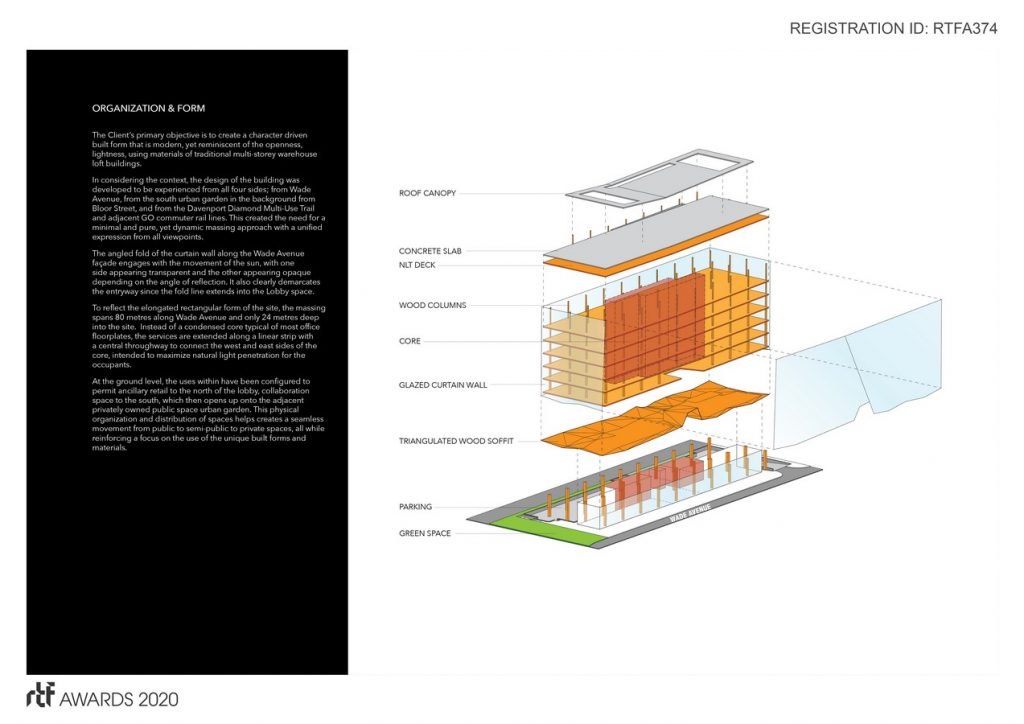 At the ground level, the building face is recessed back to create a more spacious pedestrian realm, accented by a change in materiality overhead with the introduction of a wood soffit. This makes for a dynamic and inviting streetscape at a pedestrian scale, where an expression of wood on the exterior is again reinforced by its use at the rooftop canopy, encircling the rooftop amenity space, creating a shading device that is visible from all directions.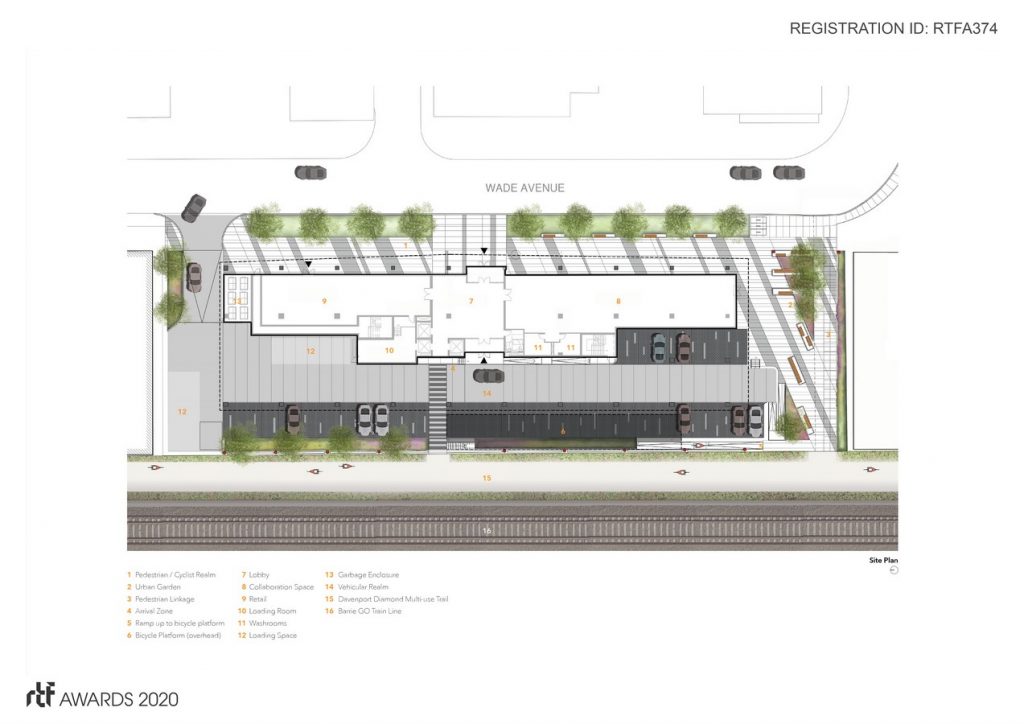 Thoughtfully integrated into the transit-oriented context, the design focuses on making the building accessible to commuters in a number of sustainable and different ways. These include easy access by foot, bike, subway, bus, and regional rail, with less emphasis on cars. Adjacent to the site lies a multi-use trail. 77 Wade's design proposes a pedestrian and bicycle link across the south end of the site, facilitating a connection between Wade Avenue, the multi-use trail and the city at large. Tucked partially below the building, a sunken parking and loading area is placed at grade to mitigate the visual impact.
Today, tech-oriented and innovative companies desire work environments that hum with architectural character. 77 Wade, an 18-hour building, achieves this with the use of wood construction and the fusion of contrasting materials. The provision of communal spaces for both the building's users and the public, paralleled with the use of appropriate landscape design and softer and transparent cladding materials, makes 77 Wade Avenue a state-of-the-art contemporary office building that addresses the City of Toronto and its' urban citizens with a unique and innovative architectural language.
ARCHITECTURE, CONSTRUCTION & DESIGN AWARDS 2020 IS HERE
Over more than half a decade Rethinking the Future has been a leading organization committed to providing an international platform to not only recognize and acknowledge design talents from all over the world but also to celebrate and share the knowledge that created through a plethora of awards, events and academic dialogues in the field of architecture and design.