2XU engaged CIA Designs early in the piece to assist in finding a new home for their ever-expanding operations.  Through this early engagement, we were available to assist and test the options for their new global headquarters. With a diverse mix of needs and functions within the organization, the space needed to accommodate this diversity whilst still creating a sense of togetherness.
Rethinking The Future Awards 2020
Third Award | Workplace (Interior) (Built)
Project Name: 2XU NEW WORKPLACE
Studio Name: CIA DESIGNS
Design Team: CRYSTEL WHITE (Creative Director), MELANIE WONG (Senior Designer)
Area: 900m2
Year: 2019
Location: CREMORNE, MELBOURNE, VICTORIA,
Consultants: Aston Consulting
Photography Credits: DIANNA SNAPE PHOTOGRAPHY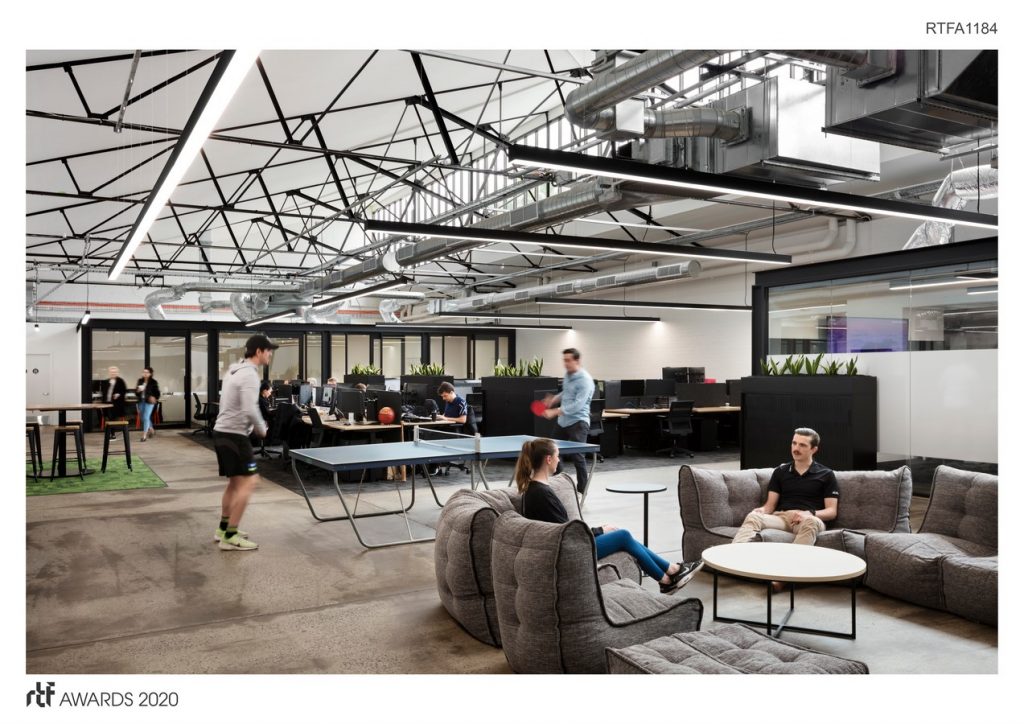 Through careful consideration of their specific needs combined with spaces that provide privacy yet seamlessly link to one another, the result is a space that one moves through effortlessly. Whilst largely an open plan environment, the integration of open collaboration and meeting zones means spontaneous creative catchups are easy and effortless. This ease ensures the flow of creativity is not broken in moving from one space to another.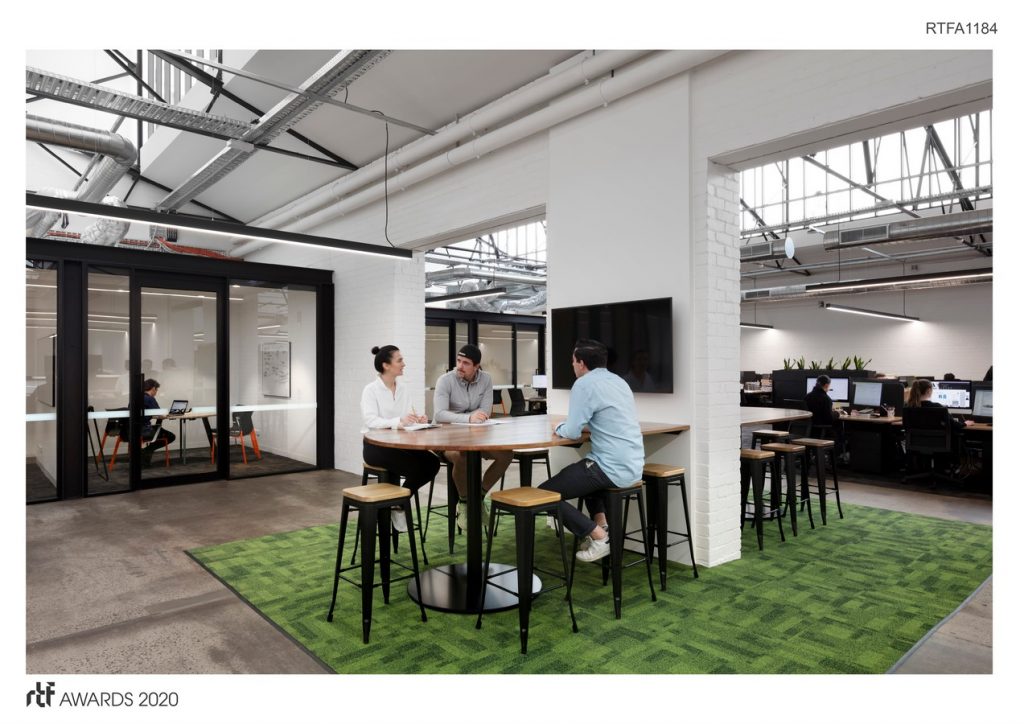 As a well-known innovator, the decision was made to make the entrance not your standard greeting space. Instead, it is a product space that visitors can gain exposure to the latest and greatest innovations of 2XU. This space further seamlessly flows into the open games & creative zone meaning a look into the workspace is enabled and a sense of the active, high energy nature of 2XU is visible.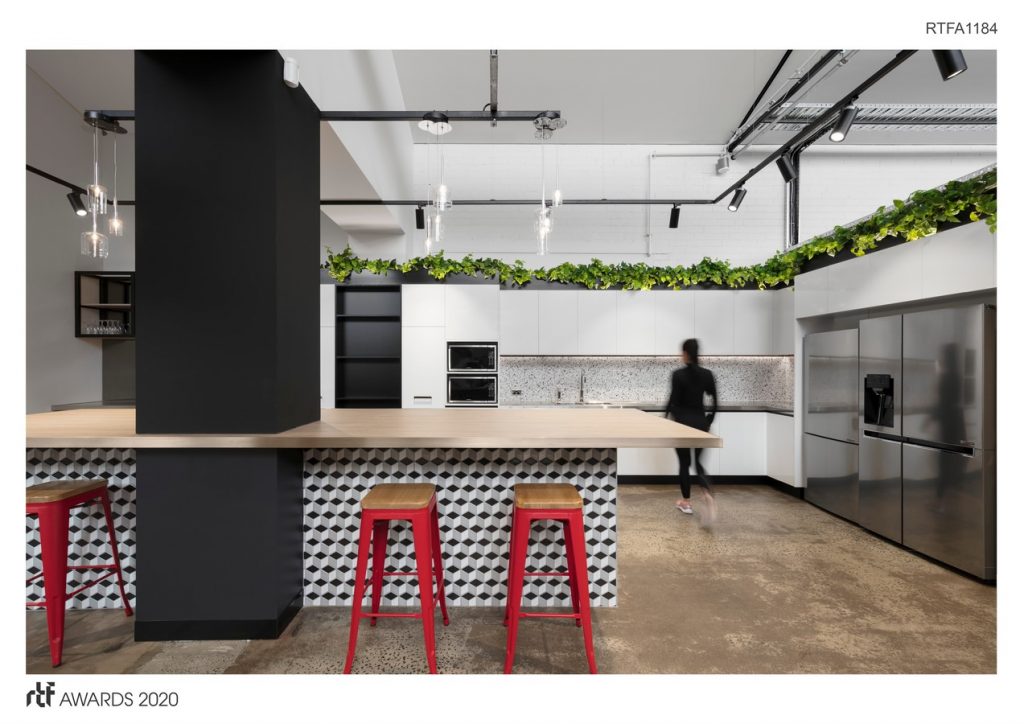 The kitchen and communal cafe space, whilst tucked away is also seamlessly connected to the staff areas through the use of the open-ended booths. Being open-ended they, therefore, form a dual purpose of servicing the breakout space whilst also servicing the workspace for engaging open meetings.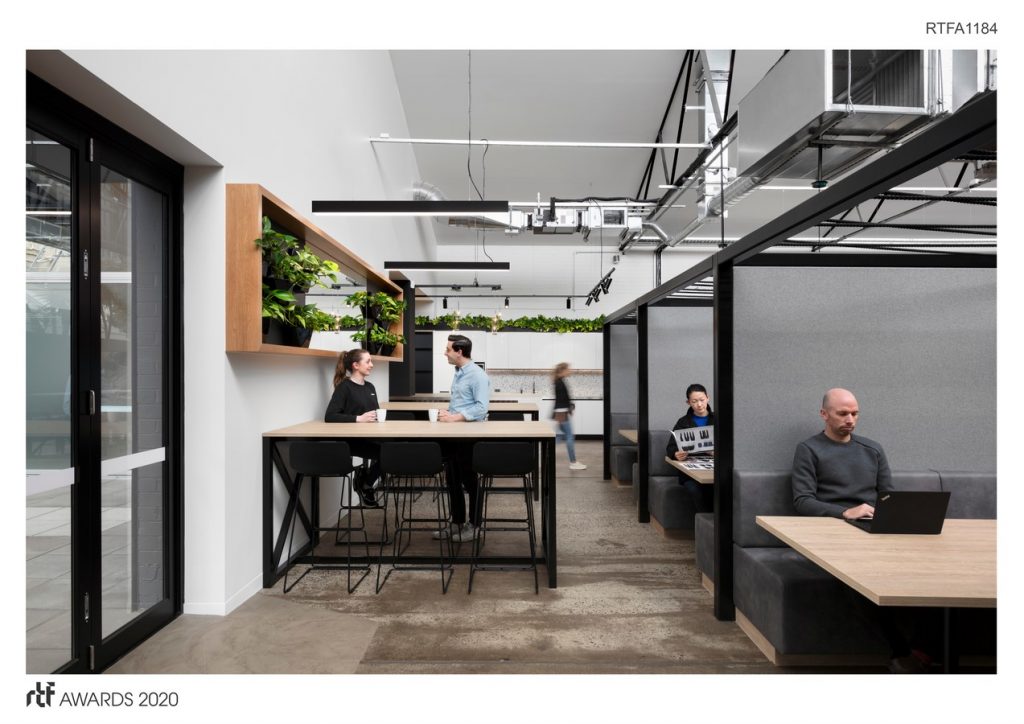 The fast-paced, innovative nature of the 2XU product greatly influenced the overlay of design and detailing throughout. Accentuating the black on white contrast of the 2XU brand we contrasted the bones of the saw-tooth roof with the surrounding walls. As an added design element the cafe was given an Italian style touch with the terrazzo splashback & red feature pieces. Greenery throughout then adds a natural introduction of color.
The overall outcome is one which supports their diverse operational needs whilst retaining a sense of one-ness across the organization.
ARCHITECTURE, CONSTRUCTION & DESIGN AWARDS 2020 IS HERE
Over more than half a decade Rethinking the Future has been a leading organization committed to providing an international platform to not only recognize and acknowledge design talents from all over the world but also to celebrate and share the knowledge that created through a plethora of awards, events and academic dialogues in the field of architecture and design.