Ho Chi Minh City is the largest city in Vietnam, a spearhead of economy, trade, and services. Located at the branch road leading to Vo Van Kiet Boulevard, District 1, the land is surrounded by houses and schools, so how to create privacy, isolate noise, reduce heat radiation for users? application is a challenge for the project.
Rethinking The Future Awards 2022
Second Award | Mixed Use (Concept)
Project Name: Q Gallery
Studio Name: A+ Architects
Design Team: Nguyen Trong Huan, Nguyen Long An, Tran Thi Ly Na, Nguyen Thi Lan Anh, Le Anh Huy, Lam Hoang Minh Tri, Le Quoc Kiet, Ho Ngoc Bao Vy.
Area: 831.7 m2
Year: 2020
Location: Vo Van Kiet Street, Ben Nghe Ward, 1 District, Ho Chi Minh City, Vietnam.
Consultants: A+ Architects
Photography Credits: Nguyen Long An  
The investor's request to build a different identity but still show the rationality from function to form has led to the idea of ​​"big potted plants in the heart of the city", office blocks are pots, apartment blocks. is tree. The contrast in the design lines of the base block and the upper part makes the work even more outstanding.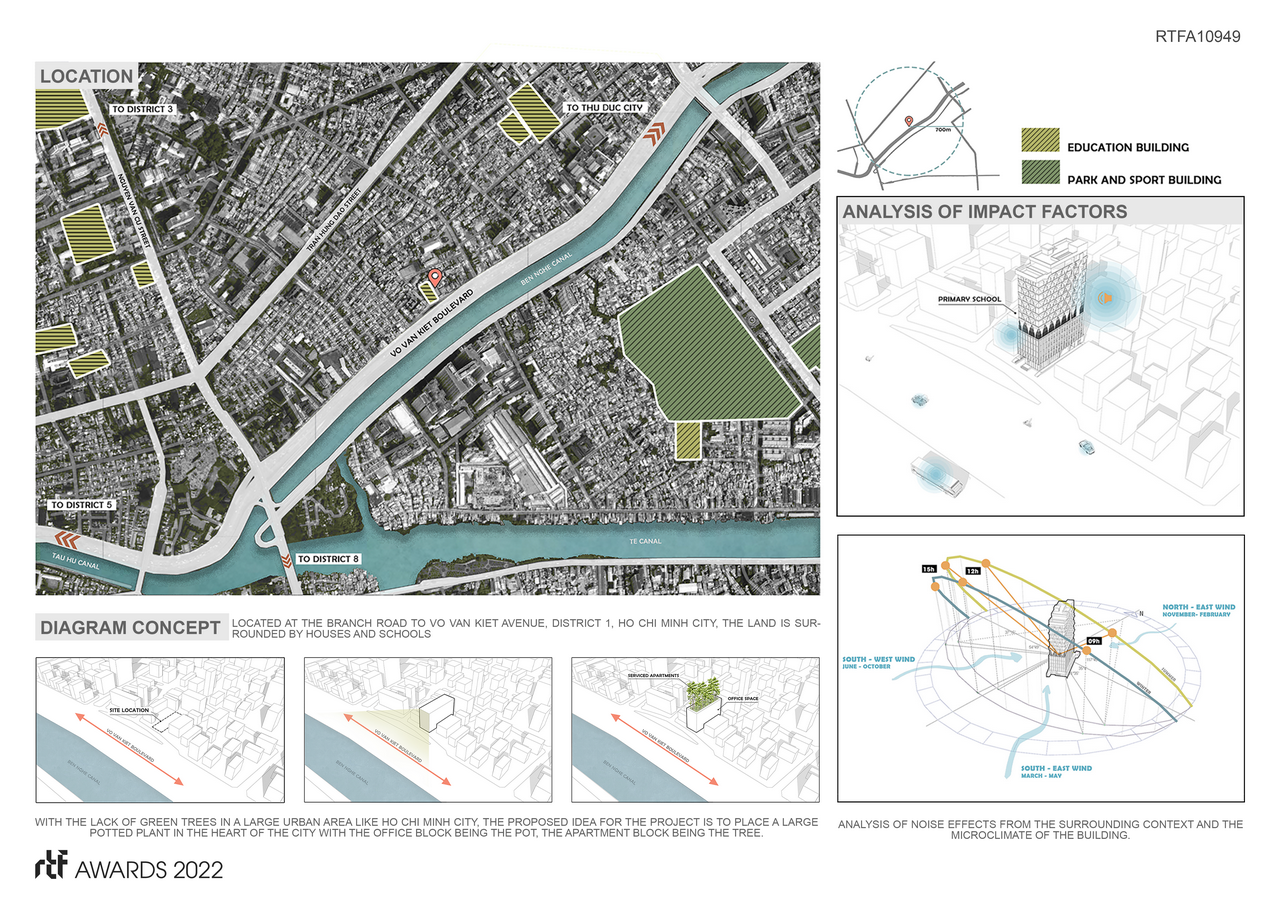 A + Architects' solution is to turn the hotel's balconies into green branches that create a striking identity for the building. In addition, the combination of solid and closed arrays (scaled in the direction of the sun) from the 2nd to the 6th floor also helps limit radiation according to the solar angle and reduces costs compared to using all glass.
The project is a 19-story block consisting of 15 floors and 4 basements, the 1st floor is a combined office space, the 2nd to 5th floors are offices, the 6th floor is a shared office space (coworking), The 7th floor is the restaurant, cafe, and technical area, the 8-14th floor is the serviced apartment area. In particular, the project's large potted plants are located on the 6th floor and the swimming pool space is located on the 15th floor.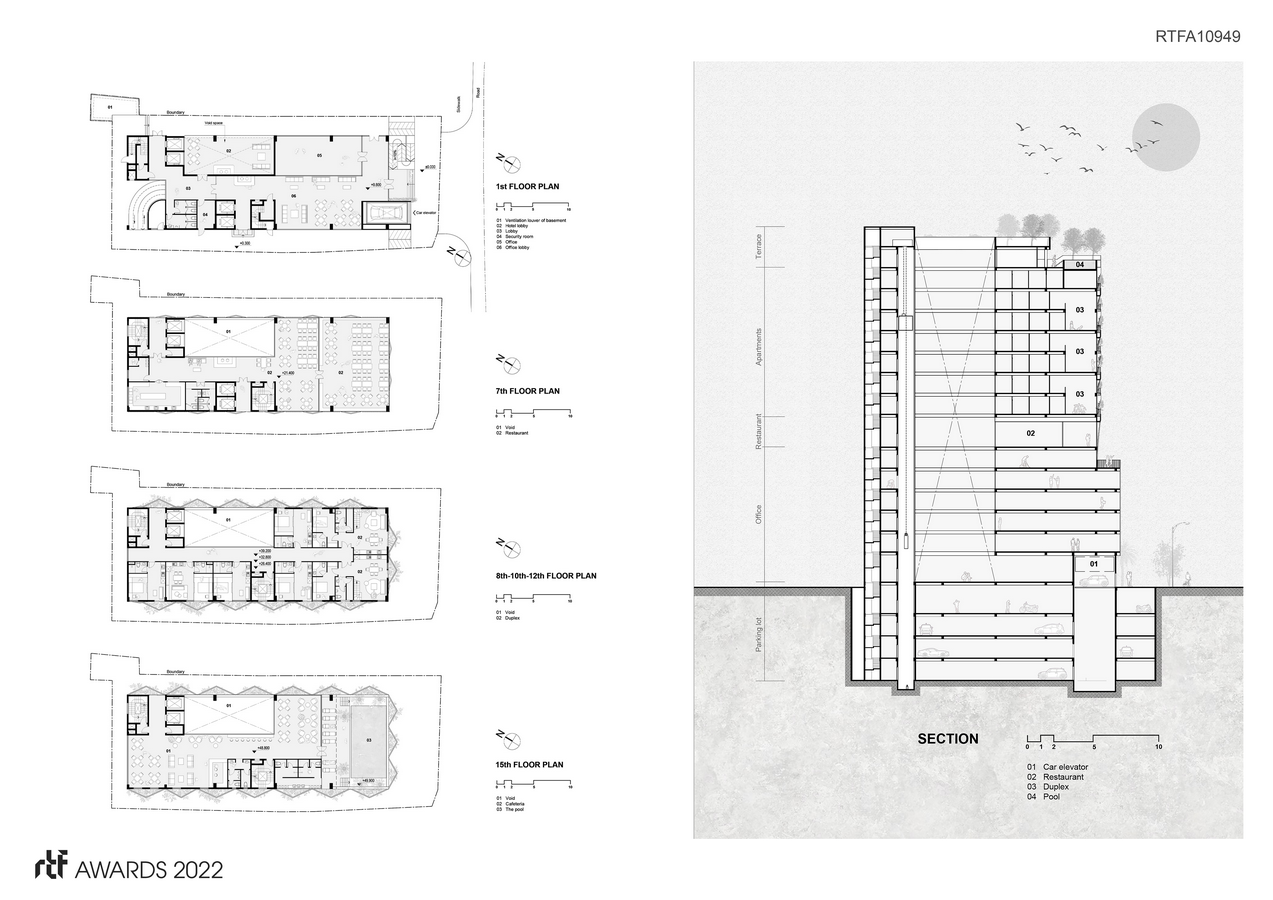 The solution to handle the plant pot module for easy construction and water supply and drainage is to use GRP technology concrete materials and establish a natural water collection system for water plants.
The architects took advantage of the balcony to make the facade, and at the same time modularized the arched precast concrete slab to reduce costs and easily handle possible problems. With a limited budget, the project also combines the use of local materials, or materials mined within a short radius to complete the exterior and interior of the building, typically granite, recycled wood, bamboo, cork, etc.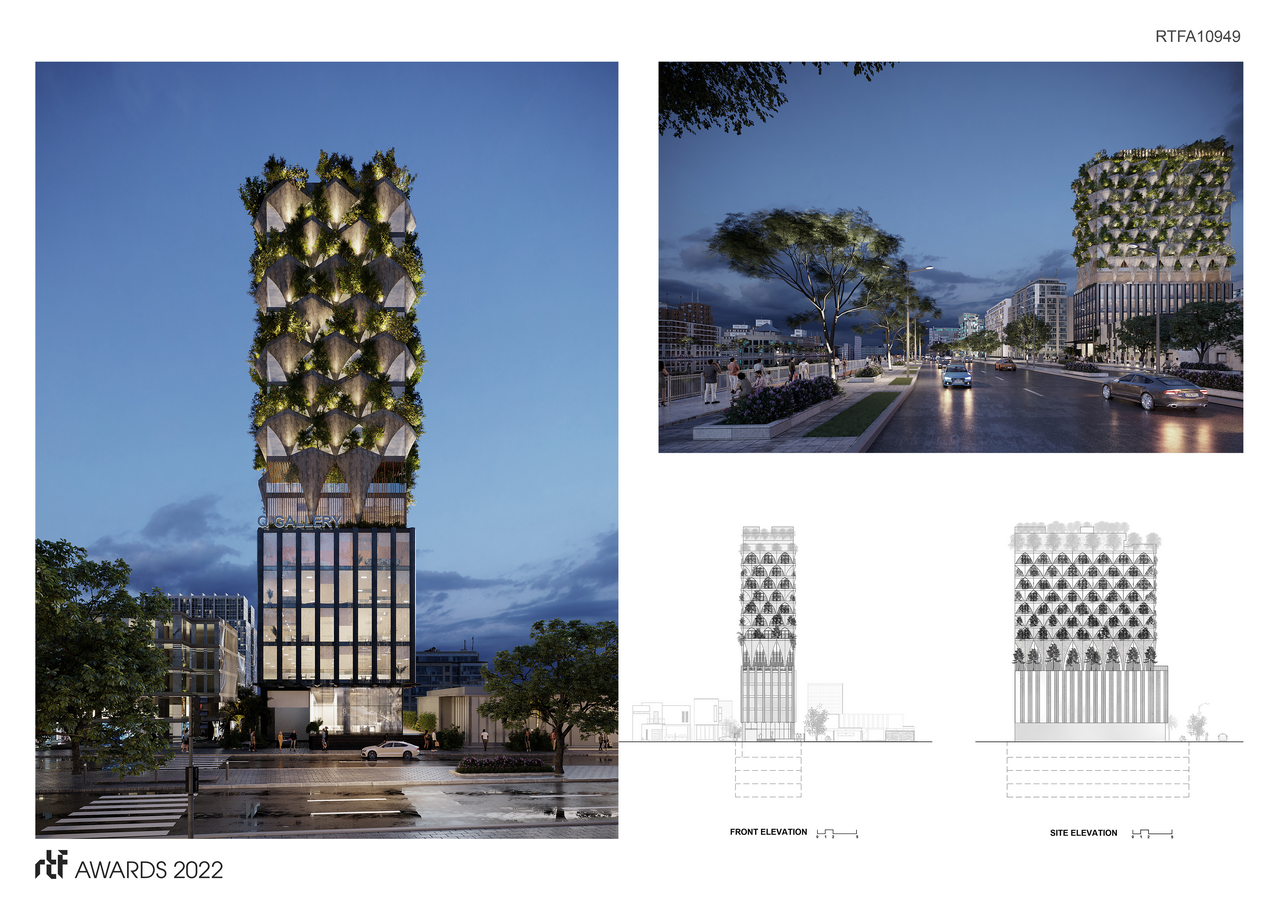 Q Gallery Building is an office complex combined with serviced apartments and a highlight of the landscape of the Saigon riverside route. Try adding "big potted plants" to your urban space lacking greenery, we believe it will be great.