The birth of the idea to initiate a centre for sports excellence by the promotor, was to create a facility wherein an athlete receives ample opportunities to excel in the sports they choose. It was always about interdisciplinary learning, about understanding your body and mind better, and enhance the sports ecosystem from the aspect of the facility, coaching, sports science, sports management and leadership.
Rethinking The Future Awards 2021
First Award |  Sports & Recreation (Built)
Project Name: Padukone – Dravid Centre for Sports Excellence
Studio Name: Urban Frame Pvt Ltd
Design Team: Anup Naik, Ramkiran Bhat, Vignesh Subramaniam, Giuseppe Morando, Arun Sharma
Area: Site Area: 17 Acres, BUA: 3,75,000 Sft
Year: 2018-19
Location: Bangalore, India
Landscape Consultants: EcoINSCAPE, Bangalore, India
Photography Credits: Padukone – Dravid Centre for Sports Excellence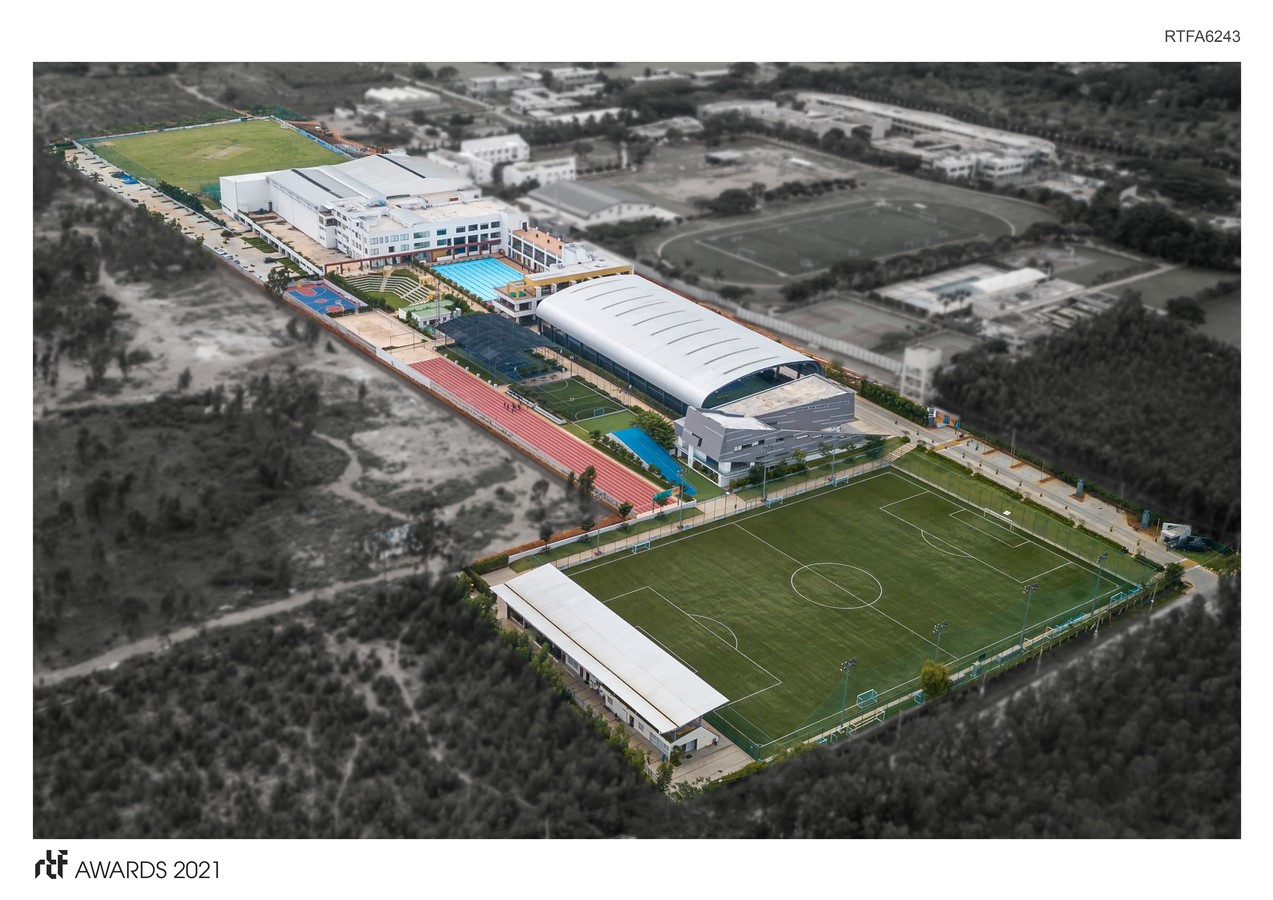 Celebrating India's accelerated growth in Sports, CSE promotes the approach of sports for all. Having Football, Cricket, Basketball, Badminton, Tennis, Squash, Volleyball, Shooting, and Athletics, along with sports science, kinesiology, physiotherapy and hostels in one campus.
A pivotal aspect of the planning was to keep the movement unhindered, and way-finding simple for all age groups. Care was taken to keep the public movement distinct from the vehicular movement, creating a very safe environment for the end-users.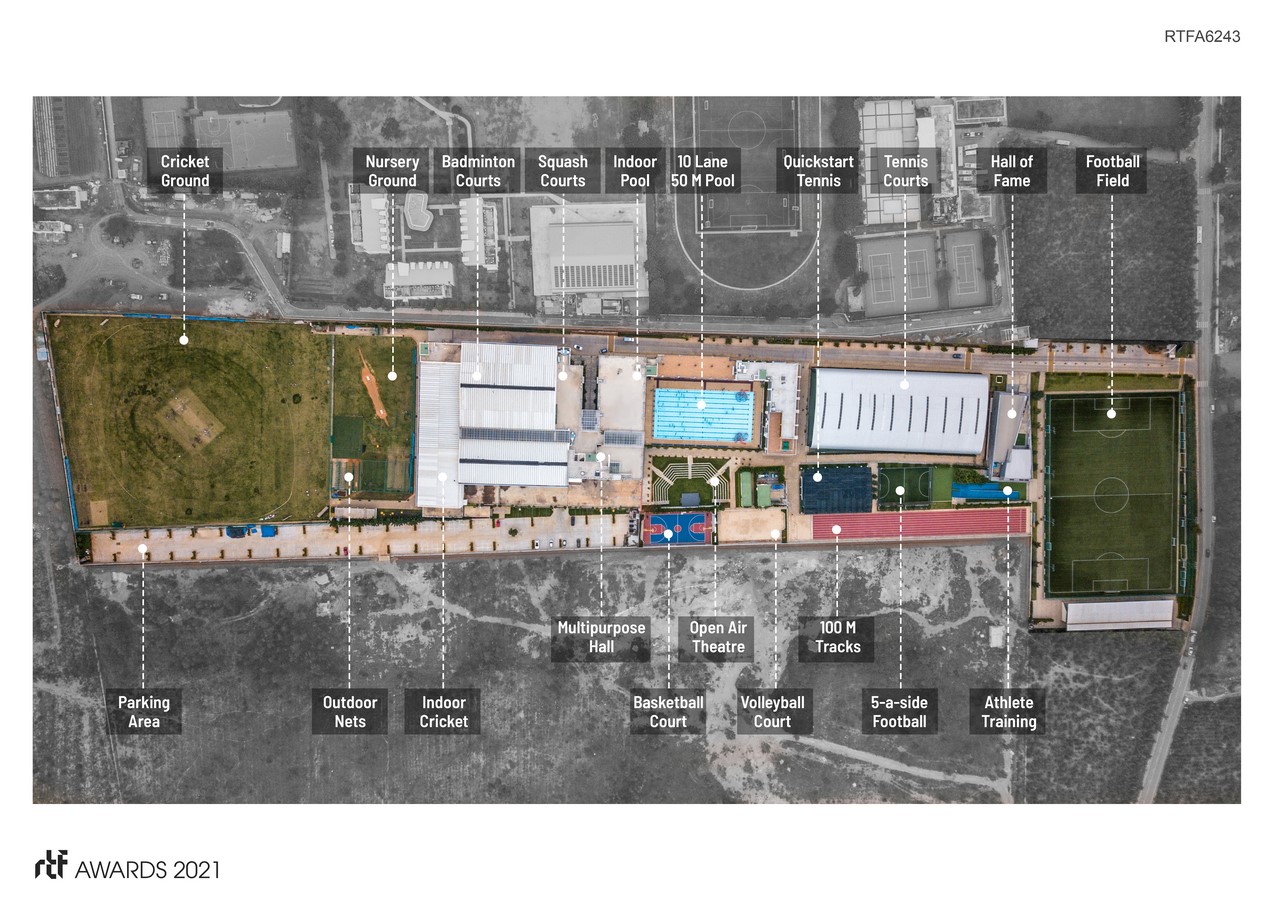 The Hall of Fame, which is the marquee building in the campus was set in the master plan in a manner that it had ample foreground across the football pitch, which in more than one way is the 'genus loci' of the campus. The architecture language took birth from the idea of infinity and the infinite possibilities of achieving sports excellence. This building houses displays and narratives of India's sporting success and Indian sportsmen who have excelled in their sports discipline.
Since the site was linear and outdoor sports had to be oriented in North-South direction, the central pedestrian spine anchors the project allowing for chance encounters with the sports legends, thus facilitating interdisciplinary learning. In many ways, the central spine behaves like a thread and bead, with the spine as the thread and various sports as the beads along the way.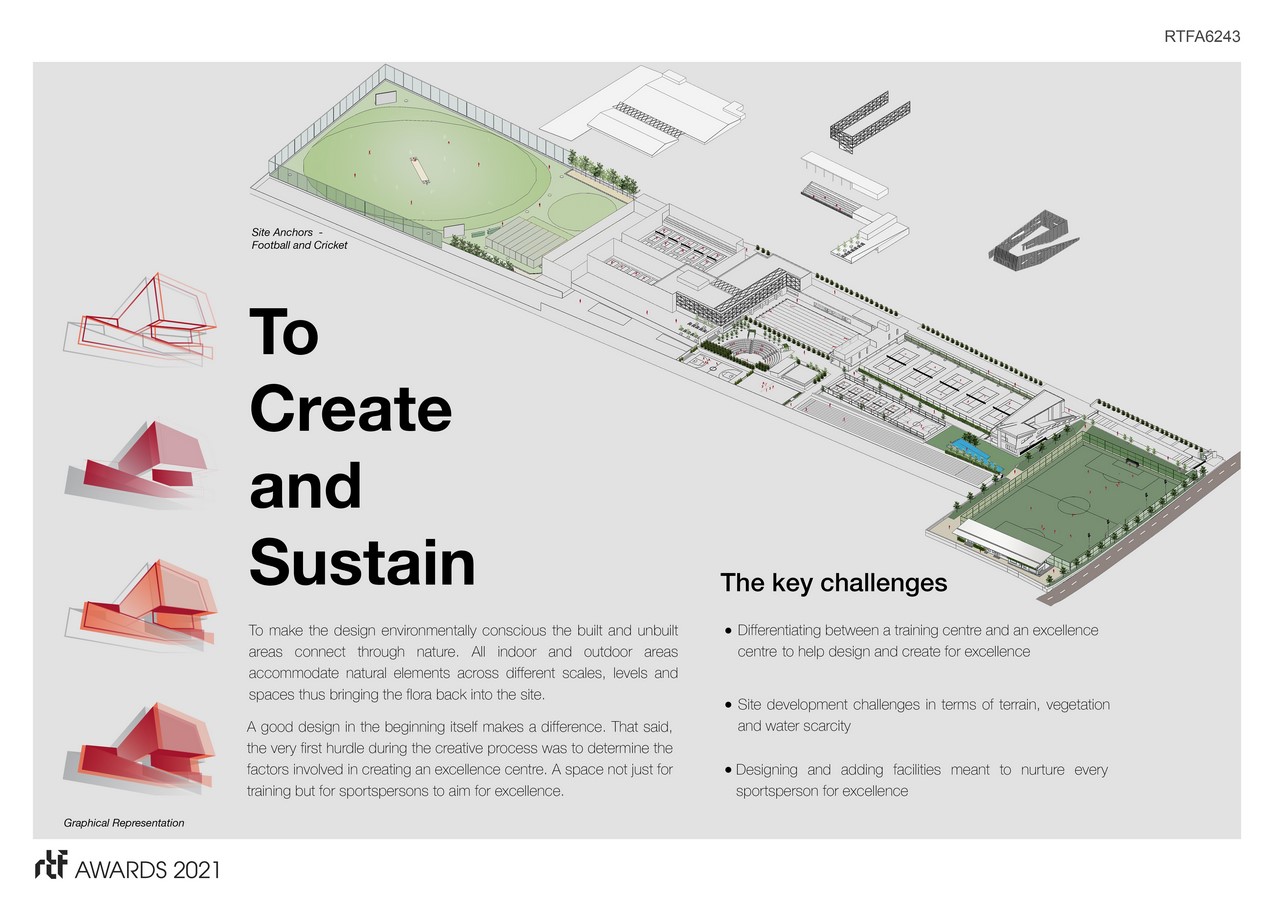 A key aspect of the design was to thread the idea of Biophilia across the campus. Most often in indoor sports, athletes spend substantial time in controlled environments. Thus, getting them to connect with nature was fundamental to our approach. This allowed us to play with light and landscape across the project.
Elaborate water harvesting systems of 40 wells of 10 M depth, which are interconnected and monitored play an important role in balancing the water demand of the project, intending to be near zero discharge. Substantial daylight integration in the project has reduced the electricity demand by 80%. This reinforced our belief that a "Passive Right Approach" is the key to a successful project.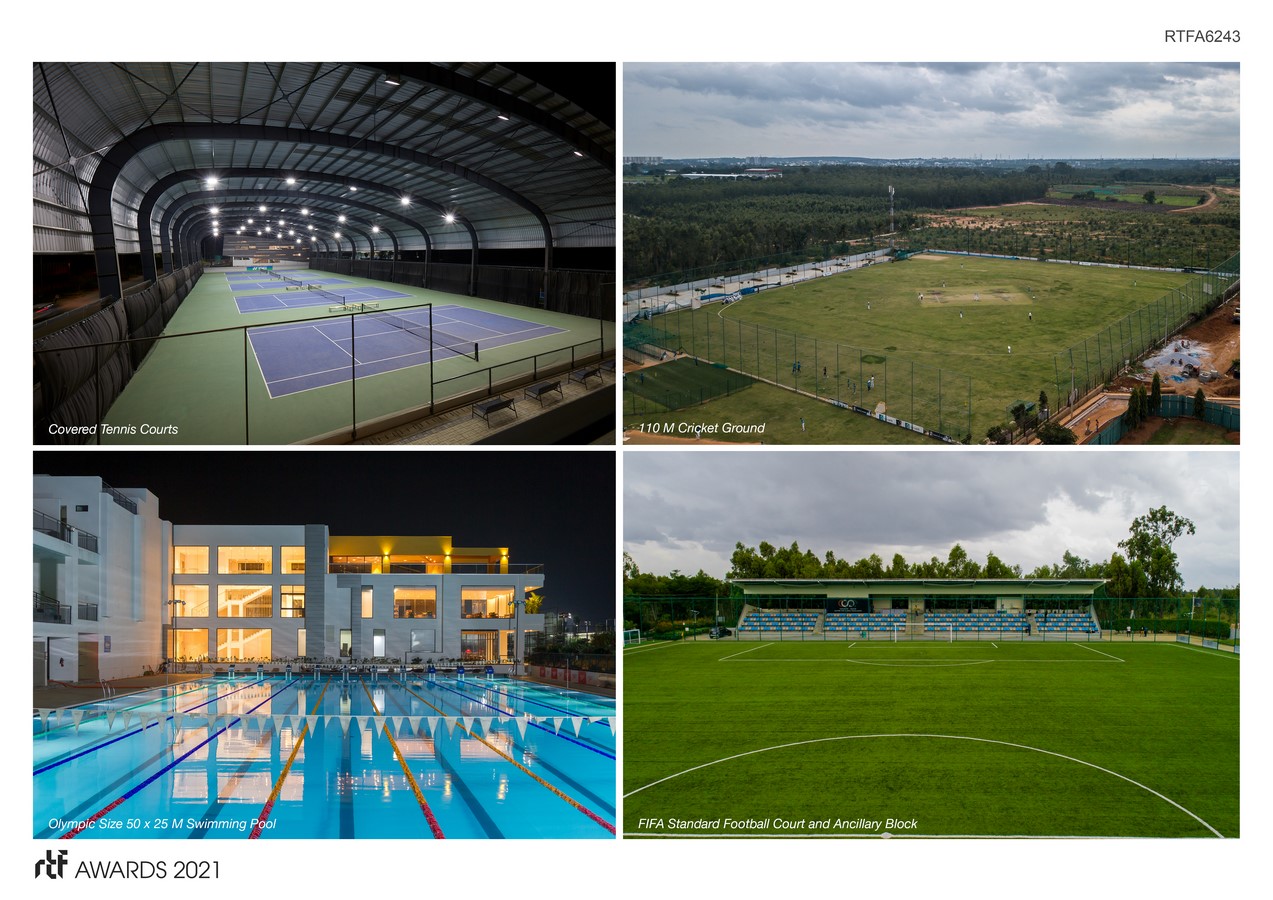 SPORTS FACILITIES (Mid-Category)
Football – FIFA Standard 60 x 100 M Football Field, 5 –a –Side Football & Football Ancillary Block
Badminton – 10 Training Courts & 6 Professional Training Courts
Cricket – 110 M Diameter Cricket Ground, Outdoor Pitches & indoor Courts
Squash – 4 Squash Courts with Elevated Viewing Gallery
Basketball – 1 FIBA Standards Basketball Court
Athletic Tracks – 100 M Athletic Tracks
Swimming – Olympic Size 50 x 25 M Outdoor Pool & Indoor Training Pool
Tennis – 5 International Standard Tennis Courts & 2 Quickstart Tennis Courts
SPORTS FACILITIES (Grassroot-Category)
Volleyball – 1 Volleyball Court