Evolving a uniquely Qatari Furniture Family for the new heart of Doha
Following an international design competition win, Harry Dobbs Design (HDD) were commissioned to develop an identity strategy and bespoke urban furniture family for the 31 hectare regeneration of Downtown Doha. Located adjacent to the Emir's Palace and amongst the capital's prime Heritage & Museum, Governmental and Retail areas, the scheme has been at the heart of Qatar's strategic transformation into a memorable and culturally distinct international destination.
Rethinking The Future Awards 2023
Second Award | Furniture Design (Built)
Project Name: MsHeireb Downtown Doha Urban Furniture
Category: Furniture Design (Built)
Studio Name: Harry Dobbs Design
Design Team: Harry Dobbs, Jonas Von Stendink, Laura Ferrarello, Huge Robinson, Carlos Martin
Area: 31 Hectare
Year: 2012-2023
Location: Doha, Qatar
Consultants:
Photography Credits: Harry Dobbs Design and Msheireb Properties
Render Credits: Harry Dobbs Design
Other Credits: Urban Plans (Aecom) and Allies Morrison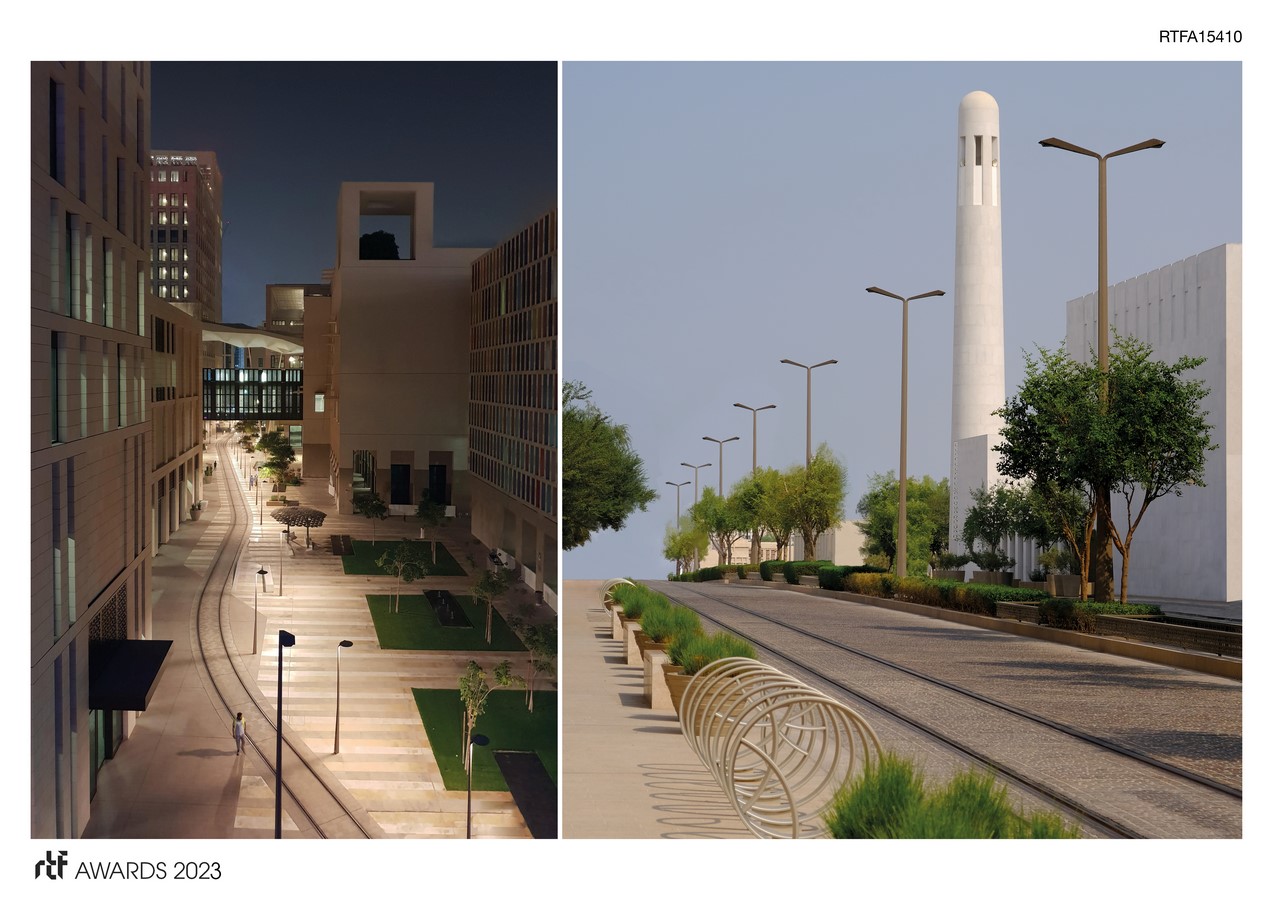 Over 16 furniture typologies were designed and installed across the site, including: Road & Pedestrian Lighting, Benches, Tram Shelters, Cycle Racks, Kiosks, Drinking Fountains, Litter Bins & Security Bollards. Over 3500 products of these products are being installed, to support the area's role as a location of national importance and a place of daily life and social interaction.
The furniture range was designed to be a core constituent of a new pedestrian orientated public realm and urban strategy for Doha's regenerated downtown district, incorporating character area accenting, and a closely considered civic relationship with landscaping, architecture and urban infrastructure. The design conceived the site as a set of interlinked outdoor urban rooms, where carefully tailored furnishings could support and activate new patterns of behavior: Introducing a new external lifestyle across the area's public spaces- From the 'Barahat' square and Boulevards at the heart of the development to the more intimate network of pocket squares and 'Sikka' alleys.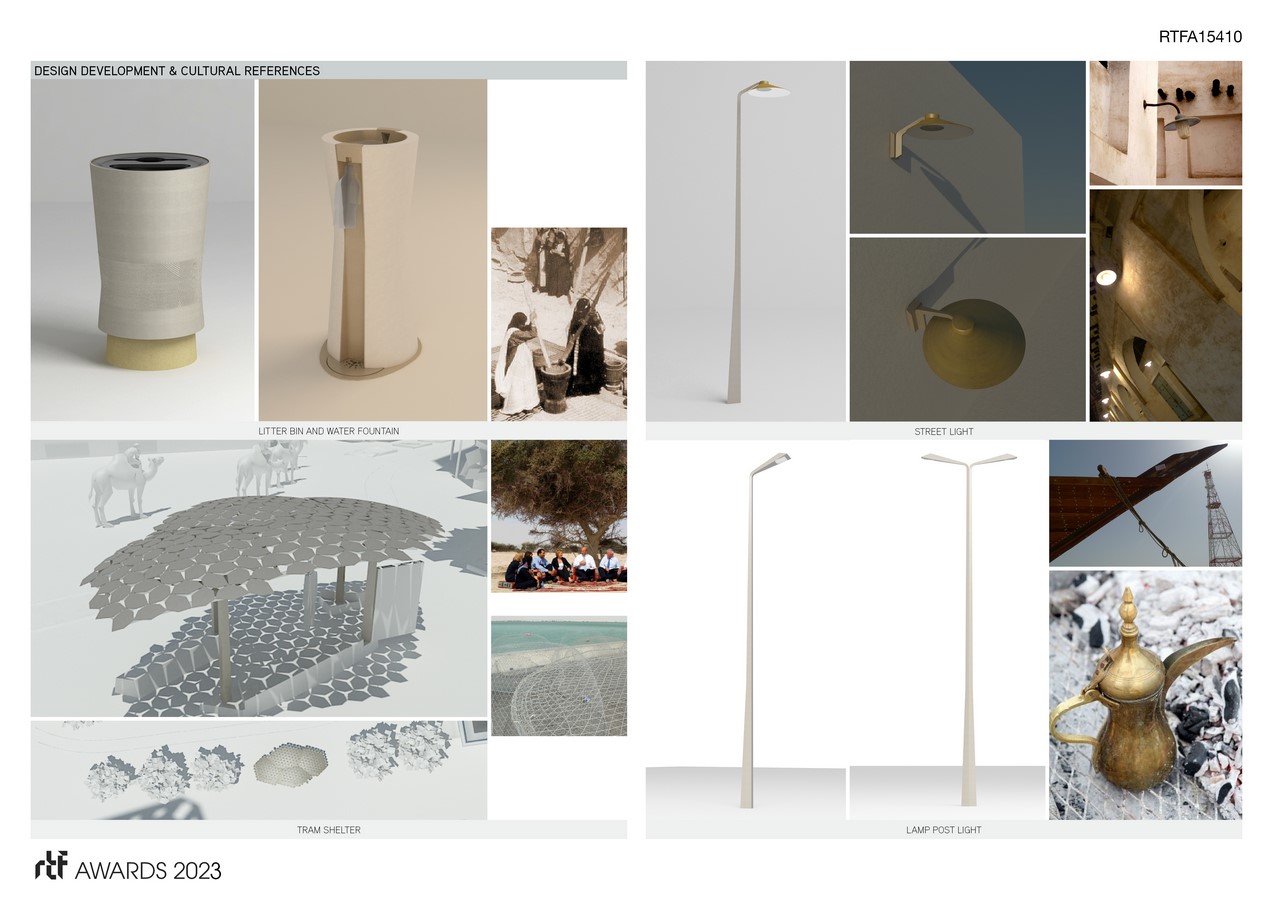 While each element has been specifically designed with its own distinct contemporary character, this richly varied family of furniture pieces is powerfully united through a shared design DNA meticulously evolved from Qatar's unique heritage and contemporary cultural ambition. Rather than the application of a universal motif or formal device, this 'family' approach was based on the idea of a 'genealogy' of features, with each furniture item incorporating its own mix of family characteristics that hold a deeply embedded resonance with a shared Qatari cultural lineage. This approach provides a richer layered expression of identity within the development, consistent with the architectural diversity of a capital city, whilst maintaining a strong sense of 'kin-ship' between the products.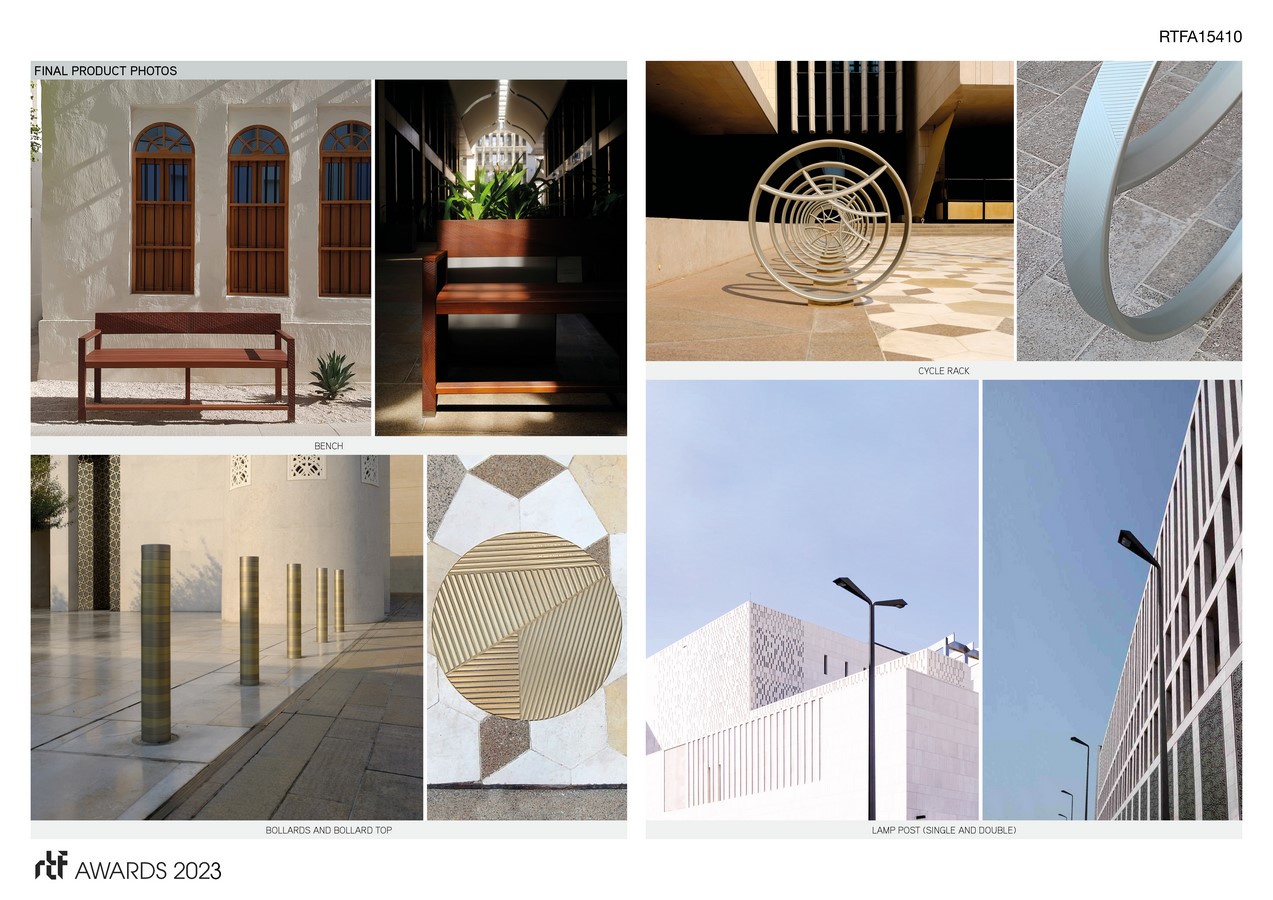 The design process was informed by in-depth contextual, environmental and behavioral investigation, responding to cultural and climatic cues and learning from public realm patterns of use from the region, nation & city. Material and technological innovations were developed to improve sustainability and respond to the harsh coastal environment, including low-corrosion aluminium bronze alloy casting techniques learnt from ship propeller manufacture and the application of airflow design principles to optimize the natural cooling of shelters
The HDD design team were commissioned by the client to lead the project design through research, concept development, tender, industrial development and product prototyping stages, ensuring the end results were efficiently optimised for manufacture, maintenance and operation whilst maintaining the iconic cultural expression, sensitivity to detail, ergonomic comfort and durable sense of delight.