Intertwined Eternities, a columbarium in the Seacliff neighborhood of Aptos, California – a seaside community on the Pacific coast – occupies the drought-tolerant gardens of the Episcopal Church of St John the Baptist, a largely timber construction responsive to the local landscape and climate.
Rethinking The Future Awards 2023
Second Award | Cultural (Concept)
Project Name: Intertwined Eternities
Registration Category: Cultural (Concept)
Studio Name: Form4 Architecture
Design Team: Partner in Charge: Paul Ferro, CEO, Form4 Architecture
Project Designer: John Marx, AIA, Chief Artistic Officer, Form4 Architecture
Project Architect: Cullen Taub, Form4 Architecture
Designer: Saba Raji, Form4 Architecture
Area: 3,000 sq ft built area / 4000 sf site area
Year: 2021
Location: Aptos, CA
Consultants: None
Photography Credits: Renderings by Form4 Architecture / Downtown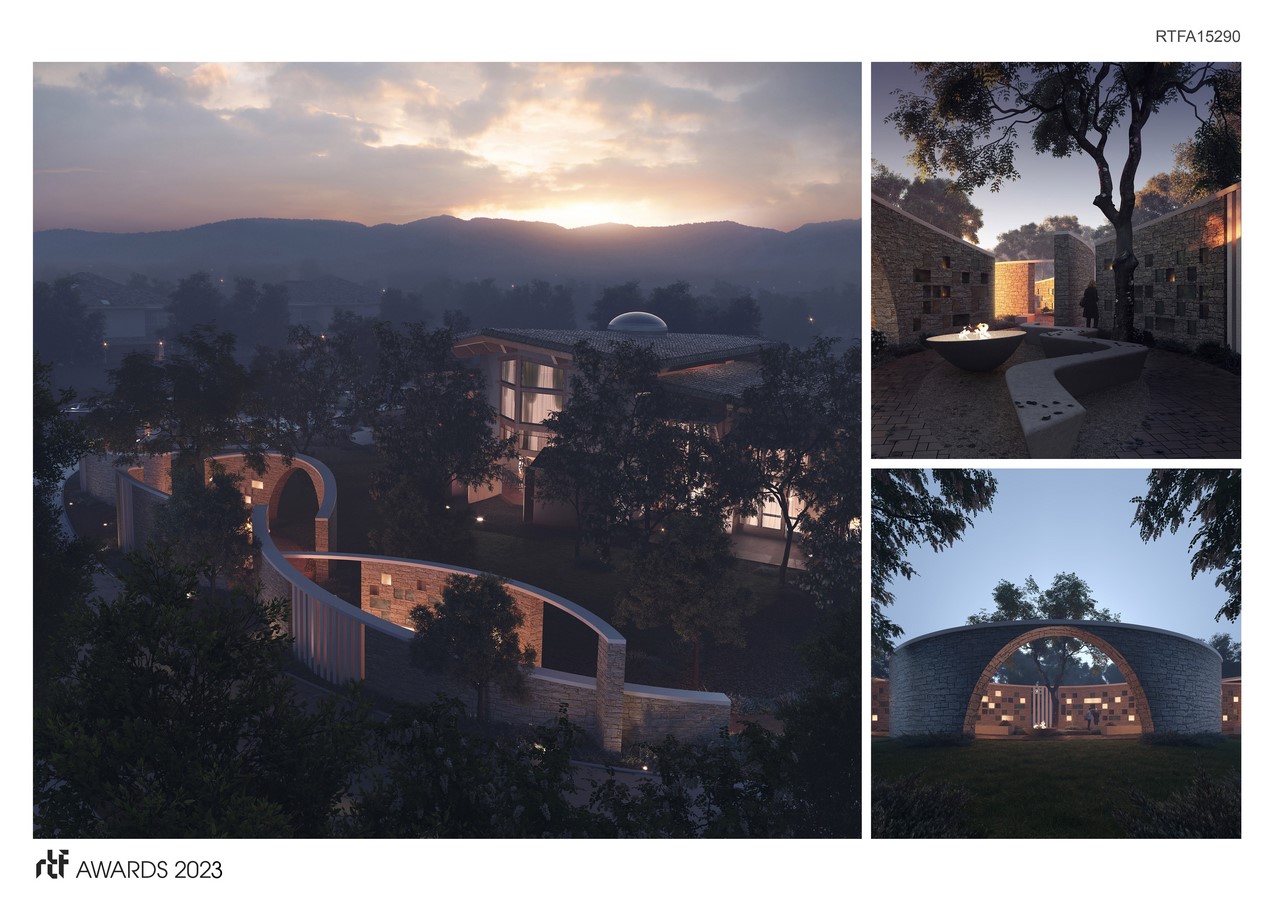 A choreographed sequence of open-air stone pavilions, the columbarium reads like a meeting of intertwining outdoor rooms. The weight and sense of permanence offered by its high stone walls contrast with the lightness and ever-changing seasonality of the surrounding landscape framed by picturesque apertures punctuating the walls.
The interlaced form of the architecture evokes the notion of Intertwined Eternities, alluding to the endless number of different journeys taken through life by individuals who nevertheless belong to a connected humankind.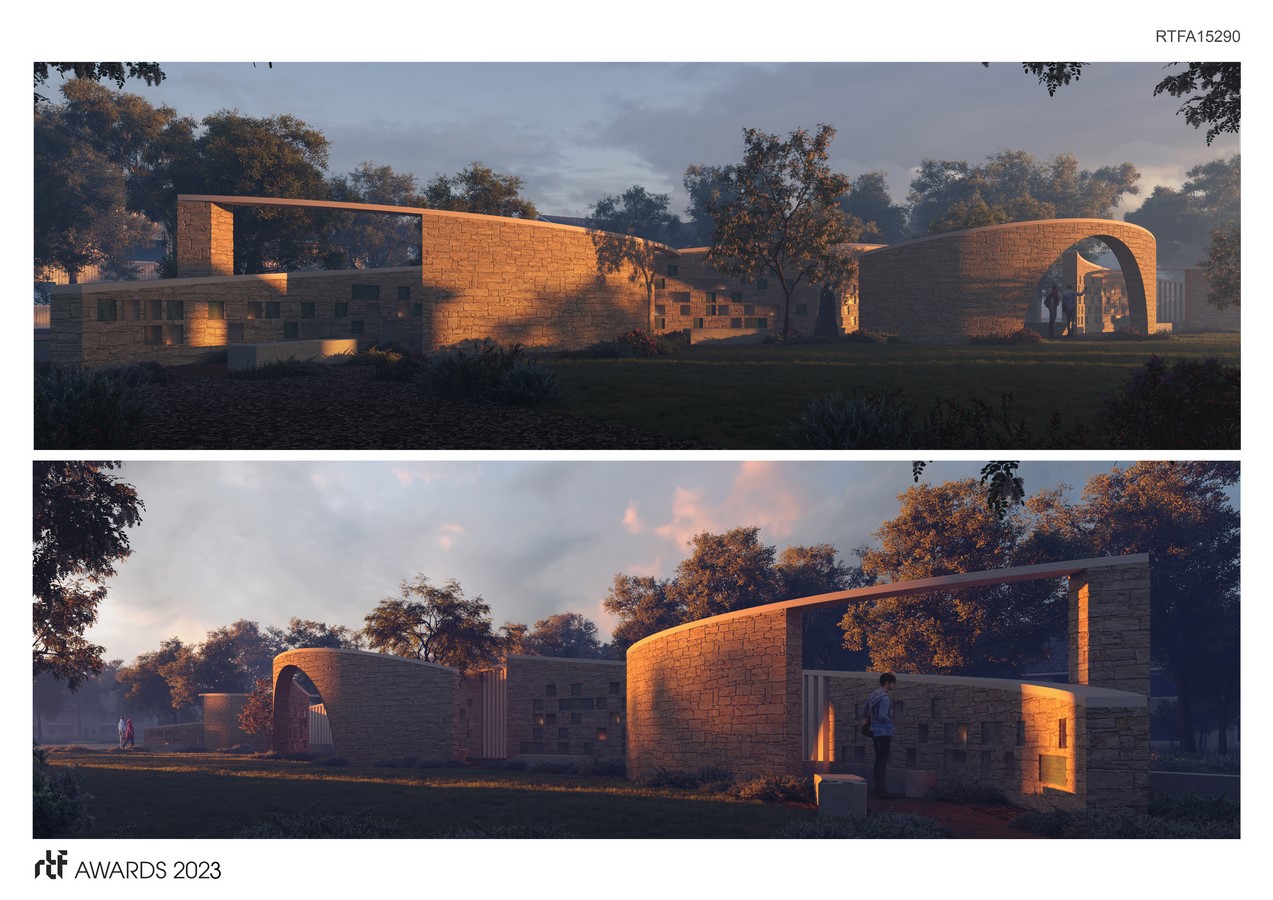 The design of the columbarium also symbolizes the transition between birth and death and how this is inevitably a return to Nature. Each wall points to the next emphasizing the sense of transition through movement. This notion of passage, or flux, is counterbalanced by a strong desire to create a building that while suggesting movement is also, in spirit, eternal and fixed. Interpretation of the monumental plays equally with both a sense of gravitas and the idea of the fleeting or ephemeral. The architecture describes both stillness and movement.
Six arced segments exist independently while each is interrelated to the others. They can be read as two sinusoidal curves intersecting to create almond-shaped outdoor areas, as well as a labyrinth of stone walls creating a path of discoveries. Hundreds of urns are located here according to a random pattern conferring additional resonance to the texture emerging from the sunlight gracing its ragged stone surfaces. A central arch is symbolic of the tomb of Jesus, and is positioned at the pinnacle of the main sanctuary for ceremonies and processions.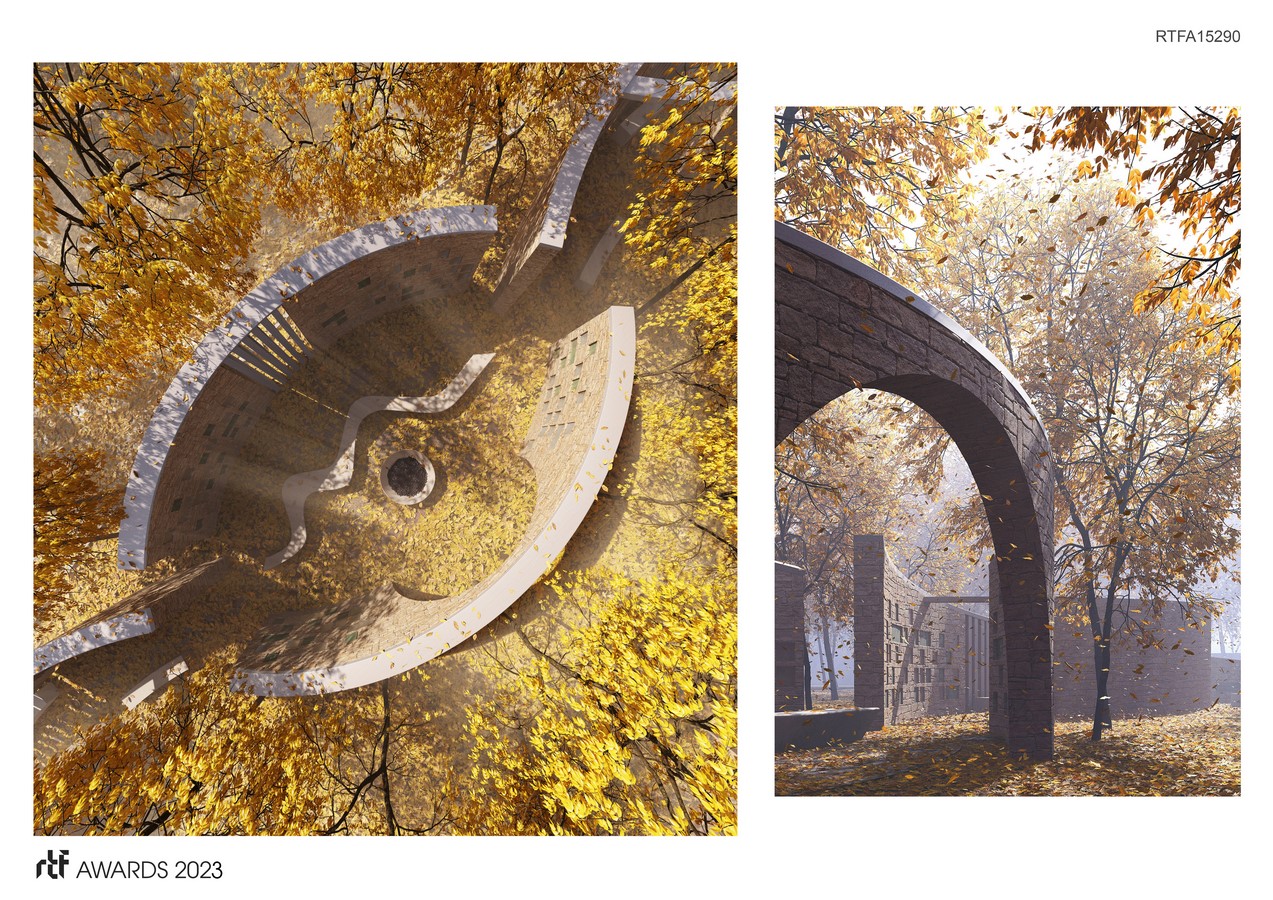 The design approach and vision for Intertwined Eternities, was to show that the dynamic between heaven and earth, between life and death, is an eternal question, unanswerable solely with logic—it requires a combination of an open mind and a gentle heart. The architecture approaches these questions in a meaningful way, turning to symbolism to engage the intellect and emotional experience to spark the imagination. The role of the architecture here invites the participation of the user in a way that asks profound questions, that encourages the user to explore, rather than attempting to provide simple answers to complex issues.