Located in Suzhou's Industrial Park, the Suzhou Dushu Lake Hospital covers a vast area of 156,000 square meters, with a planned construction area of 521,000 square meters and a capacity of 3,000 beds. The hospital features a general layout with an 800-bed building area of 131,000 square meters in the first phase and several specialist centers that will expand in the future. The master plan ensures that each phase is surrounded by a modern courtyard, providing an exclusive and fascinating therapeutic green area for medical spaces.
Rethinking The Future Awards 2023
Second Award | Healthcare / Wellness (Built)
Project Name: Suzhou Dushu Lake Hospital
Category: Healthcare / Wellness (Built)
Studio Name: Lemanarc SA
Design Team: Vincent Zhang, Daniel Pauli, Feng Zhenggong, Qiu Lin, Zhang Jin, Xiaodong Wang, Tan Lihua, Jiang Miao, Meng Haiyan, Chen Yong, Wang Zhixiang, Wang Xiang, Li Wei, Chen Xinxin, Zhang Yong, Ding Jiong, Zhou Min, Zhang Weikang, Li Zheng, Chen Hanbing, Tan Zheng & Liu Yayuan.
Area: 131,000m2(Phase 1)
Year: 2020
Location: No. 9 Chongwen Road, Suzhou Industrial Park, Jiangsu, China
Consultants:
Advance design and construction drawing design: Arts Design Group Co.,Ltd.
Technical support: Feng Zhenggong & Zhang Jin
Project leader & responsible person of Architecture : Qiu Lin
Architecture:Cao Feng , Wang Xiaoqiang & Xu Liang.
Structure:Tan Lihua , Jiang Miao, Meng Haiyan & Chen Yong.
Electricity:Wang Zhixiang, Wang Xiang, Li Wei & Chen Xinxin.
HVAC:Zhang Yong, Ding Jiong,Zhou Min & Zhang Weikang.
Water supply and drainge:Li Zheng , Chen Hanbing, Tan Zheng & Liu Yayuan.
Construction drawing of interior design:Suzhou Chengzhi Decoration Co., Ltd.
Landscape design:Arts Design Group Co.,Ltd.
Lighting Design:Arts Design Group Co.,Ltd.
Curtain wall construction drawing design:Jiangsu Suxin Decoration (Group) Company.
Civil engineering general contractor:New Century Construction Group Co., Ltd.
Interior decoration construction unit: Suzhou Kelida Building & Decoration Co., Ltd.
Photography Credits: Xia Qiang
Project coordinator :Rita Chen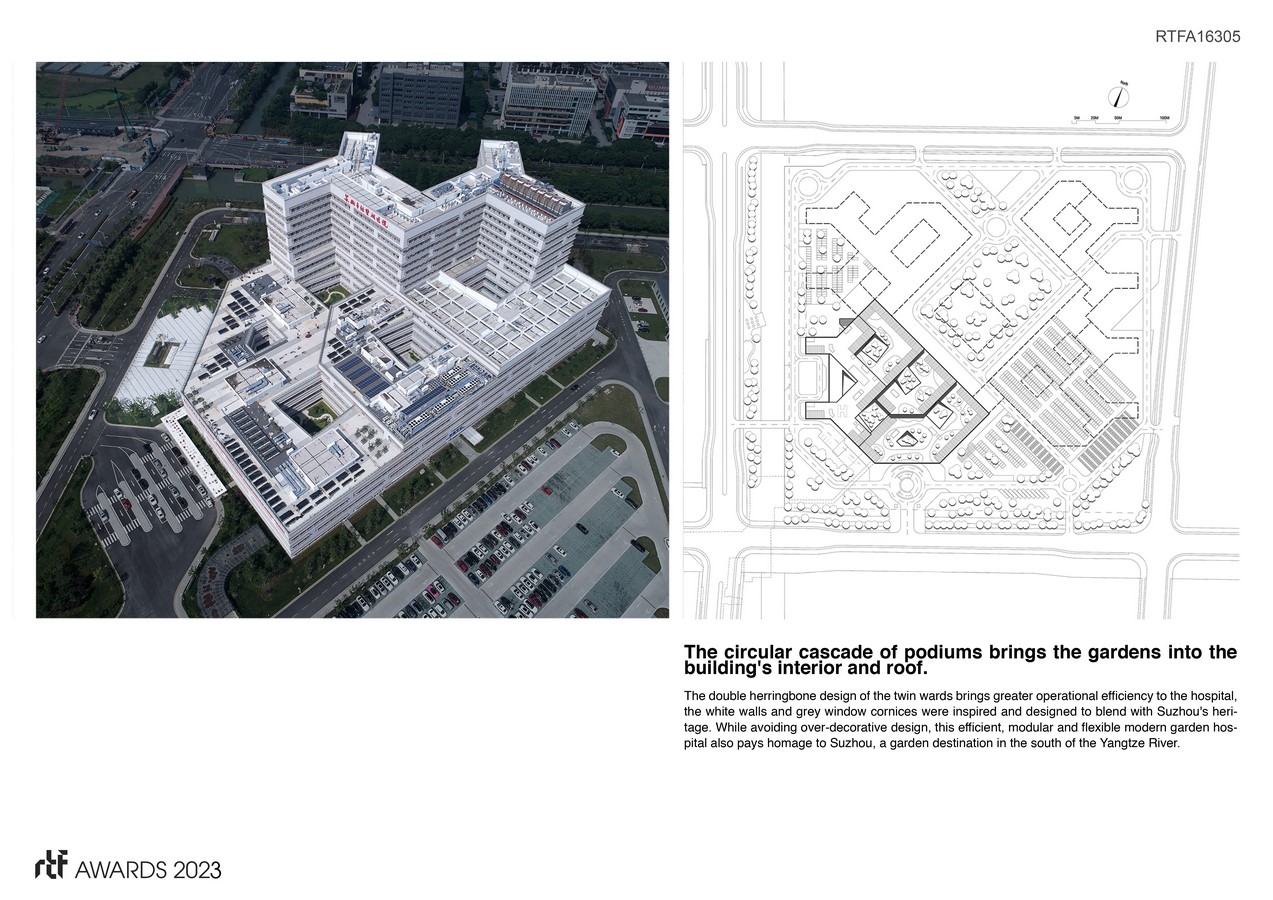 The Suzhou gardens are more than just enclosures; they are continuous spatial chains created by layering and juxtaposing elements in both horizontal and vertical directions. This spatial chain projects subconscious spatial properties, bringing about order and barriers, recognition and return, nature and artificiality, ritual and security.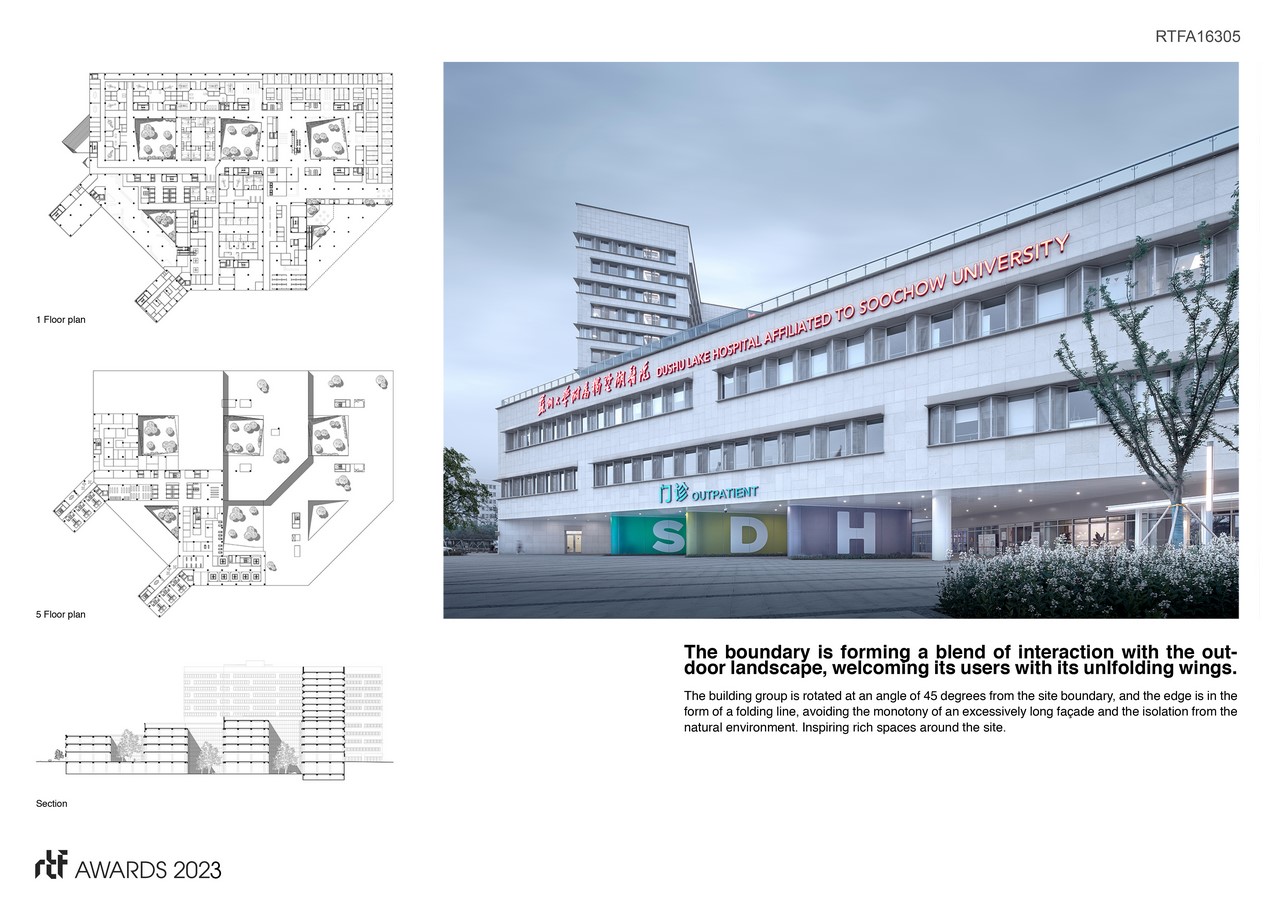 The term "Healing Garden" goes beyond the greenery planted in front of and behind buildings, representing a unique healing life scenario created through the act of building, combining the elements of minerals, plants, and space. These scenes lead in a continuous chain of spaces for our use.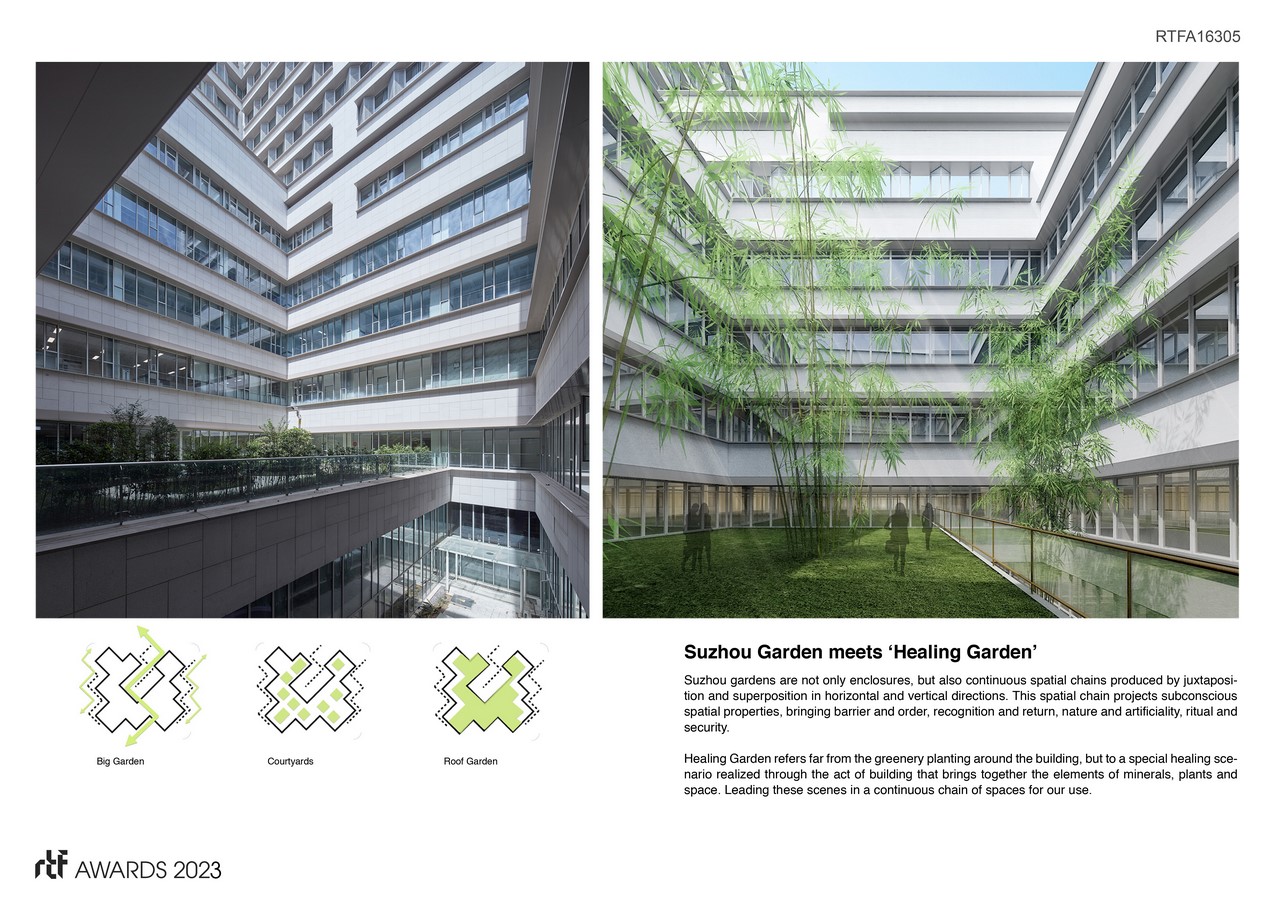 The design of medical functions must be in tandem with planning, architecture, landscape, and interior design, ensuring an organic whole of a well-designed hospital from the outset. The hospital's double herringbone design of twin wards and forty-five-degree angle layout provide rich boundary spaces around the site, greater operational efficiency, and harmonize with the tradition of Suzhou.
In today's fast-paced and noisy world, Suzhou's Dushu Lake Hospital provides a peaceful sanctuary that listens to the heartbeat of every person there.