In today's architectural practice in China, tradition and modernity are interwoven and coexist together, just like this Tongling Recluse. It is located in a remote village of Anhui Province originally a normal dwelling in the style of Huizhou and Yanjiang.  Nested on the top of the mountain, this house was in an extremely bad condition and uninhabited for over ten years; It has three bays in east-west direction and one bay in south-north direction.
Global Design & Architecture Design Awards 2019
First Award | Category: Private Residence (Built)
Studio: RSAA/ Büro Ziyu Zhuang
Architect: Huan Wu
Country: China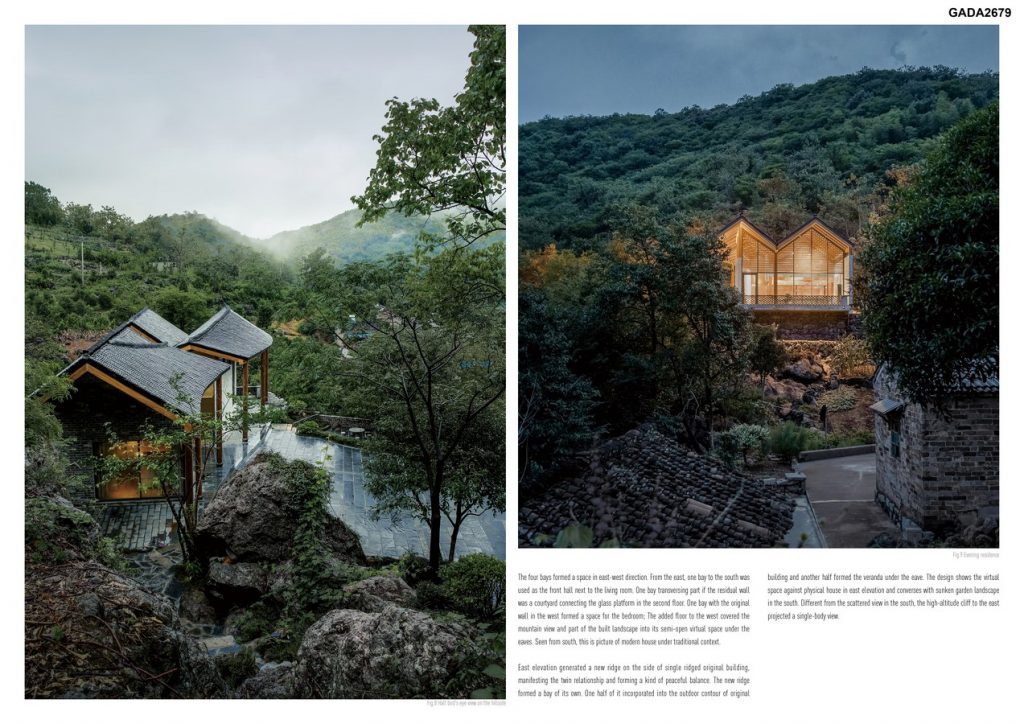 Hence, as for the plan layout, we considered adding one span in the west to reach one side of the rocky mountain, and another span in the south-north to form a wider space of living room; the curves were partly brought in the plan so as to separate an alienated imaginary space from the original projection profile; we increased the existing building into two levels, combined with the extensive imaginary space, so that an alternating spatial curved surface was formed. The traditional folding roof and streamline combined into one, which reflects Taoist culture "the three begets all things of the world" in China; seen from the aerial view, the black-tile-covered roof in the ancient village is both accordant and outstanding, while features of the interior environment shows from the outside for the first time.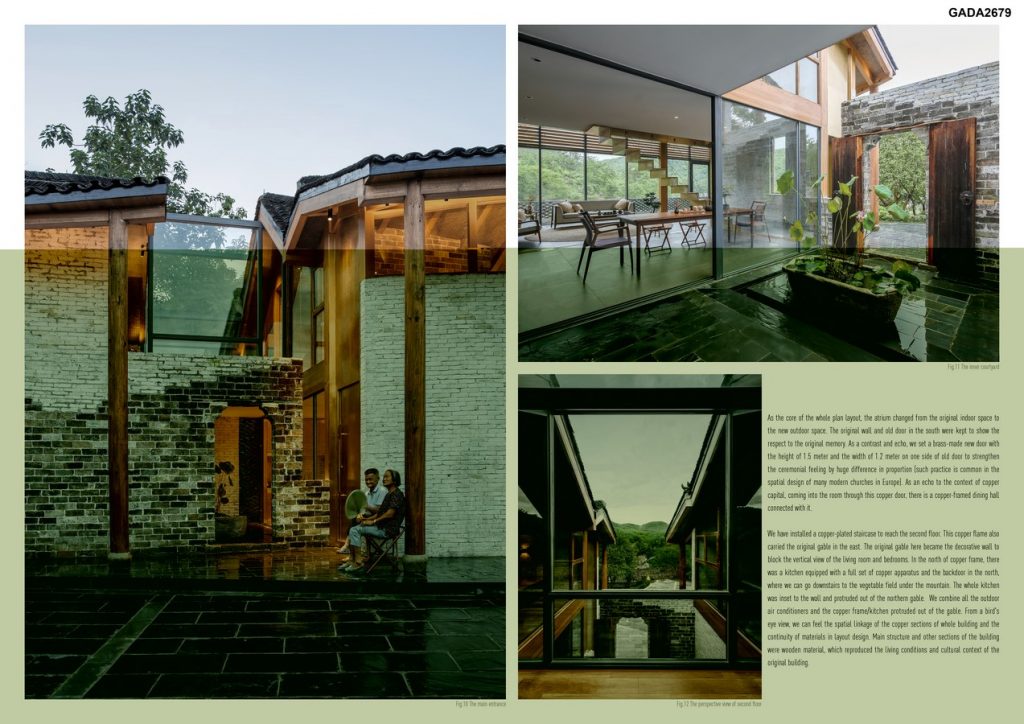 The main internal space and the external gallery were shaped by the interlaced new and old walls, which made the previous damaged walls into indoor walls and interior partitions. Terrace, living room, dining room, kitchen, courtyard and bedroom lined up westwards according to the decrease of their privacy.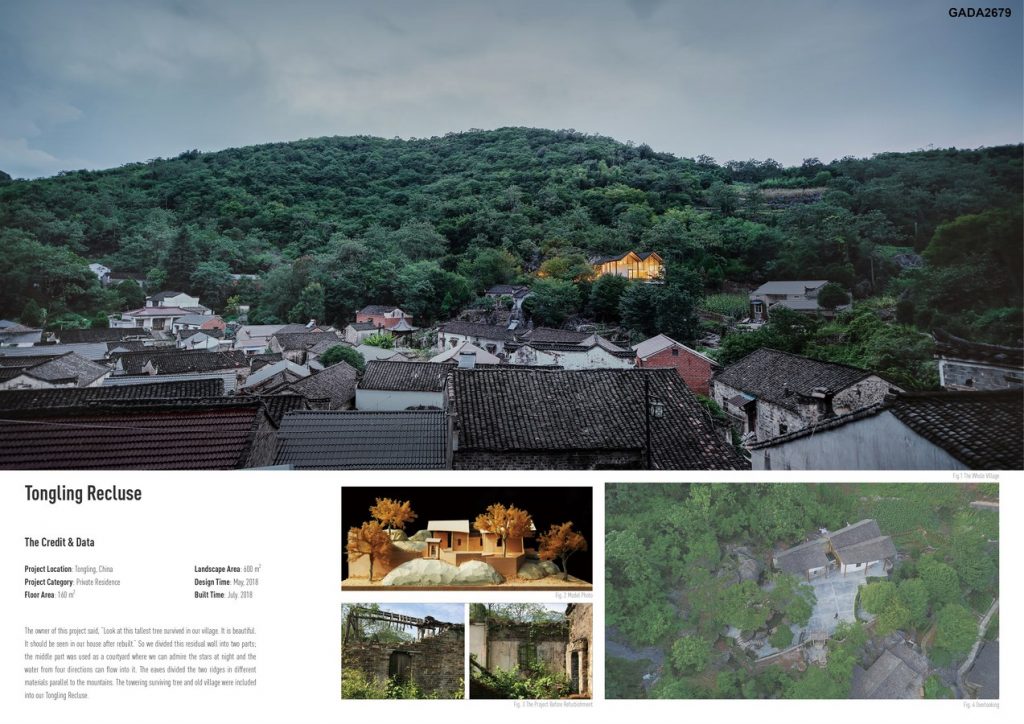 Under the conditions of limited space and time, a suspension bridge is required to be built on the site as means of material transportation between the two adjacent roads. This will enable the achievement the three-dimensional geometry of the roof, whilst maintaining the traditional building elements and components of the whole building with the use of steel fabrication.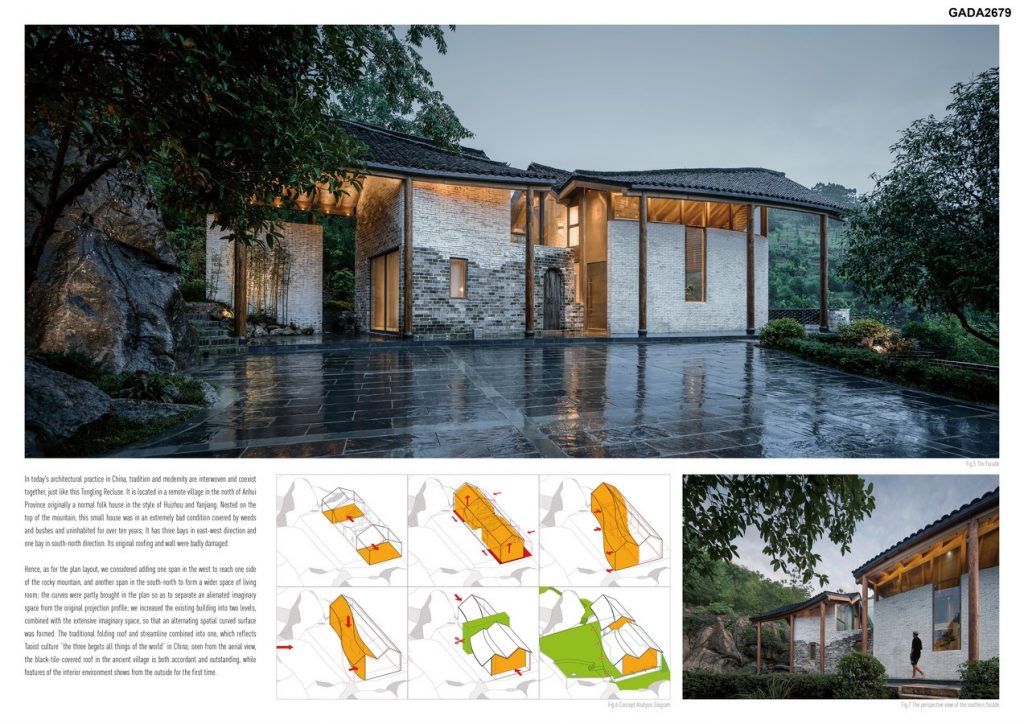 Upon rebuilding the wall, the steel structure will be concealed with an external facade of tiles extracted from the original wall. (This method is common in the local maintenance of traditional buildings and the practice of saving brick materials,)
During construction, the old bricks of the original wall were marked down with numbers and kept aside. After the new foundation and main steel structure had been completed, the marked old bricks were used to rebuild the wall. In this way, we responded to the local culture and the sustainable ecological concept.