Kumbh Mela is the largest religious celebration on earth and the biggest public gathering in the world. The resulting settlement is a virtual mega city! The Kumbh Mela deploys its own roads, pontoon bridges as well as tents serving as residences and venues for spiritual meetings, and social infrastructure such as hospitals, sanitation outlets and vaccination clinics – all replicating the functions of an actual city. Since 2004, we have undertaken a recurring project, of designing a camp in the Kumbh Melas, for Prabhu Premi Sangh, a Spiritual Organisation. The seventh consecutive camp was designed in 2019.
Global Design & Architecture Design Awards 2019
First Award | Category: Pop-Ups and Temporary Structure (Built)
Studio: Studio Saransh
Project Team: Malini Doshi, Manish Doshi, Purvi Tank, Heli Mistry, Nirali Patel, Aashini Desai
Country: India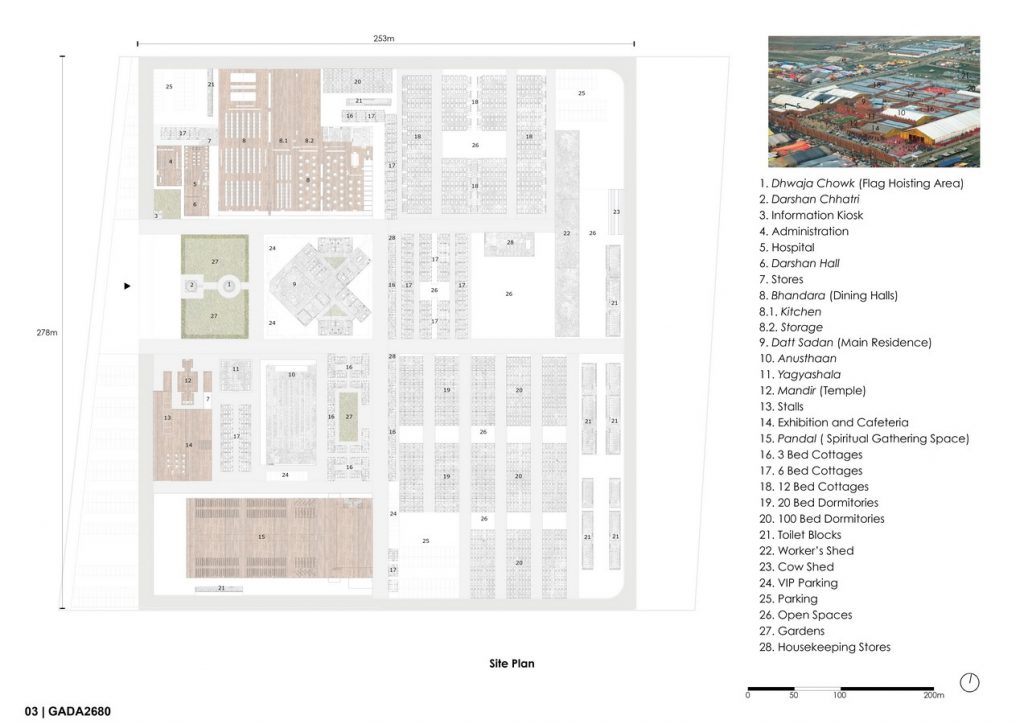 The scale of everything related to the Kumbh Mela is massive and this camp despite being the largest in the Mela, is known for its macro to micro detailing. From conceptualising a new theme every 3 years to showcase the varied architectural heritage of India, to detailing up to soft furnishings, while giving equal importance to hygiene and a focus on ease of maintenance, we aim for the perfect camp.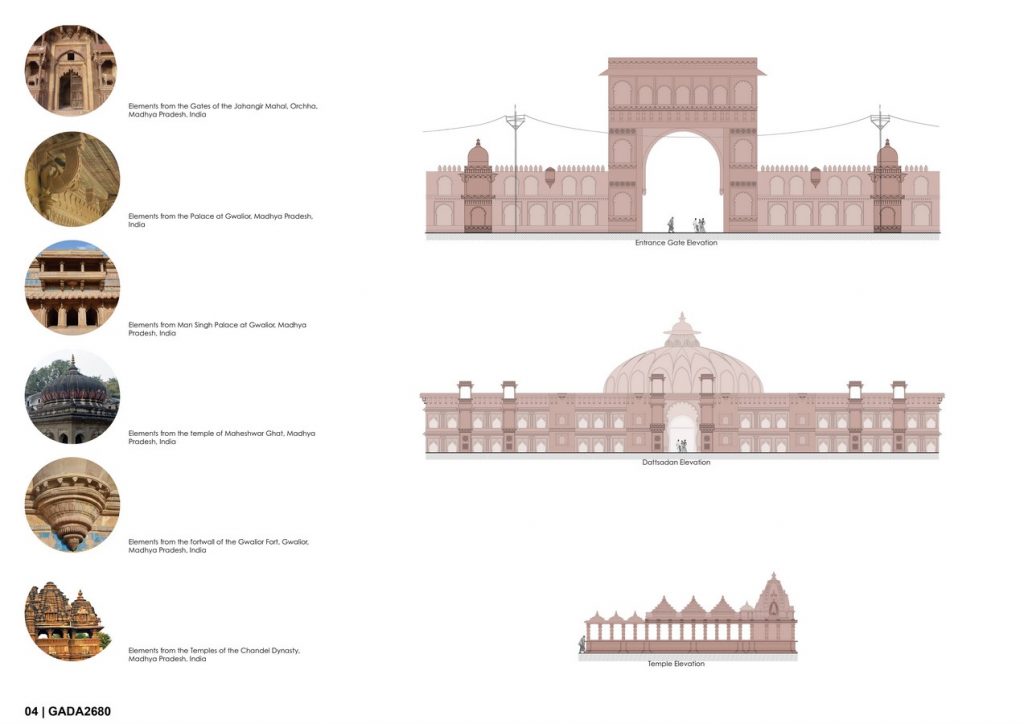 The PPS camp designs are conceptually rooted in Indian tradition. As a reflection of the vision of the Spiritual Head of the organisation, the Kumbh 2019 camp was conceived like a traditional Indian fortress with a palace within. The camp was designed in a manner that could accommodate a mass influx of 10,000 visitors every day without chaos. It comprised of an Events Pavilion with a seating capacity of 3,000 people, Dining Halls that fed about 12,000 persons per day, and various residential cottages and dormitories to accommodate 2500 people. The camp was equipped with a total of 950 toilets with a concealed water supply and drainage system.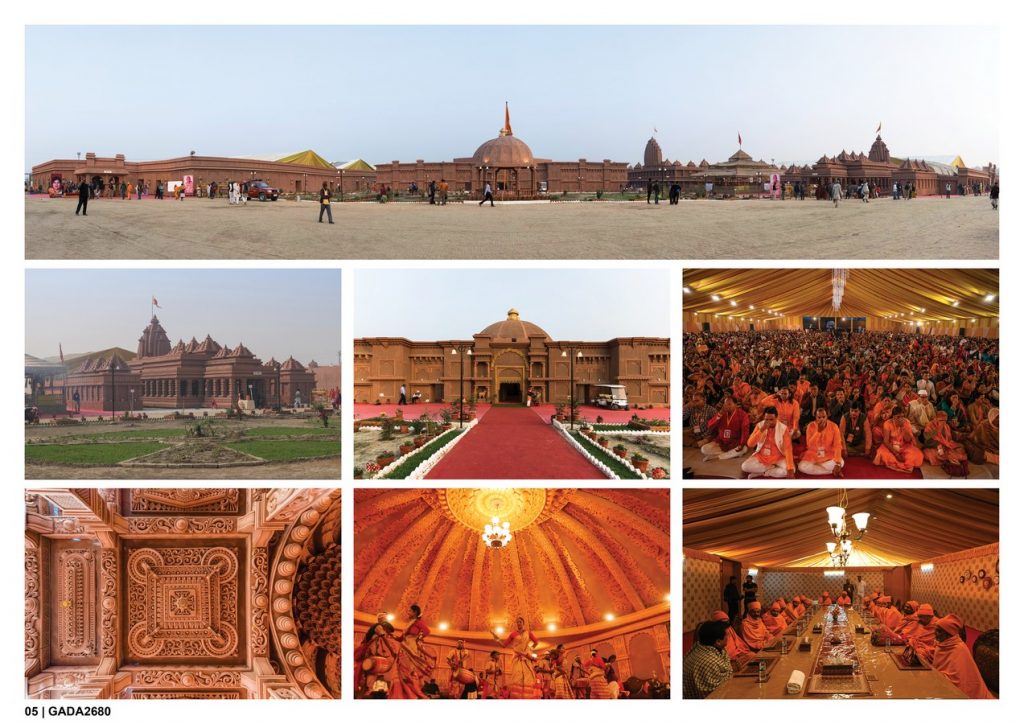 The campsite spanning across 22 acres with a built-up area of 3.1 lakh sq.ft. was executed in a short span of 32 days. A massive human resource of 500-700 people was employed, who worked round the clock for setting up the camp, within a constrained time period and under extreme weather conditions of freezing temperatures.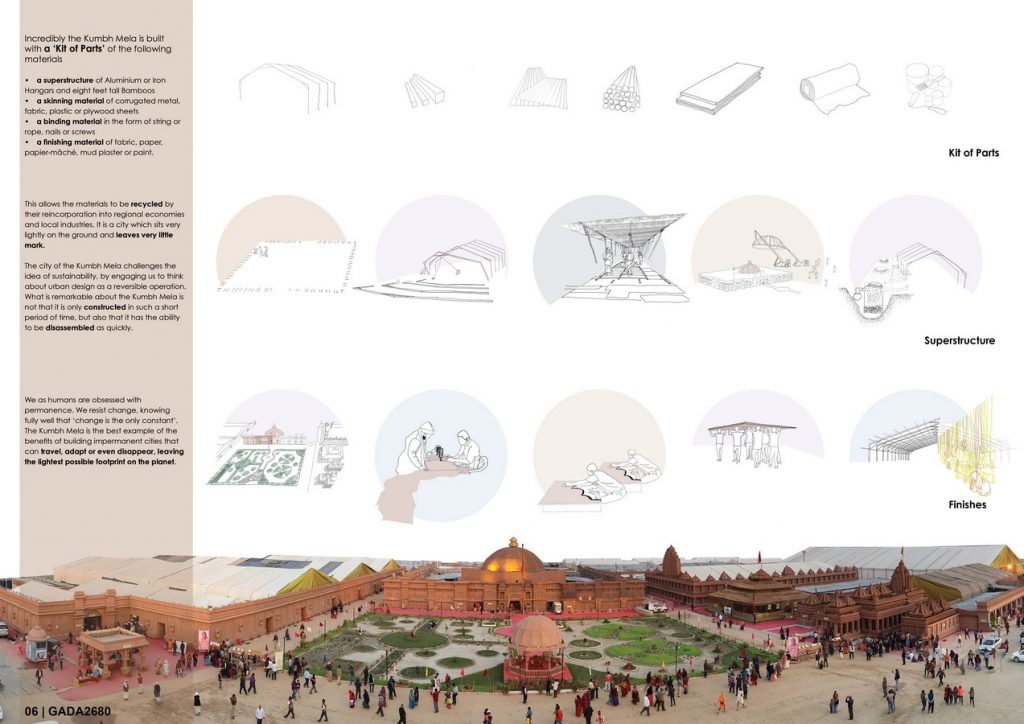 For setting up the camp there were 5 major agencies apart from many local agencies. Designers and  their consultants from Ahmedabad, Superstructure team from Indore, Craftsmen from Hisar and Kolkata, and small local agencies from Allahabad, while the design of the camp was inspired by the architecture of Madhya Pradesh. This amalgamation, of the varied cultures from different corners of India, comes together at the Kumbh Mela and validates the 'Intangible Cultural Heritage' recognition by UNESCO.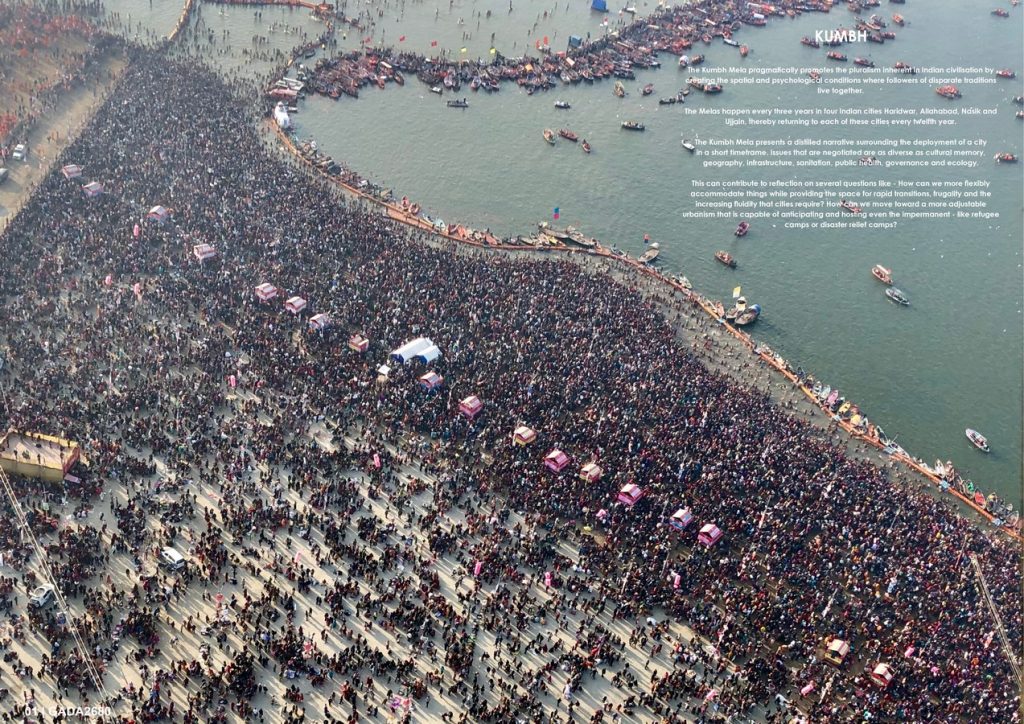 The city of the Kumbh Mela challenges the idea of sustainability, by engaging us to think about urban design as a reversible operation. The pop-up settlement presents us with a project that is not just made for people, but one in which the guidelines of the city are given to people as an open template to be developed, transformed and materialised. This open condition of planning, urban design, space occupation and constructibility could also be applied to other non-permanent settlements such as refugee camps or disaster relief efforts.