Fuzhou Shangri-La is a smart redesign and transformation of an existing high-end hotel built in 2005, from a single purpose building to a reconfiguration of the land and function of the site. The redevelopment will transform the development into a transport-oriented, mixed-use, urban resort, that incorporates Grade A and executive offices with a boutique 'hotel-within-a-hotel' concept, and ample green space that merges and integrate with the surrounding neighbourhood.
Architecture, Construction & Design Awards 2020
Third Award |  Mixed Use (Concept)
Project Name: Fuzhou Shangri-La Mixed-use Development
Studio Name: Lead8
Design Team: Lead8 Design Team
Area: 121,869 sqm
Year: 2022
Location: Fuzhou, China
Consultants: NA
Photography Credits: Lead8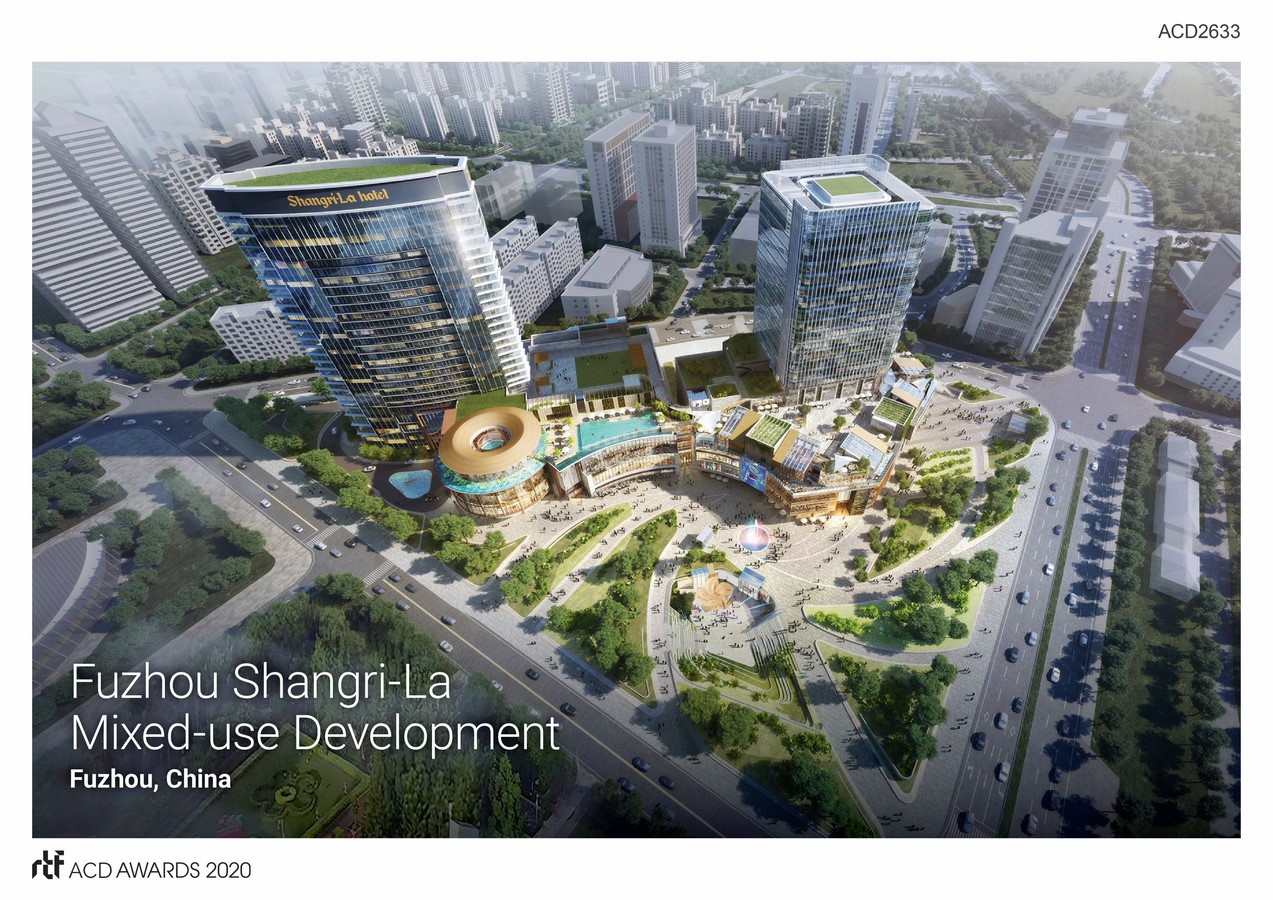 Capitalising on the central location of the site and to develop a prominent public space that links to the famous Wuyi Square, Shangri-La Group has a desire to create a unique gathering place, bringing a sense of vitality that attracts visitors and residents alike. Their design brief calls for a substantial development that can influence and add to the district's cultural and social life, with the site to be transformed into an upmarket lifestyle hub; combining a luxury hotel with business, retail, dining and entertainment to create a unique and engaging urban destination.
As a commercial development, the client also placed an emphasis on ensuring that Fuzhou Shangri-La Mixed-use Development is commercially viable; bringing value and new opportunities to the wider neighbourhood. Together with the building of the new retail podium, the project required the inclusion of a new office tower, and a substantial green area as extensions of the existing civic square.
Fluidity and continuity of circulation and constant connection between all project components, physically and visually, are determined to be core necessities of the brief.
Inspired by the rich architectural history and unique visual culture of Fujian province, the tag line "Old meets New", was the broad design concept and inspiration for the architecture and interiors of the development, adapting its design language from the traditional Tulou or roundhouse, the nearby Qing Dynasty White Pagoda, and traditional city gates. It was therefore imperative that the design was inspired by, and acknowledged the local traditions and history.
The design puts an emphasis on the wider community, encouraging the use of its open, public green spaces by residents and visitors alike. Enhanced connectivity of the site allows convenient access and seamless integration to the neighbourhood, bringing in a new, revitalised and inspiring urban environment for living, entertaining and commuting in Fuzhou.  A new business hub adds an essential commercial amenity to the development. The office tower provides two levels of co-sharing workspace, thirteen floors of Grade A office and two upper levels for premium offices.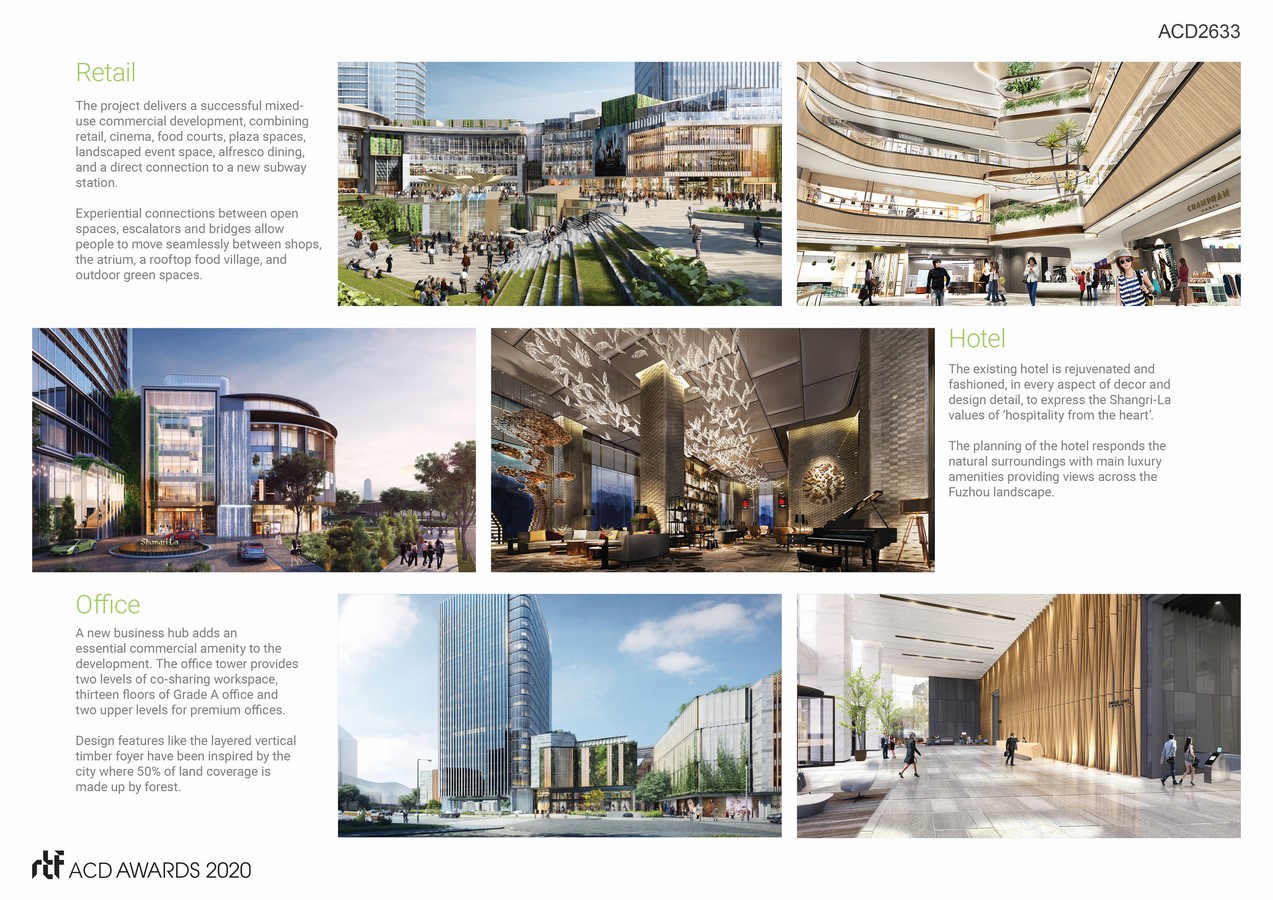 Sustainability is an integral part of Fuzhou Shangri-La Mixed-use Development. Focusing on shared public space is exemplified in the design's use of greenery and public gardens, taking advantage of the natural temperate environment of Fuzhou, and capitalises on the sites' unique positioning next to the city's iconic Wuyi square. Landscape design is integrated into storm water management; Environmentally-preferable products are selected for exterior and interior finishes, while robust cladding materials have been carefully selected to ensure waterproofing during and after seasonal rainstorms.