As the COVID-19 pandemic of 2020 has shifted consumer behaviour and retail operations, we sought to create a grocery shop concept that reimagines how retail spaces can be designed to facilitate a more resilient customer service model.
Architecture, Construction & Design Awards 2020
Third Award |  Interiors Retail (Concept)
Project Name: Resilient Retail
Studio Name: Mason Studio
Design Team: Ashley Rumsey, Stanley Sun
Area: 800 sq ft
Year: 2020
Location: Toronto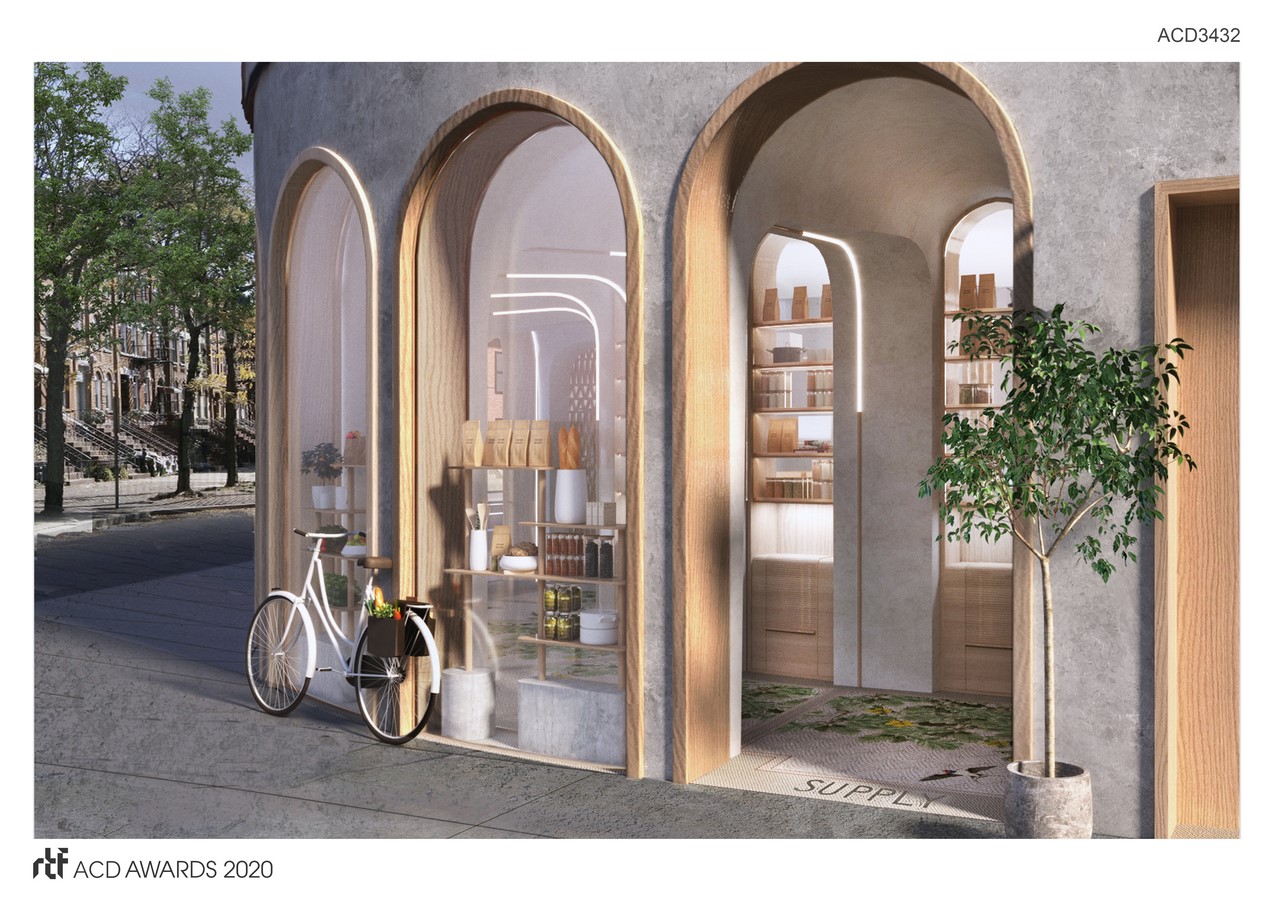 The resulting approach is an example of how the physical space can be designed to facilitate a new retail experience, modernize outmoded aspects of some service models, and demonstrate how interior design considers physical spaces and the human interaction within them.
This retail design concept aims to create a more resilient brick-and-mortar retail environment that provides both social and safe spaces for customers and staff, while maintaining strong aesthetic and brand value.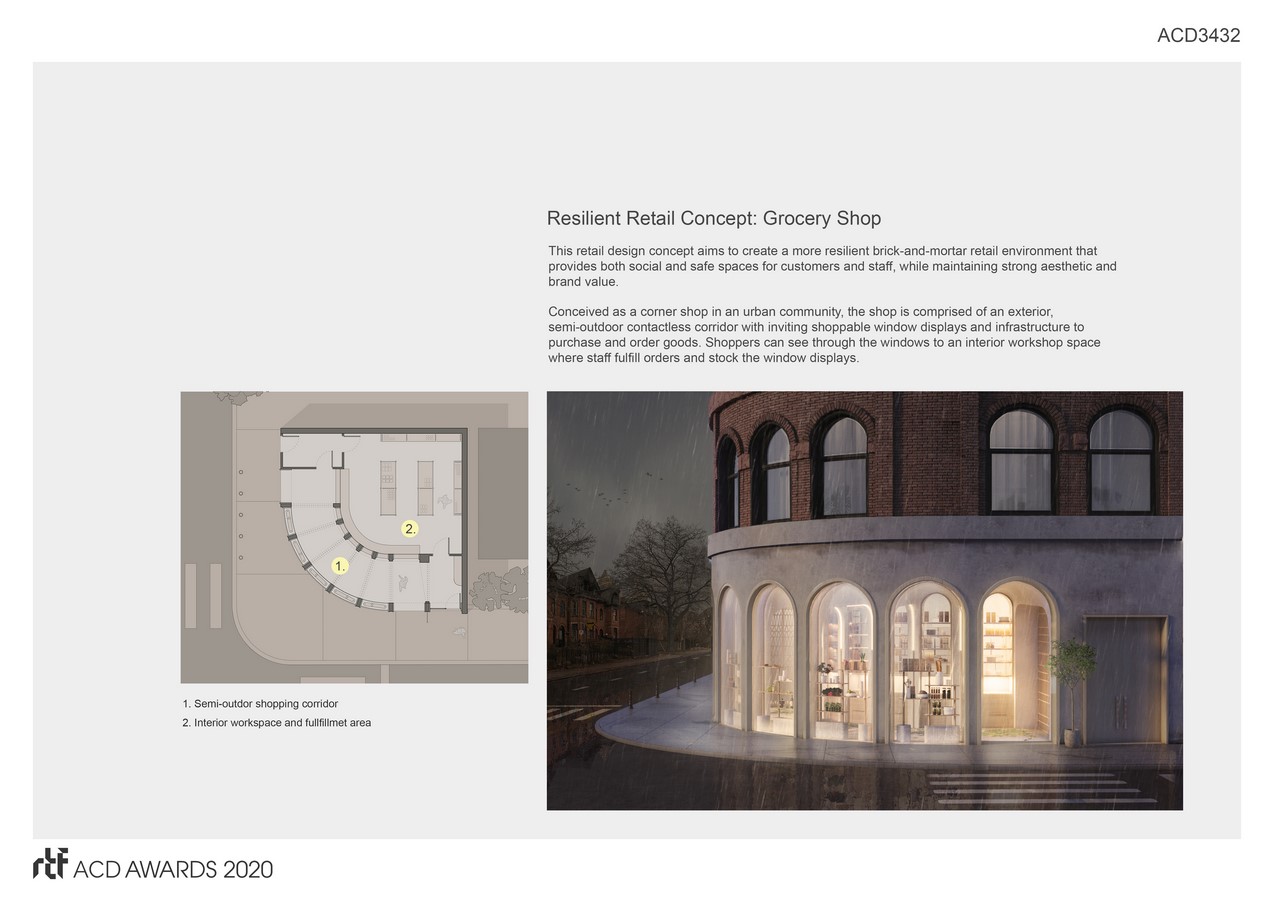 Conceived as a corner shop in an urban community, the shop is comprised of an exterior, semi-outdoor contactless corridor with inviting shoppable window displays and infrastructure to purchase and order goods. Shoppers can see through the windows to the interior workshop space where staff are busy fulfilling orders and stocking the window displays.
Here, shoppers have four options to purchase goods:
In-store: a customer shops the window display, selecting items to purchase. Selected items are then gathered from the separate fullfillment area and placed in the on-site lockers by the staff for the customer to access immediately.
In-store, home delivery: a customer can experience the goods in the store environment and have the items delivered to their home within a specific time frame.
Online, in-store pick-up: purchases are ordered online, and then the customer goes to the shop to pick up their goods through the locker system
Online, home delivery: for a completely at home experience, for those that can't get out or do not wish to do so, purchases are made online and delivered directly to the customer at their residence.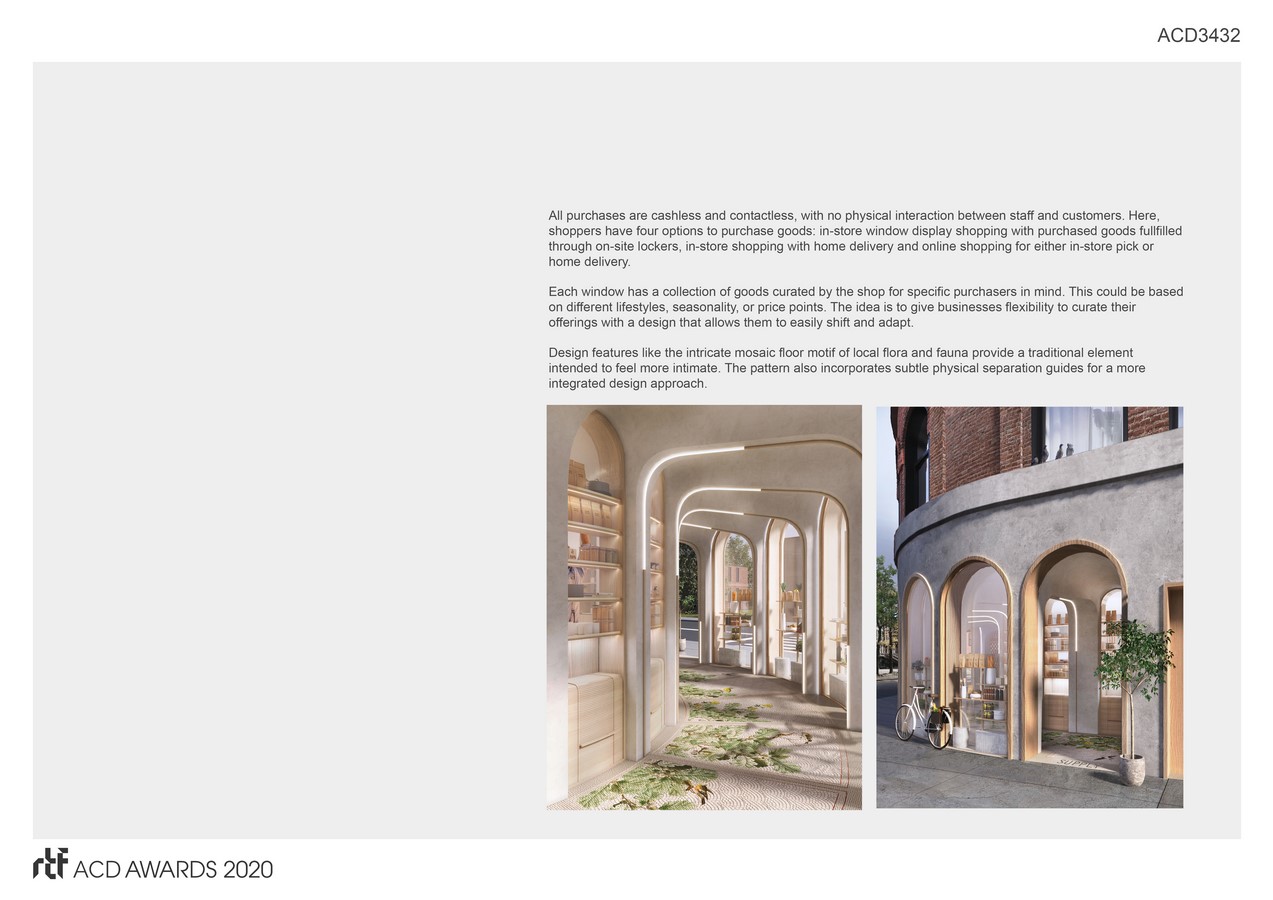 All purchases are cashless and contactless, with no physical interaction between staff and customers.
Each window has a collection of goods curated by the shop for specific purchasers in mind. This could be based on different lifestyles, seasonality, or price points. The idea is to give businesses flexibility to curate their offerings with a design that allows them to easily shift and adapt.
Design features like the intricate mosaic floor motif of local flora and fauna provide a traditional element intended to feel more intimate. The pattern also incorporates subtle physical separation guides for a more integrated design approach.