Undulating lines and lustrous materials evoke notions and emotions of local waterscapes in Jinan's sophisticated Fosun IFC mall.
With its multitude of rivers and hot springs, Jinan is a city determined by the movement of water. The new IFC mall in the CBD core, conceptualized as a high-quality innovative boutique retail experience predominantly serving a business clientele, takes up the notion and emotion of flowing and rippling water and translates it into shapes, materials and moods.
Rethinking The Future Awards 2023
First Award | Interior (Retail) (Concept)
Project Name: Fosun Jinan International Financial Centre
Category: Retail (Concept)
Studio Name: CLOU architects
Design Team: Jan Clostermann, Lin Li, Yadi Zhong, Julien Douillet, Xiaobin Cheng, Rentian Liu, Linyu Li, Yujie Jin, Jingyao Cheng, Christopher Biggin, Qiao Ding, Ning He, Baolin Shen, Tianshu Liu, Wenlei Ma
Area: 28,000 sqm
Year: 2023
Location: Jinan, China
Consultants:
LDI: East China Architectural Design and Research Institute Co., Ltd
Shanghai Kangye Building Decoration Engineering Co., Ltd
Lighting: J+B Studios Architectural Lighting Design
Photography Credits: /
Render Credits: CLOU architects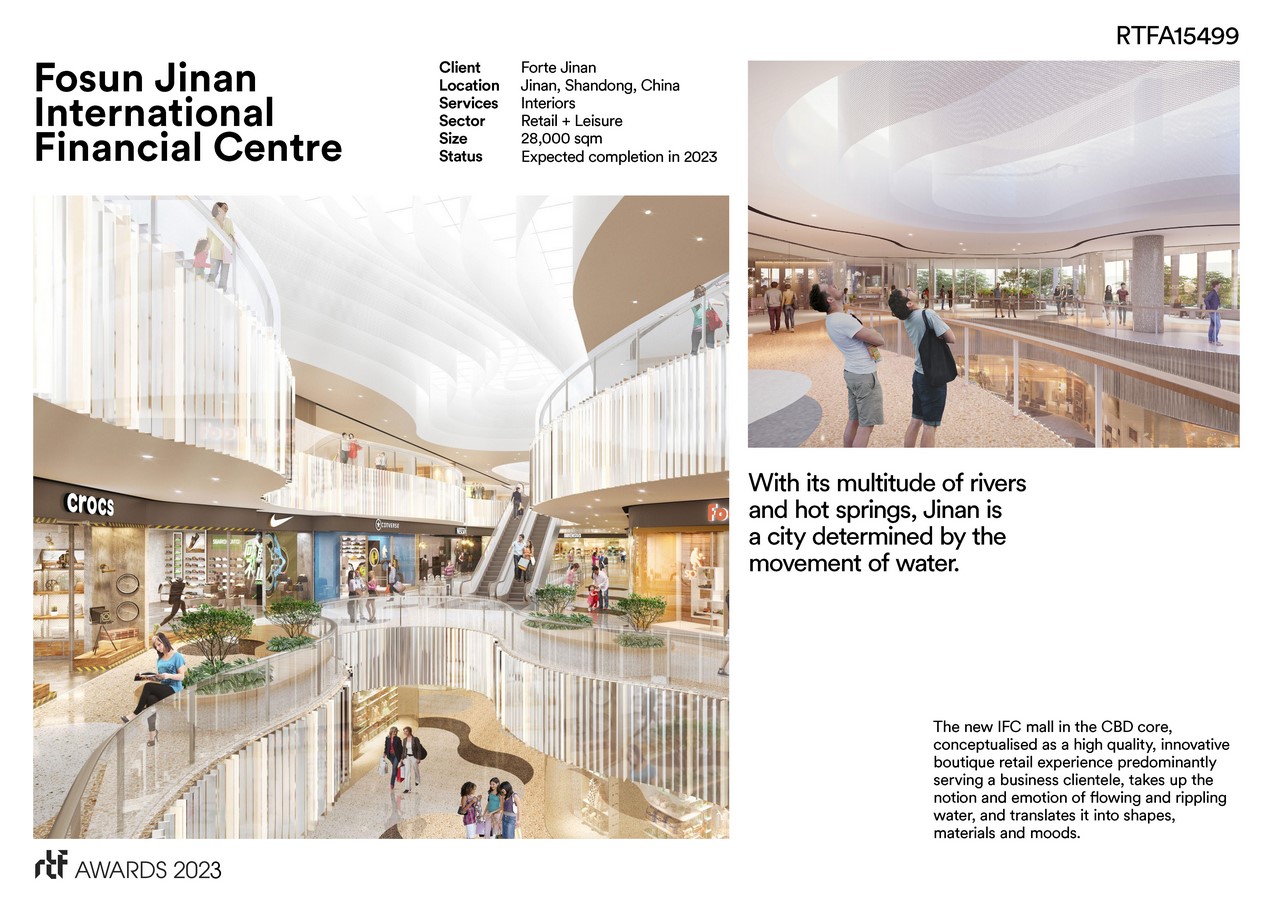 Two interconnected atria weave along the longitudinal mall space in elegant curves.  Alongside their undulating outline, linear landscape islands and seating areas create a relaxed atmosphere for socializing, blurring the boundary between tenanted and public spaces. Vertical spandrel patterns echo the elegance of willows hovering above running water.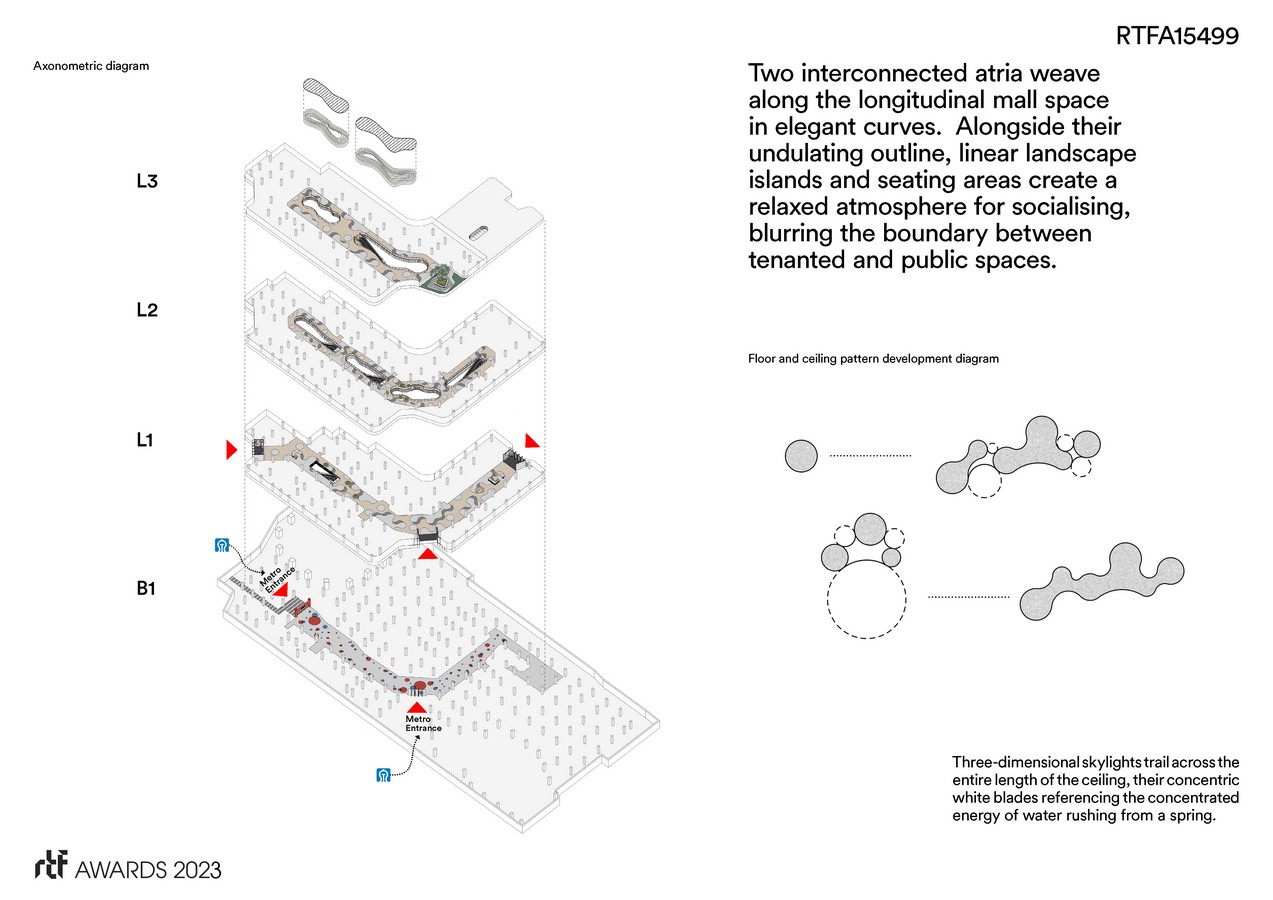 Three-dimensional skylights trail across the entire length of the ceiling, their concentric white blades referencing the concentrated energy of water rushing from a spring.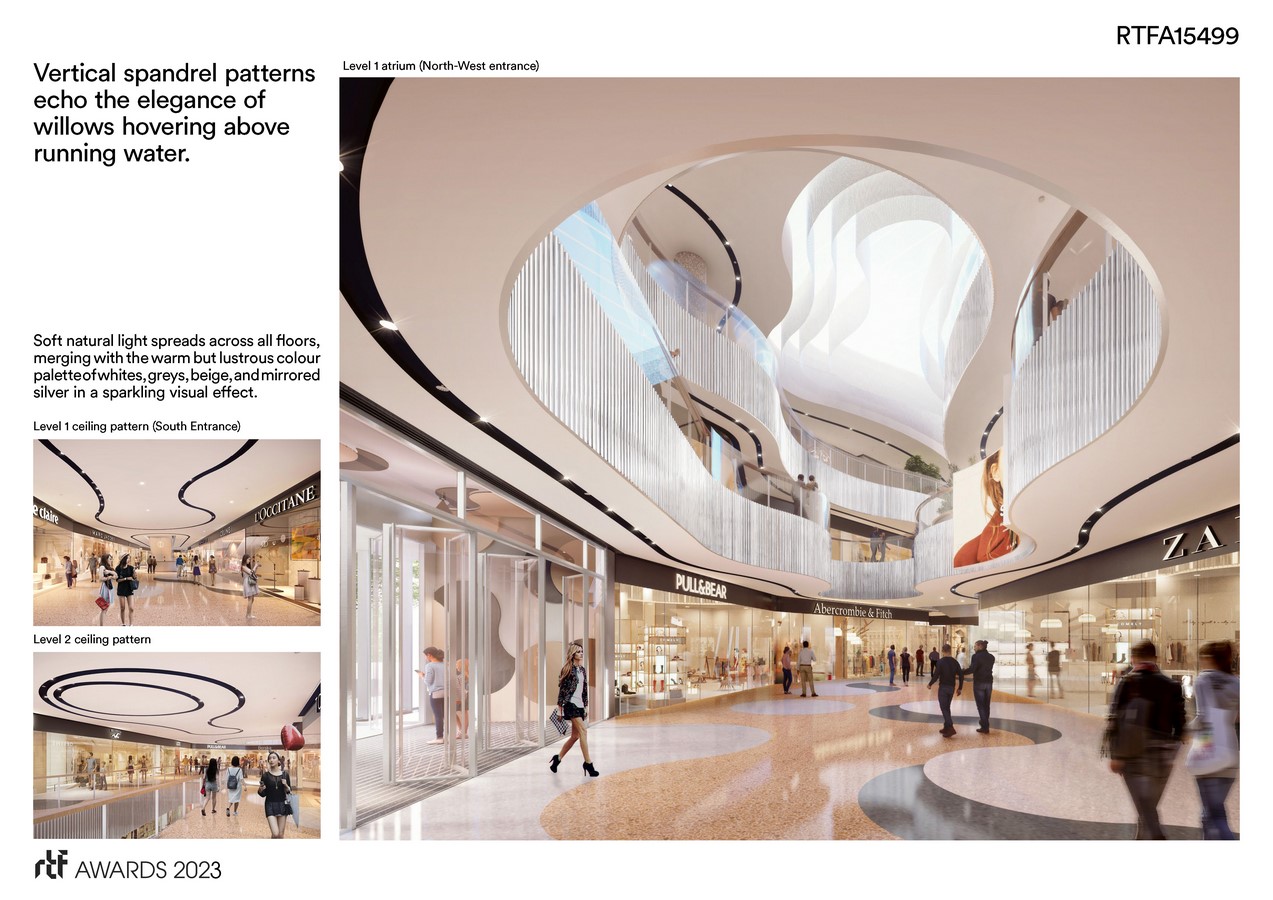 Soft natural light spreads across all floors, merging with the warm but lustrous colour palette of whites, greys, beige, and mirrored silver in a sparkling visual effect.