CASA MIA tests a higher density form of living for a young family in a suburban setting. It explores a sequence of spaces oscillating between the intimate and personal and the public and community that are entwined by a dual coloured face brick skin. This perimeter skin performs the role of the architectural mask, an adaptable layer that simultaneously reveals and conceals internal moments, blurring existence and relationships.
Rethinking The Future Awards 2023
First Award | Private Residence (Small-Medium) (Built)
Project Name: CASA MIA
Category: Private Residence (Small-Medium) (Built)
Studio Name: Iredale Pedersen Hook Architects and Caroline Di Costa Architect
Design Team: Caroline Di Costa, Adrian Iredale, Finn Pedersen, Martyn Hook and Rebecca Hawkett
Area: 365m2
Year: 2021
Location: City Beach, Western Australia
Consultants: Structural Engineer: Terpkos Engineering – Paul Terpkos, Services Engineer: Hydraulic Design Australia – Joseph Tilli, Landscape: CAPA – Steven Postmus
Photography Credits: Acorn – Robert Frith
Render Credits: Iredale Pedersen Hook Architects
Other Credits: Interiors: Iredale Pedersen Hook Architects and Caroline Di Costa Architect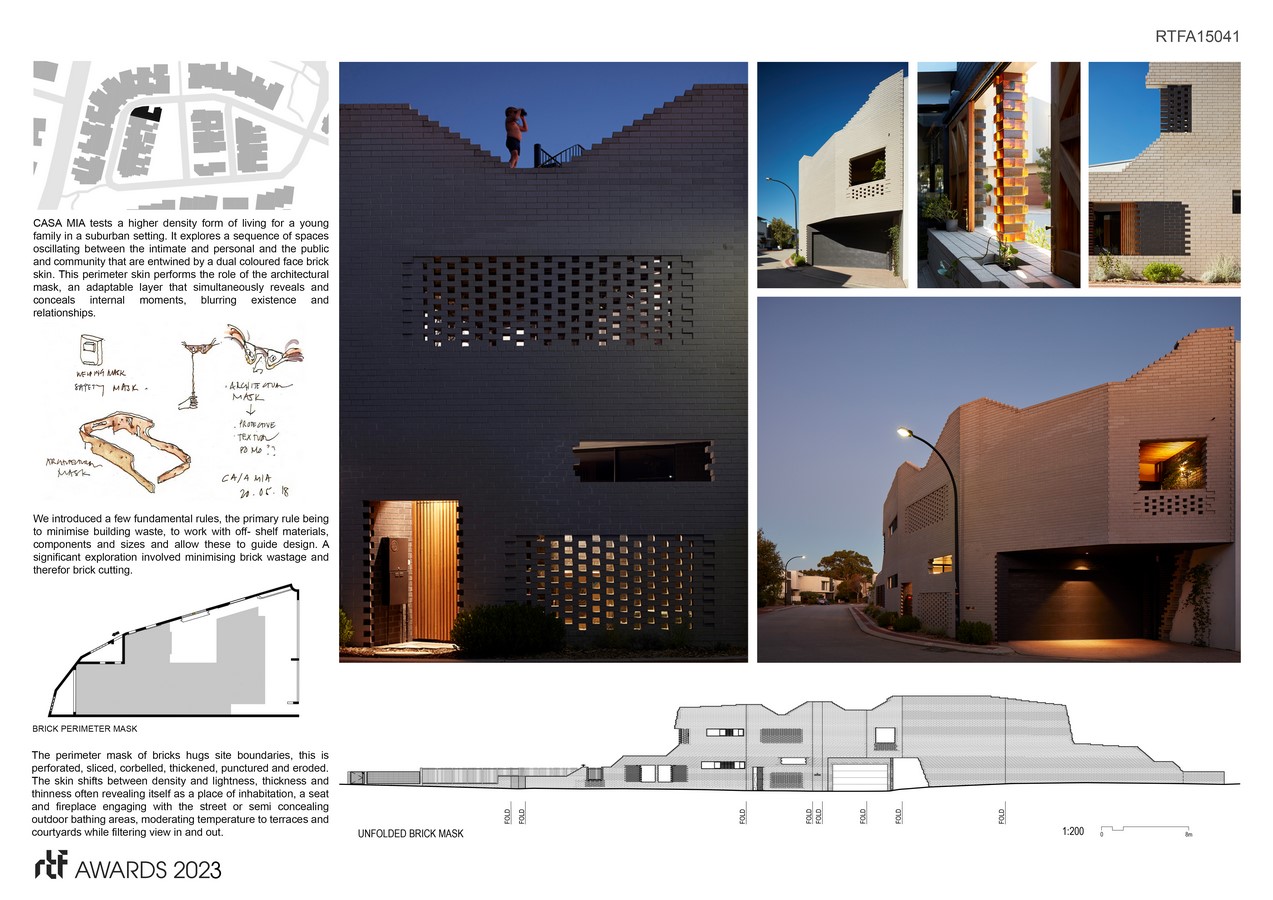 We introduced a few fundamental rules, the primary rule being to minimise building waste, to work with off- shelf materials, components and sizes and allow these to guide design. A significant exploration involved minimising brick wastage and therefor brick cutting.
The perimeter mask of bricks hugs site boundaries, this is perforated, sliced, corbelled, thickened, punctured, and eroded. The skin shifts between density and lightness, thickness and thinness often revealing itself as a place of inhabitation, a seat and fireplace engaging with the street or semi concealing outdoor bathing areas, moderating temperature to terraces and courtyards while filtering view in and out.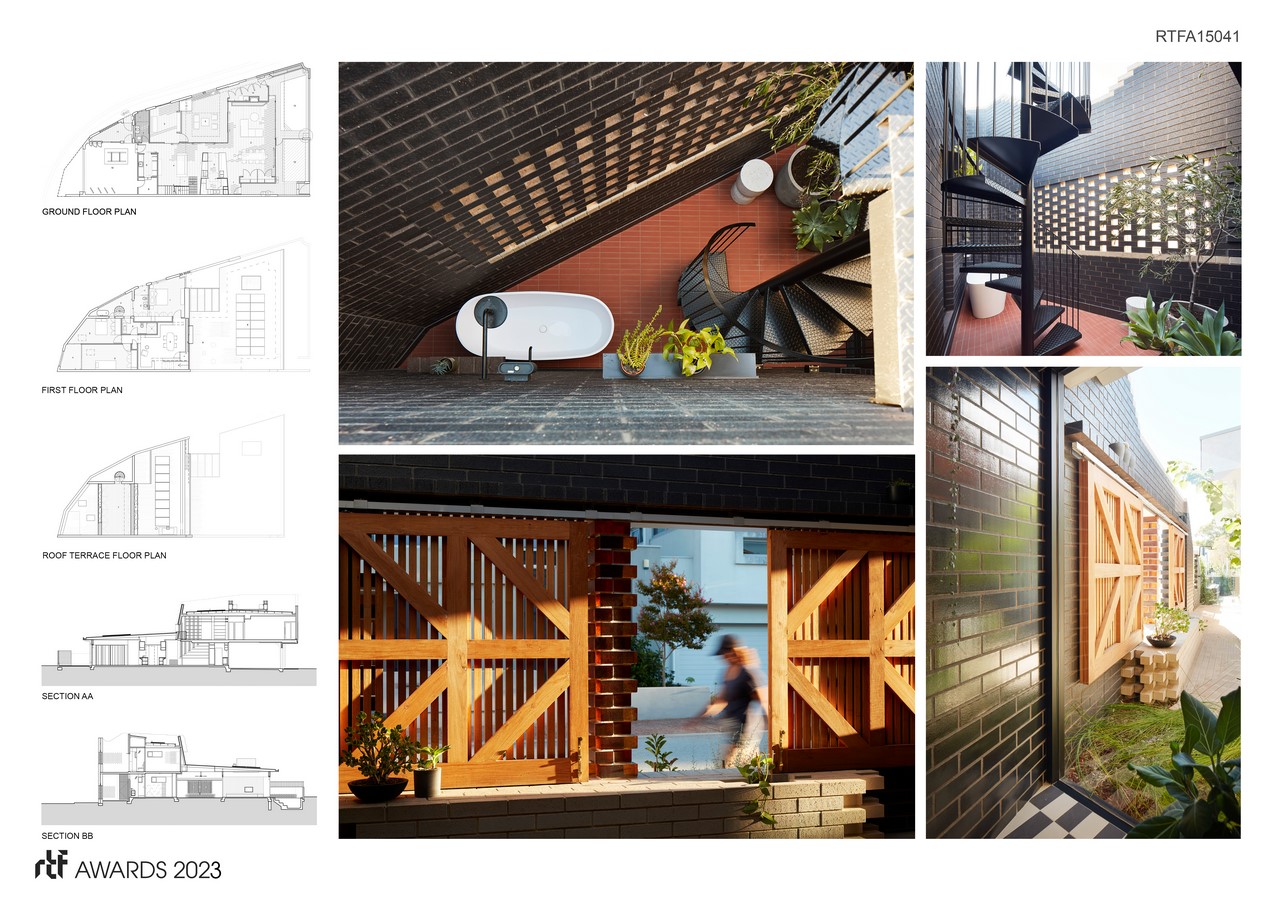 The ground level spaces create an intimate relationship to a shared public park, this is a social space and our communal garden of play. As one progresses deeper into the home, spaces become more intimate, opening to a large courtyard.
We desired flexibility to adapt our daily use of the home and longer term flexibility to support aging in place. Sliding doors and screens adjust spatial separation while allowing passive observation. Living at one level and a future lift provision allows for long term and aging in place between levels.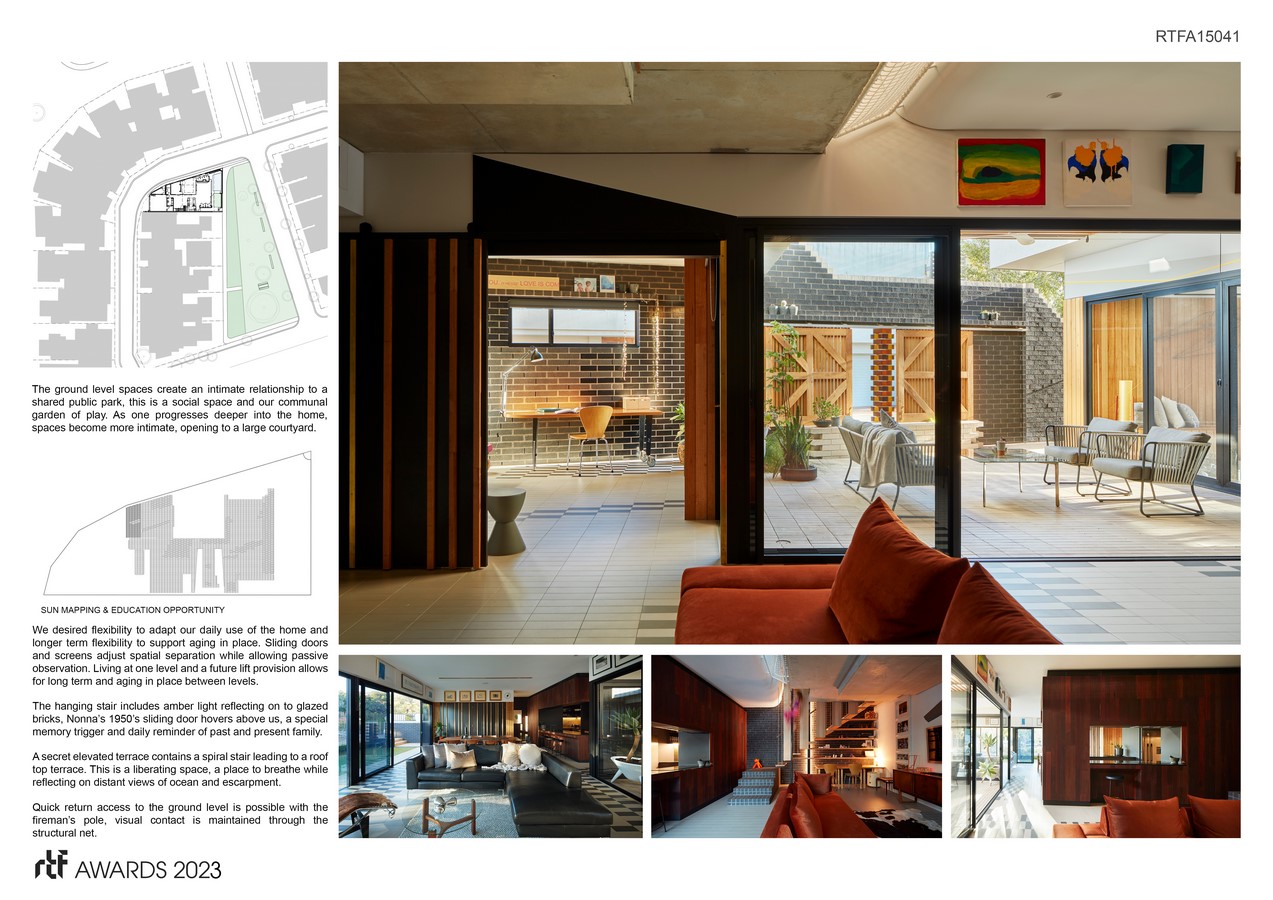 The hanging stair includes amber light reflecting on to glazed bricks, Nonna's 1950's sliding door hovers above us, a special memory trigger and daily reminder of past and present family.
A secret elevated terrace contains a spiral stair leading to a roof top terrace. This is a liberating space, a place to breathe while reflecting on distant views of ocean and escarpment.
Quick return access to the ground level is possible with the fireman's pole, visual contact is maintained through the structural net.