The Government Center Garage stands as a looming monument to the misguided intentions of Boston's Urban Renewal era of the 1960s. Conceived at a time when auto-centric policies dominated planning efforts, the resultant mega-block parking structure visually and physically separates six vibrant neighborhoods – Market District, Bulfinch Triangle, the North End, Beacon Hill, Government Center, and the West End. Bulfinch Crossing will unlock the vast walkability and economic potential of the area by surgically removing portions of the garage, reknitting the surrounding context, and transforming the area into a dynamic mixed-use development.
Rethinking The Future Awards 2020
Third Award | Urban Design (Concept)
Project Name: Bulfinch Crossing
Studio Name: CBT
Design Team: David Nagahiro, David Hancock, Ken Lewandowski, Mitchell Bush, Sae Kim, Devanshi Purohit, Kishore Varanasi, Maria Mak
Area: 2,900,000 SF
Year: Confidential
Location: Boston, MA
Consultants: Landworks Studio, Vanasse Hangen Brustlin, Inc., WSP, Flack + Kurtz, Arup, Howard/Stein Hudson Associates, Inc., McNamara/Salvia, Inc., Tishman Construction Corporation, RWDI, Bulfinch Congress Holdings, LLC, The HYM Investment Group, LLC
Other Credits: Neoscape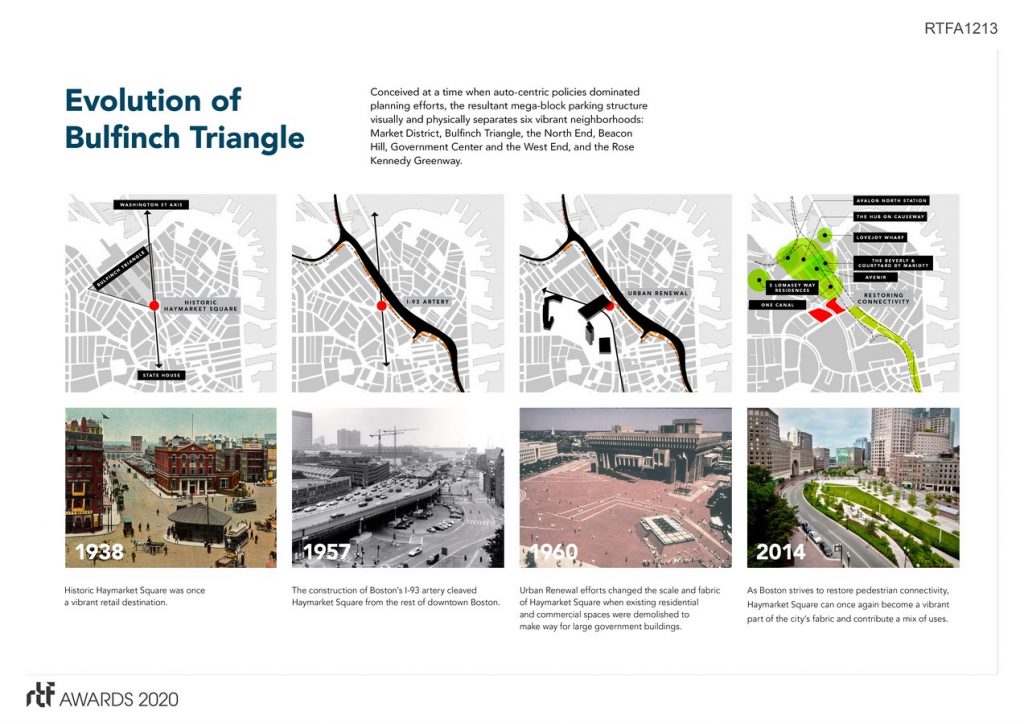 While the western half of the garage will be restored and two residential towers and an office tower will be added to the site; the eastern half will be removed and converted into a new pedestrian plaza with a hotel, residential, office building, and a retail podium at the base. Opening Congress Street to daylight for the first time in 50 years, connecting the project's residential and retail programs to the new Boston Public Market, while allocating three million square feet to alternative modes of transportation, Bulfinch Crossing serves as a model for transit-oriented development and marks the first mixed-use development to include a significant housing component in an urban renewal district.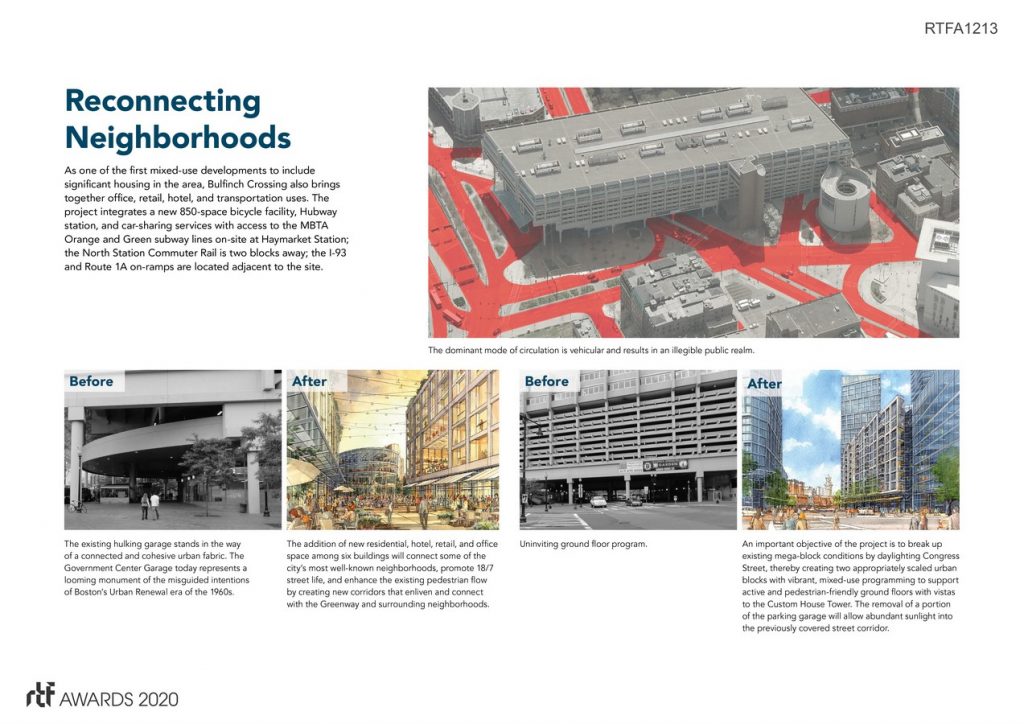 Innovative and strategic phasing for preservation, sustainability, economics, and parking
Phasing and construction logistics provided a twin set of unique challenges both in how to utilize the embodied energy of the garage as well as to construct a phased project in a busy urban context. Recognizing the opportunity for innovative phasing, the proposal threads development on and around the existing structure, with the full-build condition retaining nearly half of the garage. Not having to remove and rebuild the western half of the garage equates to energy savings of approximately four million gallons of gas, a solution that is both environmentally sustainable and economically feasible.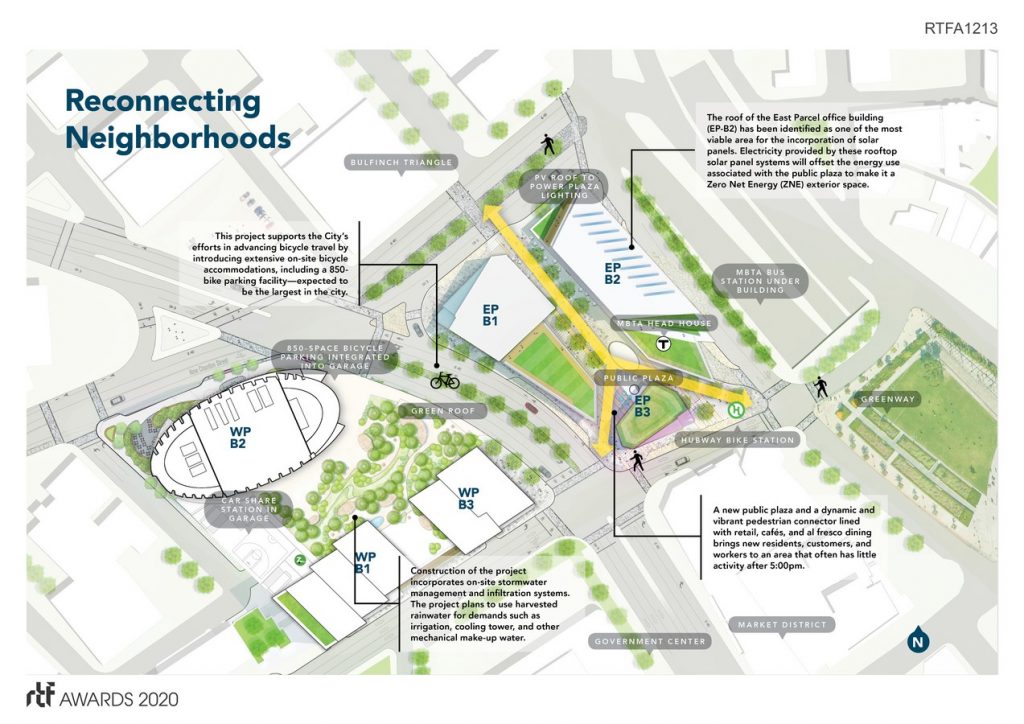 Resolving morphological conditions resulted from uncoordinated historical interventions
The project sets up a new position for urban development and design in Boston, which is a pre-grid city with multiple urban interventions over time and various desire lines. Modern real estate developments rarely recognized this nuance while resorting to conventional rectangular building typologies. Responding to these acute desire lines and street networks, the proposed urban form and buildings are shaped to create visual references at multiple scales. The proposal addresses these scales while demonstrating good density in Boston through rethinking typologies by creating slender towers with a smaller footprint. Further, the project site mediates numerous surrounding sites and historical palimpsests, while creating an urban gateway that sculpts to the natural street lines and reflects the organic geometry of the area's urban grid.
ARCHITECTURE, CONSTRUCTION & DESIGN AWARDS 2020 IS HERE
Over more than half a decade Rethinking the Future has been a leading organization committed to providing an international platform to not only recognize and acknowledge design talents from all over the world but also to celebrate and share the knowledge that created through a plethora of awards, events and academic dialogues in the field of architecture and design.