Exacerbated by climate change, summers are getting longer and extreme heat waves more frequent. As temperatures rise globally, the impacts of urban heat islands – once considered an invisible threat – are becoming increasingly pronounced and ever more dangerous.
Rethinking The Future Awards 2022
Second Award | Urban Design (Built)
Project Name: Abu Dhabi Climate Resilience Initiative
Studio Name: CBT
Design Team: Henry Celli, Andrew Chipman, Rajji Desai, Aditya Deshmukh, Talitha Fabricius, Amanda Gorey, Tim Houde, Sharvi Jain, Sae Kim, Li Lu, Hyunsik Mun, Marwan Omar, Anthony Polidoro, Devanshi Purohit, Jennifer Raichek, Kishore Varanasi, Leah Wang
Area: 16,500 sq.m
Year: 2021
Location: Abu Dhabi, UAE
Consultants:
Landscape Architect: SLA
Structure, MEP, Sustainability Consultant: BuroHappold
Lighting: LAM Partners
Fabricator: MDT-Tex
Cost Consultant: DGJones
Consultant: Mist America
Local Architect: Mark Habre and Associates
Photography Credits: CBT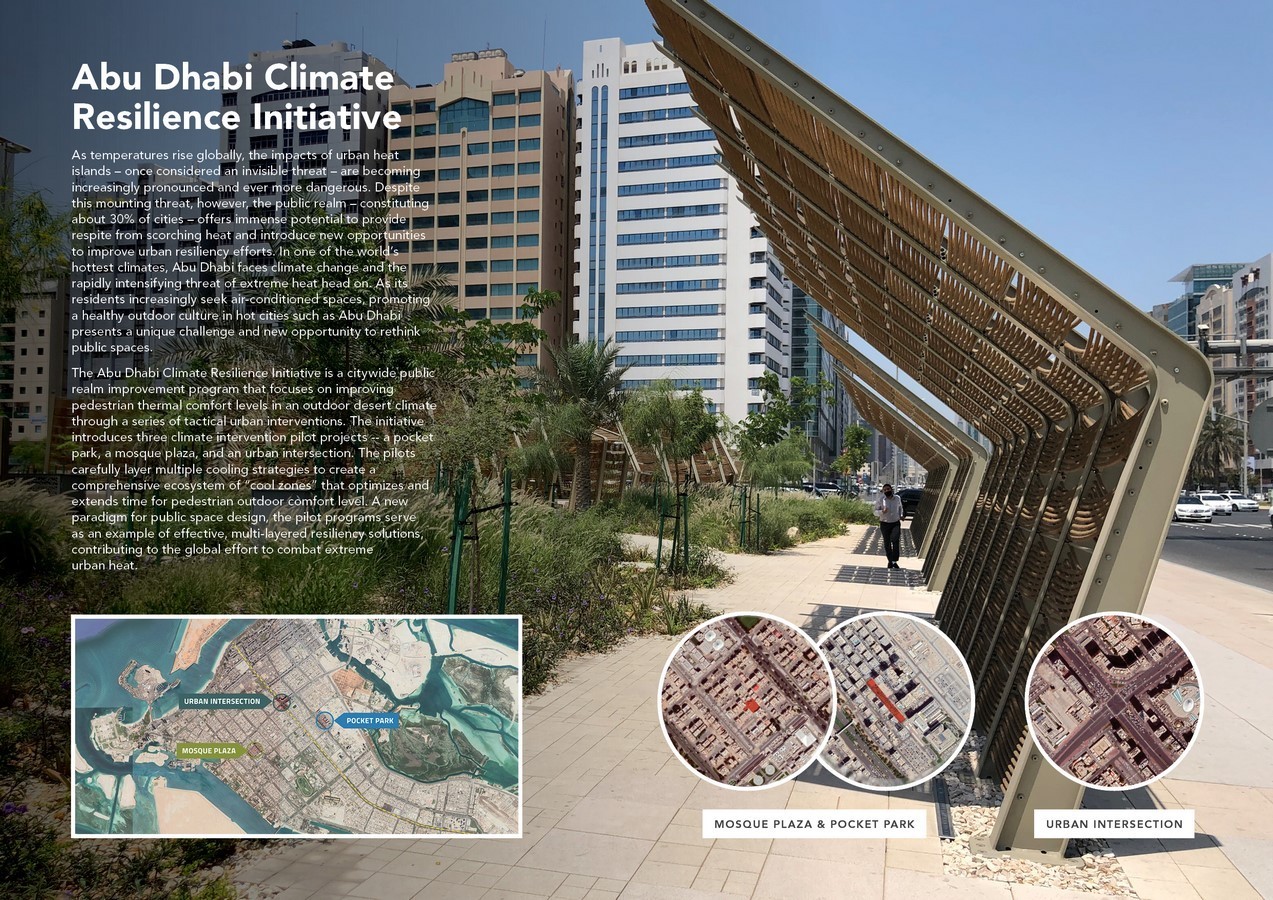 Despite this mounting threat, however, the public realm – constituting about 30% of cities – offers immense potential to provide respite from scorching heat and introduce new opportunities to improve urban resiliency efforts. In one of the world's hottest climates, Abu Dhabi faces climate change and the rapidly intensifying threat of extreme heat head on. As its residents increasingly seek air-conditioned spaces, promoting a healthy outdoor culture in hot cities such as Abu Dhabi presents a unique challenge and new opportunity to rethink public spaces.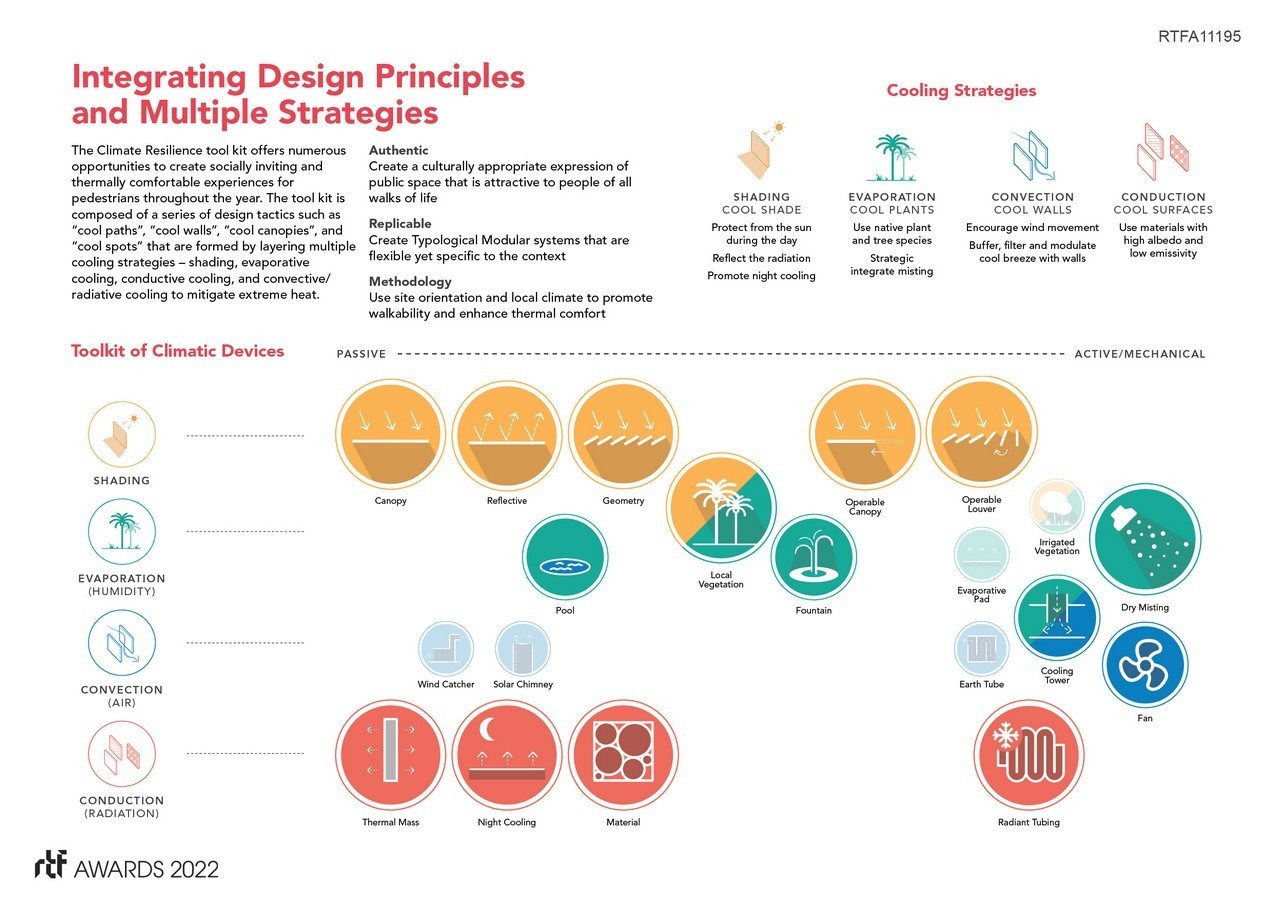 The Abu Dhabi Climate Resilience Initiative is a citywide public realm improvement program that focuses on improving pedestrian thermal comfort levels in an outdoor desert climate through a series of tactical urban interventions. The initiative leverages international collaborations between urban designers, climate scientists, engineers, and landscape architects to explore creative heat mitigation strategies in one of the hottest cities in the world. While climate change is a global challenge, the Initiative recognizes that effective heat mitigation solutions must be hyper-local and address specific regional needs. Employing climate science, extensive urban research, and rigorous testing, the Initiative deployed a combination of climate-sensitive strategies to effectively reduce urban heat island effect in an environmentally responsible way. The program implemented a series of pilot projects at three typological sites: pocket park, mosque plaza, and an urban intersection. Rather than introduce a one-size-fits-all solution, the pilots integrate multiple cooling strategies based on a careful analysis of each site.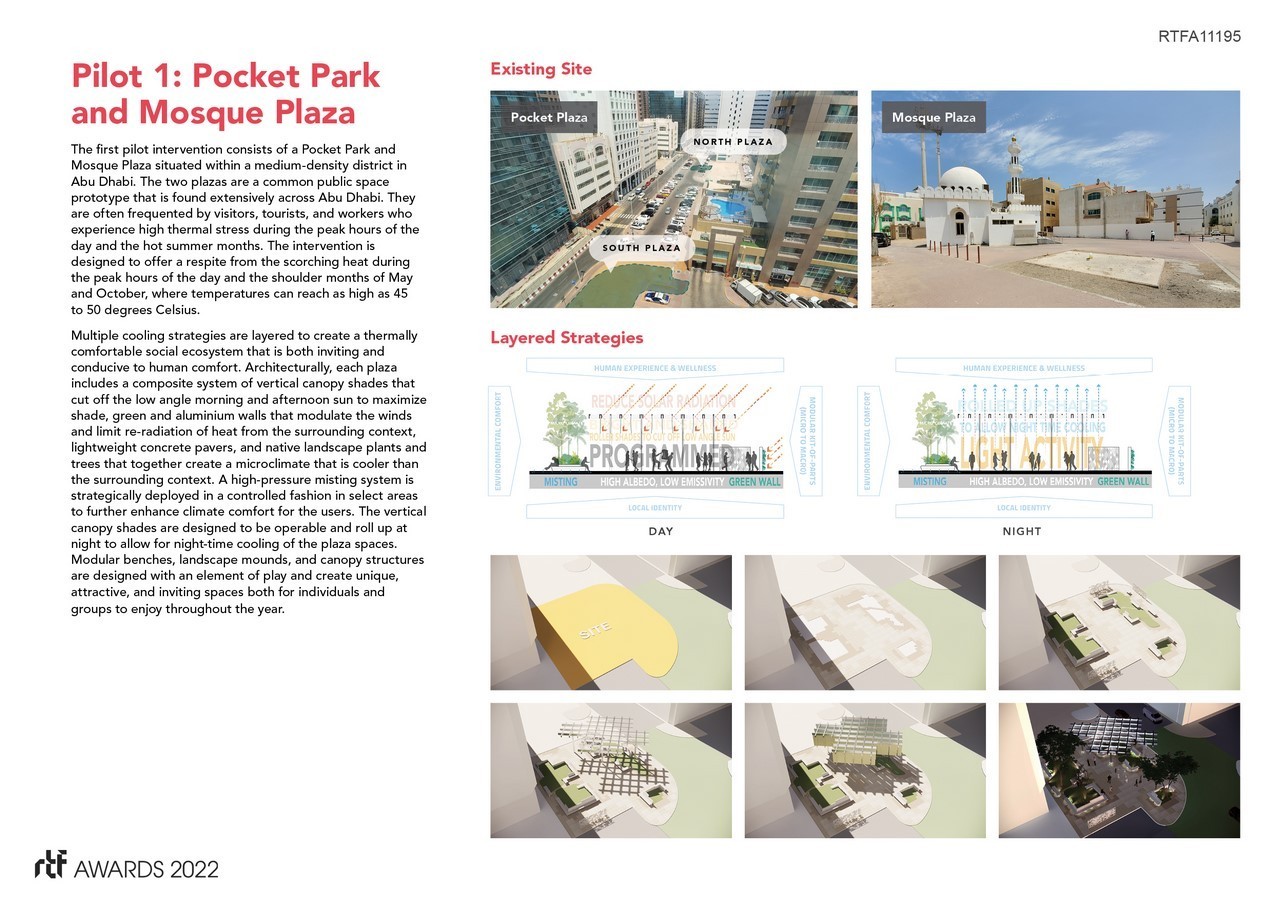 Strategic design tactics, informed by thoughtful cooling solutions, provide a range of foundational mitigation elements including "cool paths," "cool walls," "cool canopies," and "cool spots." Layering these strategies within a comprehensive ecosystem of "cool zones" optimizes and extends time for pedestrian outdoor comfort level – particularly during shoulder months and peak hours of the day. Each pilot's design is inspired by the local, architectural vernacular of Abu Dhabi and shaped by a detailed micro-climate analysis (wind, temperature, humidity, radiation) of the site to create a truly authentic expression of public space. The urban intersection pilot, for example, adopts the traditional horizontal weaving style of Al Sadu – an Arabic style of weaving which uses locally-sourced natural fibres.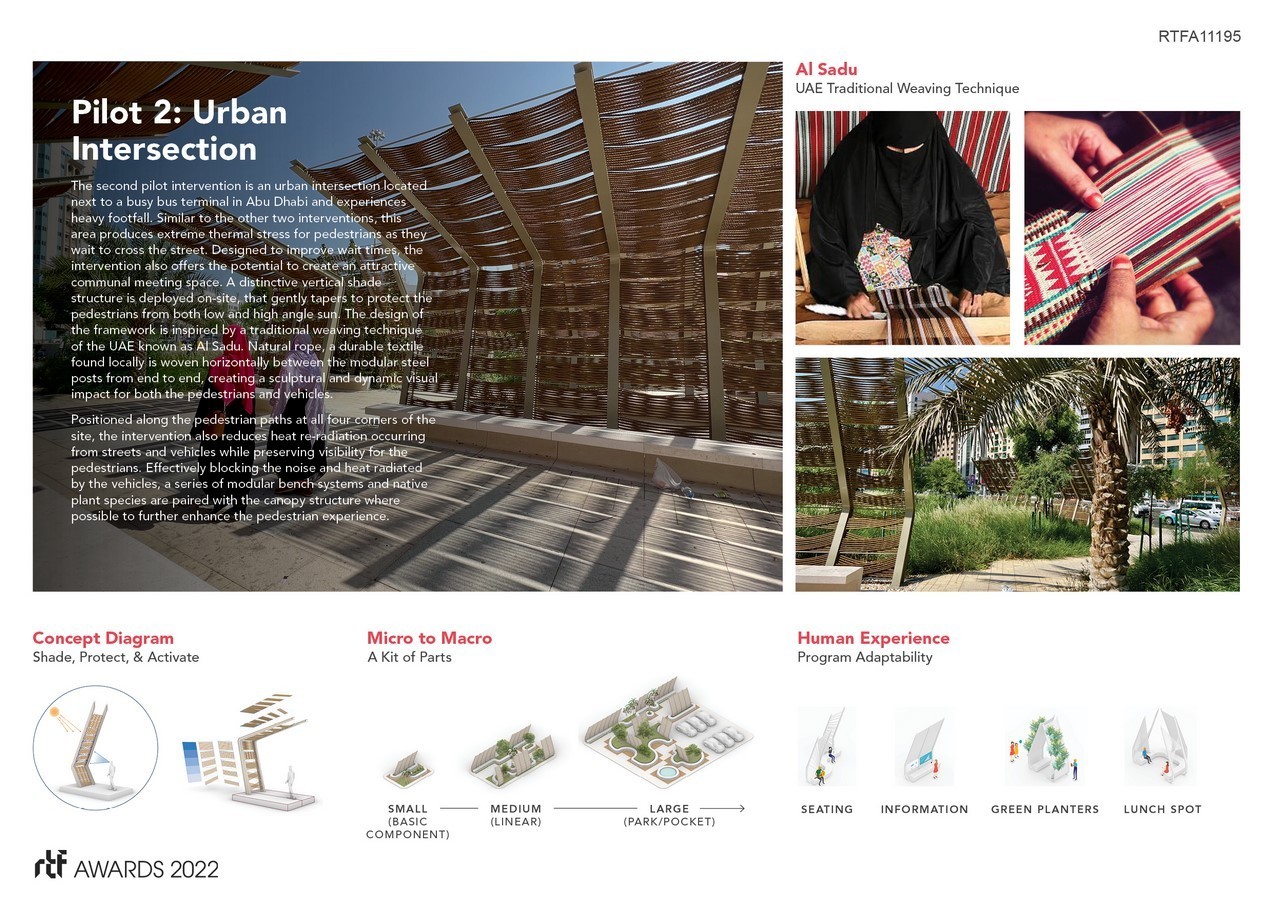 Informed by data-driven and evidence-based design, grounded in environmental analysis, and uniquely tailored to local character, the Abu Dhabi Climate Resilience Initiative provides inviting and thermally comfortable spaces that prioritize human comfort in the public realm. Thorough, local, and relentlessly researched, the Initiative introduces a design methodology and principles meant to inspire resiliency efforts in cities around the world. A new paradigm for public space design, the pilot programs serve as an example of an effective, multi-layered resiliency solution contributing to the global effort to combat extreme urban heat.