Bower, a new mixed-use infill complex transforms Boston's historic Fenway Park area into a connected, walkable, and vibrant neighborhood with housing and retail offerings, transit access, and public space. Among the most significant transit-oriented developments that Boston has seen in a generation, Bower is a valuable example for other cities where tangible quality-of-life benefits are the crux of improving residents' urban experience.
Rethinking The Future Awards 2021
Third Award |  Urban Design (Built)
Project Name: Bower
Studio Name: The Architectural Team, Inc. (TAT)
Design Team: Architect: The Architectural Team, Inc. (TAT)
Contacts: Mike Binette, AIA, NCARB | Senior Partner + Managing Principal
Jay Szymanski, AIA, NCARB, LEED AP | Principal
Michelle Hobbs, Associate AIA | Project Manager
Interior Design: Planeta Design Group, LLC
Contact: Patrick Planeta | Principal
Developer: The Green Cities Company
Contact: Kelly Saito | Managing Partner
Developer: Meredith Management
Contact: John Rosenthal | President
Developer: Nuveen
Contact: Thom Sayers | Senior Director, Asset Management, Housing, Real Estate, Americas
General Contractor: John Moriarty & Associates, Inc.
Contact: John Moriarty | President
Property Management: Greystar
Contact: Kathleen Leito | Managing Director of Real Estate
Area: 346,000 sf
Year: Completed in 2020
Location: Boston, MA
Consultants:
Landscape Architect: Copley Wolff Design Group
Contact: John Copley, ASLA, PLA | Principal
Structural Engineer: LeMessurier
Contact: Gregory Shreve, PE, SE | President
Mechanical, Electrical, Plumbing, Fire Protection, and Code: Cosentini Associates
Contact: Robert Leber, PE, LEED AP | Senior Vice President, Director of Cambridge Office
Civil Engineer: Vanasse Hangen Brustlin, Inc.
Contact: Mark Junghans | Principal, Managing Director, Land Development
Geotechnical and Environmental Engineers: Haley & Aldrich
Contact: Mark Balfe, PE | Principal, Market Segment Leader, Real Estate Development
Photography Credits: Ed Wonsek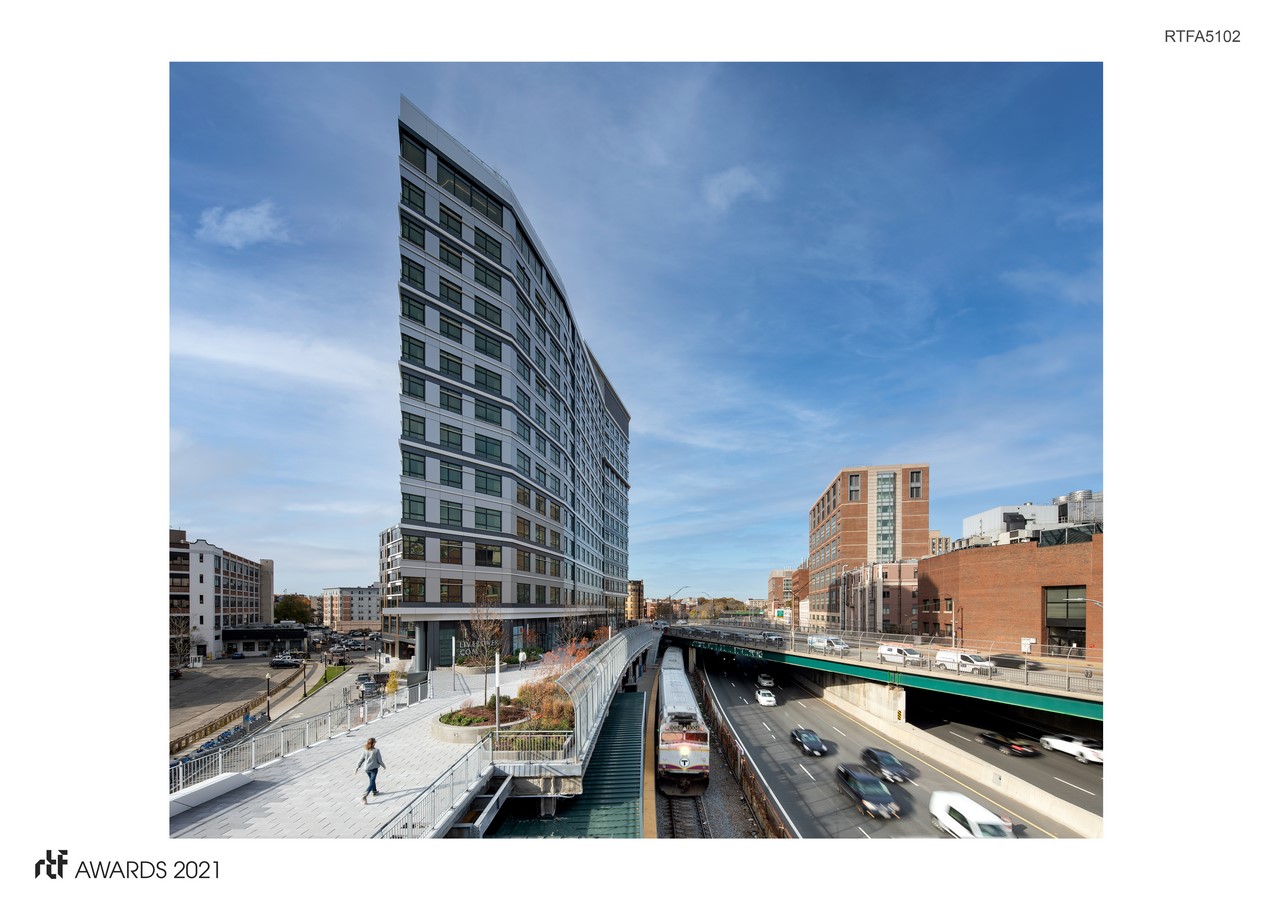 As the first phase of the highly anticipated Fenway Center development, Bower offers 312 units and 40,000 square feet of commercial space across two buildings. Community resources including a 12,500 square foot, multilevel pedestrian plaza offer vital connections between the growing neighborhoods, knitting together bifurcated districts and easing access to commuter rail services via an adjacent transit hub.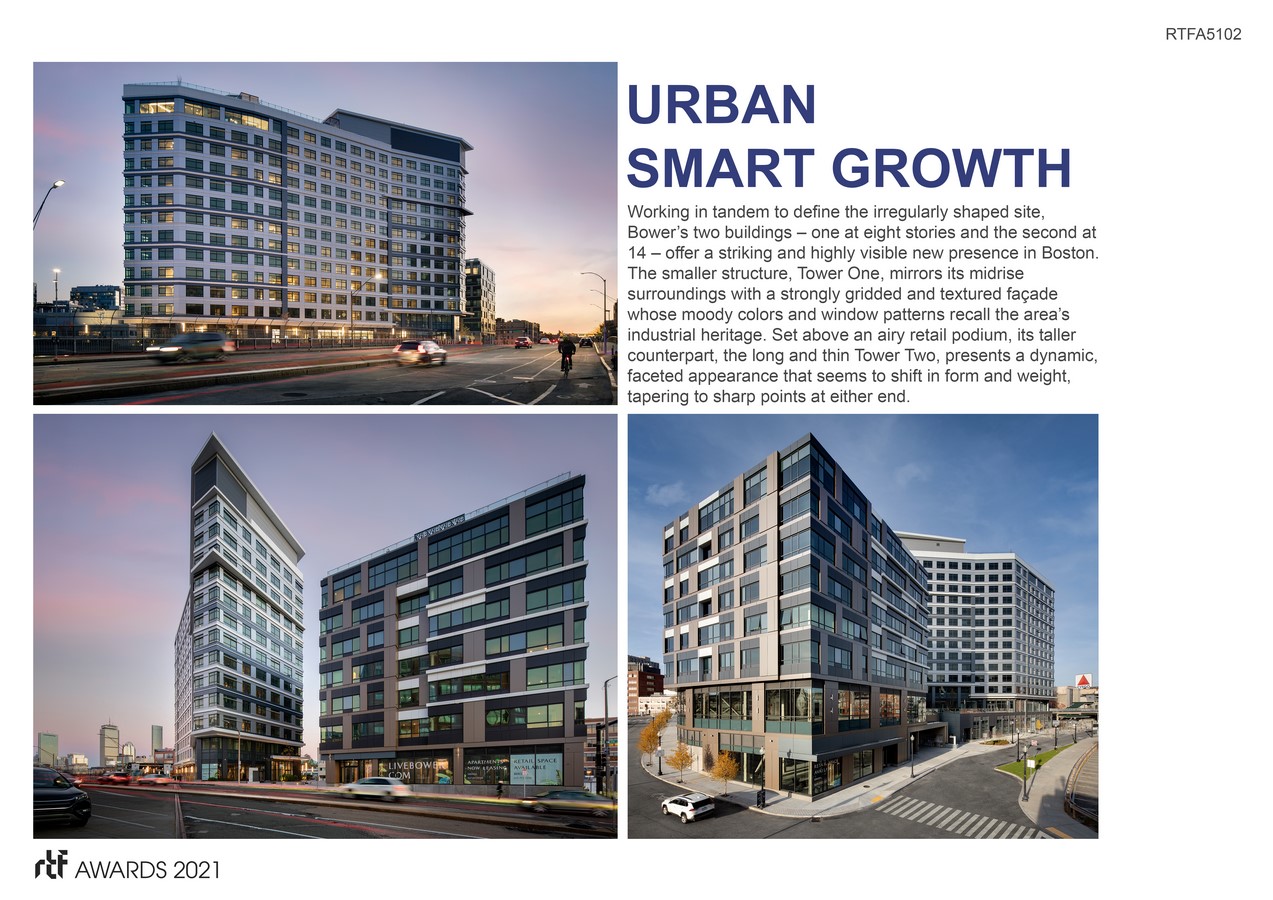 Built on what was previously an underutilized site, Bower helps fill a longstanding gap in Boston's urban network created by highway construction in the 1960s. Its design employs clever massing of the two structures – which rise in height and scale from historic Beacon Street to the highway – and the creation of the new public plaza whose meandering paths link the buildings and provide, for the first time, a fully accessible pedestrian connection with a 23-foot grade disparity between Beacon Street down to David Ortiz Drive and Fenway Park below.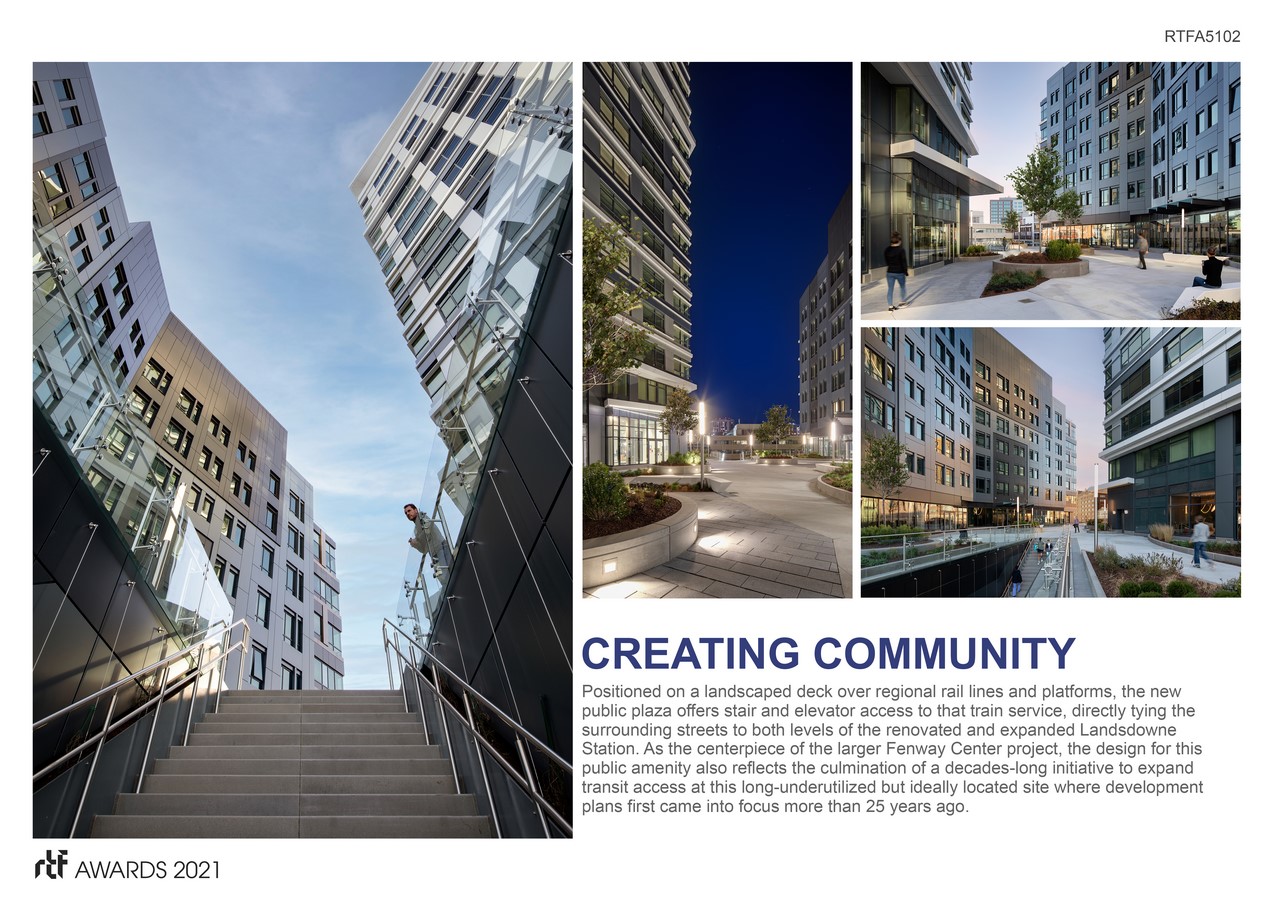 Bower is notable for its market-leading focus on resident health and well-being. Certified LEED Gold and pursuing Fitwel certification, the project sets a new standard for multifamily development in New England with thoughtful amenities and innovative material choices, including full dynamic glazing. Windows feature View Smart Glass, which tints automatically in response to ambient light levels throughout the day, facilitating views and natural light while maintaining thermal comfort and controlling glare.
Bower's design goal (whose name refers to "a pleasant shady place under trees or climbing plants in a garden") is to connect people to nature, rejuvenating resident health and well-being. The biophilic interiors use an array of natural materials, fluid forms, and reflective elements to enhance the feeling of bringing the outdoors inside. This design is also informed by evolutionary psychology that offers clues to understanding automatic responses triggered by modern, man-made surroundings.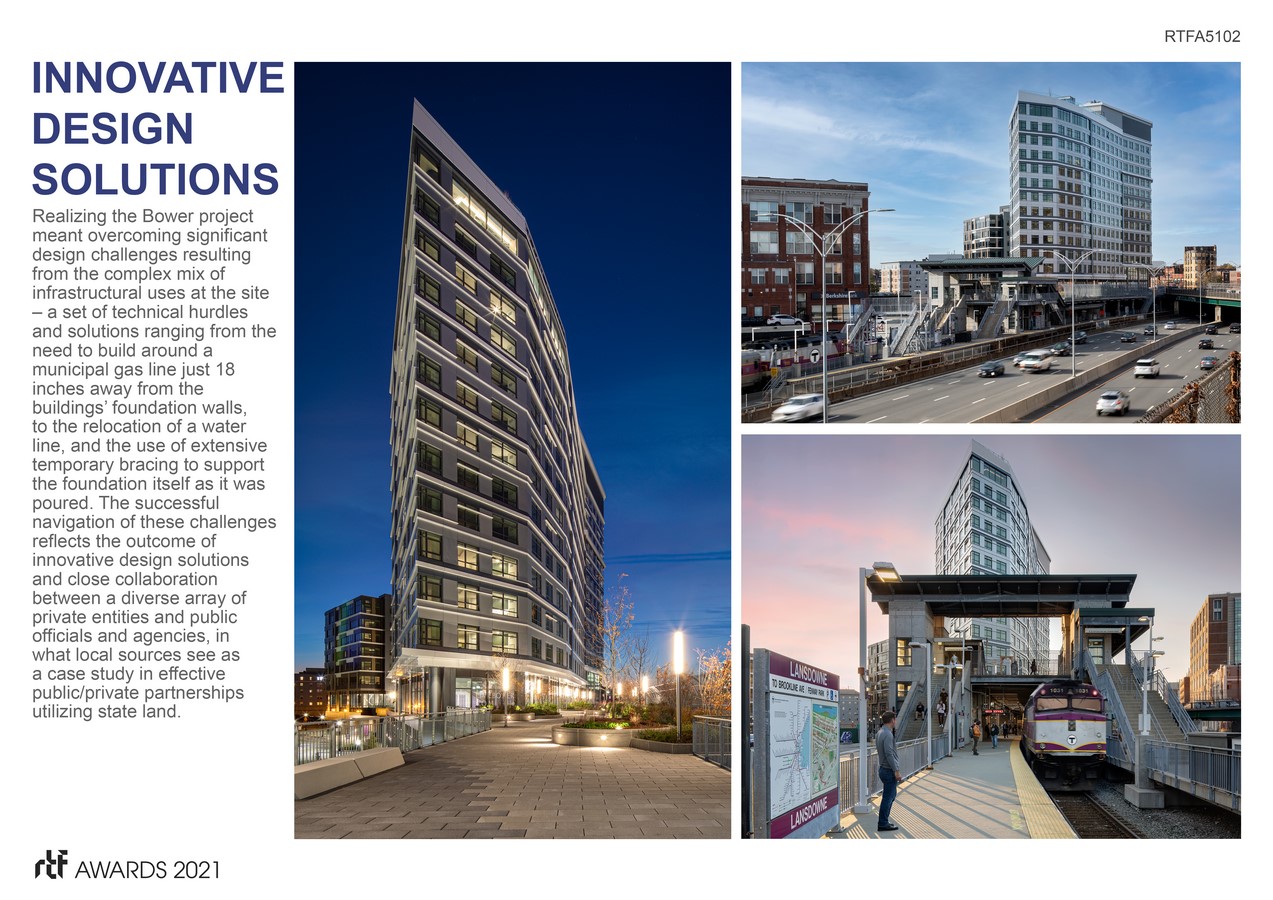 Bower offers a suite of services and amenities that support residents' use of sustainable transportation. These range from a dedicated ride share parking area, to EV charging stations, and a secure bike garage and workshop. In Tower Two's lobby, Bower residents can take advantage of transit status screens that offer real-time updates on train and bus arrivals at the adjacent station. The sum of these features results in a project that serves as a case study for similar revitalizations nationwide, helping to regenerate neighborhoods and catalyze new investment.
By transforming this pivotal site into an asset with a vibrant mix of uses, Bower sets a powerful precedent for how large-scale projects can create more livable cities through public and private partnerships. The design vision for Bower and the team's commitment to smart growth sets the stage for the kind of innovative and sustainable development that citizens deserve.