Project is located at city boundary of Los Angeles and Glendale. Several other satellite areas such as "Atwater Village" and "Silver Lake Village"( located between Los Angeles and Glendale) also utilize the Brand Blvd as the main access to and from the City of Glendale.
Global Design & Architecture Design Awards 2021
Second Award | Category: Iconic Building
Project Name: 1815-1821 S. Brand Blvd.
Project Category: Category 1: Housing & Category 2: Iconic
Studio Name: McClellan, Badiyi & Associates Architects
Design Team: Bahram Badiyi- Principal in charge of design, Robert McClellan, James Tobias, Joji Marquez
Area: 98,900 Square Feet (Appx 11,000 Square Meter)
Year: 2020-2022
Location: City of Glendale, California, USA
Photography/Rendering Credits: Shanghai Halo Architectural Visualization Co. Ltd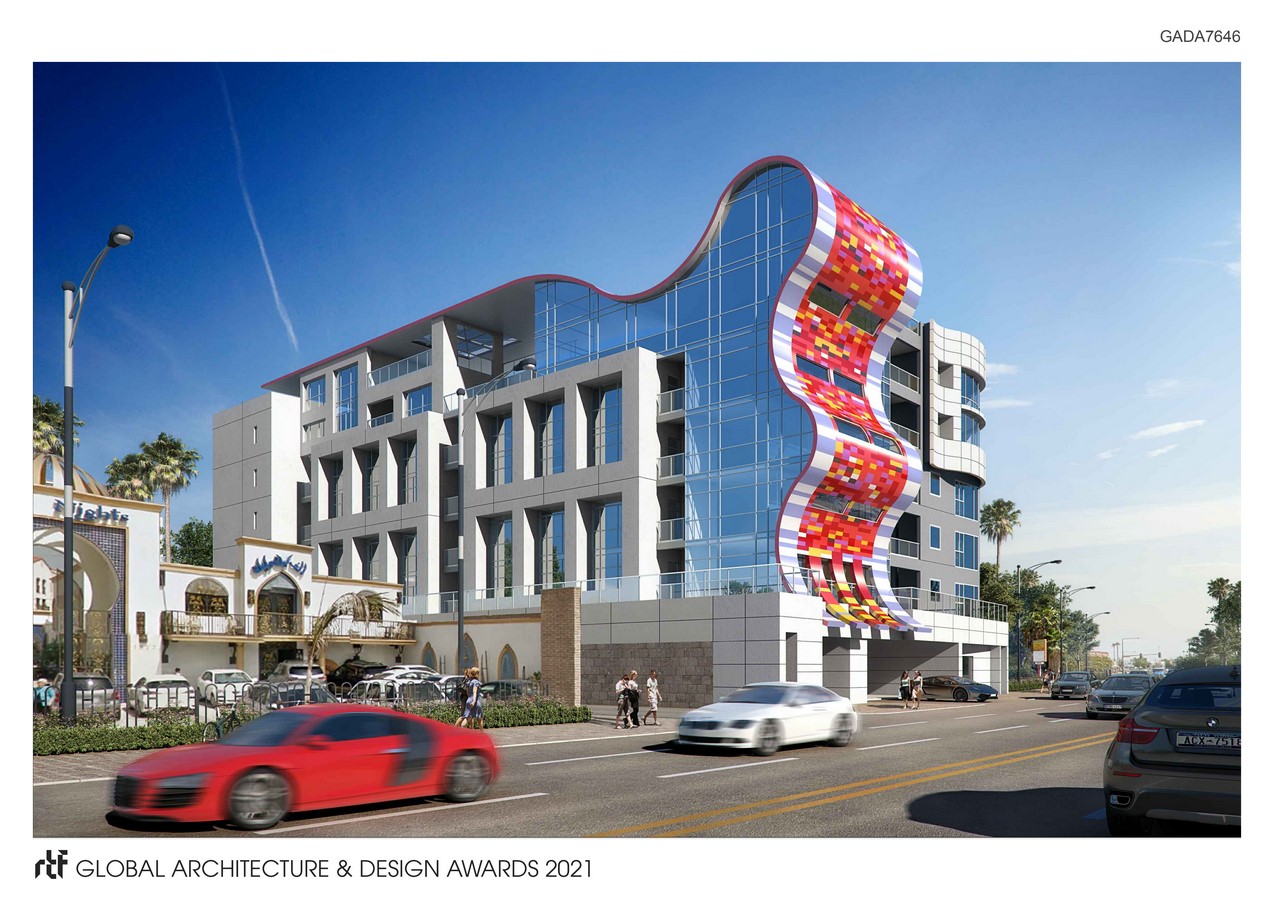 Project consists of 38 units of apartment/condominium with mix of one, two, and three bedrooms. Some units on the 5th floor are two level with a work/loft/studio space at the roof level which can be accessed independently through the recreational roof garden making these fifth floor units complete "work/live" units.  As a plus to having three levels of subterranean parking, the project is located within walking distance of Gold Line Metro Rail station. The single bedroom units are at minimum of 900 square feet, two bedrooms at minimum of 1,200 square feet and three bedrooms at 1,500 square feet. The three bedroom units are equal to size of many single family homes in the area. The roof garden provides outdoor entertainment areas with spa/Jacuzzi, outdoor dining, including movie nights for the residents. In addition the project provides a two level common space for events as well as indoor and outdoor gymnasium space. There is a retail space at the ground level as well as leasing facilities.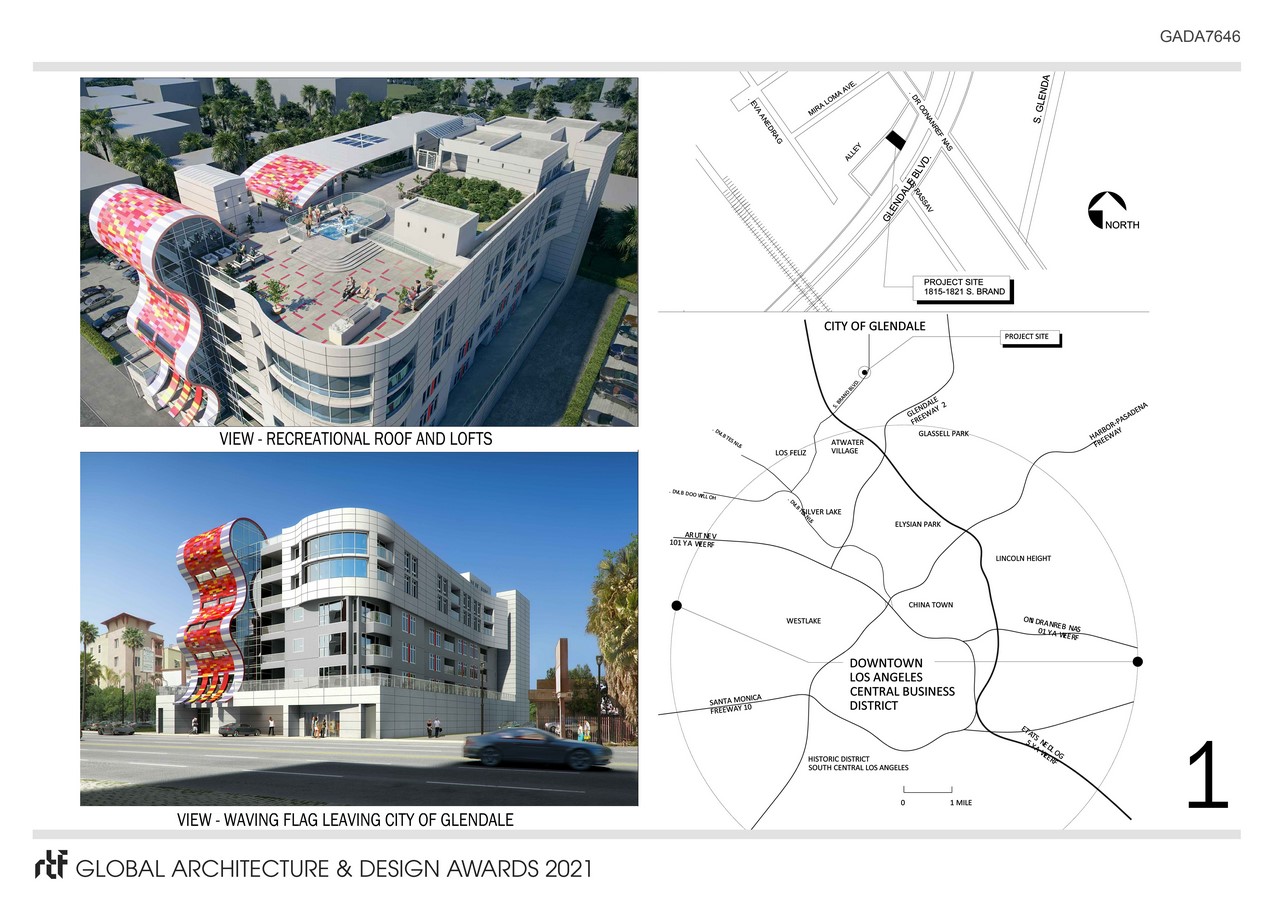 The project façade is designed to become a "Welcoming Red Carpet" when travelling north on Brand Blvd entering Glendale. While the north facade becomes a horizontal banner saluting those leaving the city travelling south toward Los Angeles. The "Red Carpet" is constructed (as shown on pages 5 and 6) with metal panels six inches wide and backed with steel curved beams. The narrow metal panels are easy to install and easy to replace if necessary. The areas behind the "Red Carpet" are outdoor balconies at the elevator lobbies of each floor offering views while waiting. Even though the glass curtain wall gets attached to the "Red Carpet" on both sides, the space behind it remains on the outside area which will not require complicated water proofing. This is shown on the partial sections at sheet 3 and 4.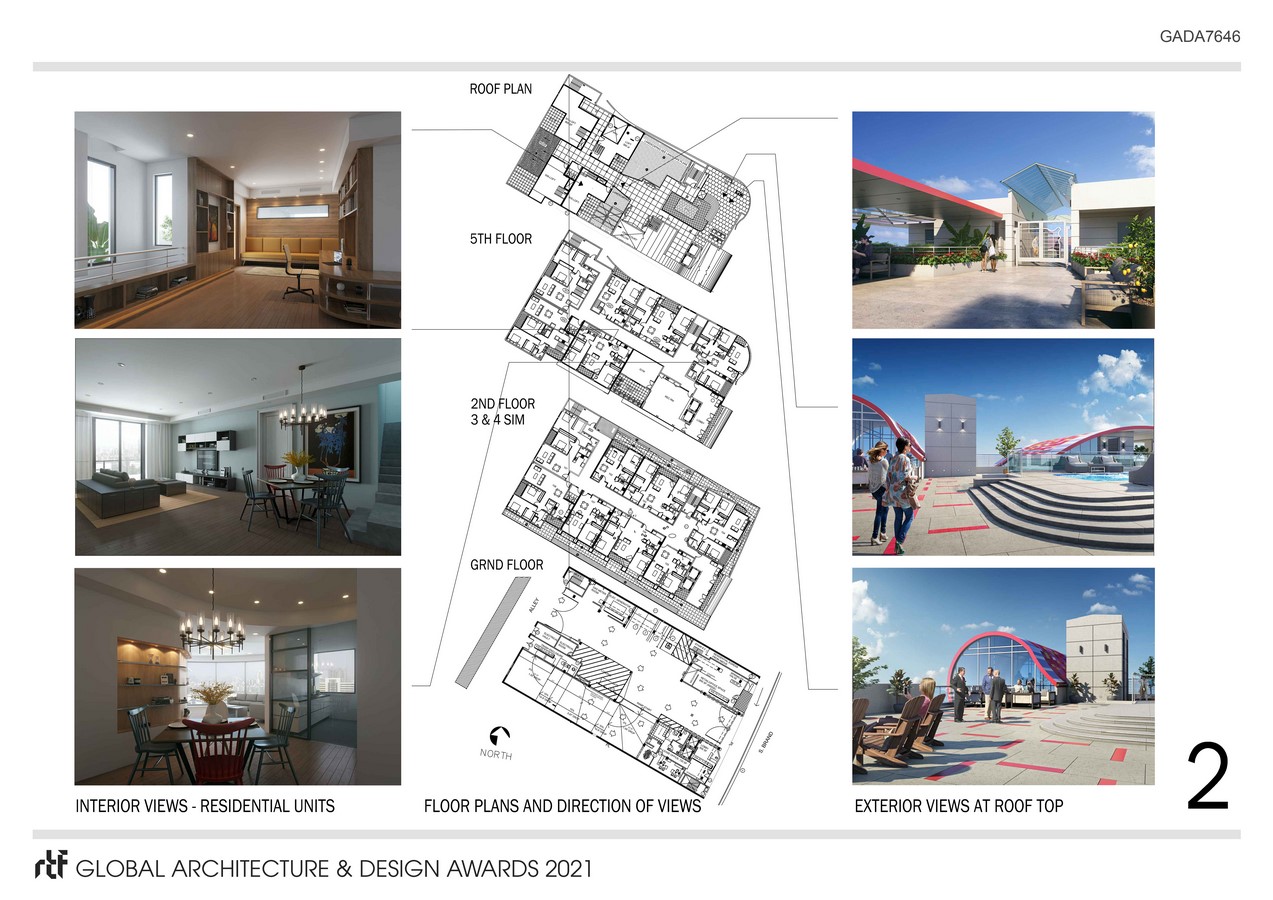 Pattern and design of the "Red Carpet" is a reflection of life of a city, with its highs and lows and colors which are both bright and dark which is a living experience that is asymmetrical in most if not all aspects. Small lights will be flashing in the evening as one is seeing a city light from far distance.