Our story of this project spans the course of nearly a decade. It began with a derelict historic auto factory and the fight to keep its bones from the wrecking ball and ended with the celebration of a building's new life as a uniquely creative office space to work and thrive.
Rethinking The Future Awards 2023
Second Award | Office building (Built)
Project Name:  Ford Motor Company Building – WMG
Category:  Office building (Built)   
Studio Name: Rockefeller Kempel Architects
Design Team:
Project Architect- D. Rocky Rockefeller, AIA
Partner – Christopher Kempel, AIA
Principal – Chris Daubert, AIA
Project Manager – Alex Alvarez
             Project Architect – Keith Ireland, AIA
Area: 194,482 SQ FT
Year: 2019
Location: Los Angeles, CA
Consultants:
Interior Design- Rockwell Group- Matthew Winter
General Contractor- Howard Building Corporation – Steve Segel
Structural Engineer- Nabih Youseff Associates – Nabih Youssef
Mechanical/ Electrical Engineers- AMA Consulting Engineers, P.C. AJ Vergari,
Dawn MacFadyen, Carlos Lopez
Lighting – Brian Orter Lighting Design – Timothy Hart
Acoustical Consultant- Criterion Acoustics – David Kotch
Landscape Architect- RELM Studio – Scott Baker
Photography Credits:
Tara Wujcik – Tara Wujick Photography
Christopher Payne – Chris Payne Photography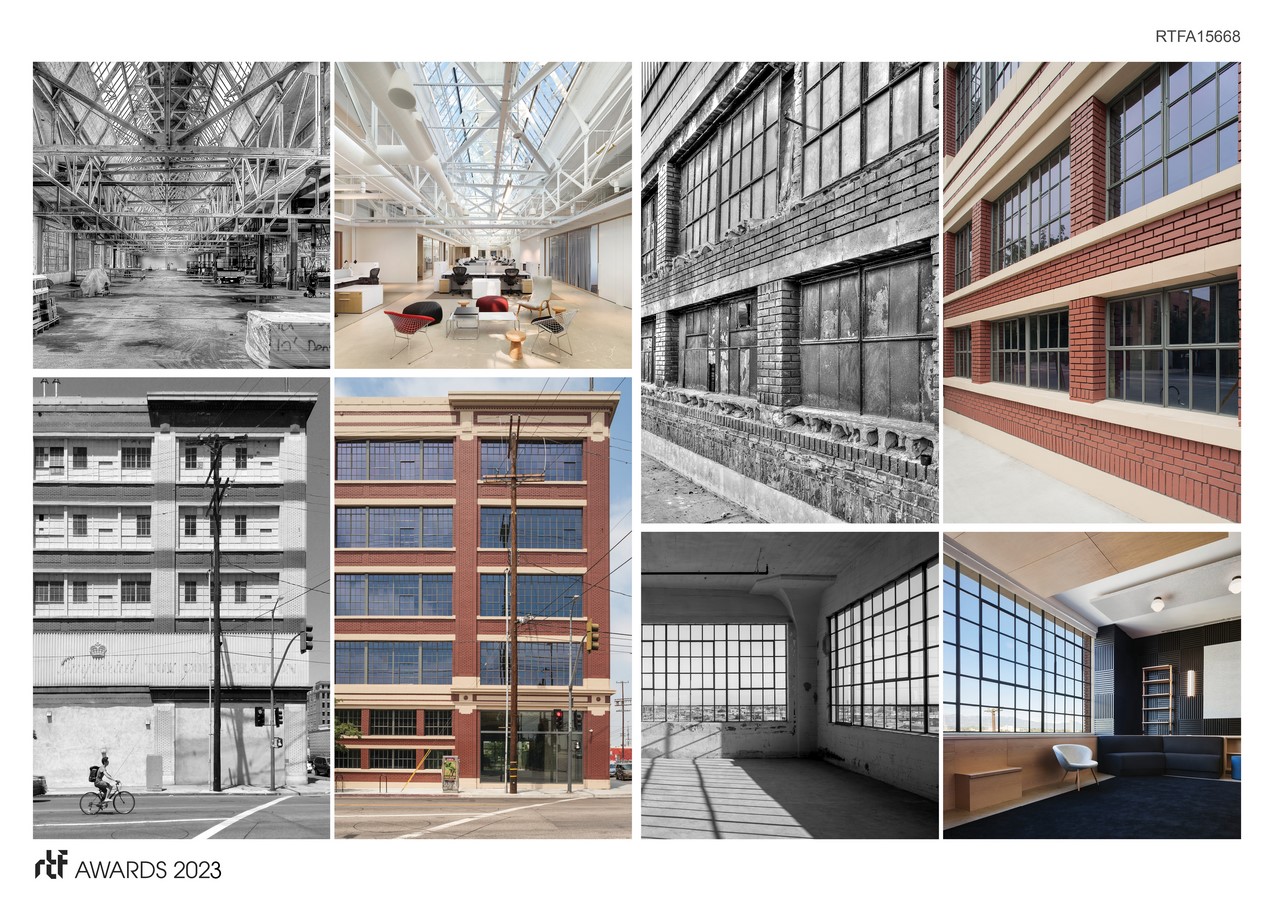 Located in the Arts District neighborhood of downtown Los Angeles, the Ford Motor Company Factory building was initially built as a five-story office tower and Model T showroom (1913) and a two-story, nearly 300 ft long factory Assembly Building (1923). It was designed by John Parkinson, one of LA's most prolific architects responsible for designing the Los Angeles Memorial Coliseum and iconic Los Angeles City Hall, and George Bergstrom, who later designed the Pentagon. In the 1980s, a simple two-story masonry structure was added at the very end of the Assembly Building to infill the site. The building later hosted several other tenants and, over time, fell into disrepair and neglect.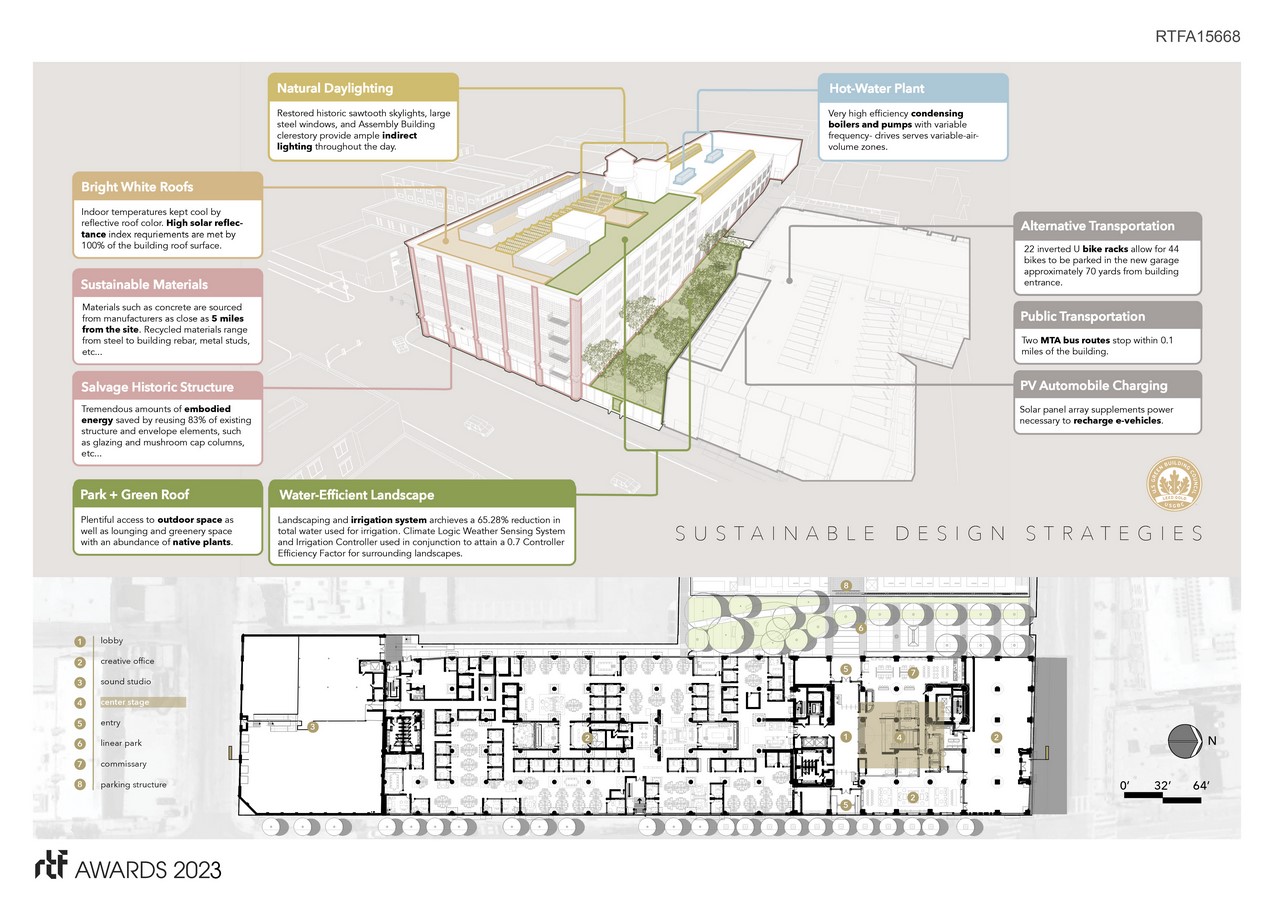 In 2014 our first objective was to preserve the historic architectural fabric and restore the building to a usable state. It included modernizing the building with critical infrastructure updates and making it as energy efficient as possible. Additionally, we created an outdoor linear park and a natural green roofscape. Restoring the building rather than demolishing it resulted in enormous (embodied) energy savings while preserving a Los Angeles architectural icon.
Improvements to the base building core and shell resulted in LEED Gold certification through the USGBC.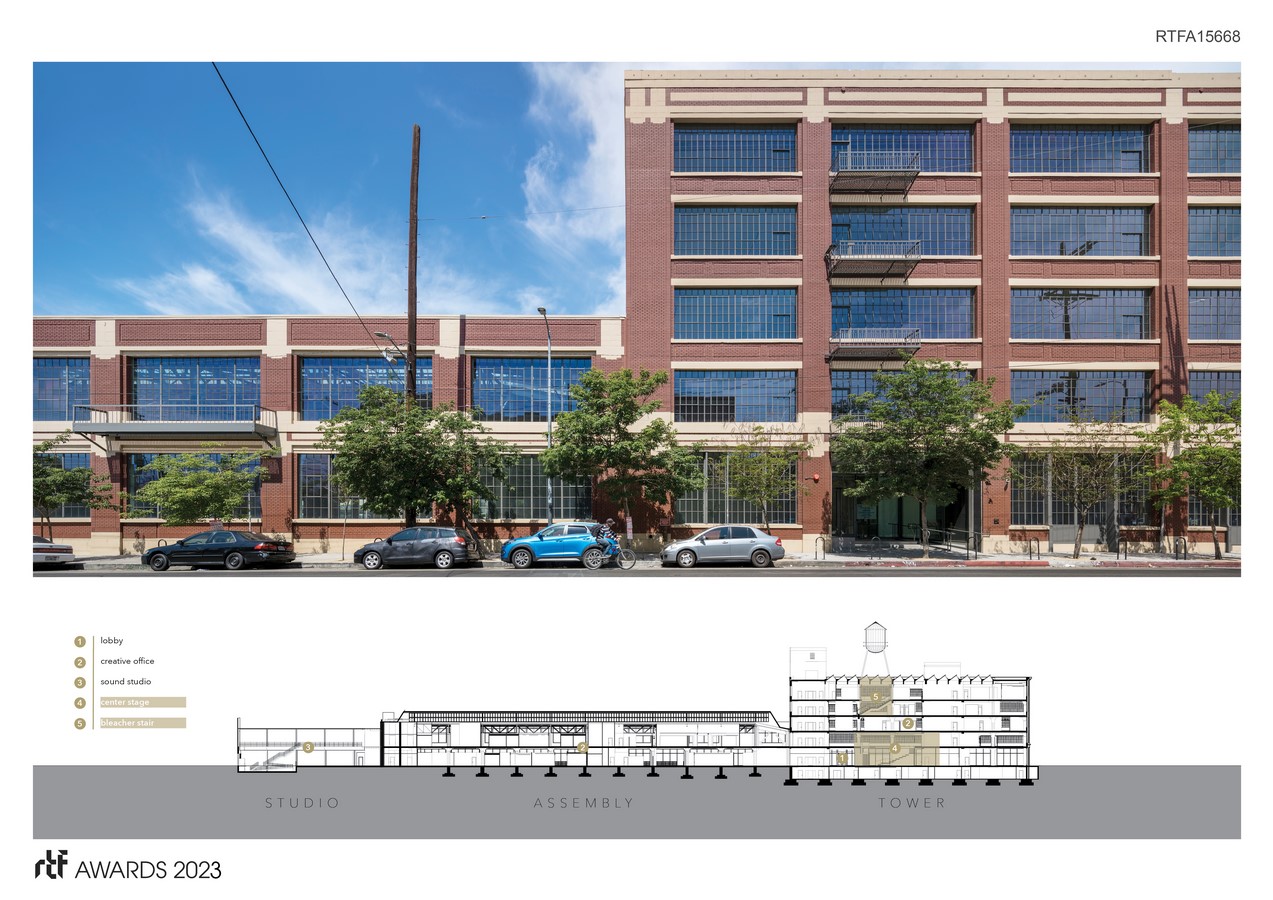 The project team's second objective brought this building back to life as creative office space for Warner Music Group as their new headquarters. The historic building and its original (newly restored) daylighting strategies were exploited to help create an open, bright, and spacious work environment. Likewise, the design team strategically cut floor openings at two locations of the Tower. One, to create a Center Stage for WMG music performances and corporate gatherings. The other, beneath the historic saw-toothed skylight and its natural daylight to connect the two floors with a Bleacher Stair for communal gathering and collaboration.
Today, the building is a thriving work environment housing all 7 of WMG's record and publishing groups under one roof. The restoration and design process were an epic endeavor and collaboration to get to where we are today. The results are a beautiful co-joining of both historic and modern.