The Ontario Secondary School Teachers' Federation (OSSTF) Headquarters and Multi-Tenant Commercial Building is a progressive 3-storey, 124,000 SF mass timber project that uses net-zero strategies, and will seamlessly integrate commercial opportunities with the relocation and revitalization of the OSSTF's office centre in Toronto.
Rethinking The Future Awards 2023
Second Award | Office building (Concept)
Project Name: The Ontario Secondary School Teachers' Federation (OSSTF) Headquarters and Multi-Tenant Commercial Building
Category: Office Building (Concept)
Studio Name: Moriyama Teshima Architects
Design Team:
Moriyama Teshima Architects (MTA)
Carol Phillips, Partner-in-Charge
Phil Silverstein, Project Manager
Gord Doherty, Project Manager / Construction Administrator
Corey Brown, Construction Administrator
Cathy McMahon, Architect
Deya Iskandarova, Intern Architect
Emmanuel Awuah, Architectural Technologist
Maya Desai, Senior Urban Designer
Sean Robbins, BIM Manager
Kayley Mullings, Interior Designer (Public and Shared Spaces)
Area: 127,000sqft
Year: Projected Completion December 2023
Location: Toronto, Ontario, Canada
Consultants:
Structural Engineering
Fast + Epp
Mechanical Engineering

Electrical Engineering

LEED

IT

AV

Security

Comms

Lighting

Introba (Integral Group)
Workplace Design
Kasian Architecture, Interior Design, and Planning
Civil Engineering
Matrix Solutions
Landscape
FORREC
Code
LMDG Building Code Consultants
Fire
CHM Fire Consultants
Sustainability
Transsolar | KilmaEngineering
Building Science
Morrison Herschfield
Elevators
Soberman Engineering
Foodservices and Kitchen Design
KAIZEN Foodservice Planning & Design
Wayfinding
Strange Colour
Specifications
Brian Ballantyne Specifications (BBS)
Photography Credits: Construction Photos captured by Salina Kassam
Render Credits: Moriyama Teshima Architects
Other Credits:
Construction Manager – Eastern Construction
Project Manager ­– BTY Group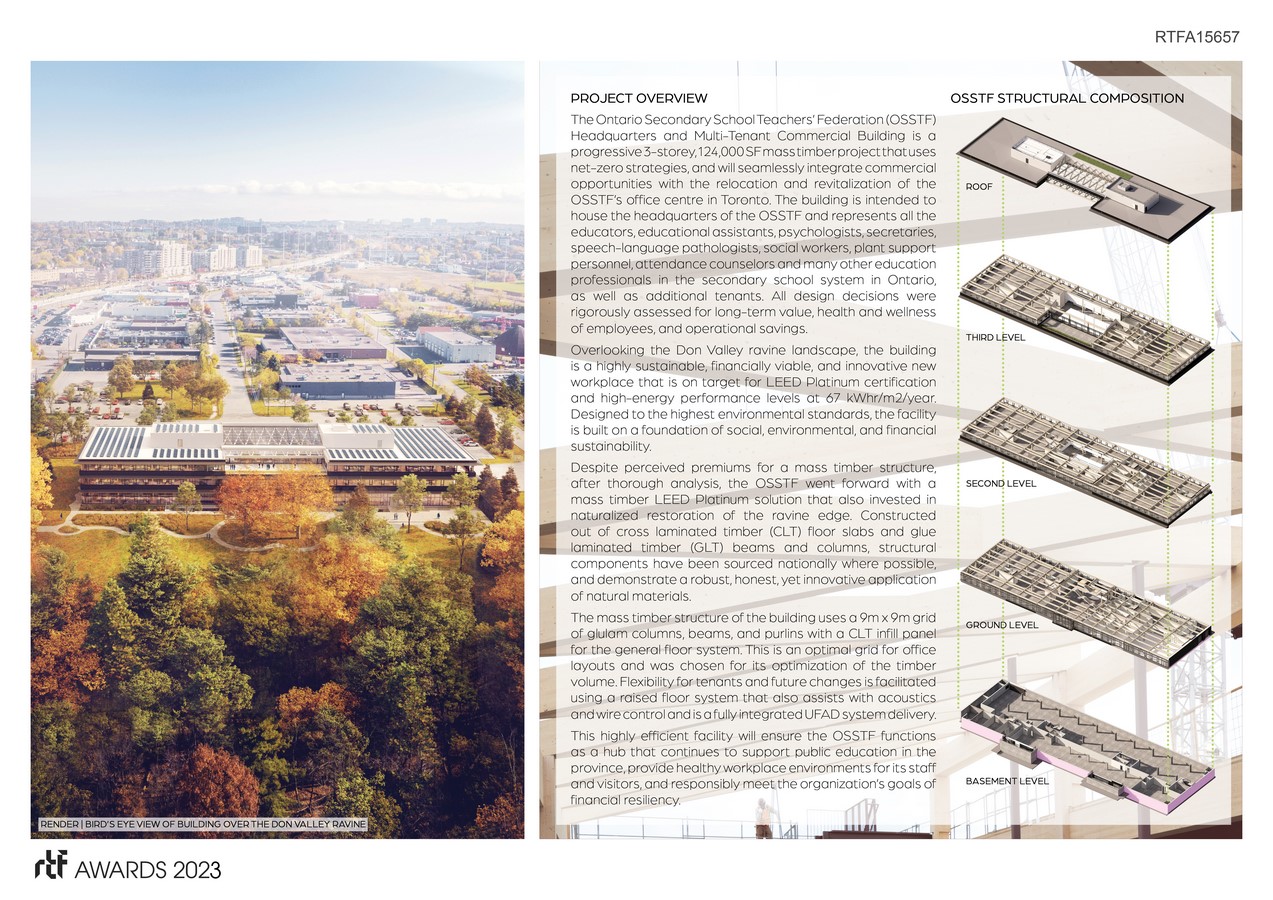 The building is intended to house the headquarters of the OSSTF and represents all the educators, educational assistants, psychologists, secretaries, speech-language pathologists, social workers, plant support personnel, attendance counselors and many other education professionals in the secondary school system in Ontario, as well as additional tenants. All design decisions were rigorously assessed for long-term value, health and wellness of employees, and operational savings.
Overlooking the Don Valley ravine landscape, the building is a highly sustainable, financially viable, and innovative new workplace that is on target for LEED Platinum certification and high-energy performance levels at 67 kWhr/m2/year. Designed to the highest environmental standards, the facility is built on a foundation of social, environmental, and financial sustainability.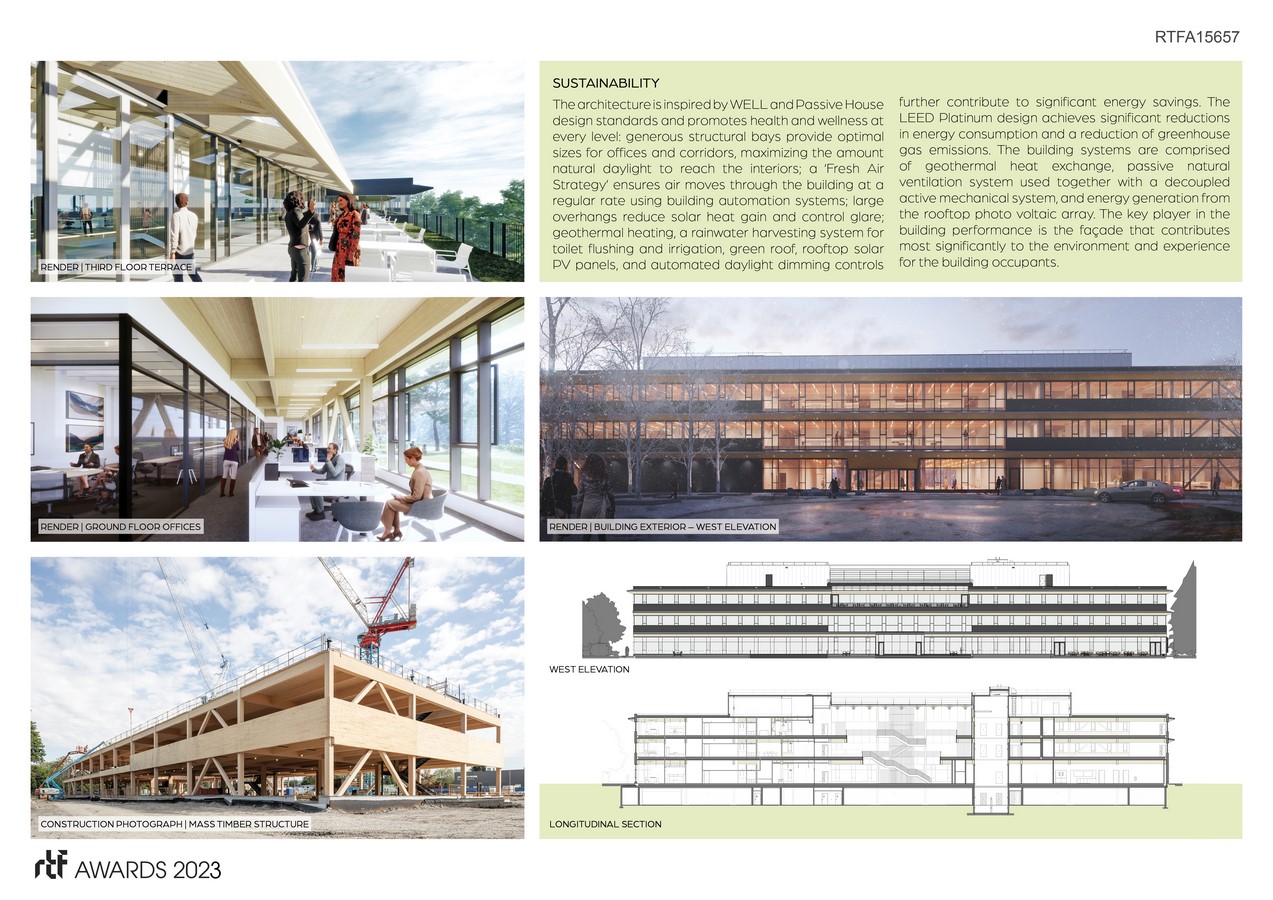 Despite perceived premiums for a mass timber structure, after thorough analysis, the OSSTF went forward with a mass timber LEED Platinum solution that also invested in naturalized restoration of the ravine edge. Constructed out of cross laminated timber (CLT) floor slabs and glue laminated timber (GLT) beams and columns, structural components have been sourced nationally where possible, and demonstrate a robust, honest, yet innovative application of natural materials.
The mass timber structure of the building uses a 9m x 9m grid of glulam columns, beams, and purlins with a CLT infill panel for the general floor system. This is an optimal grid for office layouts and was chosen for its optimization of the timber volume. Flexibility for tenants and future changes is facilitated using a raised floor system that also assists with acoustics and wire control and is a fully integrated UFAD system delivery.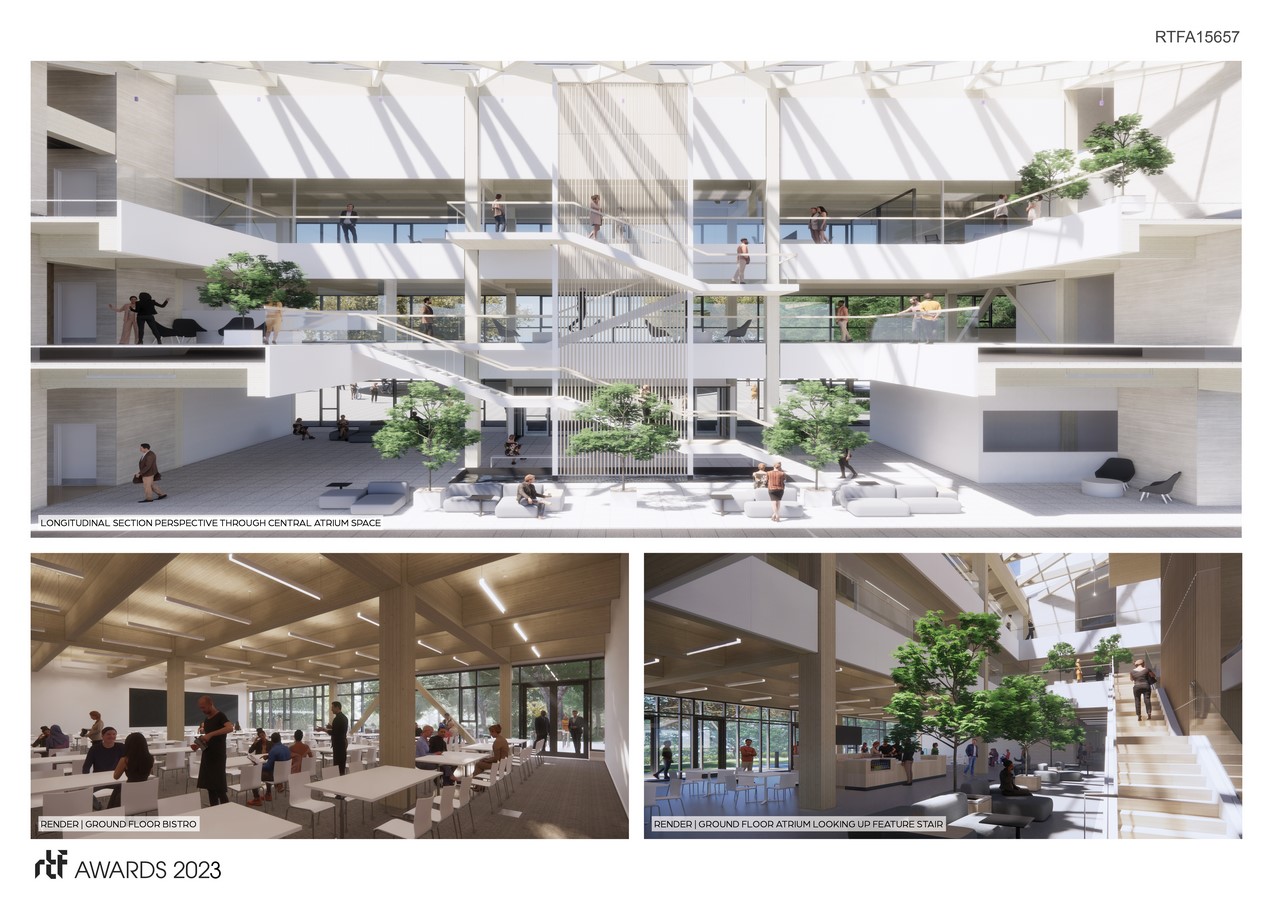 The new Multi-Tenant Commercial Building is spatially divided to house the OSSTF Headquarters as well as two floors of leasable tenant space. Joined by a central atrium, the building will offer abundant outside views, light, openness, and numerous opportunities for spontaneous interactions between the OSSTF staff and tenants. Furthermore, shareable spaces on the ground floor include the lobby, café, and ground floor terrace, and features a multipurpose, convertible Event Space; this space will be shared not only by the building occupants, but by outside groups, providing opportunities for engagement with the wider community.
The architecture is inspired by WELL and Passive House design standards and promotes health and wellness at every level, prioritizing democratic access to light and views as well as access to outdoor space and communal connection to the ravine. The exposed timber environment, beyond the commitment to renewable, carbon sequestering construction, creates an enveloping connection to nature in the daily life of the employees.
This highly efficient facility will ensure the OSSTF functions as a hub that continues to support public education in the province, provide healthy workplace environments for its staff and visitors, and responsibly meet the organization's goals of financial resiliency.