One of a kind luxury mansion located in one of the most prestigious areas of Dubai. This bespoke 6+ Bedroom mansion of more than 6.000 sqm interior built area, is spread over 4 levels, each one designed according to its specific uses and now under construction.
Architecture, Construction & Design Awards 2022
First Award | Interiors – Residential (Concept) 
Project Name: VILLA EH
Project Category 1: Private Residence (Large) (Concept)
Project Category 2: Interiors – Residential (Concept)
Studio Name: B8 Architecture
Design Team: Kristina Bråteng, Daniela Vega & Tony Pheloups
Area: Gross Built Area is 7,223 sqm
Year: Design Concept: 2021/2022. Under construction, estimated end of construction 2024.
Location: Emirates Hills, Dubai. UAE.
Consultants: Design consultant B8 Architecture.
Photography Credits: B8 Architecture
Other Credits: Lead local consultant AMEC. Contractor, Palace Group. Promotor, IMZ.
From the plot access, you can feel the wow effect of the main entrance, surrounded by dancing fountains, exterior fire pits and an exterior luxury car-show area. Cladded in different tones of grey travertine and black natural stone, this contemporary home has been designed down to the smallest detail and up to the highest qualities.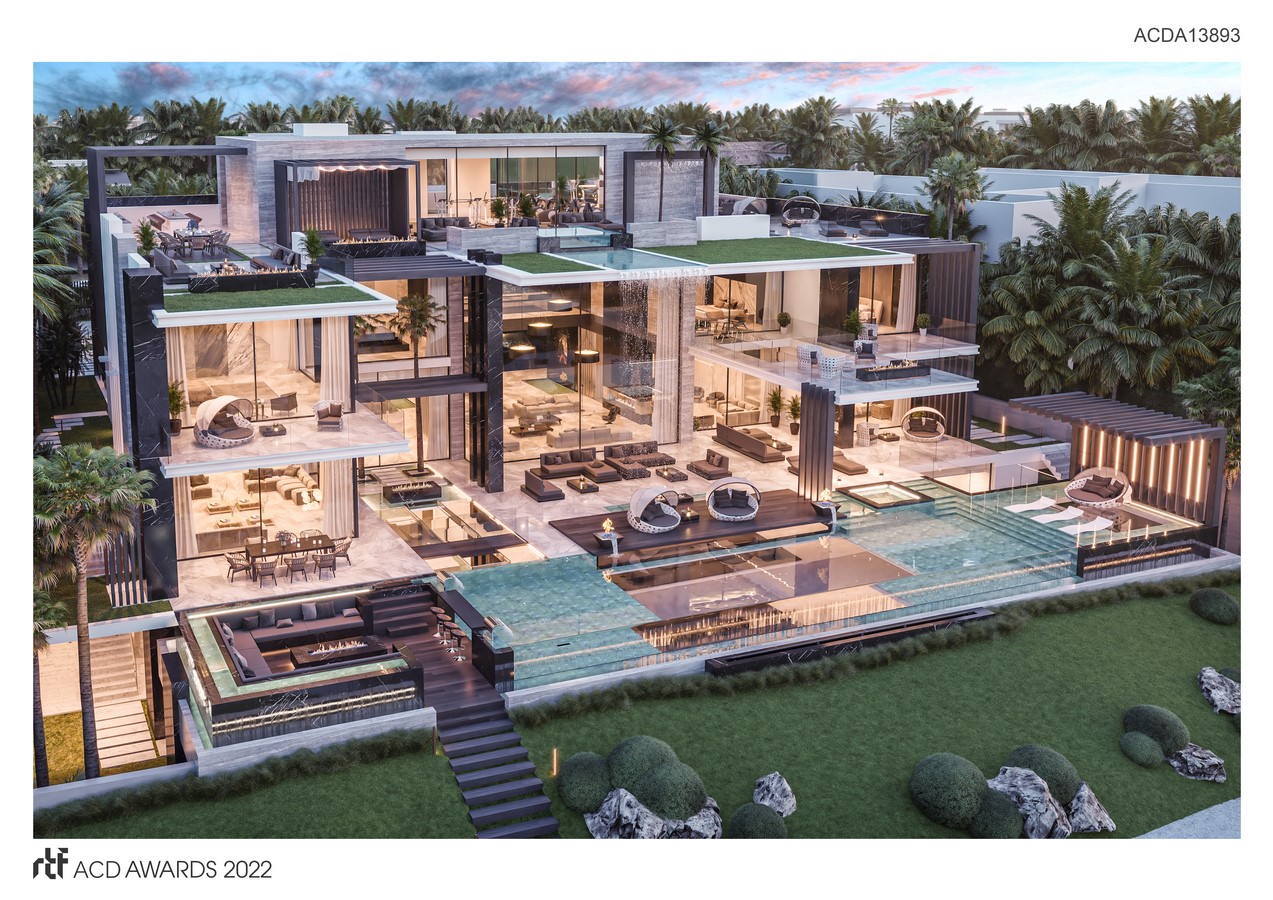 Upon entering this home, it opens up to a majestic double height ceiling and open plan reception, where the main stairs appear as a sculpture, cladded in natural black marble. The main formal sitting area is visible from the lobby, featuring a piano hall in the heart of the house that allows you a complete view of the rooms such as: sunken lounge, formal dining, family area which includes living, dining and show kitchen. Service area with professional kitchen and private area with prayer room and guest bedrooms.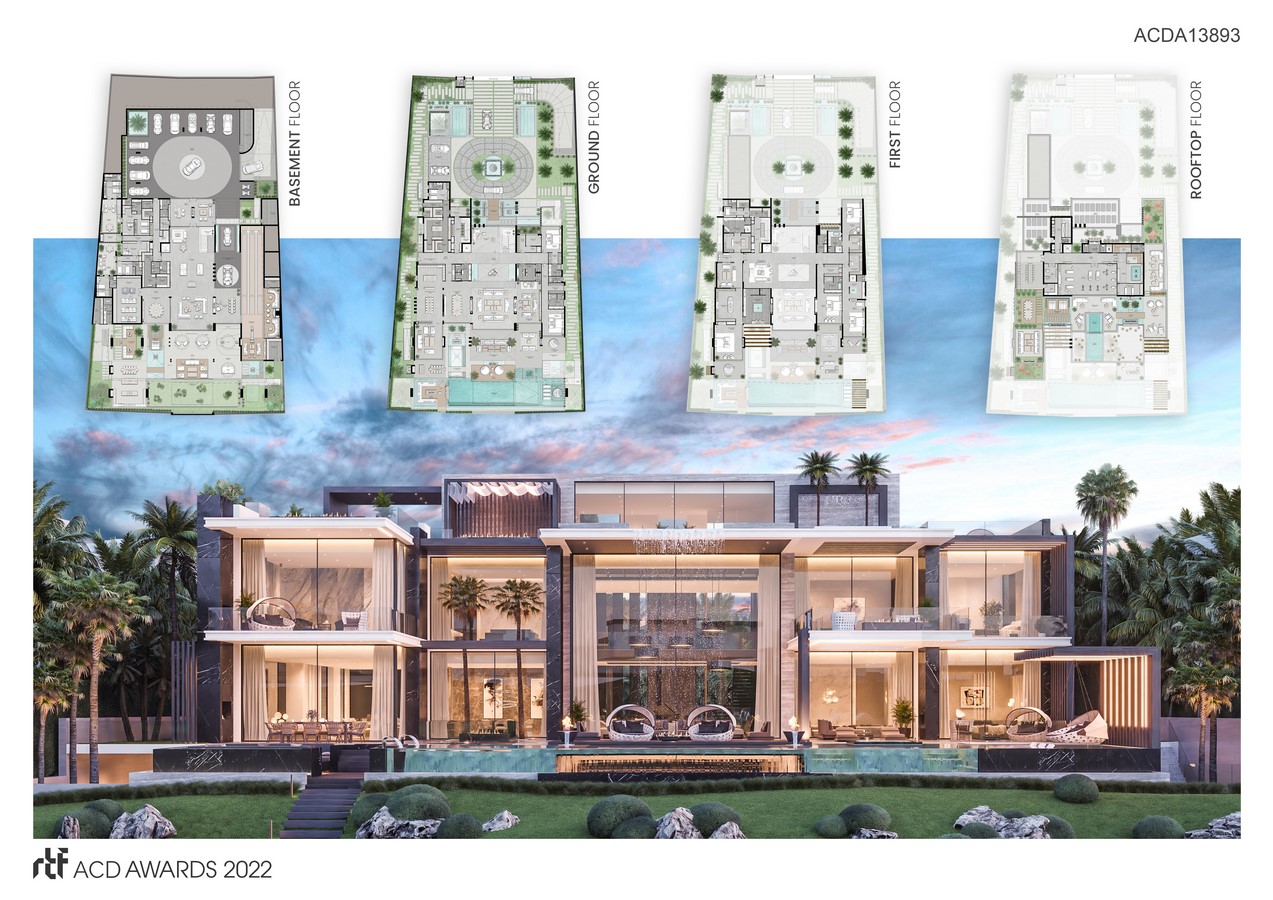 All bedrooms are en-suite with floor to ceiling panoramic windows and walk-in closets. At first floor you find the master bedroom that has more than 200sqm with two independent master bathroom and master closet. A family living area in the gallery with nice views to the living double height. And family bedrooms with a great touch of design and style to stay in time.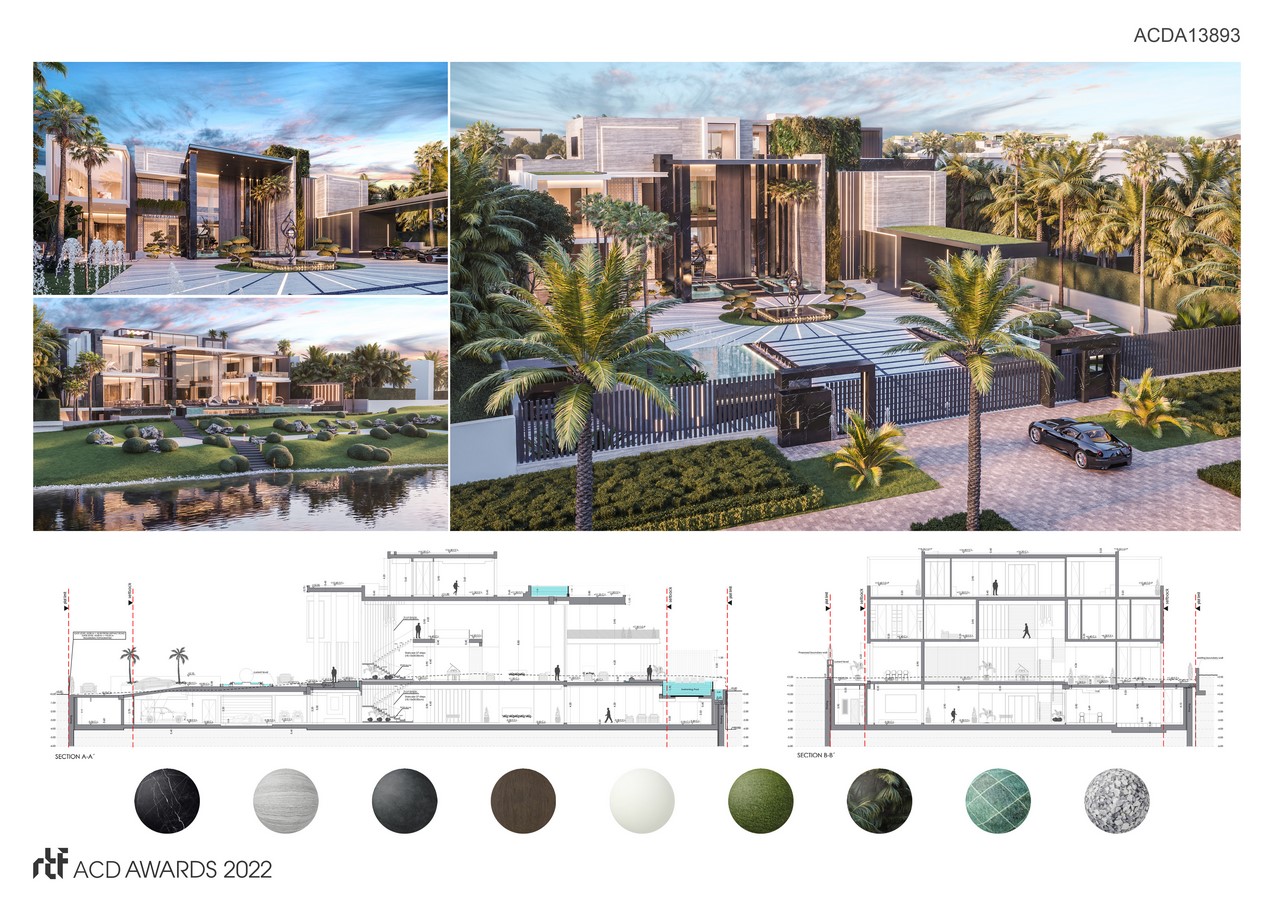 On the rooftop, you can find a large gym with a spa that includes sauna, steam, massage room, jacuzzi and beauty salon. And a spectacular outdoor terrace facing the most amazing golf and city views.
The basement level includes more than 3000sqm where you can find huge garage for more than 10 cars, including 2 rotating platforms for the car show area facing the main office and the professional bowling and games room. A technically designed Home Cinema, living and dining area faces the basement garden that opens and connects with the ground floor pool side. A pool designed down to the smallest detail that includes an impressive glass floor giving light to the mini golf area at the basement terrace.
A unique architecture design, thought to give a special touch for every corner. Finishings, such a marble, metals, mirrors, textiles and wood combined with neutral colors and luxury furniture creates a modern and, at the same time, cozy atmosphere.
The interior of the house is fully integrated with the exterior, creating continuity and coherence all over the space. Precious marbles, gold-silver details and impressive lighting design. The interior is rich in dark shades, Dark Marquina marble merges with a variety of grey tones and pure white colors that make up floors and ceilings. All of these plus a luxury furniture selection, gives a final touch of coziness and comfort to this project, all designed for a specific client to make his family dream home come true.