Vibrant! is an affordable housing high-rise in Portland, Oregon that draws inspiration from the surrounding neighborhood and the community it serves to create a culturally meaningful, contextually rich solution.
Rethinking The Future Awards 2020
First Award | Housing – over 5 floors (Built)
Project Name:  Vibrant!
Studio Name:  Salazar Architect Inc.
Design Team: Alex Salazar (Salazar Principal), Paul Conrad (Salazar Designer), Julie Garver (Innovative Housing Inc.), Trish Nixon (LRS Architects), Spencer Deinard (LRS Architects) Area: 105,242 total building area
Year: 2019
Location:  Portland, Oregon
Consultants: 3J Consulting, Shapiro Didway, KPFF, Bremik Construction, Hunter-Davisson, Andersen Mechanical, HK Electric Engineers, A3 Acoustics
Photography Credits:  Lara Swimmer Photography, Dmitriy Moalla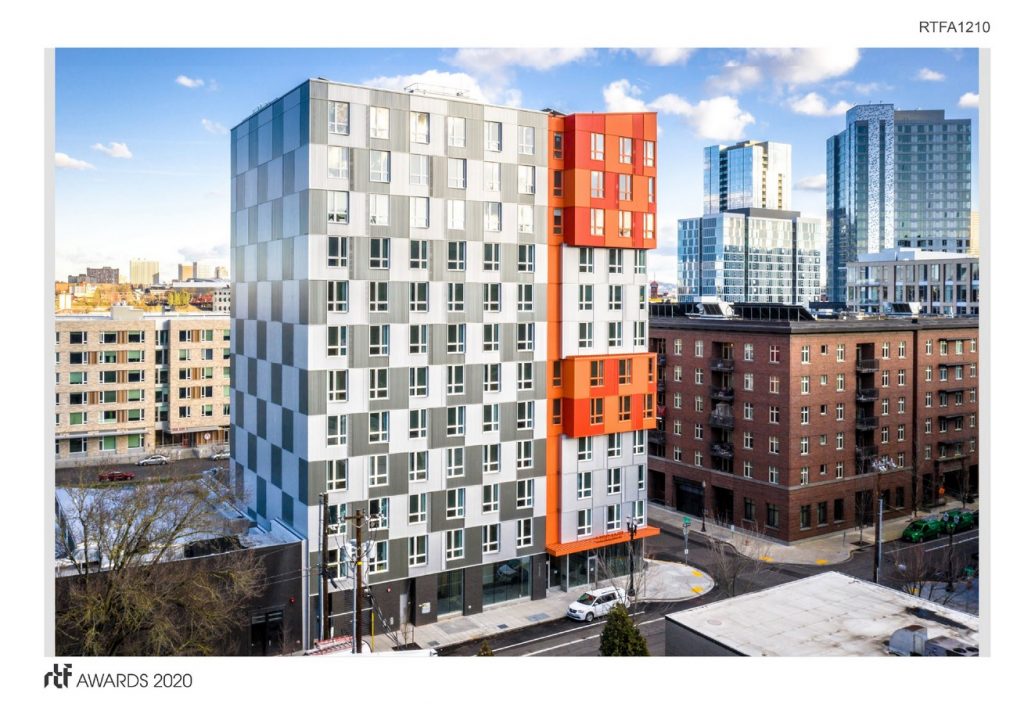 The firm submitting this award led the design of the building shell and interior common areas, in collaboration with another firm who led the overall project management and design of apartments. The building provides 93 one-, two- and three-bedroom units, including 40 Permanent Supportive Housing (PSH) apartments for families transitioning out of homelessness. The building shell is designed with the site's history in mind. The Pearl District was originally platted as part of Couch's division in 1869 and was developed mostly of single-family homes for typically blue-collar European immigrant workers.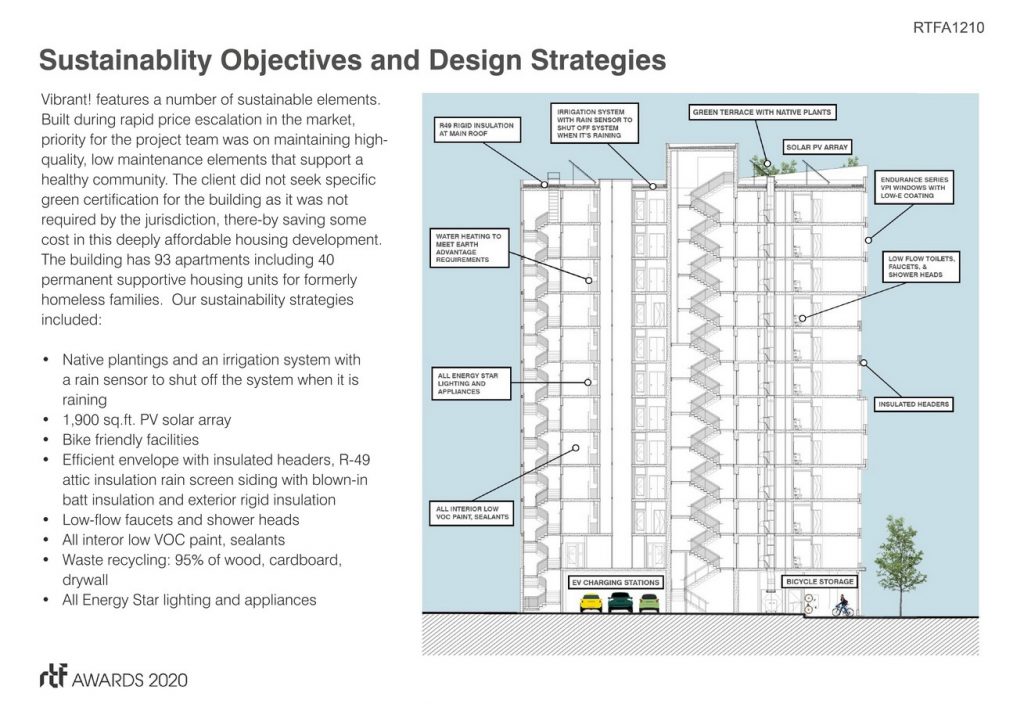 Couch's Addition was surrounded by Union Station and industrial areas, bringing workers from various communities including Chinese and Japanese immigrants. Over the last century, the neighborhood has seen communities-of-color pushed out while artists and others moved in. The area transformed into a pocket of high-end housing with boutique stores and restaurants. Eschewing the brown brick tradition of the area, the design taps into the location's deeper socio-cultural legacy. Traditional fabrics are a common cultural artifact that immigrant communities bring with them.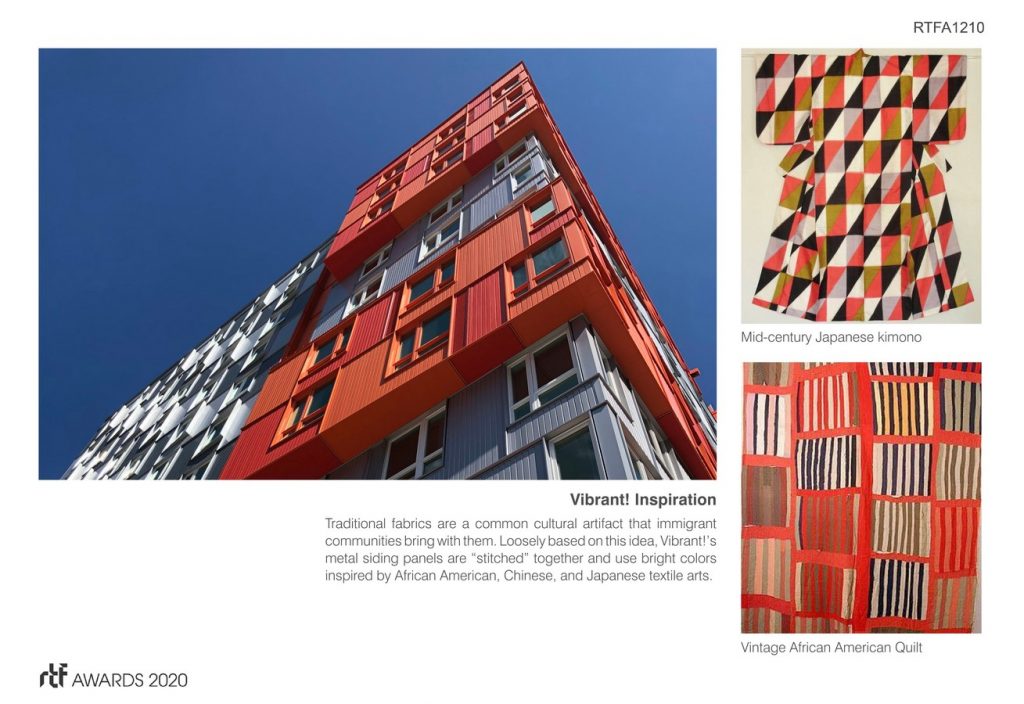 Loosely inspired by that shared cultural connection, Vibrant!'s metal siding panels are "stitched" together and use bright colors inspired by African American, Chinese and Japanese textile arts. The design was also inspired by the neighborhood's industrial warehouses that have simple forms and repetitive windows; The two large, rotated bays pick up on the horizontal lines of the elevated freeway that surrounds the site, bringing down the scale of the building to a pedestrian-friendly level.  Vibrant!'s interior common areas use a minimalist approach with simple forms and materials, including natural concrete floors and ceilings, and selected architectural moves that instill a sense of excitement. The lobby is a dramatic entry point with integrally stained flooring in a blue hue that contrasts with a reclaimed oak wood wall that wraps around and interconnects the management and social services offices, casual seating areas, mailboxes, and a bike lobby with a repair and washes station.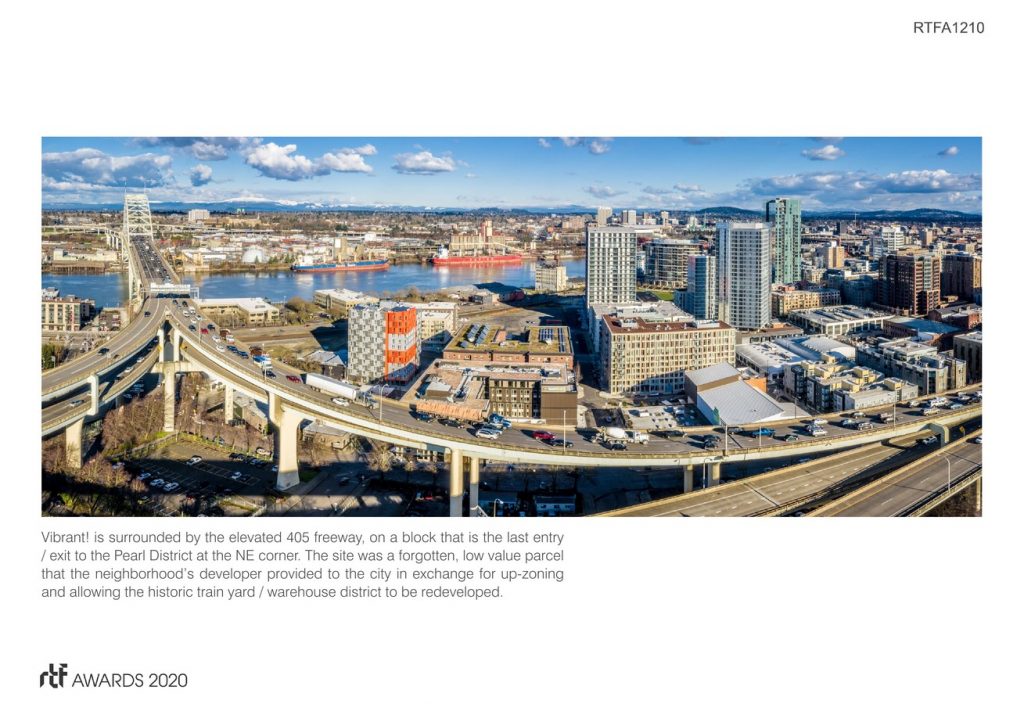 Connecting the design to nature was also a key objective to help create a healthy, connected environment where residents would feel at home in a relatively dense part of the city. The second-floor playroom, community room, kitchen, and computer room are interlinked to create a hub for family activities that flows out through glazed garage doors to a playground with views of the Fremont Bridge.  The 12th floor features an outdoor terrace with spectacular views of Fields Park and Willamette River, connecting residents to natural elements that define the Pearl District.
ARCHITECTURE, CONSTRUCTION & DESIGN AWARDS 2020 IS HERE
Over more than half a decade Rethinking the Future has been a leading organization committed to providing an international platform to not only recognize and acknowledge design talents from all over the world but also to celebrate and share the knowledge that created through a plethora of awards, events and academic dialogues in the field of architecture and design.