Transportation and Public Works
Brickell Backyard transforms the space underneath Miami's elevated Metrorail into a lush linear park in one of Miami's densest areas, providing a green space for the nearly 400,000 residents that live within a 10-minute walk of the park. As The Underline's first built section, Brickell Backyard sets the tone for future phases of the 10-mile-long corridor with native gardens, improved pedestrian and bicycle pathways, and various active, passive, and cultural programs.
Rethinking The Future Awards 2023
Second Award | Urban Design (Built)
Project Name: The Underline's Brickell Backyard
Category: Urban Design (Built)
Studio Name: James Corner Field Operations
Design Team:
James Corner, RLA, FASLA, Design Director
Lisa Switkin, RLA, ASLA, FAAR, Design Director
Isabel Castilla, ASLA, Principal-in-Charge
Alejandro Vazquez, ASLA, Project Manager
Emily Tyrer, Designer
Andrew Hunter Brown, Designer
Sanghoon Lee, Designer
Area: 5.6 acres, 0.5 miles long
Year: 2021
Location: Miami, Florida, U.S.
Consultants:
Civil & Traffic Engineering: Kimley-Horn
Lighting Design: HLB Lighting
Identity & Wayfinding: Order
Horticultural Soils: James Urban
Structural Engineering: Optimus Structural Design, LLC
Electrical Engineering: H. Vidal & Associates
Cost Estimating: CMS, Inc.
Horticultural Advisor: Fairchild Tropical Botanic Garden
Contractor: Central Pedrail
Photography Credits:
Sheet 1 (cover): Robin Hill
Sheet 2: Sam Oberter
Sheet 3: Friends of The Underline, the Miami Heat, Miami-Dade County, the Miami Heat (from left to right, top to bottom)
Sheet 4: Sam Oberter
Sheet 5: Sam Oberter
Sheet 6: Sam Oberter
Render Credits: N/A
Other Credits:
Client: Friends of The Underline in partnership with the Miami-Dade County Department of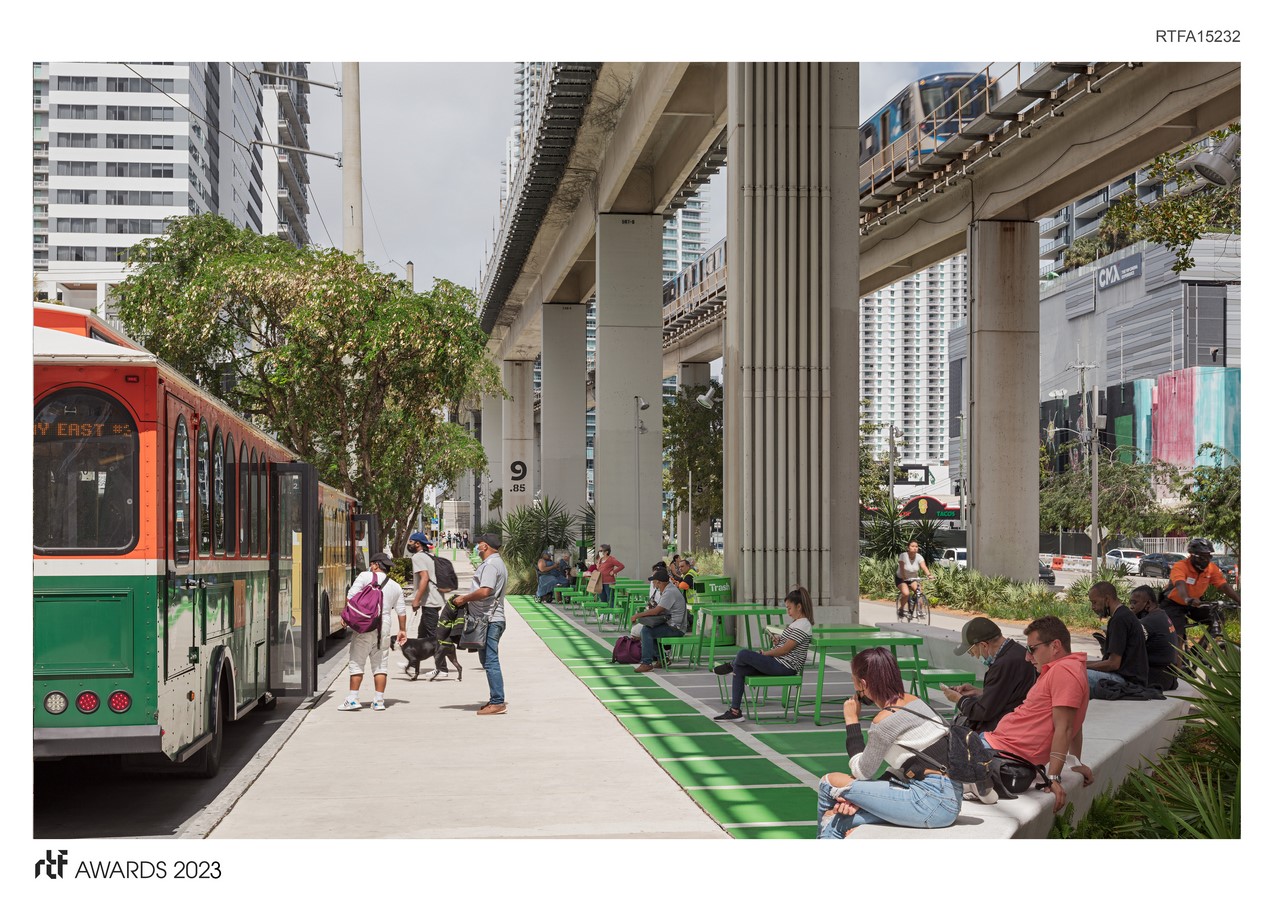 The park's design implements character zones that give users a consistent yet dynamic experience, responding to the neighboring communities' priorities that were identified as part of the initial Framework Plan community engagement process. Brickell Backyard's design is organized as a procession of rooms including the River Room, Gym, Promenade, and Oolite Room, offering a combination of places for respite, social gathering, fitness, performance, art, and commuting. Brickell Backyard also provides lushly vegetated social spaces inspired by historic plant communities that once dominated the area, anchoring the project in its location along the Miami Rock Ridge.
The Underline links neighborhoods with downtown Miami and other destinations through its off-road bicycle and pedestrian paths that directly connect with the Miami-Dade transit system. In a car-centric city known to be one of the most dangerous places to bike and walk in the country—with Miami as the fourth most dangerous place for pedestrians in the U.S. and Florida as the most dangerous state for cyclists—this represents a fundamental shift. As a leading example for the region, the project sets the foundation for a network of sustainable mobility corridors throughout Miami, connecting not just with the existing Metrorail, Metromover, trolley, and bus transport system, but also existing and future greenways.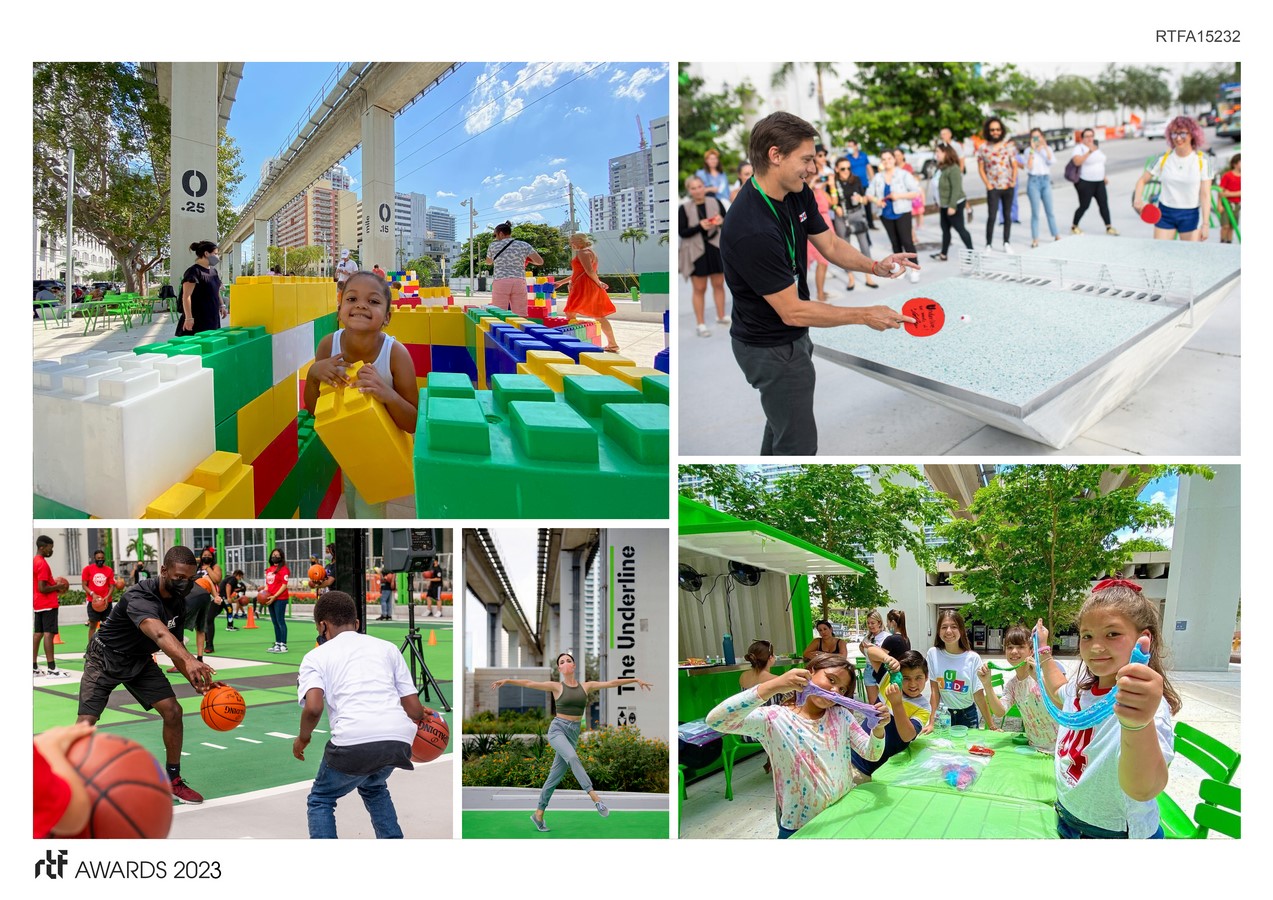 The Underline has unveiled four public art installations, including The Allegory by Edny Jean Joseph, a mural which pays tribute to tribute to Bahamian immigrants' contributions in the making of Henry Flagler's railroad to Key West, where The Underline is situated today. By creating a home for these art installations, The Underline has become a public outdoor gallery that complements the Miami area's thriving arts scene with a free, public amenity.
The Underline represents a new form of public space, leveraging existing infrastructure and pairing new natural habitats with multimodal paths that link directly to public transit. Reimagining what was once perceived as divisive infrastructure into an inclusive connector, The Underline fosters community, hosting over 1.6 million visitors and more than 235 events ranging from free yoga to dance and music performances to family fun days in 2022. Through an active volunteer program and community partnerships, The Underline has received widespread community support, allowing the park to flourish and expand its reach.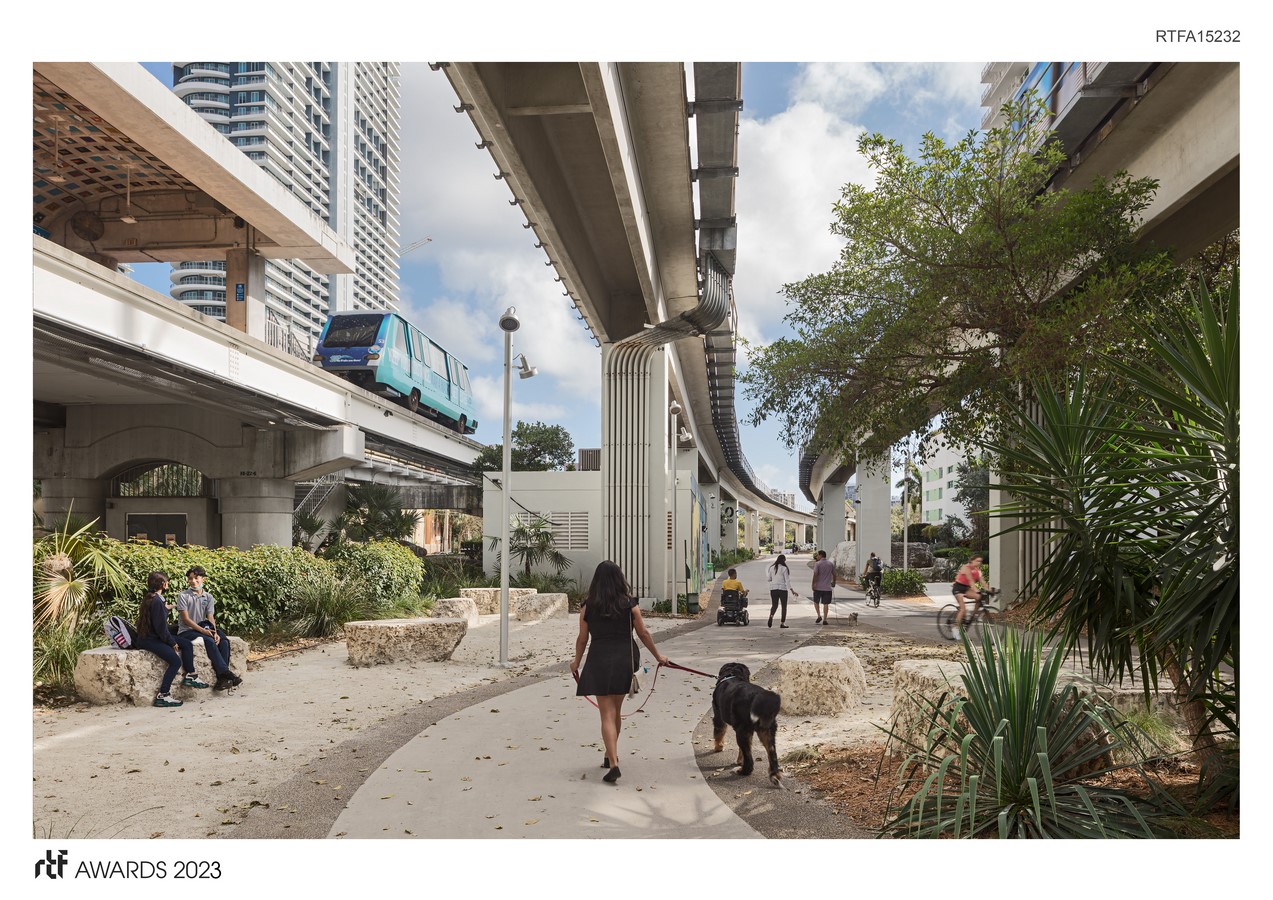 As noted by Daniella Levine Cava, Mayor of Miami-Dade County, "[the] opening of the first phase of The Underline is the first step toward a people-first Miami," representing a pivot in the city's approach to public space. These efforts further support the park's efforts to create lasting impact for public health, recreation, and urban reforestation across neighborhoods in downtown Miami.