The goal of this project was to create an entertainment destination. This architectural landmark theater located in Lanzhou City, Gansu Province, China, is hosting a multimedia show on a resident basis called "The Legend of Pangu".
Rethinking The Future Awards 2021
First Award |  Cultural (Built)
Project Name: The Legend of Pangu
Studio Name: ECA2
Design Team: ECA2
Area: Cultural, Mixed-use
Year: 2019 to present
Location: Lanzhou, Gansu Province, China
Consultants: Design Institute and Architect of Record : Tengyuan Design Institute
Photography Credits: Julien PANIÉ
Other Credits:
Show Design & Production by ECA2
Producer: Jean-Christophe CANIZARES
Creative Design, Direction & Storytelling: Olivier FERRACCI
Director of Operations: Julie CUGURNO
Technical Director: Clément RABRÉAUD
Chief Architect & Stage Design: Chengcheng CHI
Head of Business Development: Emmanuelle CHAROTTE
Chief Financial Officer: Nicolas BOUVET
Public Relations, Marketing & Communication Coordination: Julien CAUSERET
Designers:
Music: Philippe VILLAR, Pascal LENGAGNE
Laser Graphics & Animation: Claude LIFANTE
Fountains & Special Effects Design & Animation: James THOMSON
Light Design: Frédéric FAYARD
Pyrotechnics Designer: Pierre-Emmanuel GELIS
Video Creation Designer: Youri ZELIVIANSKY, Gwennaël VINSON,
Olivier LEGRAIS
Artistic Department:
Artistic Coordinator: Stéphane THIODAT
Artistic Manager & Storytelling: Nora MATTHEY DE L'ENDROIT
Video Creation: Yves COURBET, Thomas PINEAU, Pierre THOUNY,
Victor JARNOUX, Tanguy GIRARD, Jean-Marie MARBACH
Video Render Farm: Erlend LEVIN
Musical Instruments: Erhu: Mr Yao Xinfeng, Guzheng: Mr Huang Zhuoqun, Guqin: Mr ZHAI Xinlai, Pipa: Ms CHU Wanyin, Xiao: Ms Cheng Yushi, Guanzi: Mr Jiang Feng, Flute: Ms Wang Lini, Foley: Gregory VINCENT
Storyboard: Fabien JACQUES, Olivier LEGRAIS
Technical & Operations Department:
Technical Coordination: Thibaut JAMIN
Technical Managers: Aurélien BOUVIER, Quentin CARLIER, Lawrence RYAN, Ken LO, Gary NG ENG SENG, Eddie TEO PING YEONG
Show Control: David BIRCHALL, Arnaud GUÉRIN, Craig POW CHONG, Lucas HARRISON, Slavisa KNEZEVIC, Steve COURTNEY, Francis VEDARAI
Technical Specialist, Training & Documentation: Jason FISCHER
Manuals and Training Coordinator: Vikram VEERAPPAN assisted by Tanya RYAN
Architects: Élodie BÉTOULAUD, François THOREL, Erminio SERPENTE, Qi TANG, Rémi BUN
Power Supply Manager: Jacky BOILEAU
Freight & Site Logistics Manager: Stéphane THIODAT
Logistics Manager: Amanda LAVENANT, Mélanie DE SEGUNDO, Anne LARRA, Patricia VALLET
Logistics Coordinator: Christophe BERNARD
Logistics Executive: Cherry FUNG, Cassadra LI, Nicolas YEUNG, Caroline SEGUY, Qianwei LI
Light Operator:  Théo BROCHE, Maxime ROCHER
Video technical studies: François ROCCHETTI
Video system set up and calibration: Régis DUMAINE
Video Programmer: Vladislav TOLIC
Audio Engineer: Jean-Philippe BADOUI, Khiew CHUNG WAH
Acoustic Engineer: Maarten LUYKX
Laser Technicians: Boris BUARD, Thierry DELVAUX
Water & Flames System Design: Michel AMANN
Water & Flames: Eric BOUSSICHAS, Christophe MONTET, Mickael BOUSSICHAS, Zbigniew PALUBIAK, Michal JARZYNSKI, Rafal HUC, Mariuz BOGACZ, Zbigniew KOWAL, Tomasz Kamil SARNECKI, Yannick BELLON, Fred DE WEALE, Arnaud DEBOURDELLE, Alexis NONIN
Lighting, Audio, Laser and Video Equipment Installation: Thomas LIAO, Jorden LEE CHIEN YIN, Li JIE, Li RUI SHENG, Lv SAN QING, Zhang JUN ZHENG, Toh KOK YONG, Tan JIA WE, Teh SHENG
Pyrotechnics Technicians: Chan CHUN YIN, Wong CHUNG WAI
Project Administration:
Project Coordinator: Flo SHI
Project Administration Assistant: Delphine CLERGUE
Marketing Materials Graphic Design: Alexandre DELRANC
Show Promotion Photography & Filming:
Photographer, Cameraman: Julien PANIÉ
Show Promotion Video Editor: Christian FOURCADE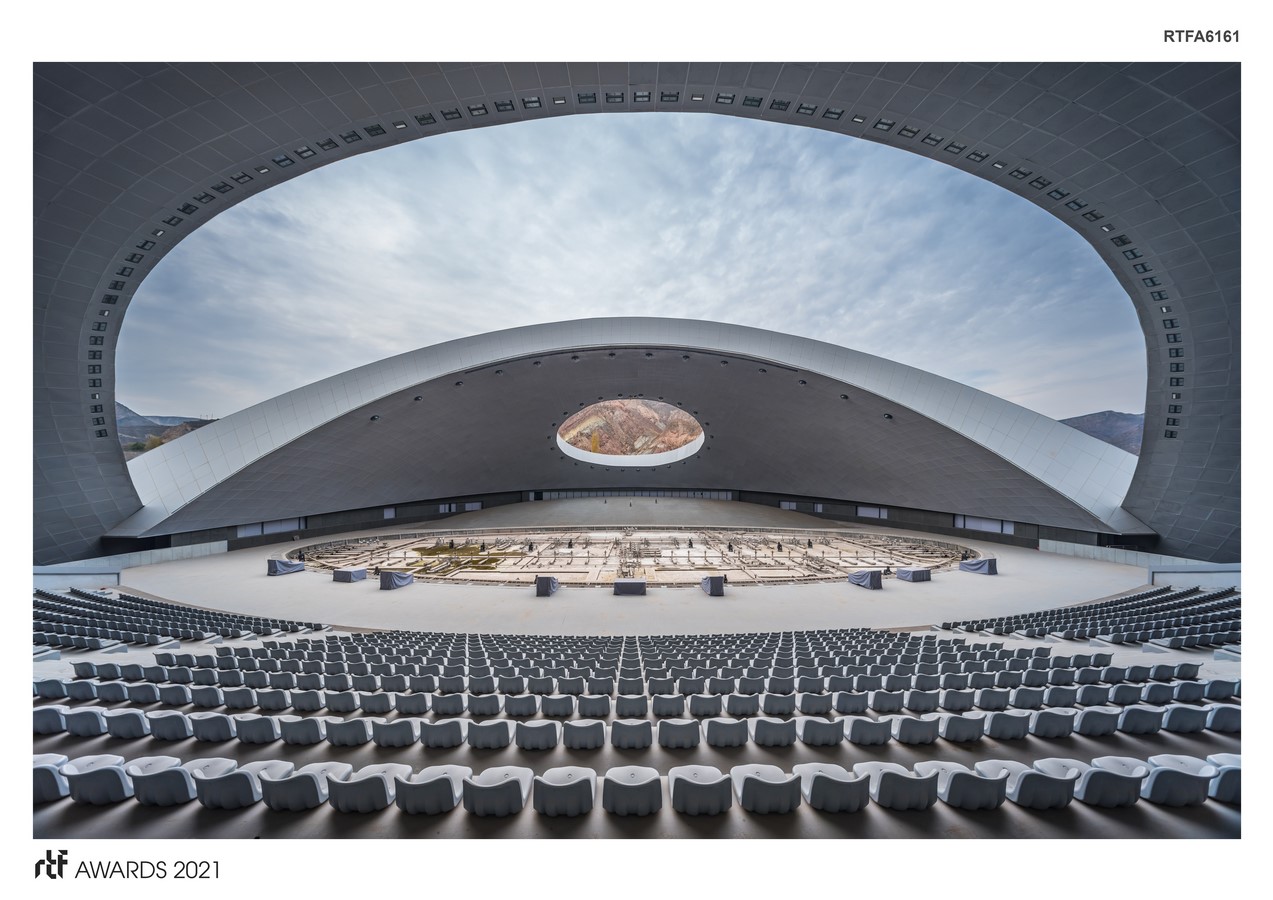 The architecture and the show stage design are both inspired from the myth of Pangu, who rose from a formless chaos and created the world by pushing up the sky, separating it from the earth.
To translate a myth into a meaningful environment, every single detail has to be symbolic and minimalist. It is wide and vast like the beginning of the Universe, with two distinct surfaces coming together, like sky and earth. The round opening in the theatre indicates the sun and the moon, and allows the human eye to reconnect to the earth, with a spectacular view on the outside mountains. To reflect the symbolism in Chinese culture, the show pool brings water as a central element while providing the technical playground for all the show water effects.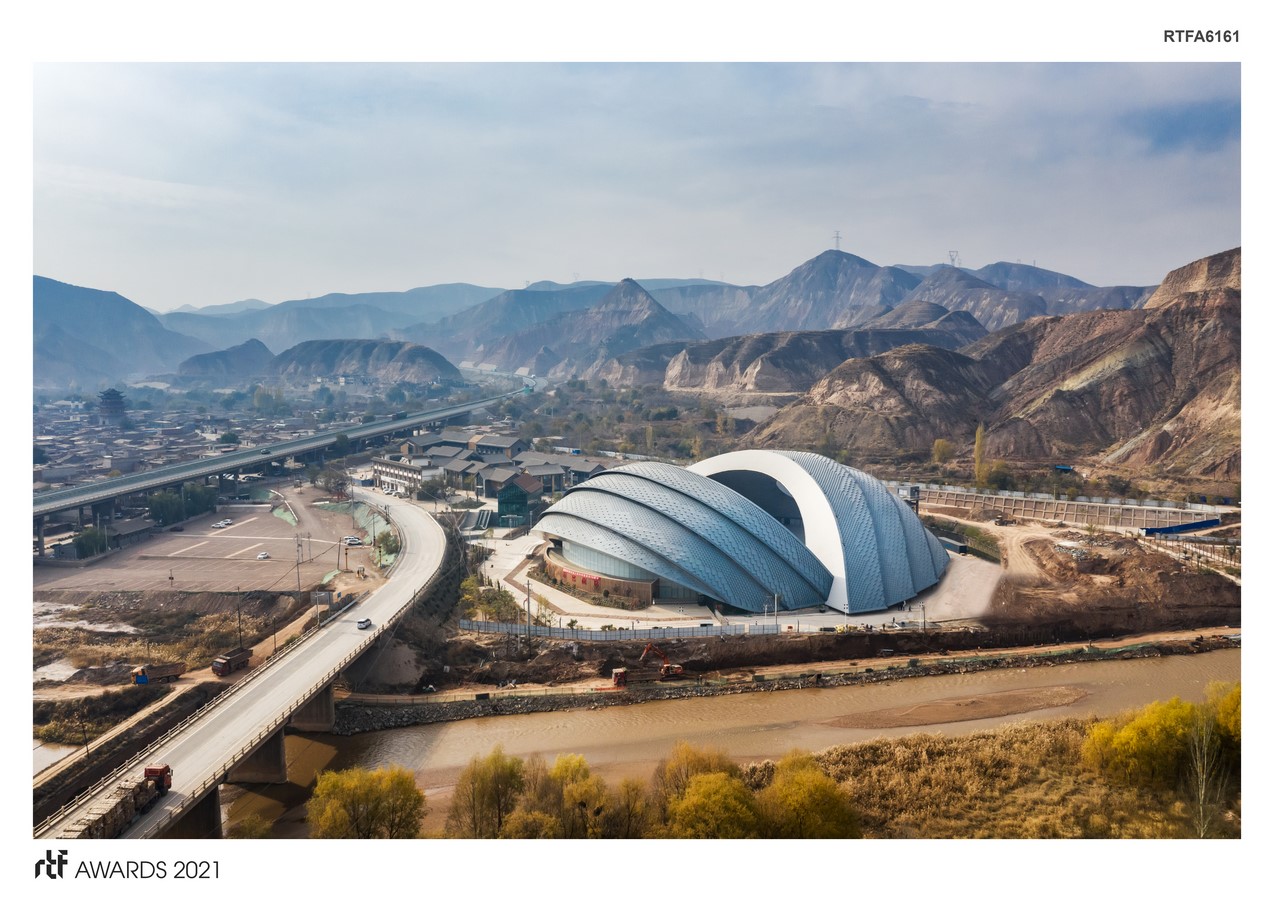 This « sky – earth – water » layout enables the show to recreate mythological actions in a vivid and spectacular way. It offers a deep dive into Chinese mythology, applying modern scientific and technological means such as water, flame, audio, video, laser, fireworks and artistic forms to give the audience a shocking audio-visual feast. With the large projection surface, the show set is adaptable for all sorts of storytelling and the audience can get an immersive and rich viewing experience.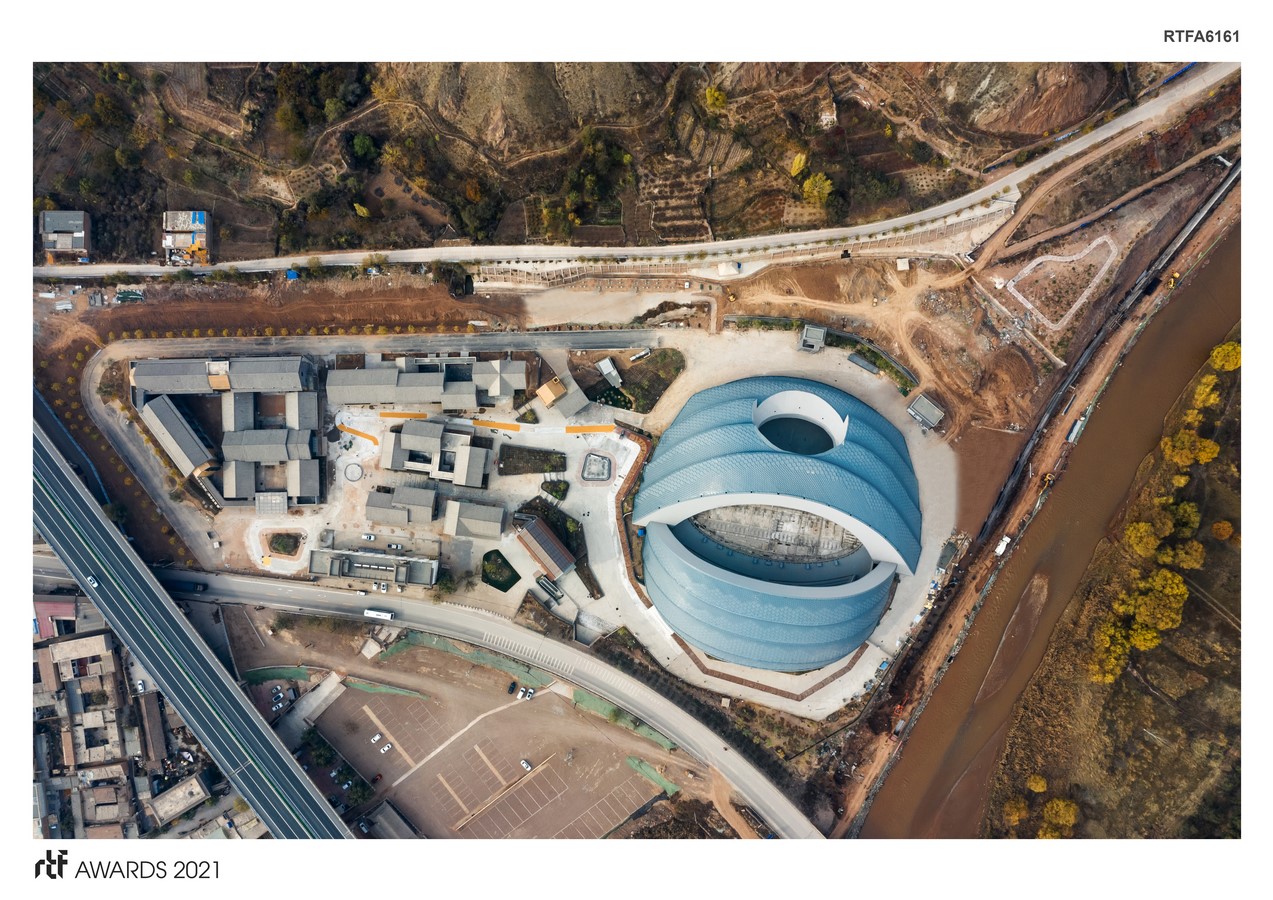 An "eye" on the roof is framing the natural scenery at the back which offers the audience a connection between the show's story and its environment. The theatre is composed of two giant roofs, covering two parts of the stage and the stands.
The roof surface adopts a metal plate cladding. As the project is adjacent to a traditional ancient village, Hekou Ancient Town, the exterior shape of the theatre integrates the elements of the local traditional buildings, with the roof arrangement layer upon layer just like it. The outer roof claddings are like the wings of a giant bird, covering and overlaying from top to bottom with rhyme. The materials with similar texture as the tiles are adopted for the roof decorative panels. The local traditional materials such as bricks, woods, rammed earth, etc., are adopted for the finishing surface of other parts of the building, fully making the building fit in the local natural and cultural environment. All these components are contributing to put this building on Lanzhou's map as a major landmark.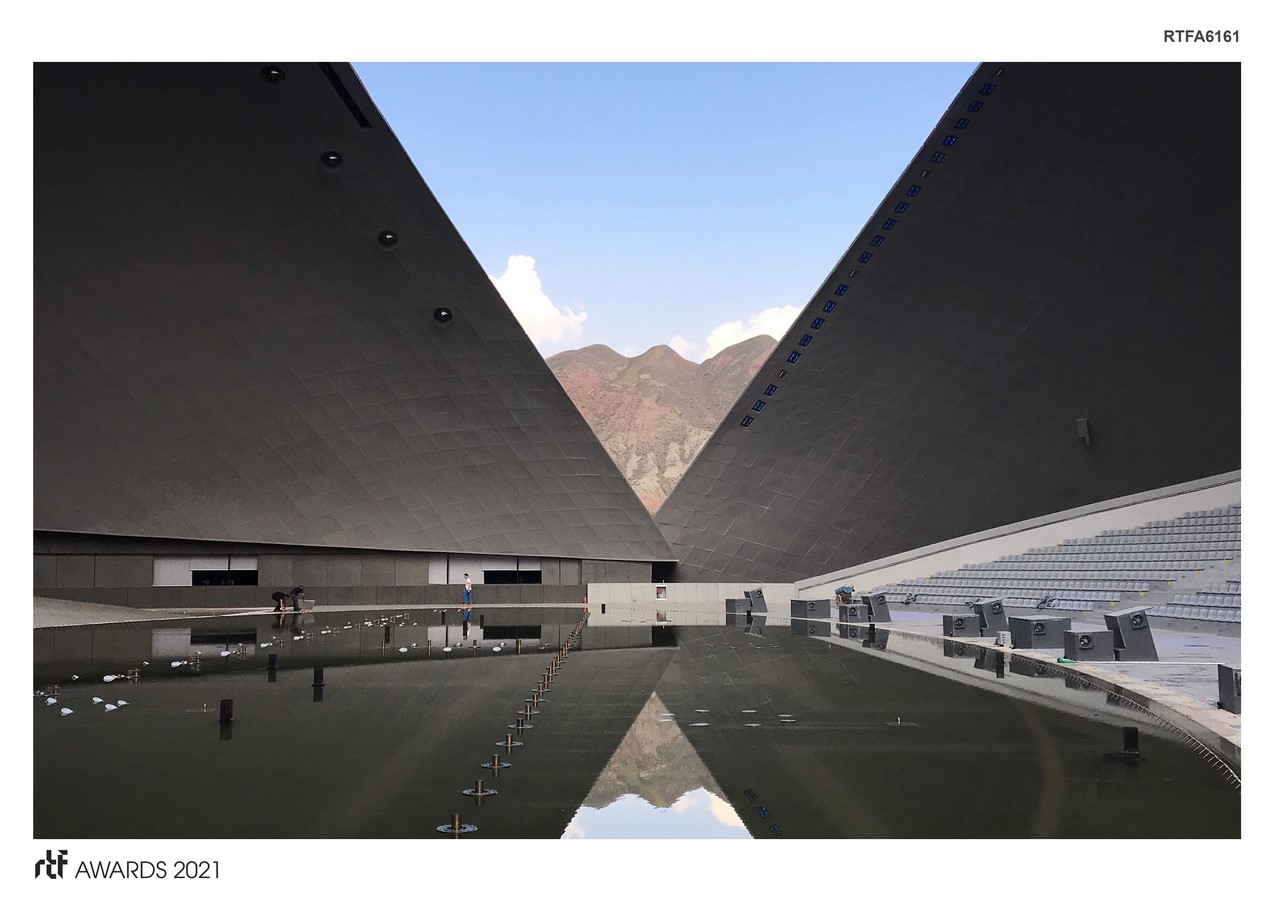 In the design process of the project, BIM technology was used to tackle the complexity of the whole design of the building, its volume and the complexity of its shapes. In order to protect the audience from the impact of low temperature and sand, the stands area must be equipped with a roof. In fact, multimedia equipment and show also need moderate protection to minimize the impact of weather factors, noise and light pollution caused by surrounding roads.