Steampunk is a pavilion built for the 5th edition of Tallinn Architecture Biennale (TAB 2019) in Estonia, and will remain in place for 2 years. The pavilion is built out of steam-bent timber elements, assembled into intricate geometries following holographic guides, projected through Microsoft HoloLens – an augmented reality headset designed for aid in manufacturing.
Rethinking The Future Awards 2021
Second Award |  Architectural Innovation of the year (Construction)
Project Name: Steampunk
Studio Name: Gwyllim Jahn & Cameron Newnham (Fologram), SoomeenHahm Design, Igor Pantic
Design Team:  Gwyllim Jahn & Cameron Newnham (Fologram, AU), Soomeen Hahm Design (UK), Igor Pantic (UK)
Area:  25m2
Year:  2019
Location:  Ahtri 2, Tallin, Estonia
Consultants:  Engineering: Format Engineering, UK
Photography Credits: Completion Photos-Peter Bennetts / Building Process-Hanjun Kim
Other Credits: Tallinn Architecture Biennial 2019 Installation Program Competition Winner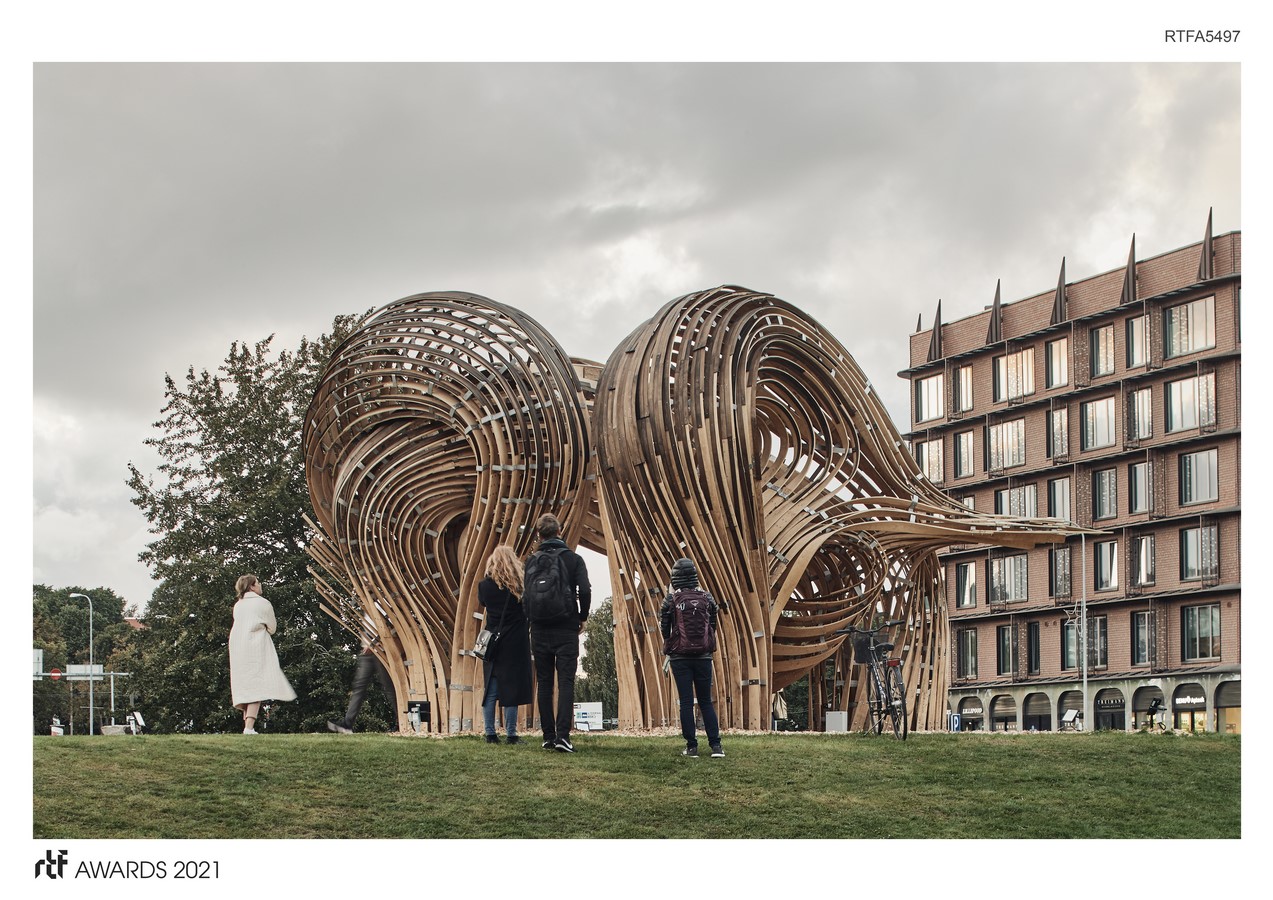 Both the process of forming the timber elements and the assembly process will rely on the use of holographic guides to assure the precision in what is otherwise a craft-based process.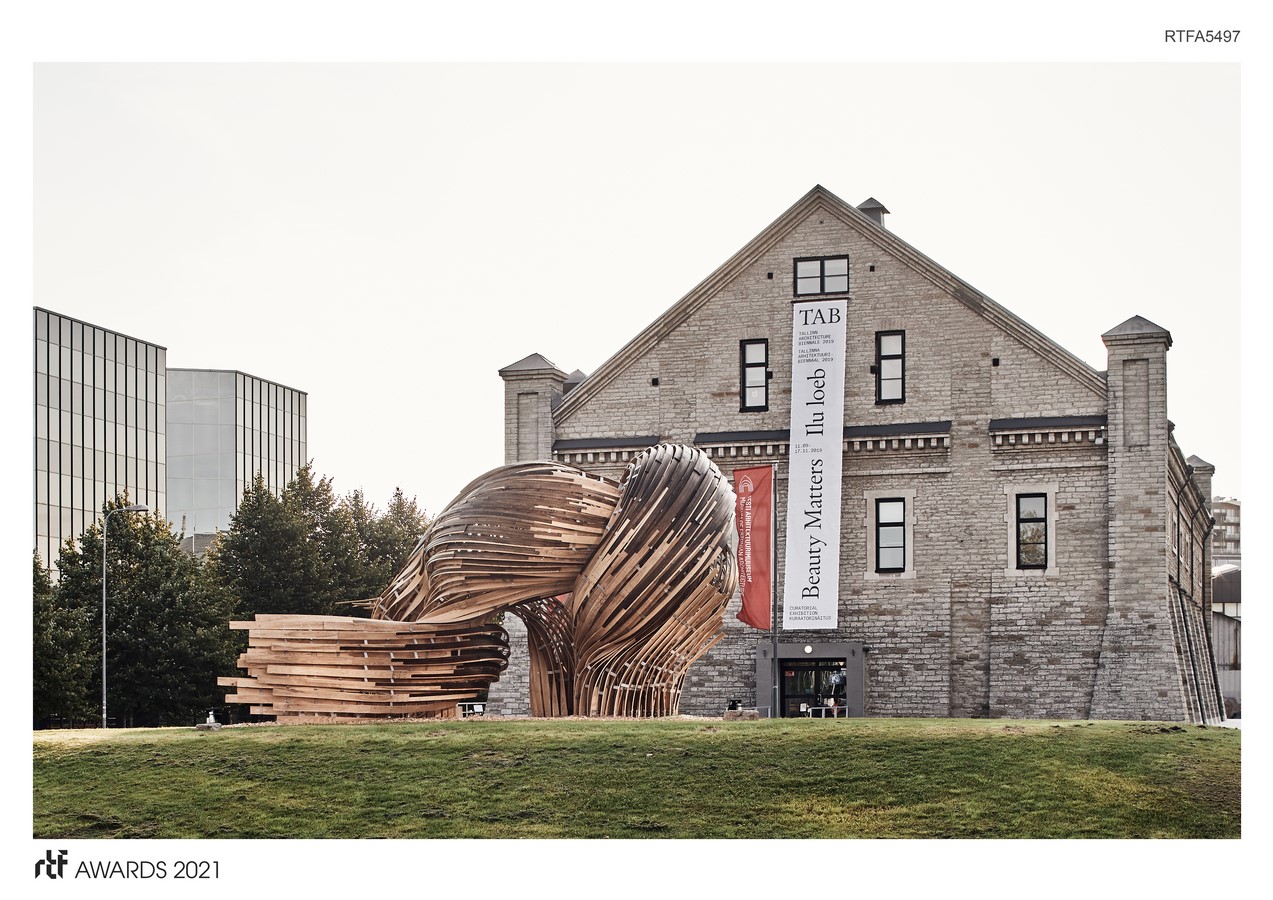 Steampunk pavilion explores how application of Mixed Reality environments could generate a new construction paradigm. The structure is a prototype for an adaptive design and fabrication system, which is resilient to wide tolerances in material behaviour and fabrication accuracy, while being the largest structure to date built on the principles of Augmented Reality assisted fabrication. It explores alternative strategies for the fabrication of digitally designed architectural structures, utilizing cutting-edge head-mounted devices (HMDs) to holographically assist workers in the manufacturing and assembly of highly varied components using traditional craft techniques. This enables the design process to be dynamic and the fabrication process to be adaptive, as the forms of parts can be changed at any time during the fabrication process without requiring any new tools, materials, drawings or code.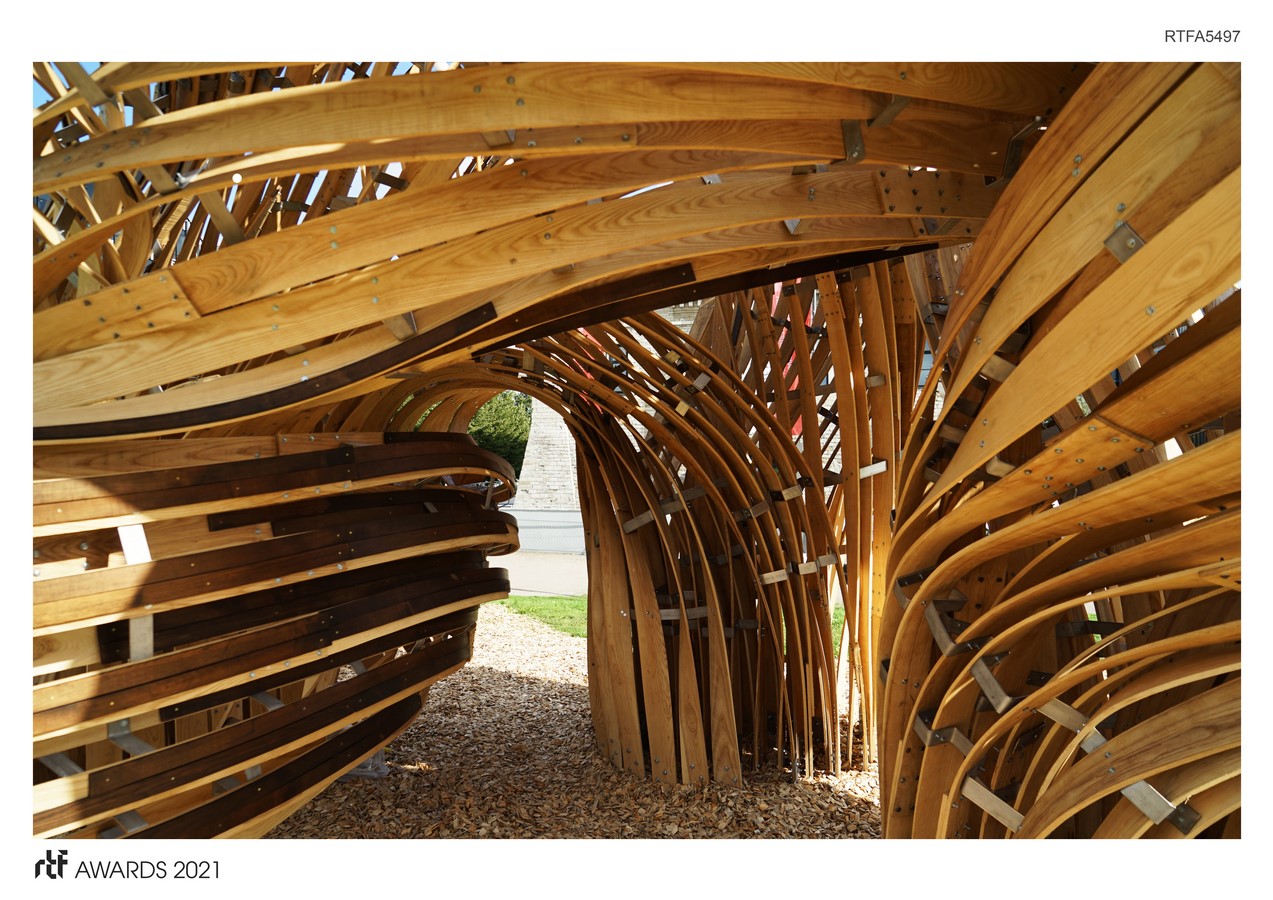 The timber elements in the structure are fabricated following the somewhat arcane and notoriously difficult process of steam bending. Each strip is bagged, steamed, and bent over an adaptable, moldless formwork using a holographic model as a reference to the desired result. In this case, the utilization of AR technology allowed us to rethink a traditional crafting process of building with steam-bent timber. Traditionally, to do steam bending timber, a two-part mold is commonplace while steaming timber and a third mold is occasionally used to hold parts in shape while they dry. The complexity and cost of fabricating the molds themselves is far greater than the fabrication of any single part, and as a result designs with very large or very many different parts do not lend themselves well to steam forming. While working from holographic templates during steam forming does not allow us to overcome the challenging physical behaviour of timber, it does provide fabricators with very clear visual feedback on the accuracy of the forming process. This enables fabricators to use the holographic model as a guide to shape timber by hand and by eye from approximate formwork rather than prefabricated and explicit one-off molds, and to make changes to this formwork in response to the behaviour of the steamed timber until an acceptable deviation from the design model is achieved.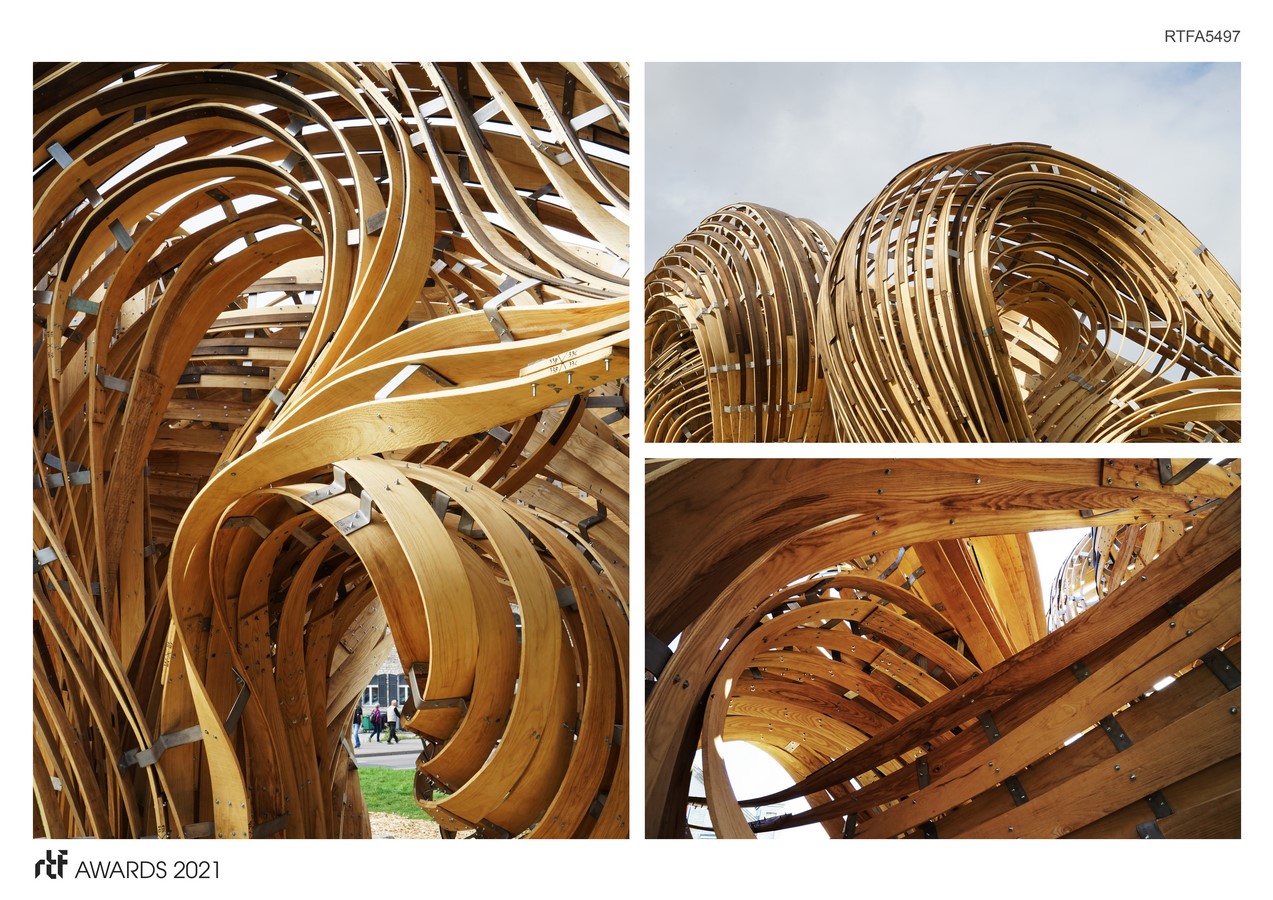 Apart from the novelty, the pavilion contributes to the architectural design discourse on multiple fronts: the discussion between digital and analogue, augmentation, technical innovation, as well as overlap of automation and hand craft. AR assisted processes have the capability of enhancing human labour with data previously exclusive to machines, while enabling seamless inclusion of intuitive decision making and experience, often absent from automated construction processes.