SEE MONSTER was part of UNBOXED: Creativity in the UK. A once-in-a-lifetime celebration of creativity, that took place across England, Northern Ireland, Scotland, Wales and online from March to November 2022.
Rethinking The Future Awards 2023
First Award | Pop-ups and Temporary (Built)
Project Name: SEE MONSTER
Category: Pop-ups and Temporary (Built)
Studio Name: NEWSUBSTANCE
Design Team: NEWSUBSTANCE
Area: 5,652m2 (across all levels)
Year: 2022
Location: Weston-Super-Mare, UK
Consultants: Emma-Jane Taylor, Benjamin Webster, Nii Lartey, Ahmed Faid, Natasha Sayce-Zelem, Dr Amélie Kirchgaessner, Dr Ella Gilbert, Vinita Marwaha Madill, Ivan Black and Dr Amit Patel
Photography Credits: Sodium Films, Ben Birchall PA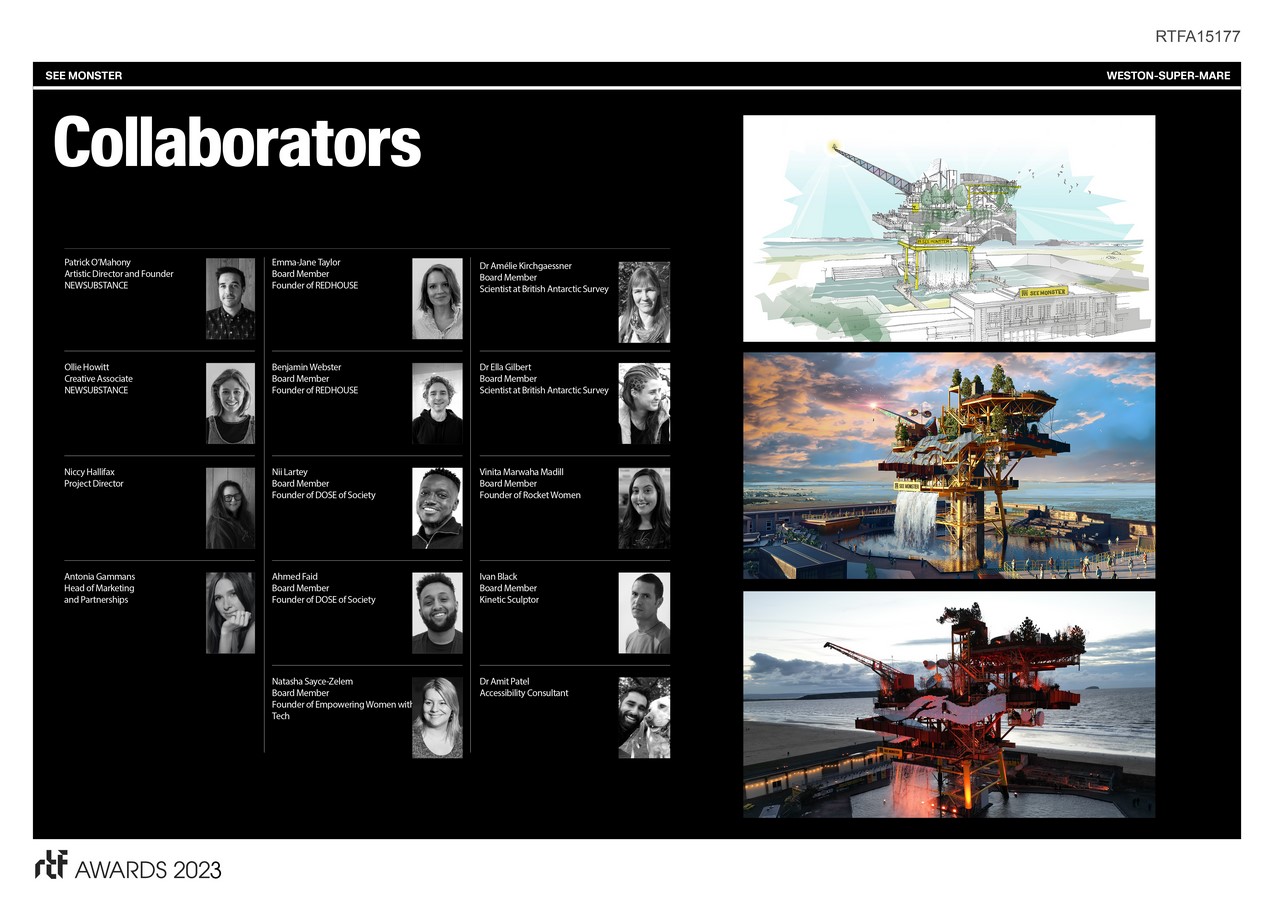 Designed to reach millions, bring people together and present an ambitious and unprecedented showcase of cross-sector collaboration across Science, Technology, Engineering, Art and Maths (STEAM), the festival's ambition was to demonstrate the importance of creativity in people's lives and in our collective future, through a free programme designed to be accessible and inclusive.
Applicants were asked to form a diverse team of people working across STEAM sectors to design, develop and propose an idea for a large-scale, public engagement project to take place in 2022. The key brief for the project was to be 'open, original and optimistic'; the projects were to take place at locations in England, Northern Ireland, Scotland and Wales between March and November 2022. Our team of multi-sector collaborators was shortlisted to the final 30.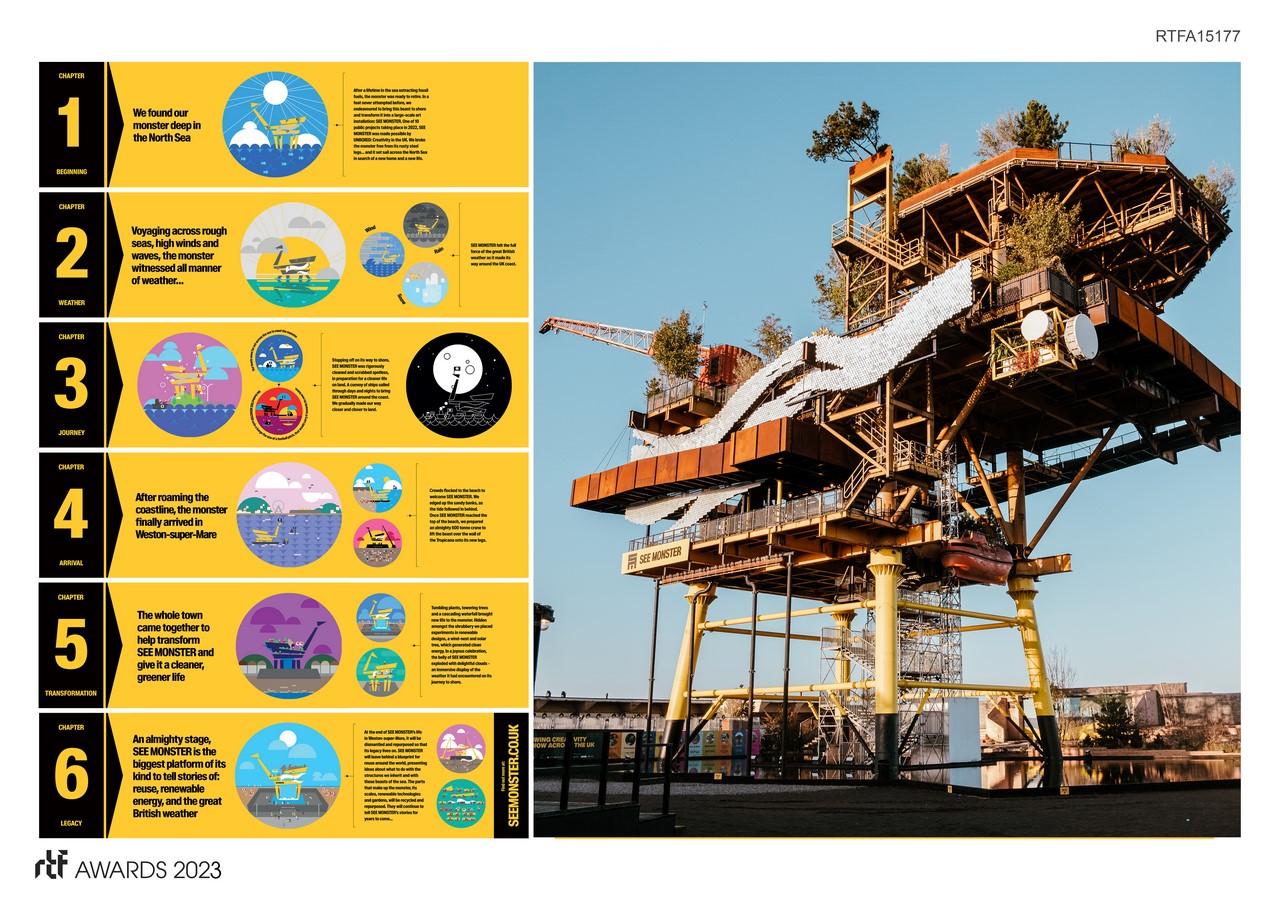 Following a three-month R&D programme from November 2020 to January 2021, and a rigorous pitch and assessment process, the final 10 Creative Teams were commissioned to take their ground-breaking projects into full production. NEWSUBSTANCE's collective intended to fulfil the 'open, original and optimistic' brief, with our ambitious and world-first idea: SEE MONSTER.
As a pioneer towards a greener future, SEE MONSTER explored the concept of inherited structures, be those physical, social, or environmental. It asked the questions: what do we do with the structures we inherit? And what actions can they inspire?
SEE MONSTER (www.seemonster.co.uk) was a retired rig from the North Sea, transformed into one of the UK's largest public art installations to inspire global conversations about reuse, renewables and the great British weather. These stories were presented as an immersive and engaging visitor experience onboard a repurposed North Sea rig, that was for the first time in the world, taken out of its decommissioning cycle and reimagined as a temporary pavilion on the UK coast. The temporary structure was open to the public for 8 weeks before being dismounted and recycled.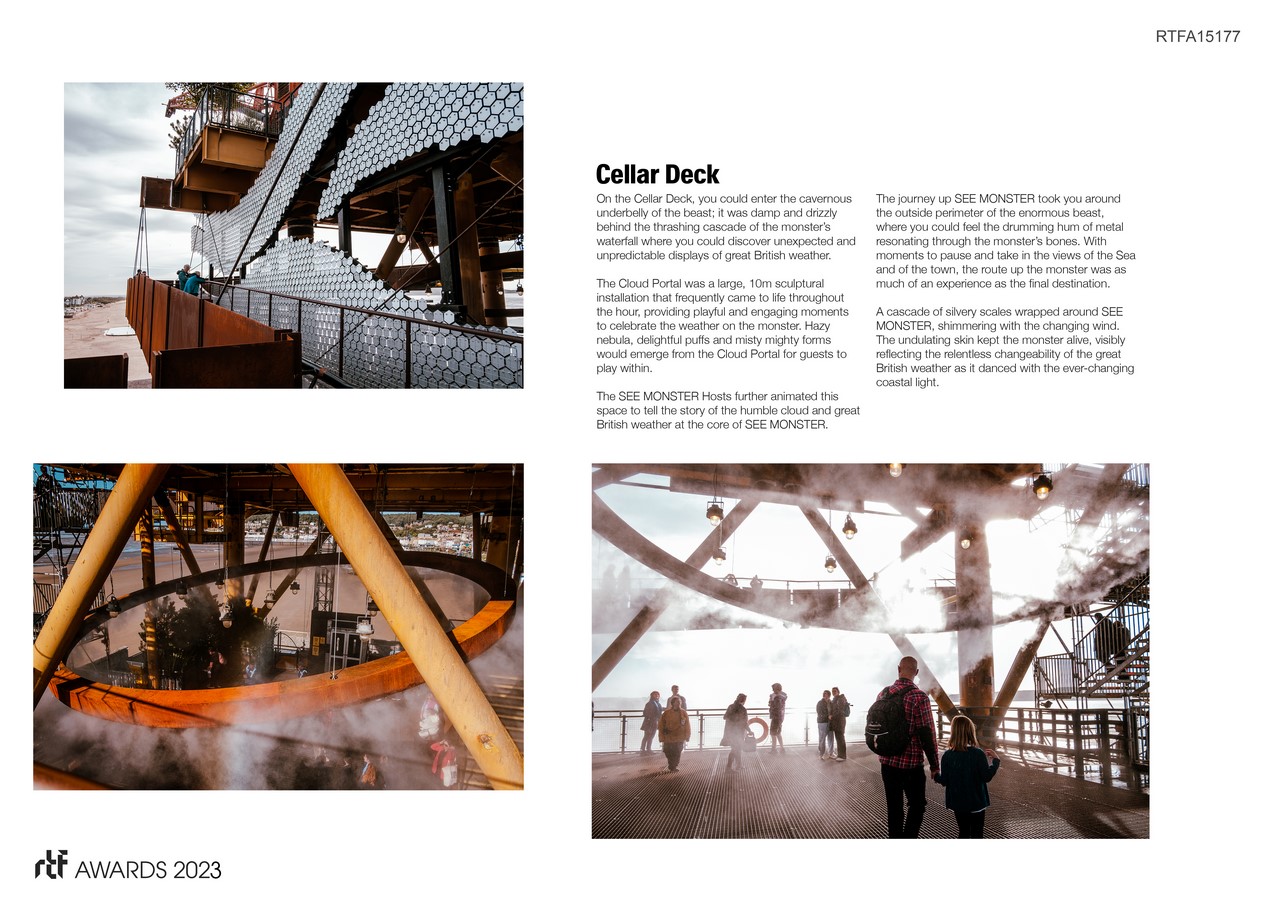 During this period, the retired rig was reborn at shore in the former 1930s lido, the Tropicana in Weston-super-Mare. Free, accessible and open to all, SEE MONSTER attracted a half a million visitors to Weston-super-Mare, from opening in September to closing in November 2022.
Taking an existing structure with a previous life and reimagining it as something new was a core narrative thread to the temporary pavilion. The 'transformation' of the structure proved highly complex from an engineering perspective; taking something that had been designed for a specific, semi-permanent purpose and reconfiguring it to become something completely different and temporary, presented a whole host of challenges for our team.
As a temporary pavilion, the reawakened entity was a joyous celebration of the great British weather and British eccentricity. With a legacy that lives on, the pavilion presented new visions for what monsters like this could become, and encouraged audiences to consider our journey towards a greener future.