The campsite is located in Lare Village, Ranwu Lake. Its north is the winding G318, and its south is the dreamland Ranwu Lake. The campsite is the best spot for self-drive travelers to stop and enjoy the beautiful scenery of Ranwu Lake.
Rethinking The Future Awards 2020
First Award | Hospitality (Built)
Project Name: Ranwu Lake (Tibet) International Self-drive Tour and Recreational Vehicle Campsite
Studio Name: Arch-Hermit
Design Team: Youcai Pan, Zhe Yang, Renzhen Chen, Xu Du
Area: China
Year: 2018
Location: Ranwu Town, Chengdu, Tibet
Photography Credits: Arch-exist Photography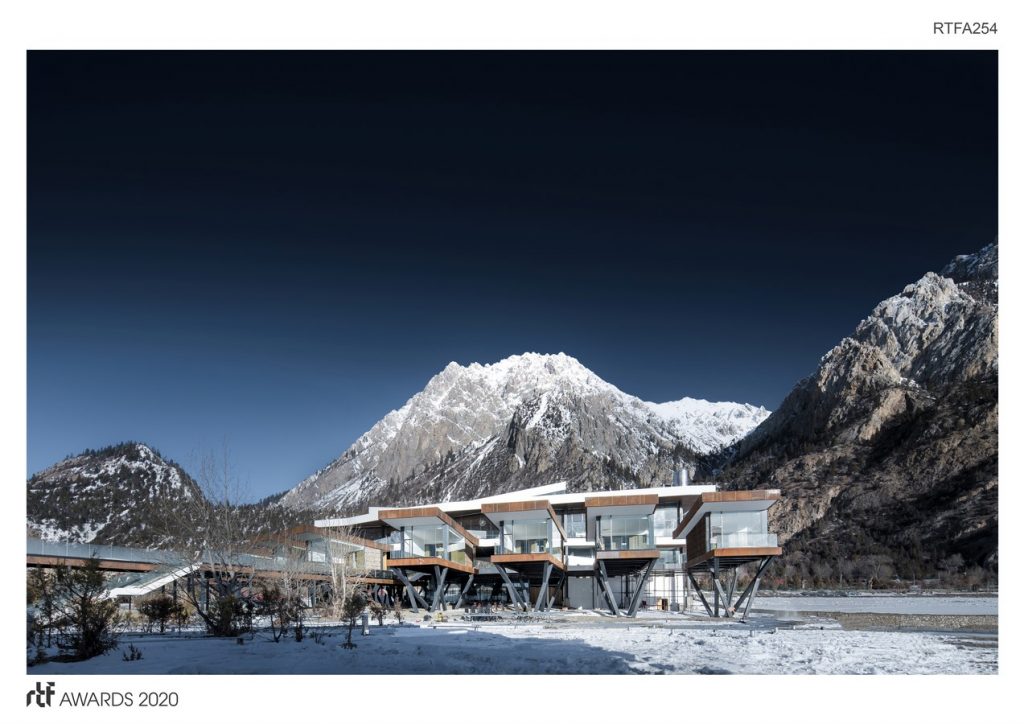 The campsite is high in the north and low in the south, with a maximum altitude difference of 13 meters. The terrain slopes gently and is broad with a spectacular field of view. There are green grass and ancient trees beside the lake, green pine trees and azalea flowers on the mountainside, and blue sky and floating clouds above the mountains.
There are comprehensive travel services at the campsite, such as travel information, service management center, restaurant, Tibetan specialty exhibition and sales, high-end holiday hotel, bar, medical assistance, vehicle repair, tent camping, RV camping and 176 car parking lots, 5 tour bus parking lots and 7 RV parking lots are provided.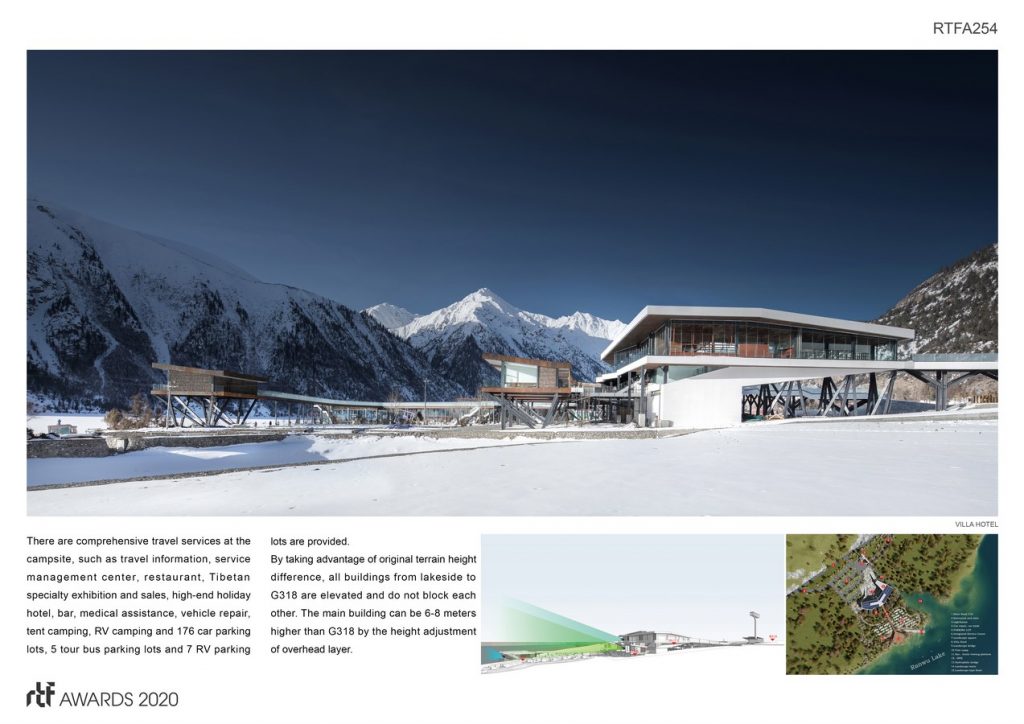 By taking advantage of original terrain height difference, all buildings from lakeside to G318 are elevated and do not block each other. The main building can be 6-8 meters higher than G318 by the height adjustment of the overhead layer.   In order to maximize the view, the main building extends about 80 meters along the horizontal line of G318. The walls facing the lake are all glazed in order to ensure the best view. The appearance of the main building is shaped by the terrain, just like an eagle spreading its wings near the lakeshore.
In order to minimize the impact of this project on the land better by concerning the difficulty in transporting materials and climate influence, the whole project all use assembled steel structure except that the structural foundation uses reinforced concrete. The assembled steel structure has absolute advantages in environment protection, construction period, material transportation and anti-seismic effect.
ARCHITECTURE, CONSTRUCTION & DESIGN AWARDS 2020 IS HERE
Over more than half a decade Rethinking the Future has been a leading organization committed to providing an international platform to not only recognize and acknowledge design talents from all over the world but also to celebrate and share the knowledge that created through a plethora of awards, events and academic dialogues in the field of architecture and design.