As urban developments in cities across the globe grow at a rate never seen before throughout history, architecture seems to have failed to produce any underlying theory which could grapple with that which is decidedly not urban. Known as "the rural" or countryside, these areas are characterized for low density, low population, and small settlements.
Rethinking The Future Awards 2020
First Award | Hospitality (Concept)
Project Name: Karma Bequia
Studio Name: P-A-T-T-E-R-N-S
Design Team: Marcelo Spina; Georgina Huljich; Marcelo Spina, Sophie Lauriault, Corie Saxman
Area: 60,000 sqft
Year: 2016
Location: Bequia, Saint Vincent &  the  Grenadines, Caribbean
Other Credits: Client: Karma Group-John Spence / Renderings: copyright P-A-T-T-E-R-N-S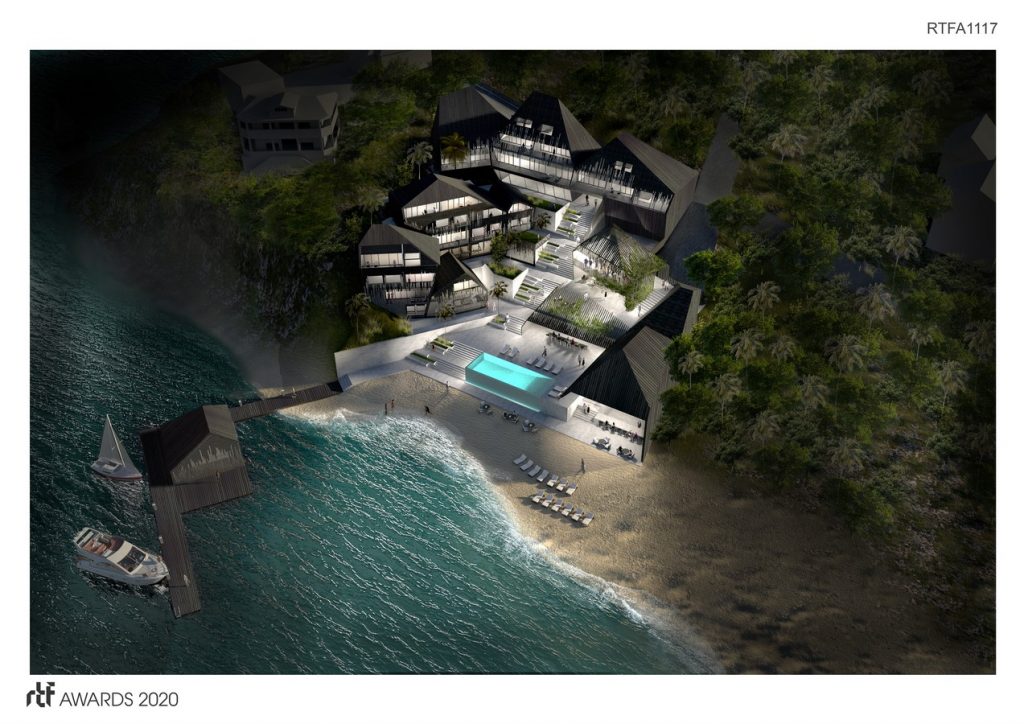 Furthermore, the notion of the island or "islands" [while slightly different than that of the rural through its insularity and remoteness] implies a literal territorial and geographic disconnection from the mainland, from its culture and identity. Remote islands particularly depend on external markets; present high costs for energy, infrastructure, transportation, communication and servicing; long distances from export markets and import resources; low and irregular international traffic volumes; little resilience to natural disasters; growing populations; high volatility of economic growth; a proportionately large reliance of their economies on the public sector; and fragile natural environments.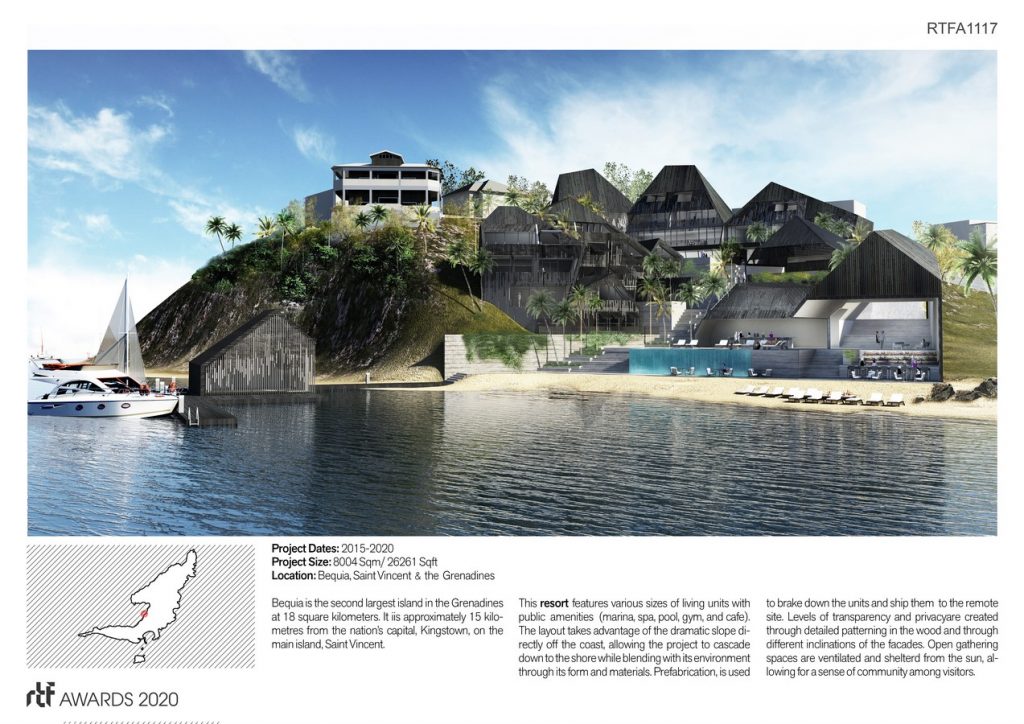 Given these constraints, our proposal is conceived to promote the development of sites in sustainable environments and according to their economic, social and urban requirements. It also gives an answer to larger goals of densification by local agencies, job creation, economic growth, and design interventions, in the context of larger solutions for regional and national demands.  Particularly, the project intends to propose paradigms for island development and growth that incorporates architecture, landscape, and territory as a form of "second nature", a man-made ecology able to be at the same time integrated with its larger geography yet relatively autonomous and self-sufficient from it.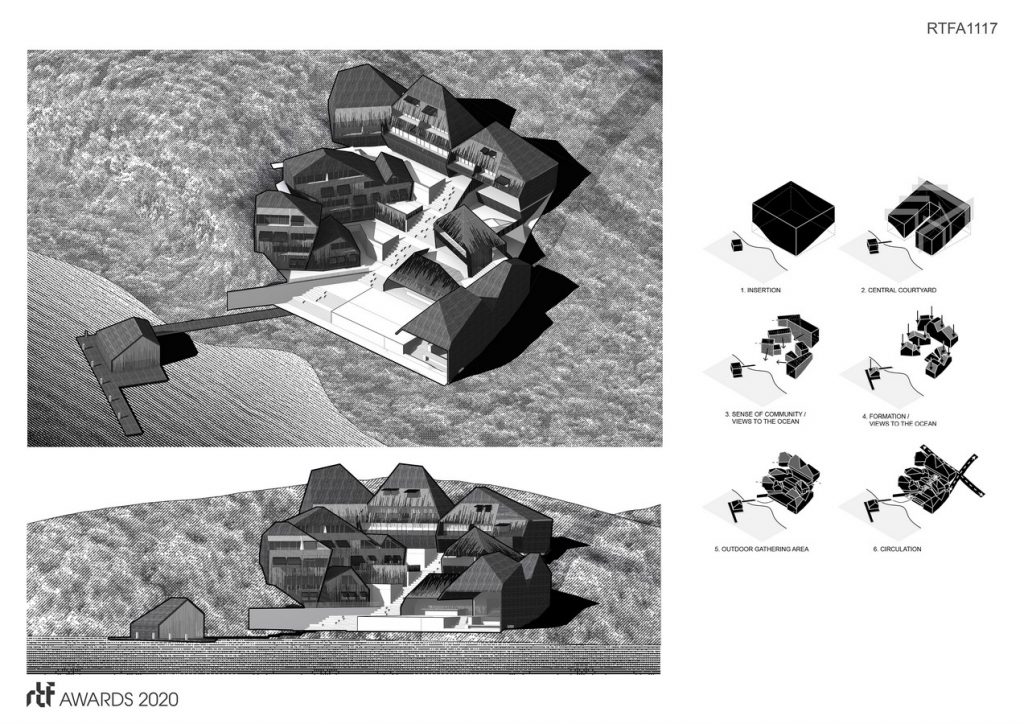 Contextually, the project operates as a "rural ensemble" consisting of a grouping of new buildings and open spaces. It conceptually explores the construction of architecture not just as a formal whole, but as a figural patchwork wherein disparate and yet conforming styles, buildings and volumes can coexist.
Materially, the project focuses on exploring and developing methods of prefabrication to be shipped and installed in remote sites, and which beyond their own generic nature could still be embedded in a genuine local vernacular. Based on very specific archetypes of the rural setting in the Grenadines Islands, we sought to produce a relevant and distinctive silhouette within its context while absorbing traditional features and materials.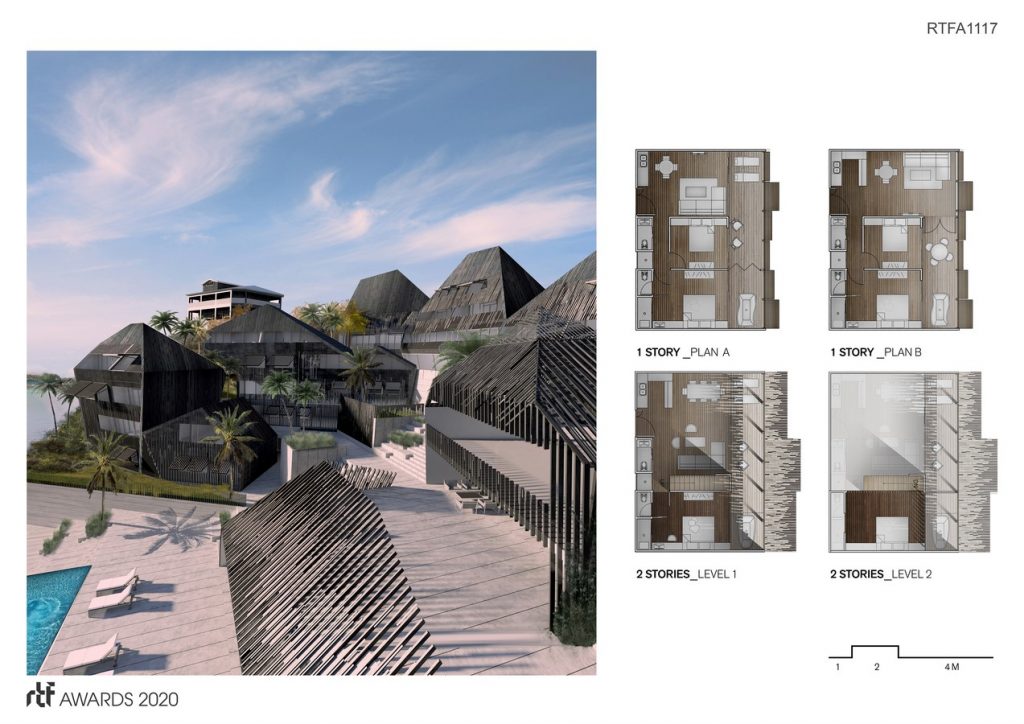 Programmatically, it features various sizes of living units with public amenities such as a marina, spa, pool, gym, and a cafe/bar. The layout takes advantage of the dramatic slope directly off the coast, allowing the project to cascade down to the shore while blending with its environment with its subtle form and materials. A simple layout and material system allows levels of transparency and privacy through detailed patterning in the wood and through directional / elevation changes in the units. Open gathering spaces create a level of shading while retaining airflow with adjacencies to amenities, allowing for a sense of community among visitors.
ARCHITECTURE, CONSTRUCTION & DESIGN AWARDS 2020 IS HERE
Over more than half a decade Rethinking the Future has been a leading organization committed to providing an international platform to not only recognize and acknowledge design talents from all over the world but also to celebrate and share the knowledge that created through a plethora of awards, events and academic dialogues in the field of architecture and design.