'Java Rain' is a 5-acre resort nestled in a 40-acre coffee estate in Chikamagalur and is part of the ecosensitive Western Ghats. The regional landscape is cloaked with lofty dense Tropical Wet Evergreen and Moist Deciduous Forests. Large tracts have been lost to coffee plantations since the late nineteenth century.
Rethinking The Future Awards 2020
First Award | Private Landscape Project (Built)
Project Name: JAVA RAIN Resort
Studio Name: FICUS
Design Team: Sriganesh R, Aparna Rao, Abhilash K,  Saptaparni C, Ram Gokhul, Sagar S
Area: 5 Acres
Year: 2017
Location: Chikamagalur, Karnataka
Architect: Cadence, Bengaluru
Lighting design: T2, Bengaluru
Site services: BAYS, Bengaluru
Photography Credits: Sriganesh R, Vaishali Bhatia
CLIENT: Shamballa resorts LLP, Bengaluru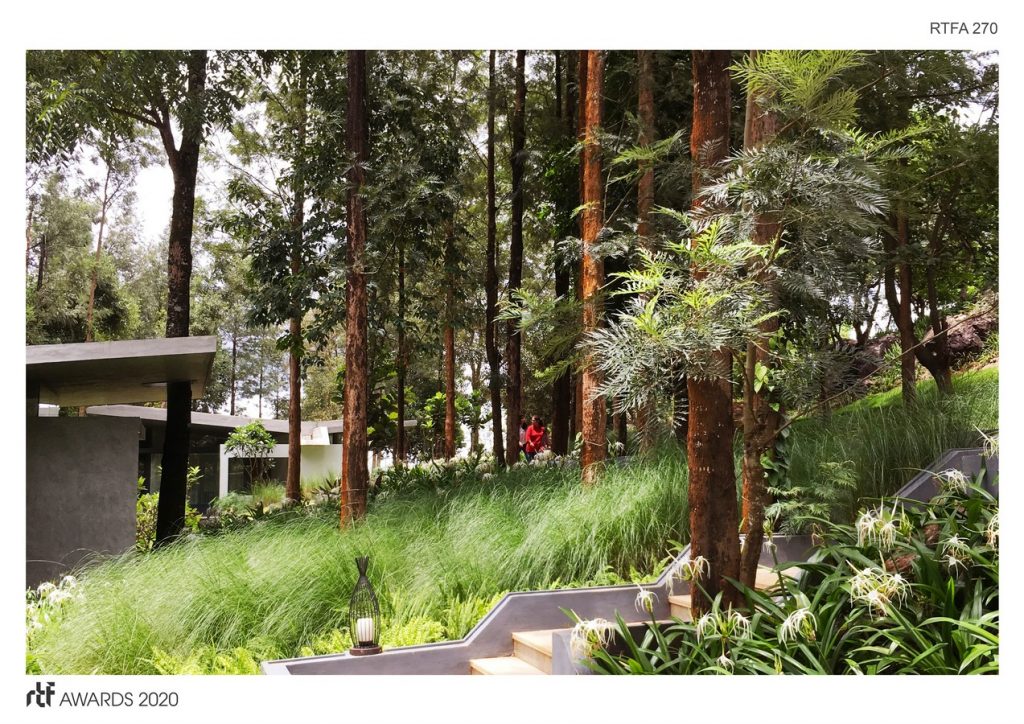 Grevillea robusta, planted as dappled shade for coffee plants, constitutes the single-largest introduced species in the landscape, while Lantana camara hedges now run wild. Native species are less favored for canopy functions due to slower growth and limited coppicing abilities.  The reduction in coffee productivity has been attributed to topsoil erosion, altered soil nutrients, increased soil acidity and loss of pollinators.  Within this green landscape, three cultural perspectives co-exist the bio-diversity services of shade grown 'robusta coffee' plantation, the conservation of native flora, and managing these landscapes as an agro-ecosystem.
Mullayanagiri, a cloud-shrouded peak, the highest in Karnataka is visible en-route to the site.  The monsoon is a key aspect of Chikamagalur's salubrious climate, despite heavy rainfall the site grapples with heavy erosion and a steady decline in groundwater.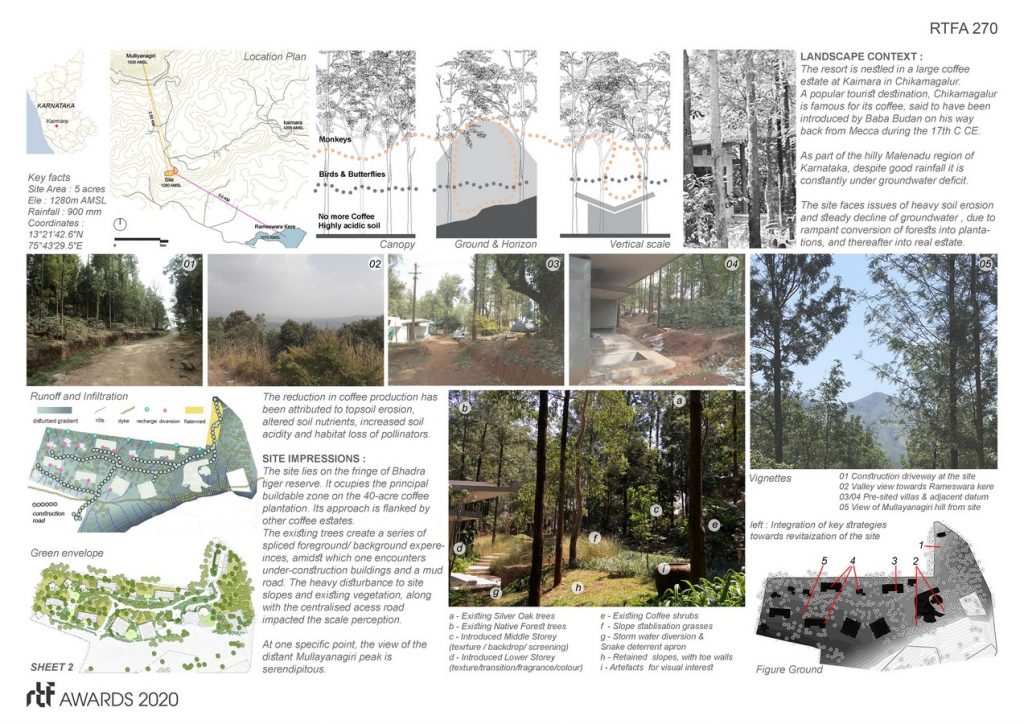 SITE IMPRESSIONS
Existing trees spliced the visual foreground which comprised of under-construction buildings and a mud road. A rocky ridge on the south suggested solitude and offered vantage views. The presence of monkeys, the occasional butterfly, cry of peacocks, snakes, crickets, and starry skies informed nocturnal and dawn experiences. While walking the site, at one specific point- a view of the distant Mullayanagiri peak was serendipitous.
DESIGN APPROACH
The idea was to focus on retaining these impressions, without adding deliberate structure, examining ideas like 'as found' and 'figure-ground'. Site appraisals and dialogues with clients were a key trigger in paring down ideas to their core.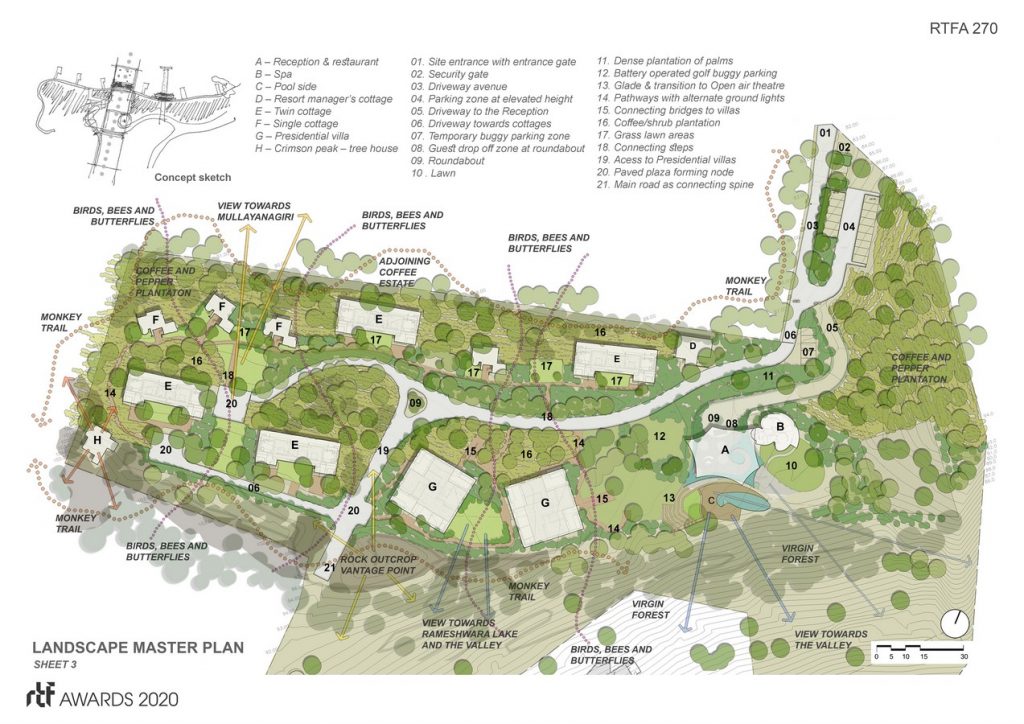 Site re-habilitation strategies introduced native, non-invasive under-story planting thickets supporting pollinators. The mud road was streamlined as the main mobility spine.  Leaf litter of remnant native trees was left in place to arrest soil erosion, enhance percolation of water and improve tilth. Canopy thinning for solar access, vegetative slope stablisation, removal of infested trees, remedial grading and soil amendments constituted "unseen" interventions.
Extending building geometry of the clubhouse,  a free-curved stepped seating negotiated a steep hill-side cutting, with the deck space articulating the infinity pool while allowing group gatherings. Villa forecourts were given a sense of partial enclosure, through planting. The rear sides became private garden pockets for play, idling, or just gazing at the sky. The design suggests a physical distance between cottages, triggering the sense of seclusion and 'being at leisure', without putting people and fauna in conflict.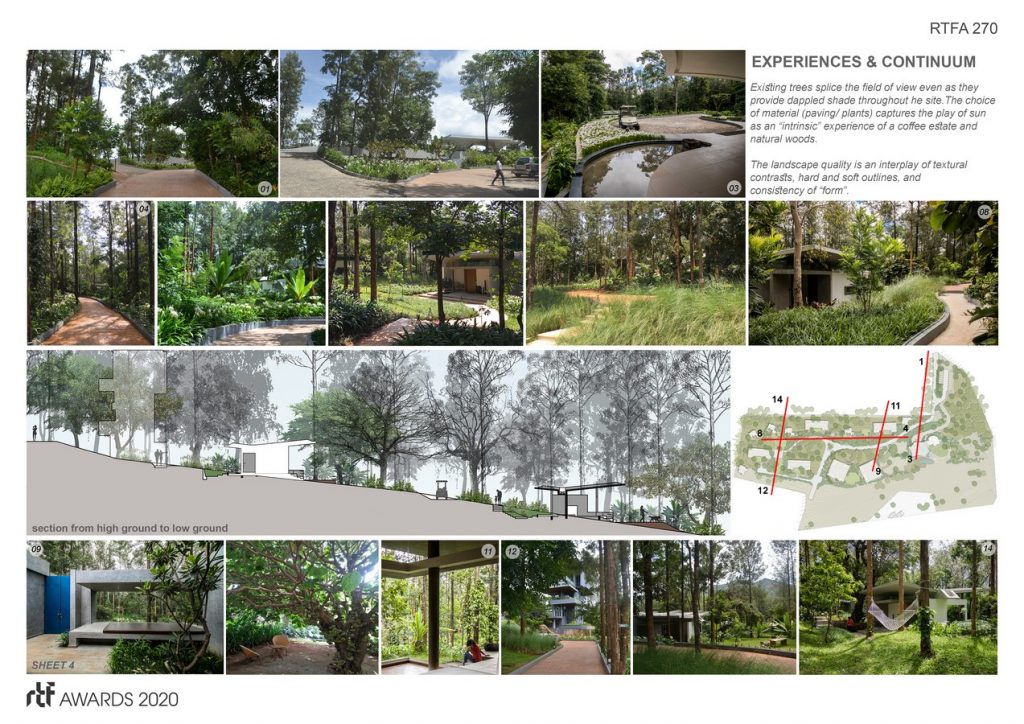 Between villas, bushes of existing Robusta coffee were retained as an allusion to the site's immediate past. The spots offering the distant vista of Mullayanagiri hill were left as a leveled, grassed clearing.
ARCHITECTURE, CONSTRUCTION & DESIGN AWARDS 2020 IS HERE
Over more than half a decade Rethinking the Future has been a leading organization committed to providing an international platform to not only recognize and acknowledge design talents from all over the world but also to celebrate and share the knowledge that created through a plethora of awards, events and academic dialogues in the field of architecture and design.