The Pavilion Project is an original artwork commissioned by Jackson Hole Public Art with support from the Center for the Arts, Jackson businesses, and private donors. The 2018 project resulted in creating a place of community engagement and a venue for artistic expression located in the heart of downtown Jackson in The Center Park.
Rethinking The Future Awards 2020
Second Award | Pop-ups and Temporary Structure (Built)
Project Name: Town Enclosure
Studio Name: CLB Architects
Design Team: Eric Logan, Matt Thackray, Forrest Britton
Area: 2,122 Square Feet
Year: 2018
Location: Jackson, Wyoming
Consultants: Nelson Engineering, KL&A, Inc., Two Oceans Builders, KWC, Inc., Mountain Scapes, Inc., Premier Powder Coating
Photography Credits: Matthew Millman, Tuck Fauntleroy, Krafty Photos
Other Credits: Jackson Hole Public Art, Center for the Arts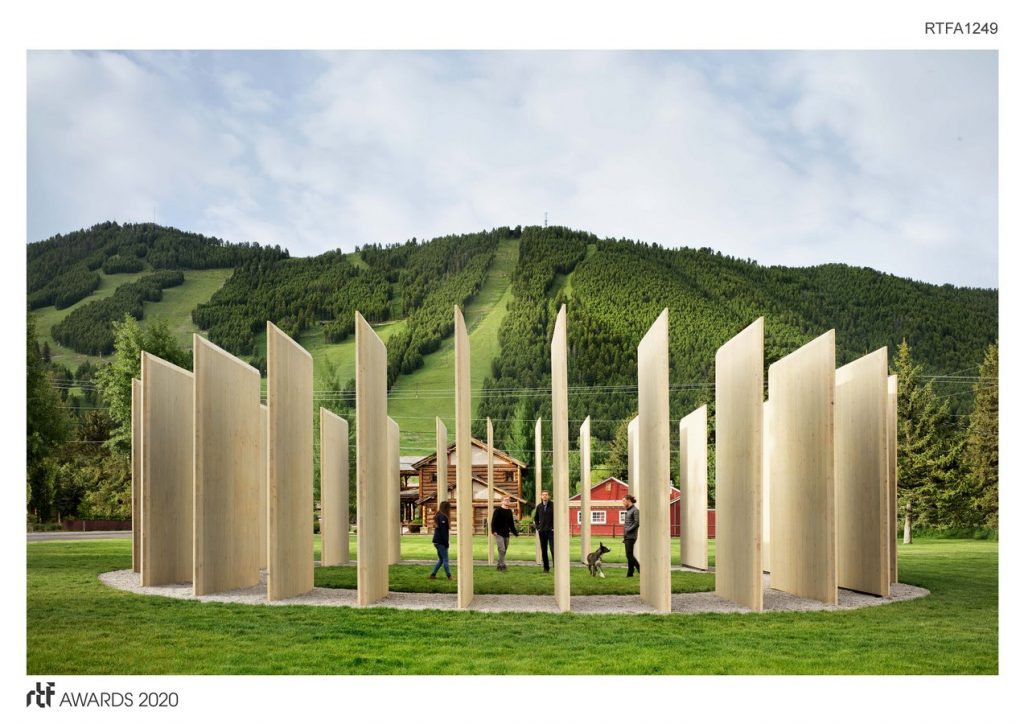 Part of the Center's Creative in Residence Program, the concept was to create a gathering place that in itself was a sculptural art piece. This would, in turn, be used in a variety of ways — both formal and spontaneous, and always open to the public — in pursuit of artistic experiences in the open air.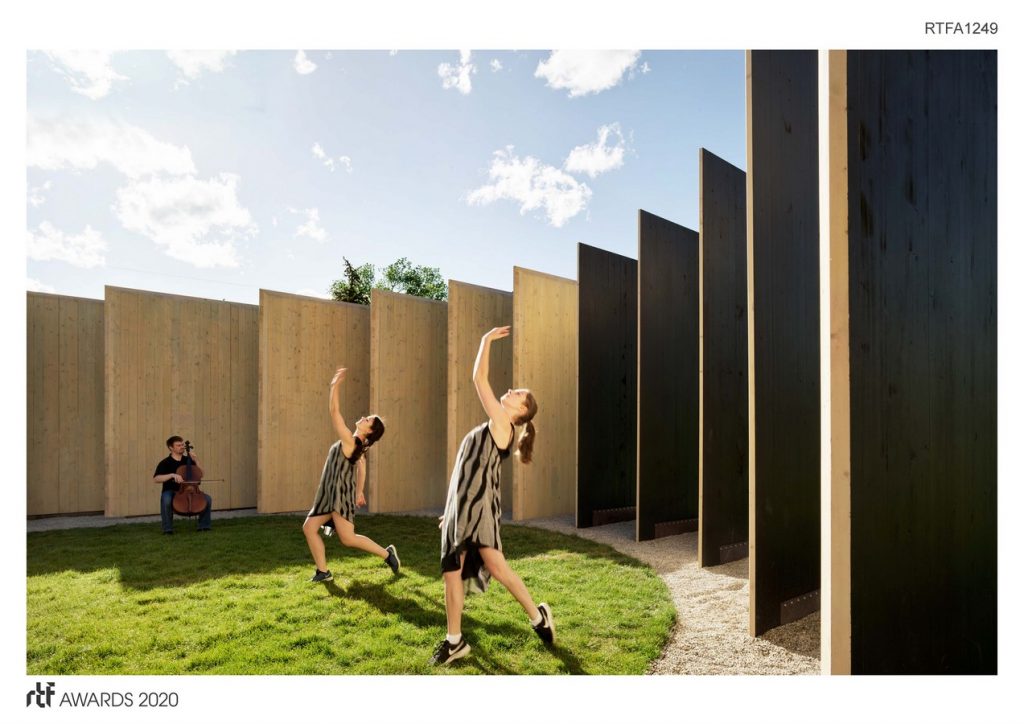 The Center's call for designs attracted ten proposals from throughout the valley's artistic community; a blind submission process assured that the winning proposal would be selected solely on its merits. CLB was granted the project on the strength of the form and function of its design, Town Enclosure.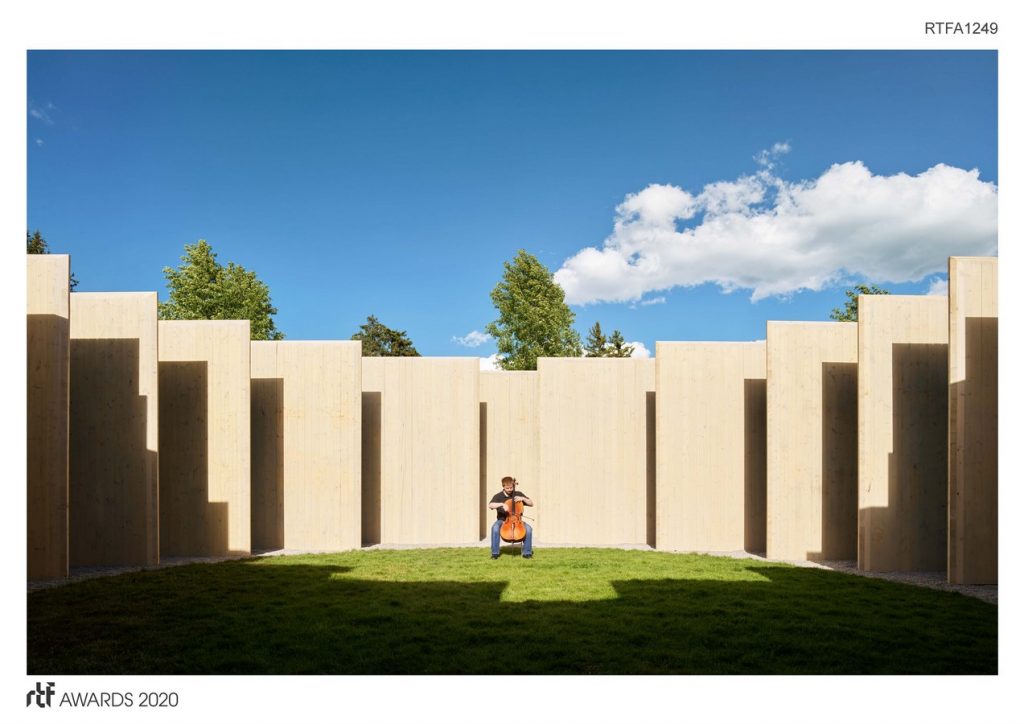 Located on The Center Park lawn, Town Enclosure is a circular array of cross-laminated timber wall panels erected vertically and spaced so as to invite exploration. From a distance, the composition speaks to the surrounding mountains, engages passing drivers and pedestrians and adds sculptural interest to the flat lawn of a park surrounded by downtown buildings. Its form is derived from symbols of placemaking in the Mountain West, such as fences and corrals, as well as iconic landmarks like the West Buttress of the Grand Teton.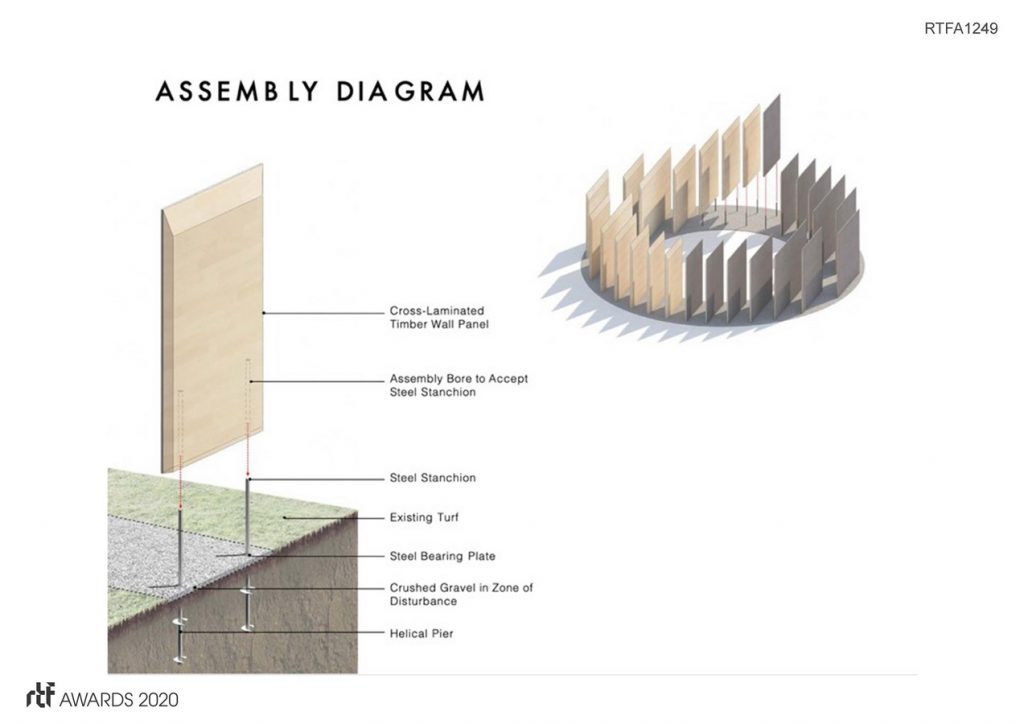 Its simultaneous transparency and opaqueness create layers of interpretation, lending depth and complexity to an otherwise simple form. True engagement happens as one moves around and within the panels.
Intended as a performance and exhibition space for community artists and groups, Town Enclosure acts as an armature for creative discovery.
ARCHITECTURE, CONSTRUCTION & DESIGN AWARDS 2020 IS HERE
Over more than half a decade Rethinking the Future has been a leading organization committed to providing an international platform to not only recognize and acknowledge design talents from all over the world but also to celebrate and share the knowledge that created through a plethora of awards, events and academic dialogues in the field of architecture and design.