Design brief:
To design a 900 m2laboratory for a world-class medical-grade salt plant.
To contain the program for quality control and testing procedures for various segments of the production process. It includes laboratories, ultra-clean rooms, chemical testing rooms, office spaces, chemical and samples storage, a central control-and-monitoring room and a generous lobby and reception area.
Rethinking The Future Awards 2020
Third Award | Office Building (Built)
Project Name: Laboratory for Shihlien Bio-tech Salt Plant
Studio Name: WZWX Architecture Group
Design Team: Stephen Wang, Chiou Hiei Lin, Jian Fei Cheng, Jian Zhang, Meng-ling Cao
Area: 900m2
Year: 2018
Location: Huai'an, China
Consultants: Shenzhen Wen-Hua Construction Co., Ltd, Taiwan Glass
Photography Credits: Louis Liu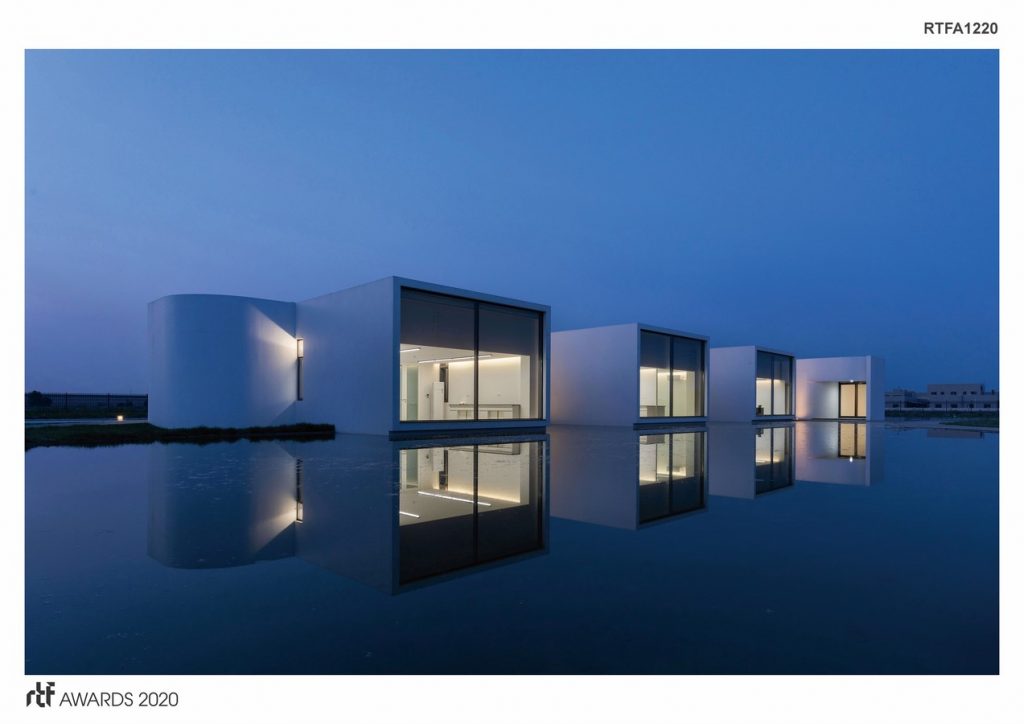 Site/background:
Located in Huaian city, situated in northern Jiangsu province, it is home to the finest reserve of underground salt mines in China.
Since 2008 the city has been active in developing an advanced industrial zone for salt-chemical related industries.
The plant incorporates state of the art production technology, yielding 30 tonnes per annum of medical-grade salt which is refined into a range of specialized products for medical, food, beverage and cosmetic industrial applications.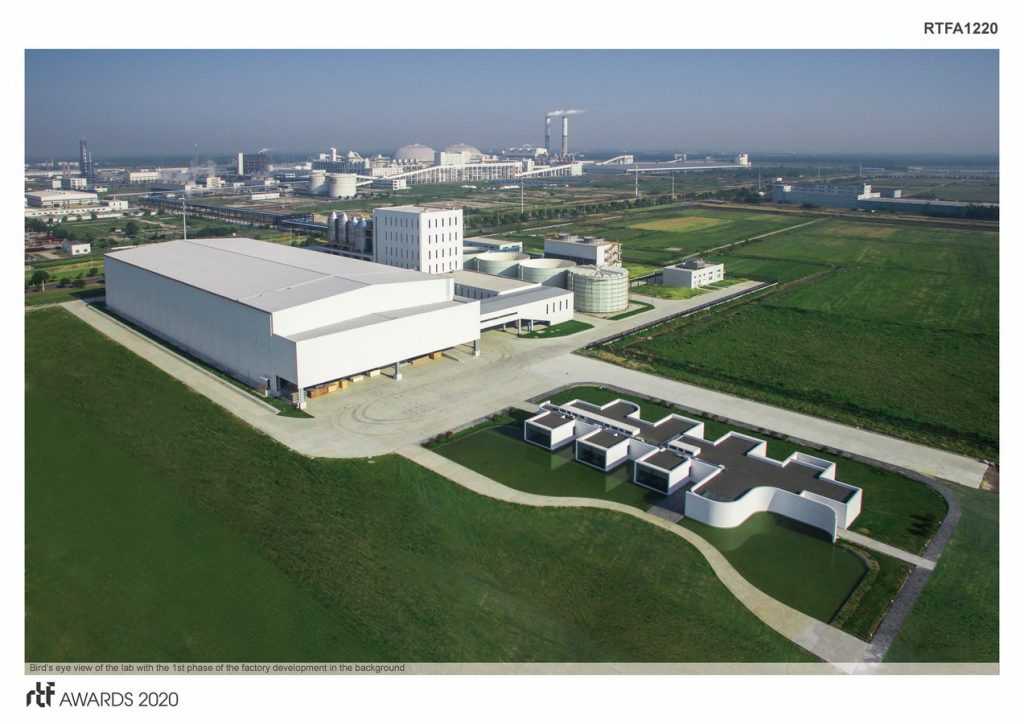 Concept:
Purity is an essential focus of the salt production process and a consistent driving concept for architectural and interior design.
The plan organization is conceived as a regular array of NaClsalt crystals. A series of offset cubic protrusions – white-washed walls with full-height glazing – accommodates each of the key functions.
While the main building geometries are rectilinear, entrances and key elevations are characterized by contrasting fluid curvatures to give various welcoming gestures to visitors and staff.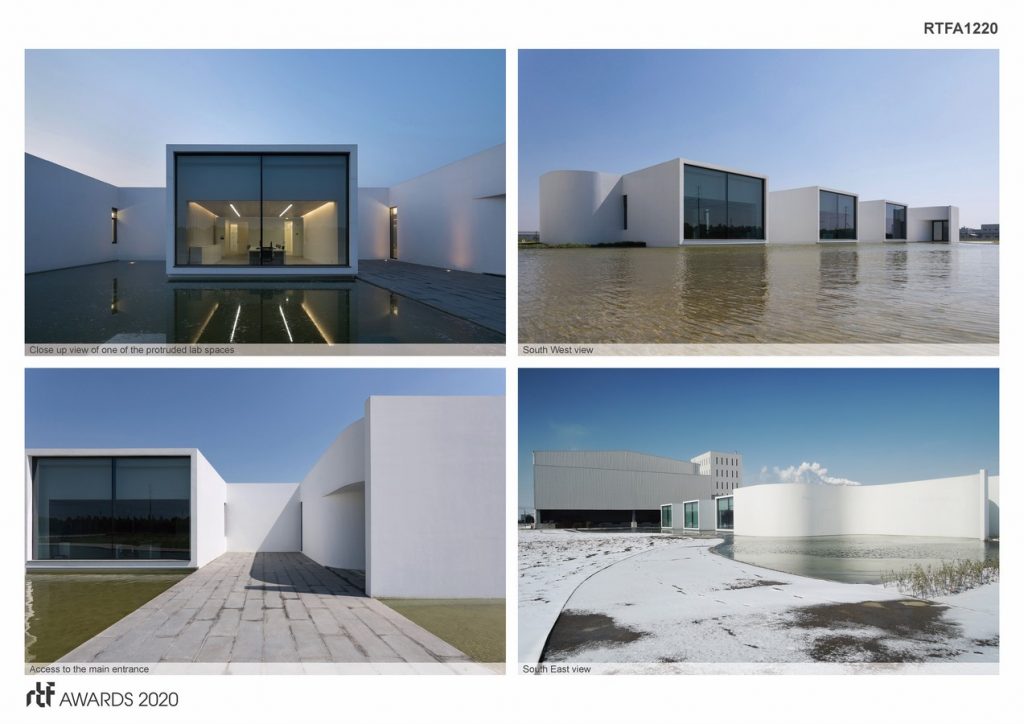 The Building:
"Water" is an essential element within the brine-to-salt extraction process and therefore celebrated as a major design feature.
The building is poised beside a large reflecting pond as if floating on water.
Rainwater is collected in the pond from the roof to provide an evaporative cooling effect during the hot extended summers as well as a source of irrigation water for the surrounding open landscaped areas.
Meandering fine pebble pathways demarcate the edges of the pond. A generous stone walkway traverses the water surface to lead visitors toward the main entry.
By night, underwater lighting illuminates the façades and brings to life mirror-like reflections.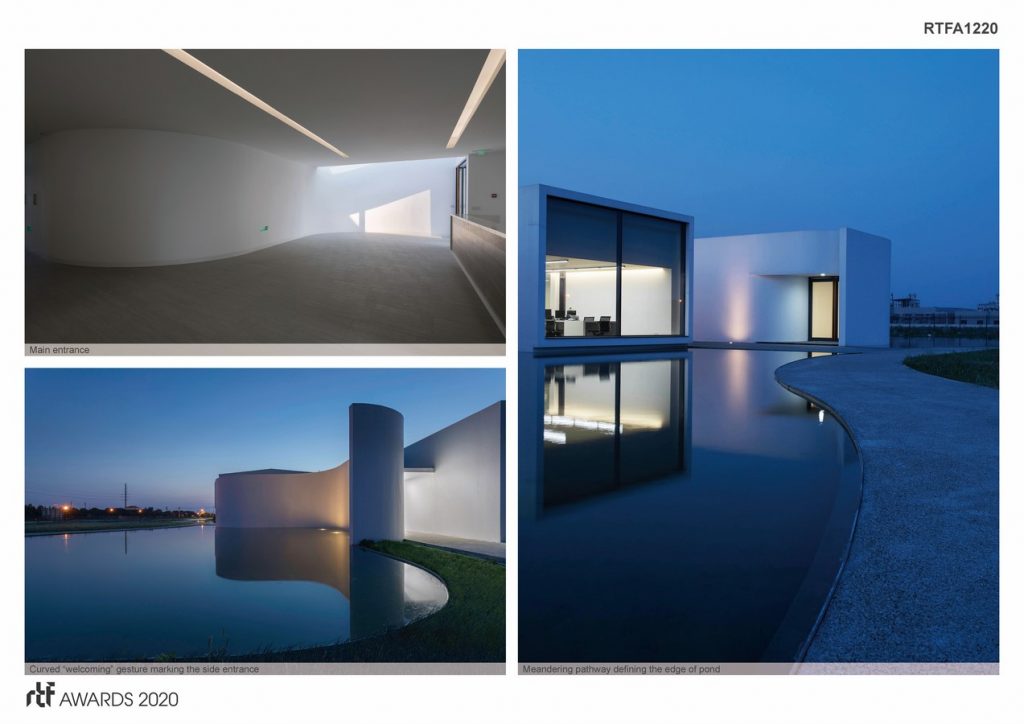 Inside:
The interior is crisp and restrained – white walls, linear strip lighting, and light-colored tiles characterize the spaces.
In key rooms, a warmer atmosphere is conjured by combining wood and wood-grained exposed concrete.
Full height low-emissivity glazing provides ample daylighting and pleasant views of the Jiangsucountry-side from the workspaces.
ARCHITECTURE, CONSTRUCTION & DESIGN AWARDS 2020 IS HERE
Over more than half a decade Rethinking the Future has been a leading organization committed to providing an international platform to not only recognize and acknowledge design talents from all over the world but also to celebrate and share the knowledge that created through a plethora of awards, events and academic dialogues in the field of architecture and design.