Creating a nexus for athletes (professional, student or otherwise) and their caretakers (physicians, researchers, physical therapists, and trainers), this 300,000 square-foot facility is a collaborative first for a professional sports franchise and a major health system. Its innovative program combines sports medicine (outpatient imaging, surgery, urgent care, medical offices, and pharmacy) with sports wellness (training, research, and rehabilitation) and sports performance (basketball court, indoor/outdoor playing field, and gym).
Rethinking The Future Awards 2020
Second Award | Sports and Recreation Project (Built)
Project Name: Sports Therapy and Research Center at the Star
Studio Name: Perkins&Will Dallas
Design Team: Ron Stelmarski, Tom Reisenbichler, Randy Hood, Wes Bowen, Steve Smith, Matthew Crummey, Lauren Foster, Matt Sawasaki, Nanette Harmon, Bethany Siebert, Kevin Kinsey, Jennifer Gange, Tiffany Sutton, Robert Vance, David Chamberlain, Kevin Mereness, Eileen Jones, Cary Lancaster
Area: 300,000 SF
Year: 2018
Location: Frisco, Texas, United States
Consultants: Wiss, Janney & Elstner Associates (Envelope), Kimley-Horn (Landscape Architect), WSP (MEP Engineer), Wiss, Janney & Elstner Associates (Roofing/Waterproofing), LA Fuess Partners (Structural Engineer), Sports Design Group (Turf Field Consultant), CPP Wind Engineering (Wind Engineering)
Photography Credits: James Steinkamp, Nick Merrick, Ursula EmeryMcClure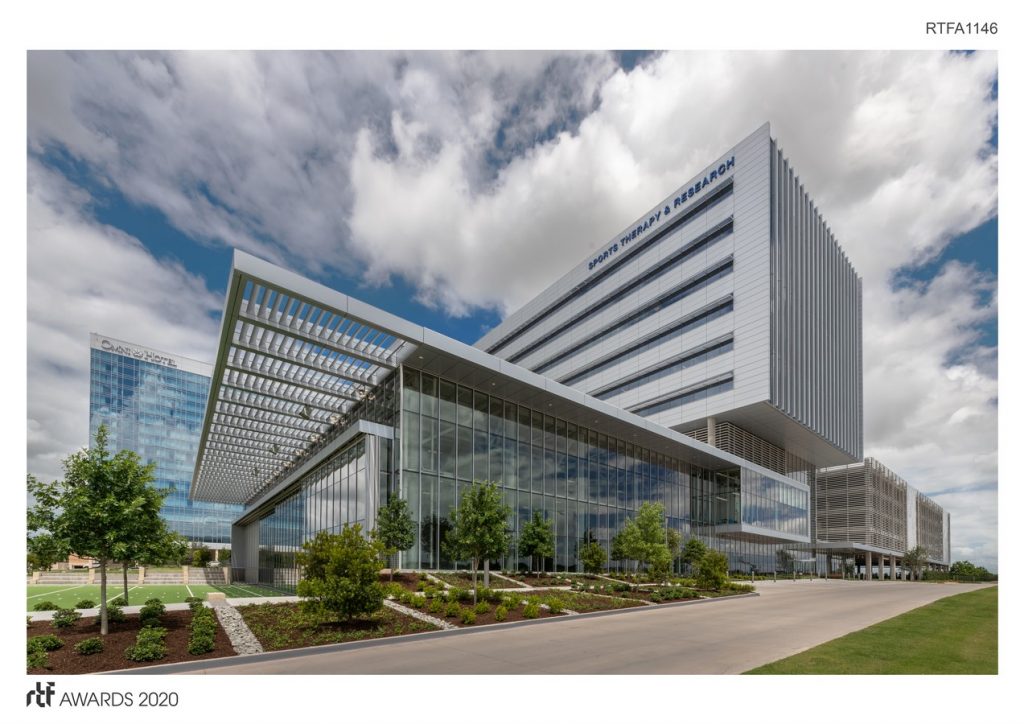 The project operates as a social and scientific catalyst facilitating the complex interplay of human biology, comprehensive health, training, and recovery. The architectural plan strategically supports the identity of each program group and fosters collaboration and exchange between the diagnostics, treatment, and rehabilitation zones. Layered, transparent spaces and circulation paths erase the division between program types and put simultaneous activities on display. The use of transparency also showcases the human body in motion, creating a "living brand" experience celebrating athleticism and physical fitness. This is dramatically apparent when a massive, 30-foot-tall, retractable glass wall opens and allows the football field to extend outside and invites the public into the game. The openness and visual interconnectivity of spaces filled with abundant natural light also lend a human quality to the otherwise data-driven realm of sports medicine.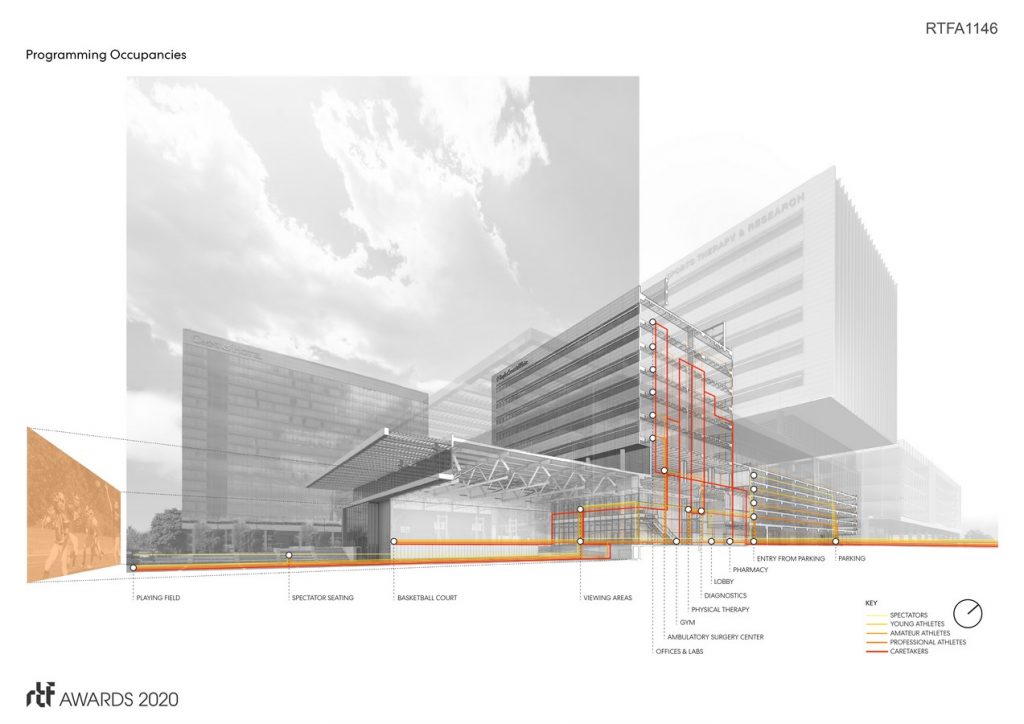 As a showcase for athletic health and wellness, the project's environmental performance goals focused on occupant well-being and community connectivity. To maximize the users' well-being a health and wellness material strategy was employed. Besides incorporating the typical specification of low-VOC finishes, such as paint, to minimize off-gassing some more atypical material assemblies were selected to support the well-being of the users. The large sports field, for example, was constructed to meet the more stringent international turf sports standards instead of the NFL standards. This meant that instead of being constructed with the recycled tire cushion which has been shown to have some VOC off-gassing, the field was supported by a sand bed. The sand bed assembly and international turf surface also provide for safer impact and mobility traction which minimizes athlete injury.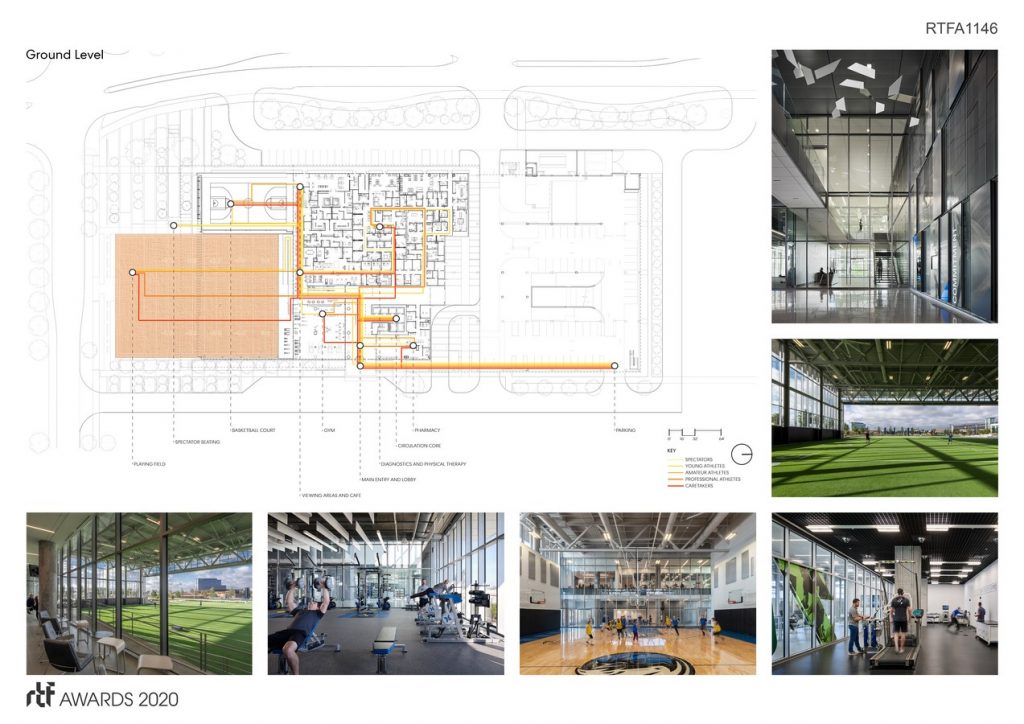 Connectivity was met primarily with material transparency and the building's ability to open literally to the community. This goal had to be accomplished on the facility's southern side under heavy solar gain. The resolution implements the highest level of clear Low-E glazing coupled with the large brise-soleil. This allows the field, open or closed, to connect and to not stress the interior thermal environment.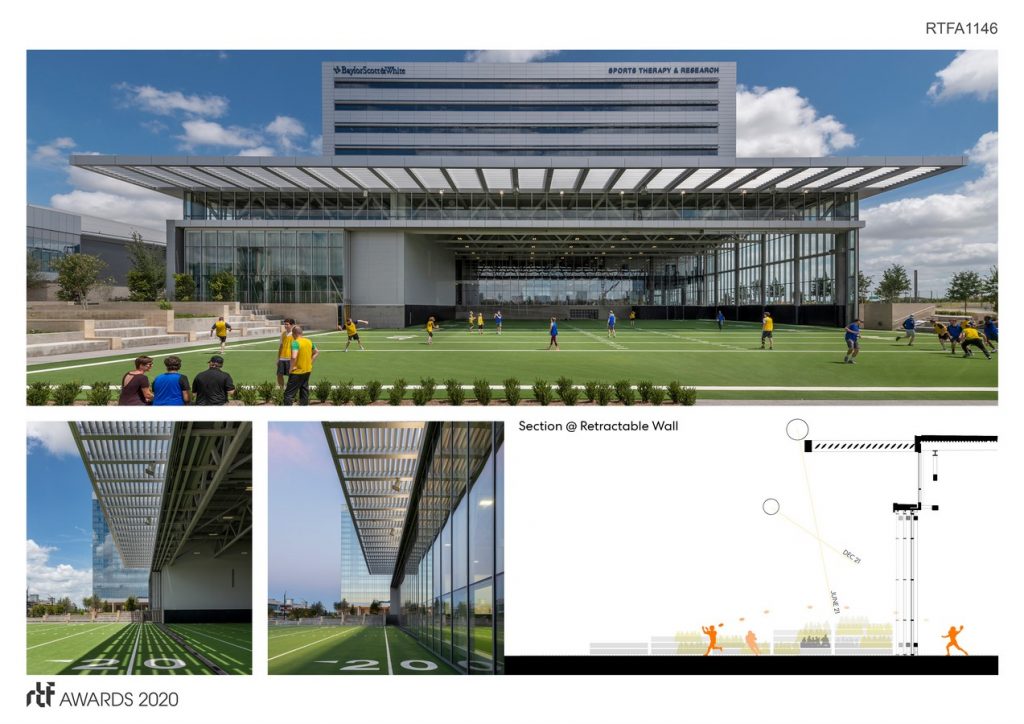 The Sports Therapy and Research Center at the Star was conceptualized to offer the best in health and wellness support for those in need of training, medical, or rehabilitation services. It is a great example of an architectural typology that supports improving population health through physical fitness. As there is such a strong association with wellness and how it impacts overall health, this facility offers a unique opportunity to help the community move better, and in turn, make a difference in the overall wellbeing of patients.
ARCHITECTURE, CONSTRUCTION & DESIGN AWARDS 2020 IS HERE
Over more than half a decade Rethinking the Future has been a leading organization committed to providing an international platform to not only recognize and acknowledge design talents from all over the world but also to celebrate and share the knowledge that created through a plethora of awards, events and academic dialogues in the field of architecture and design.