Housing affordability is one of the main challenges for the Architecture of the Future. Most of the cities around the world need to increase their housing stock. But it's not only about quantity (number of units, square meters, cost…); inclusion, quality, and sustainability are the key features that will stand out the developments of the future.
Rethinking The Future Awards 2020
Second Award | Mixed Use (Concept)
Project Name: Social Co-housing
Studio Name: Sustainable (A/O Paul Dowsett Architecture Ltd.)
Design Team: Laura Casas Martin, Bilal Khan, Pearl Chan, Josh Reiniger, Paul Dowsett, Dakota Park
Area:  Site (7.7 Acres), Building (14,500 m2)
Year: 2020
Location: Toronto, Canada
Other Credits: Dakota Park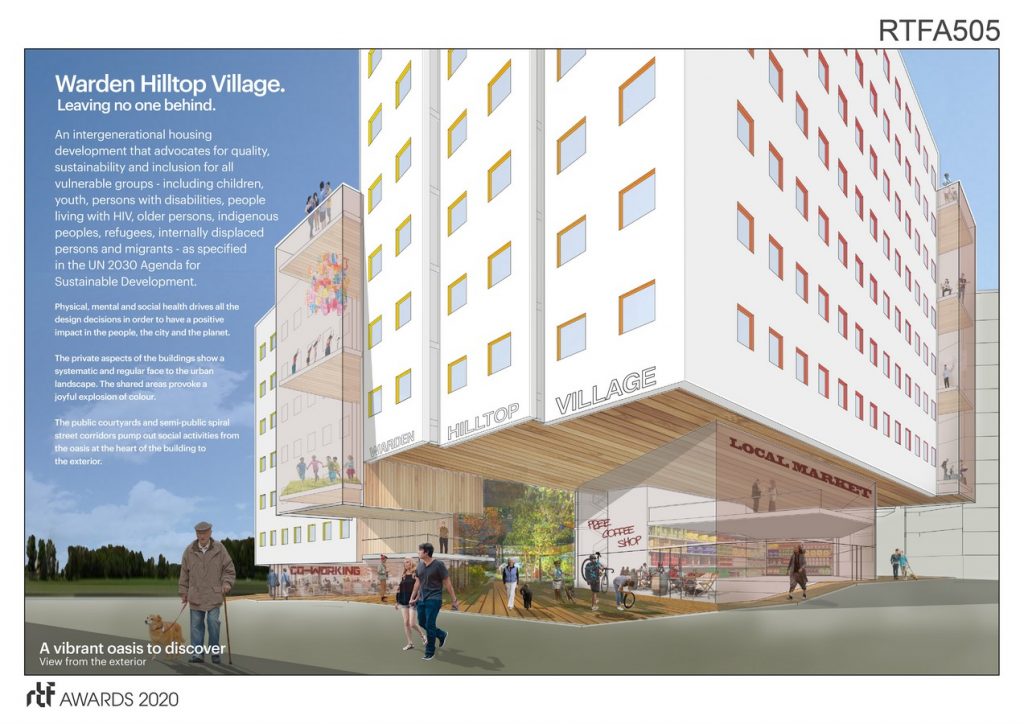 Our design proposal responds to this challenge and builds a dense community of intergenerational housing buildings. Through a blend of cross-programing activities and social spaces, the proposal will catalyze intergenerational interaction. The spaces allocated in the design are not only private or public; they range from one category to the other, including semi-private and semi-public areas in between to blur the traditional belonging limits. ­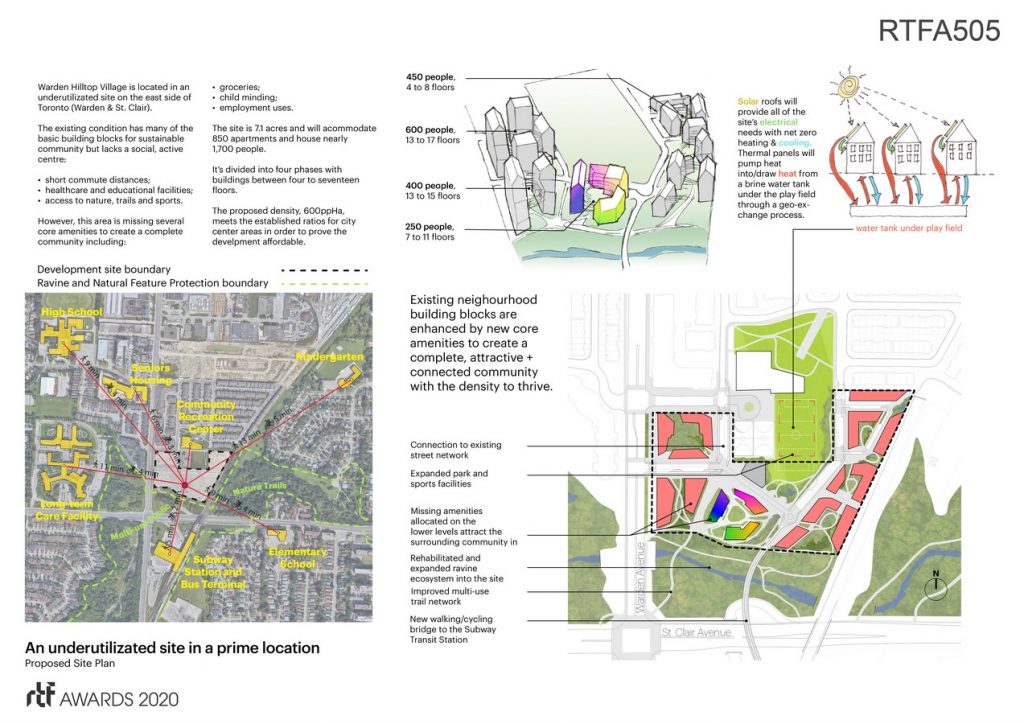 For this purpose, we have chosen an underutilized site adjacent to a subway station in Toronto.  Currently, the site is used as a surface parking lot for commuters using the subway system. Because Toronto is growing, the site has become a prime location for transit-oriented development.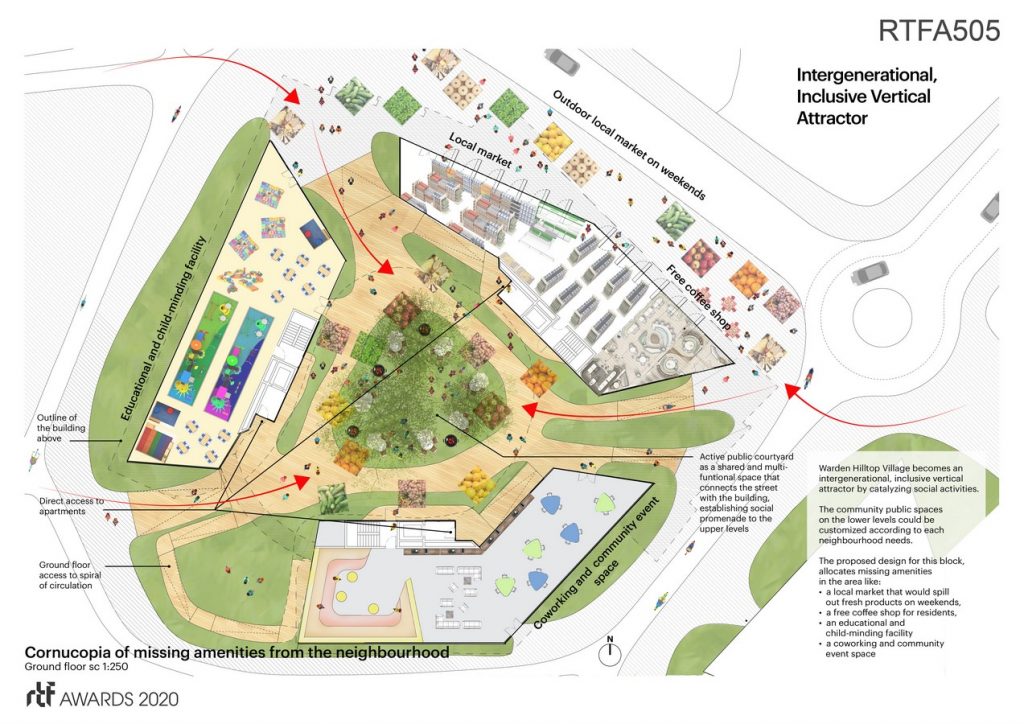 Health is "a state of complete physical, mental and social well-being", as defined by the World Health Organization (WHO) is the main design goal. The project promotes healthy users and a healthy planet through architecture by:
– establishing bikes and pedestrians as the "owners" of the public outdoor space, and facilitating the access to basic necessities without the use of private vehicles,
– connecting existing and new green outdoor spaces to let natural ecosystems flow,
– fostering social interaction by allocating community public spaces in both indoor and outdoor areas on the lower levels of the buildings,
– de-stratifying the building in horizontal levels and connecting them through a spiral of circulation and shared semi-private/public spaces that promote communication and movement,
– using color to influence emotions and behaviors,
– understanding building shape as a mechanism to capture sunlight, provide cross ventilation and protect from cold winds by adjusting the orientation and building heights,
– choosing toxin-free, mold-resistant and carbon-storing materials, to eliminate up-front embodied carbon emissions,
– using renewable electricity through solar roofs that will provide all of the building's electrical and heat & cooling needs, to avoid operational carbon emissions.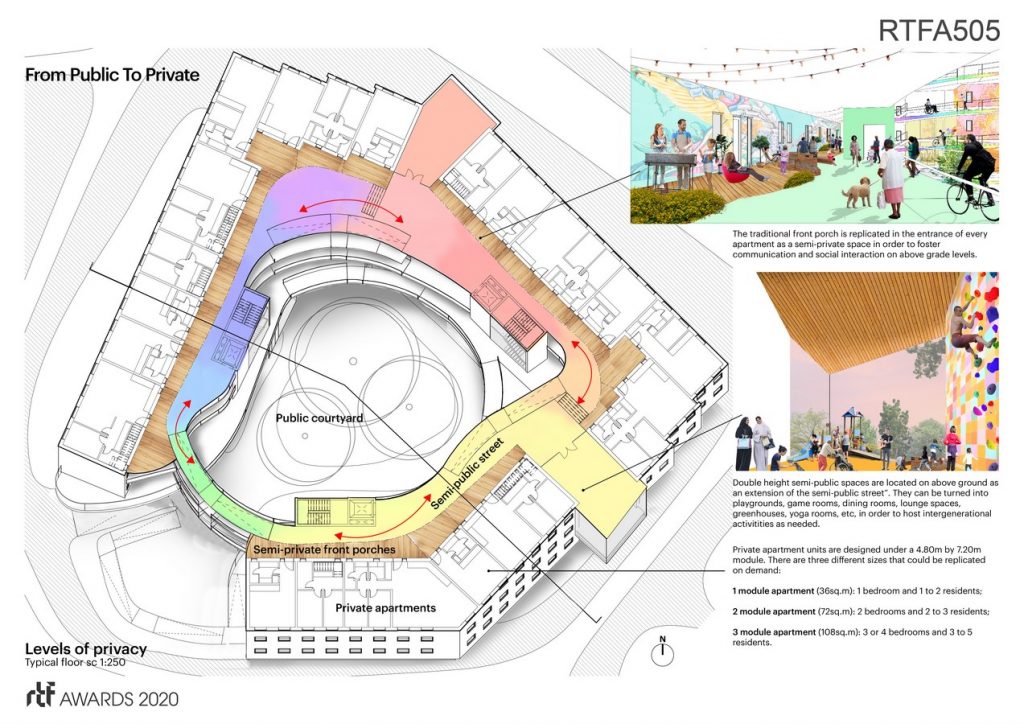 We believe new developments should not only be environmentally and socially responsible, but they also need to have a positive impact on people and cities by inspiring and creating communities.
ARCHITECTURE, CONSTRUCTION & DESIGN AWARDS 2020 IS HERE
Over more than half a decade Rethinking the Future has been a leading organization committed to providing an international platform to not only recognize and acknowledge design talents from all over the world but also to celebrate and share the knowledge that created through a plethora of awards, events and academic dialogues in the field of architecture and design.