'Karez' is a type of sub-surface water transfer mechanism akin to the Qanat system of Persia.  This remarkable system of water management was put into operation at three locations in Bidar, under the rule of the Bahamani Sultanate, at the start of the 14th century CE, as a drought management measure.
Rethinking The Future Awards 2020
Second Award | Public Landscape Project (Concept)
Project Name: Naubad Karez
Studio Name: FICUS Landscape Architects
Design Team: Sriganesh R, Aparna R, Abhilash K, Sagar S, Ram G,
Area: 98 acres- field mapping; 24 acres- Phase 1 development
Year: 2016-17
Location: Naubad, Bidar district, Karnataka state, India
Consultants: Principal Donor-Deccan Heritage Foundation [DHF], Bengaluru
Principal Consultants- Indian Heritage Cities Network-Foundation [IHCN-F], Bengaluru
Technical consultant- International Council for Qanats and Historic Water systems [ICQHS], Iran
Masterplanning-FICUS landscape architects, Bengaluru
Geotechnical engineering – Indian Institute of Technology [IIT-H], Hyderabad
Socio-economic Survey- MAGC Consultants, Bengaluru
Photography Credits: Deccan Heritage Foundation, Ficus
Other Credits: Local resource, on-ground support, execution of desilting works- YUVAA, Bidar.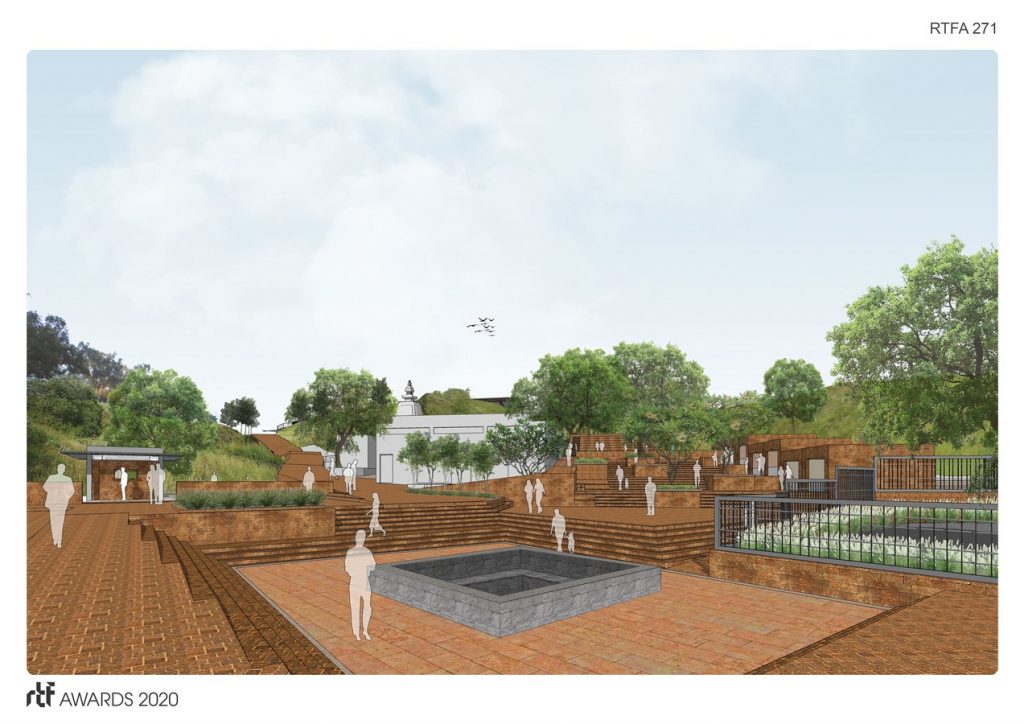 The Naubad Karez to the west of Bidar town is highly significant in terms of its scale. In its current form, it admeasures 1.80km from the Mother well (17°55'47.33″N,77°27'49.42″E) to the Karez Mouth (17°56'17.91″N, 77°28'39.65″E) and passes under residential zones, a polluted stream, arterial roads, and farmlands. Field studies establish Naubad Karez as an inter-basin water transfer mechanism; it reverses the direction of surface water flow at the sub-surface level, diverting water from Bidar's rainwater-rich plateau on South West to water-deficit semiarid plains to its North East.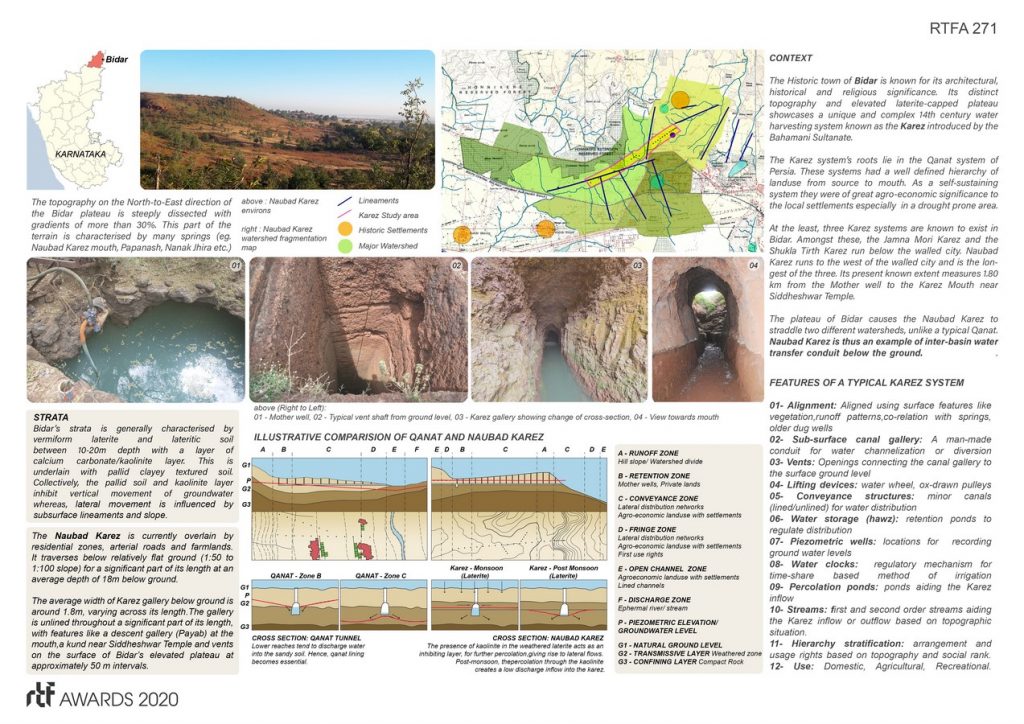 The role of the landscape architect in this project was to synthesize the findings of the various disciplines, prepare a structured plan integrating modern, historic, cultural and agronomic functions while providing open space design interventions and community spaces that would appeal to the sense of place.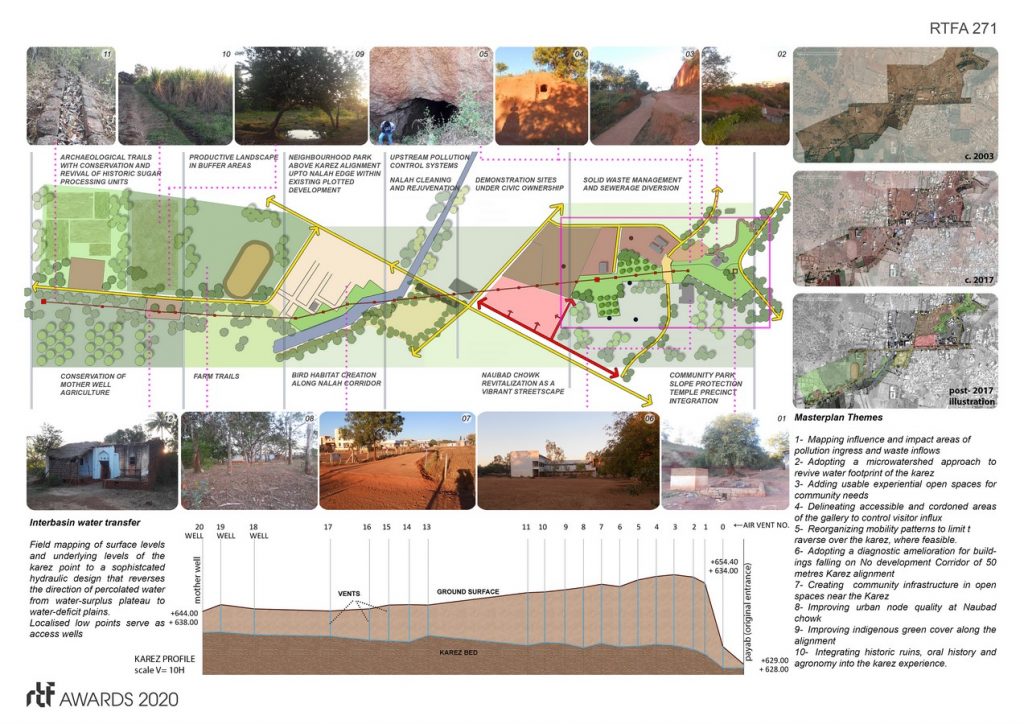 Ten broad themes are woven into the working masterplan to communicate the significance of the Naubad Karez for posterity
Mapping influence and impact areas of pollution ingress and waste inflows
Adopting a micro-watershed approach to revive the water footprint of the karez
Adding usable experiential open spaces for community needs
Delineating accessible and cordoned areas of the gallery to control visitor influx
Reorganizing mobility patterns to limit traverse over the karez, where feasible.
Adopting a diagnostic amelioration for buildings falling on No development Corridor of 50 meters Karez alignment
Creating community infrastructure in open spaces near the Karez
Improving urban node quality at Naubad chowk
Improving indigenous green cover along the alignment
Integrating historic ruins, oral history, and agronomy into the karez experience.
ARCHITECTURE, CONSTRUCTION & DESIGN AWARDS 2020 IS HERE
Over more than half a decade Rethinking the Future has been a leading organization committed to providing an international platform to not only recognize and acknowledge design talents from all over the world but also to celebrate and share the knowledge that created through a plethora of awards, events and academic dialogues in the field of architecture and design.