The Roy and Diana Vagelos Education Center is a medical education building at Columbia University in New York City's Washington Heights neighborhood. The 10,000 square-meter Vagelos Education Center is part of the Columbia University Medical Center.
Rethinking The Future Awards 2020
First Award | Institutional (Built)
Project Name: The Roy and Diana Vagelos Education Center
Studio Name: Diller Scofidio + Renfro
PARTNERS: Elizabeth Diller (Partner-in-Charge), Ricardo Scofidio, Charles Renfro, Benjamin Gilmartin
PROJECT DIRECTOR: Gerard Sullivan
LEAD DESIGNER: Chris Hillyard
PROJECT ARCHITECT: Anthony Saby
TEAM: Chris Andreacola, Robert Donnelly, Joshua Jow, Matt Ostrow, Barak Pliskin, Jesse Saylor, Jack Solomon, Andreas Kostopoulos, and Elizabeth Wisecarver
Area: 10,000 m²
Year: 2016
Location: New York, NY
Executive Architect: Gensler
Consultant type: Structural Engineers, Environmental / M&E Engineers, Quantity Surveyor / Cost Consultant, Project Management, Acoustics Engineers, Access Consultants, Landscape Architects, Interior Design, Lighting Design, Other
Leslie E. Robertson Associates (LERA) (Structural Engineer)
Jaros Baum & Bolles (JB&B) (MEP Engineer)
SCAPE/Landscape Architecture (Landscape Architect)
Buro Happold Consulting Engineers P.C. (Curtain Wall Consultants)
Tillotson Design Associates (Lighting Consultants)
Cerami & Associates, Inc. (Acoustic / Audio / Visual Consultants)
Milrose Consultants, Inc. (Building Code Consultants)
Jenkins & Huntington, Inc. (JHI) (Elevator Consultants)
2×4 and Gensler (Graphic Designers)
Thornton Tomasetti, Weidlinger Transportation Practice (Civil / Geotechnical Engineers)
Jaros Baum & Bolles (JB&B) (Security and IT Consultants)
Vidaris Inc (Sustainability Consultants)
Cini-Little International, Inc. (Foodservice Consultants)
FJ Sciame Construction Co., Inc. (Construction Managers)
Group PMX (Owners Representative)
Photography Credits: Iwan Baan, Nic Lehoux, Jenny Gorman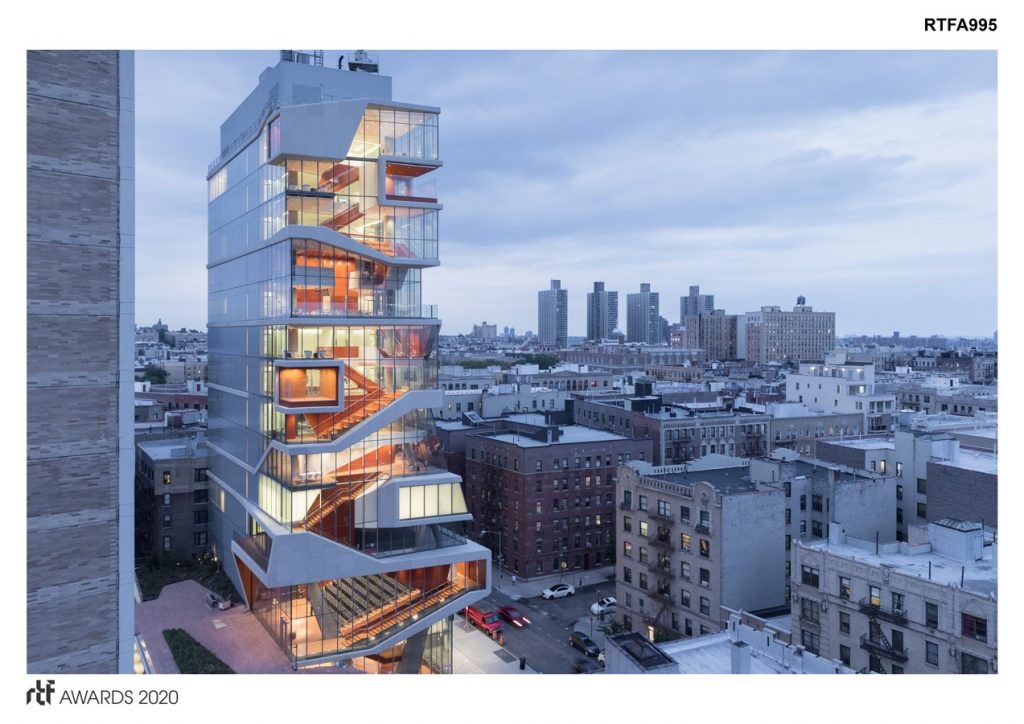 Completed in 2016, the building reflects a paradigm shift in medical education from passive, lecture-based instruction to team-based problem solving, while simultaneously responding to the site's narrow footprint and tapered zoning envelope. Its defining feature is the 'Study Cascade,' an interconnected network of exuberant, airy, and light-filled spaces that extend from the street up the façade of the 14-story building.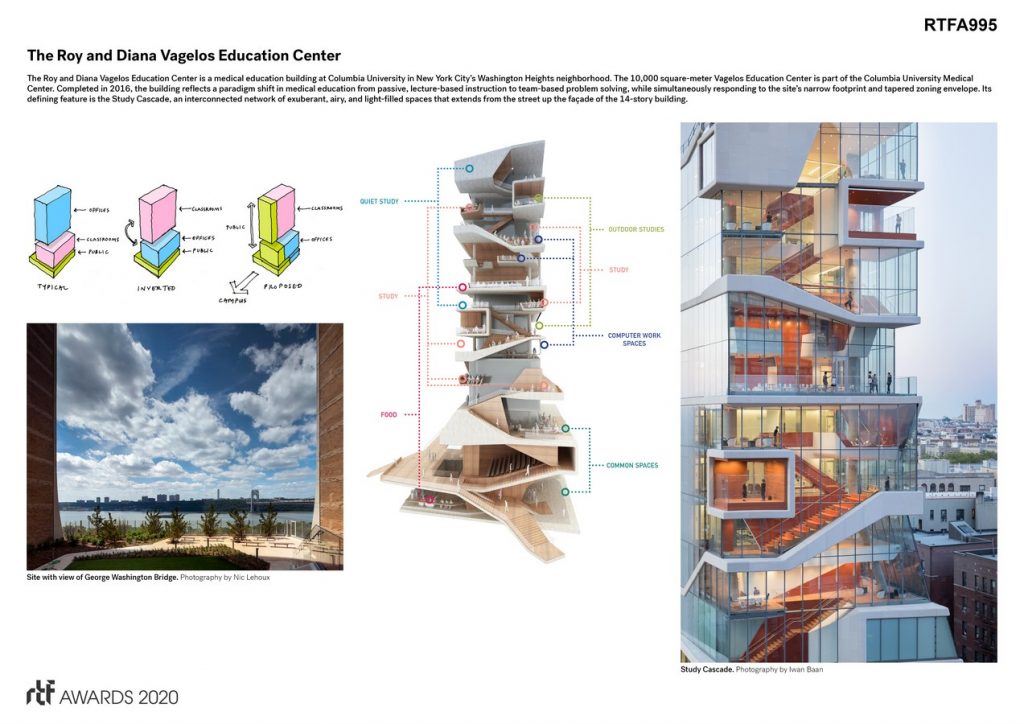 The Cascade twists and turns to shape a series of finely tuned formal and informal environments, ranging from small to large, intimate to communal, single to triple-height, indoor to outdoor, inward-focused to extroverted— all modulated in relation to sound and light. In contrast to the traditional, institutional nature of medical education buildings—characterized by low-slung ceilings, densely-packed programs, and double-loaded corridors— the 'Study Cascade' extends campus activity along the south elevation of the building with a diverse network of social and study spaces for informal learning and collaboration.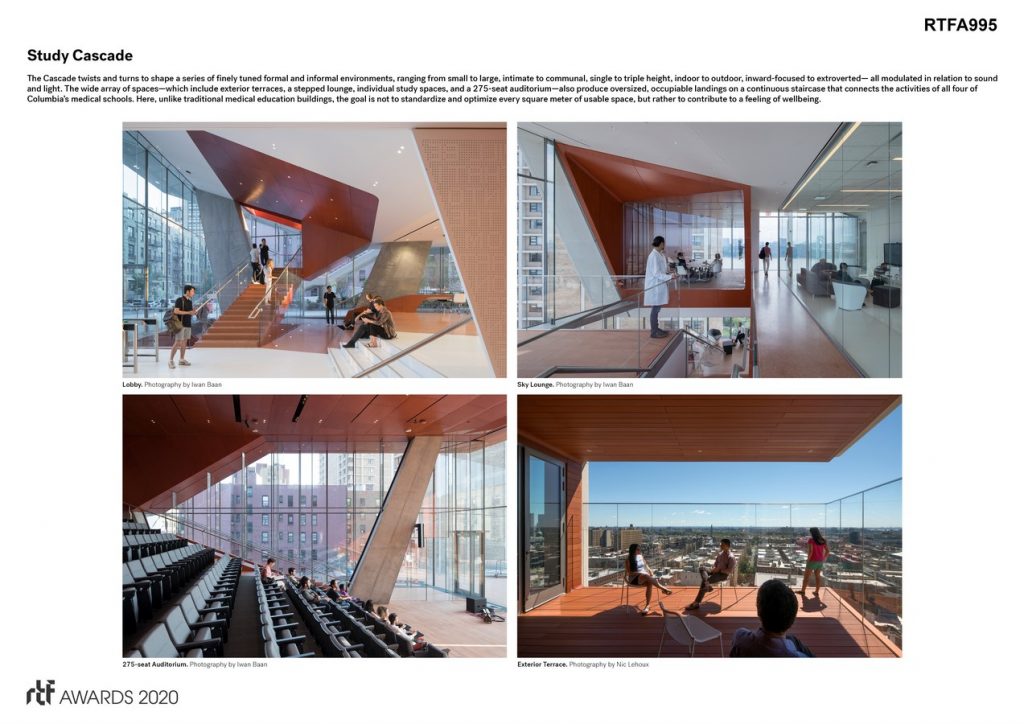 The wide array of spaces—which include exterior terraces, a stepped lounge, individual study spaces, and a 275-seat auditorium—also produce oversized, occupiable landings on a continuous staircase that connects the activities of all four of Columbia's medical schools. As a counterpart, the north elevation is dedicated to more controlled, specialized learning spaces that include flexible classrooms, anatomy laboratories, and a simulation center. These include both cadaver and simulation-based examination rooms designed to foster empathy for patients and precision through robotic training. The Cascade, in combination with the specialized classrooms and labs, offers students and faculty a range of spatial experiences, with opportunities to work alone or in groups, in public or behind closed doors, in light or shadow, during school hours or any other time of day or night.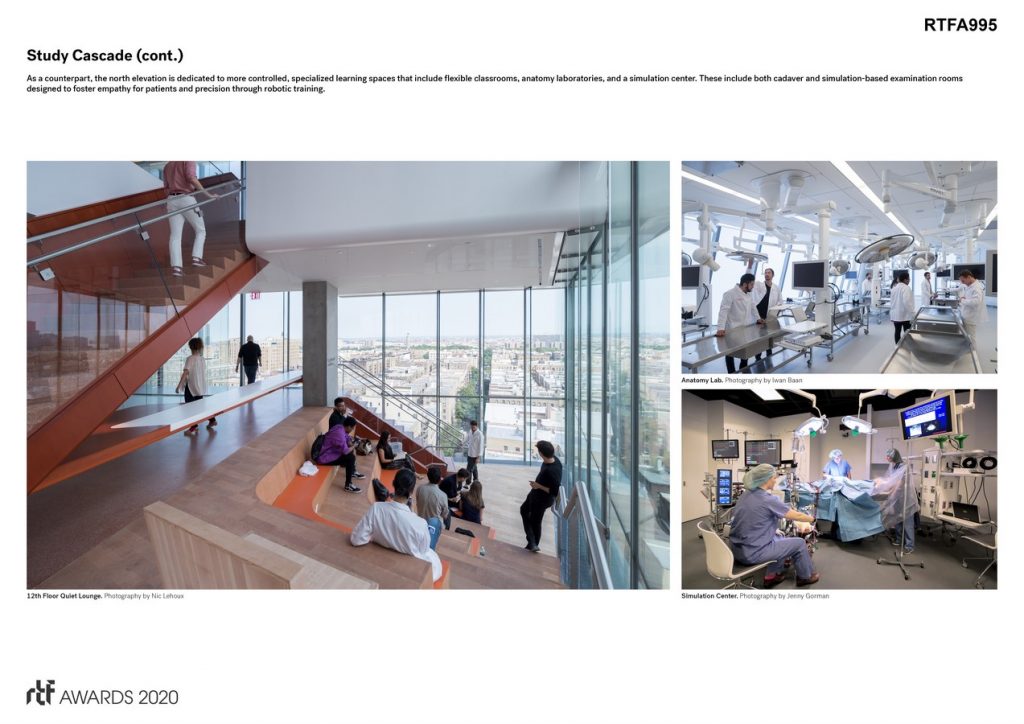 Here, unlike traditional medical education buildings, the goal is not to standardize and optimize every square meter of usable space, but rather to contribute to a feeling of wellbeing.