A seed is planted and slowly rises into the sky. As it rises it gains strength and functionality, becoming a landmark in the city.
Rethinking The Future Awards 2020
First Award | Institutional (Concept)
Project Name: Rabat Ibn Sina Hospital
Studio Name: HKS Inc.
Design Team: Chad Porter, Gordon Gn, Jon Bailey, Julia Hager, Yunn-Tay Lee, Xuqi Lee, Yuning Shwe, Lawrence Kam, Jane Liu, Ala Hason, Ben Gonzalez, Timothy Meyer
Area: 139 640 m2
Year: 2019
Location: Rabat, Morocco
Consultants: Abdou Lahlou Architects, Jain Consultants, Tractabel
Other Credits: Motiv (Renderers)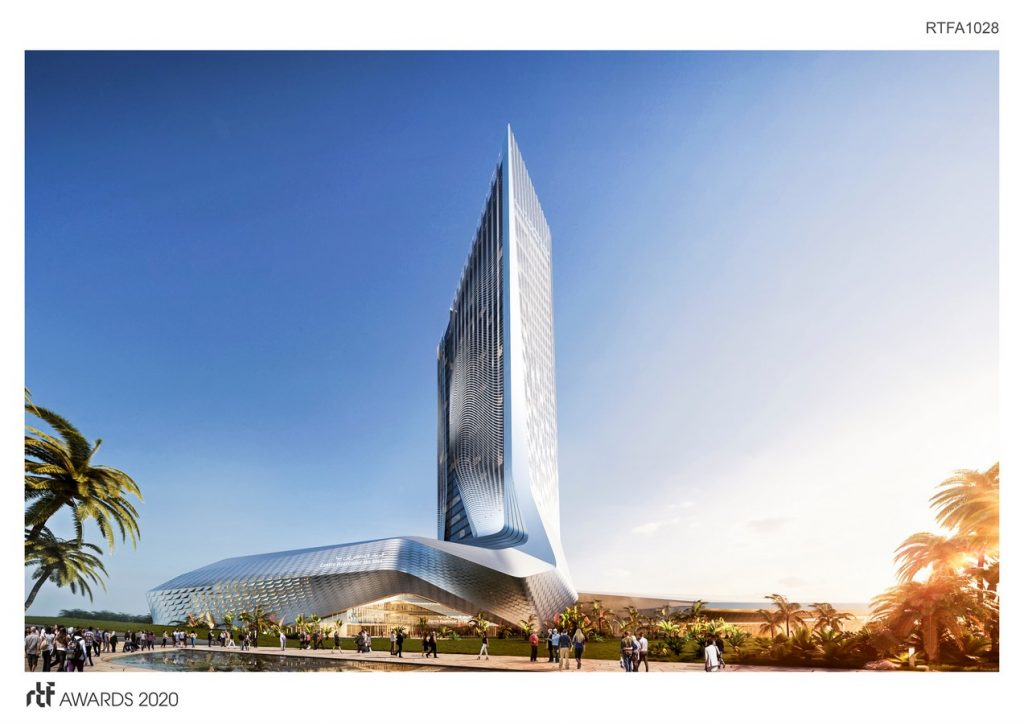 This idea becomes the basis for the design of this building. By unifying three different existing hospitals in one building it becomes a symbol of unity and strength. The facility consists of a variety of different components, each of them one part of a larger holistic healthcare environment. The design treats them as equals and joins them under one roof, allowing opportunities for synergy and collaboration for the staff as well as convenience in access to healthcare for the patient.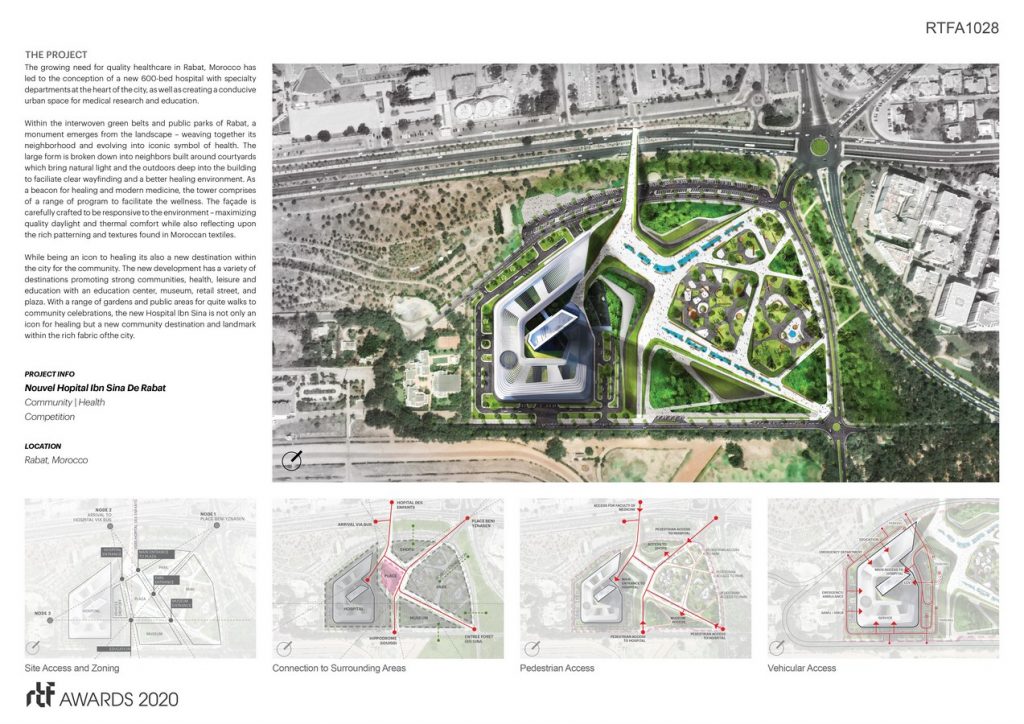 At the center of the facility is a large public atrium with a great landscaped park, from which all programmatic components radiate out. The park reaches back into the surrounding area, linking the facility to its neighborhood and the university. The atrium serves as the fundamental organizational element for the building and simplifies wayfinding. It connects the building to the city.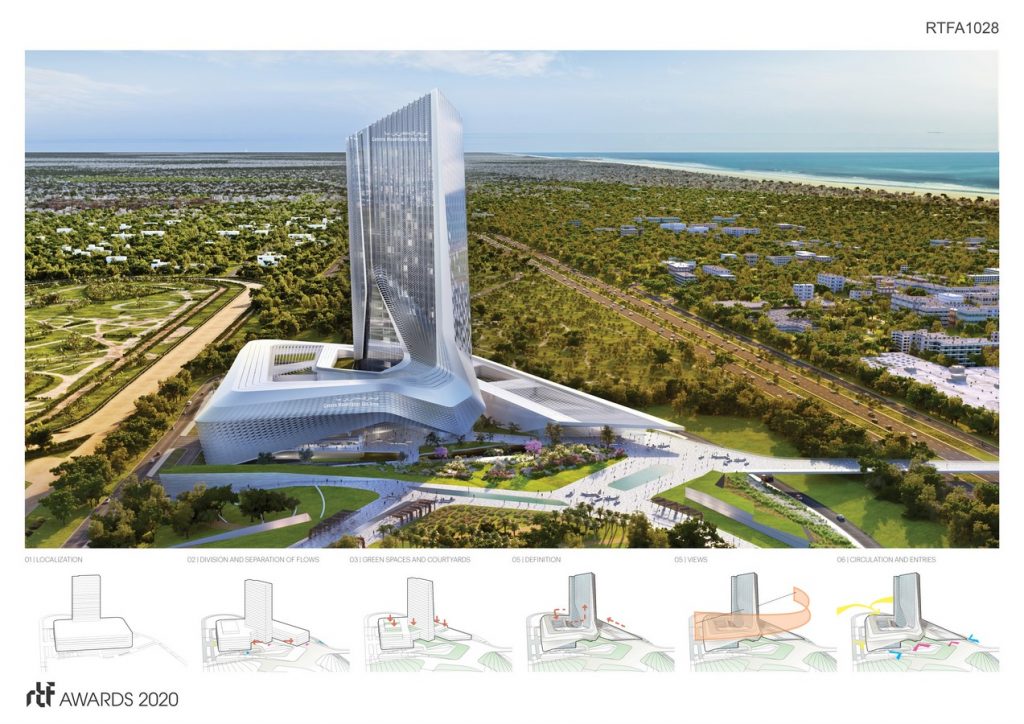 One side of the atrium is dedicated to ambulatory outpatient functions, while the other becomes the large Diagnostic and Treatment block. The patient tower is situated above it. The Heart Center becomes part of the building and is located within the large Diagnostic and Treatment Block, allowing synergies and efficiency by leveraging the modalities and services of the Diagnostic and Treatment block. It is recognized as a center of excellence with its own identity, which is established in the design by giving it its own dedicated drop-off, entrance and vertical circulation system.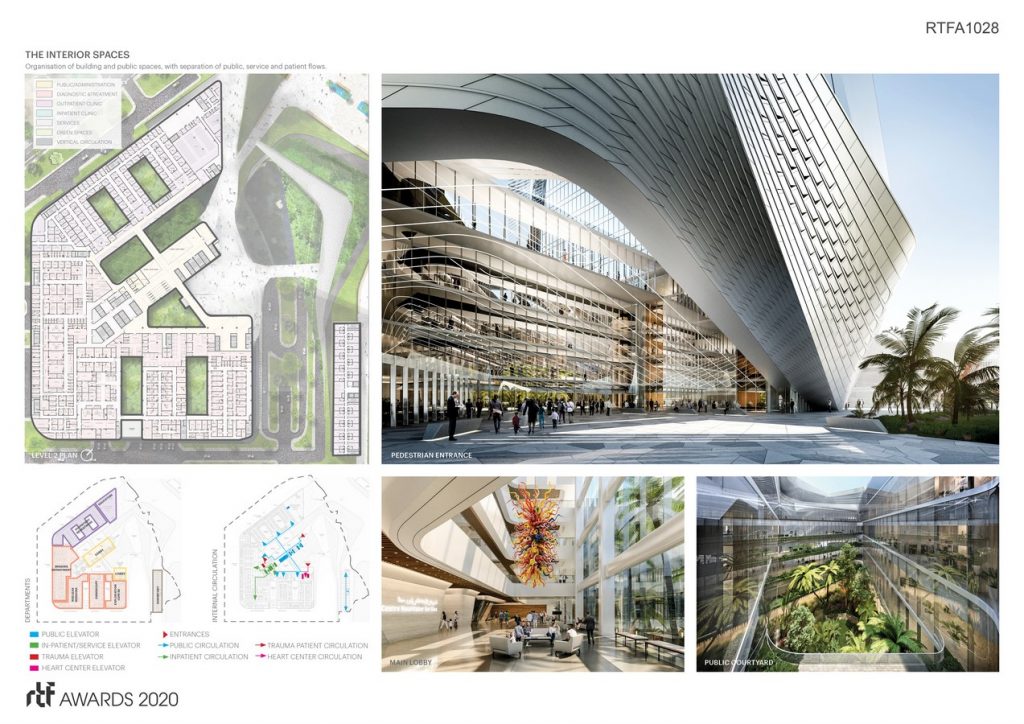 The education center enjoys a similar status. Becoming an integral part of the building emphasizes the importance of scientific excellence within the healthcare system. Its location will allow all functions of a true academic medical center – diagnose, treat, teach and research – to occur seamlessly within the same building.