The proposal references a typical terrace house across Malaysia with its 22 feet wide frontages that overlook out to the street. The design explores the potentials of replacing construction materials such as concrete, steel, and bricks with bamboo in the hugely popular house typology. The proposal is still at an experimental stage, but it is hoped that it will spark some interest among developers and the local government with a view to starting building housing more sustainably using bamboo.
Rethinking The Future Awards 2020
First Award | Housing – upto 5 floors (Concept)
Project Name: Bamboo Terrace Homes
Studio Name: Eleena Jamil Architect
Design Team: Eleena Jamil, Cheah Zhi Bin, Yow Pei San, Nur Bahirah Rahman, Nur Izzati Narozi
Area: 265 m² per home unit
Year: 2019
Location: Canada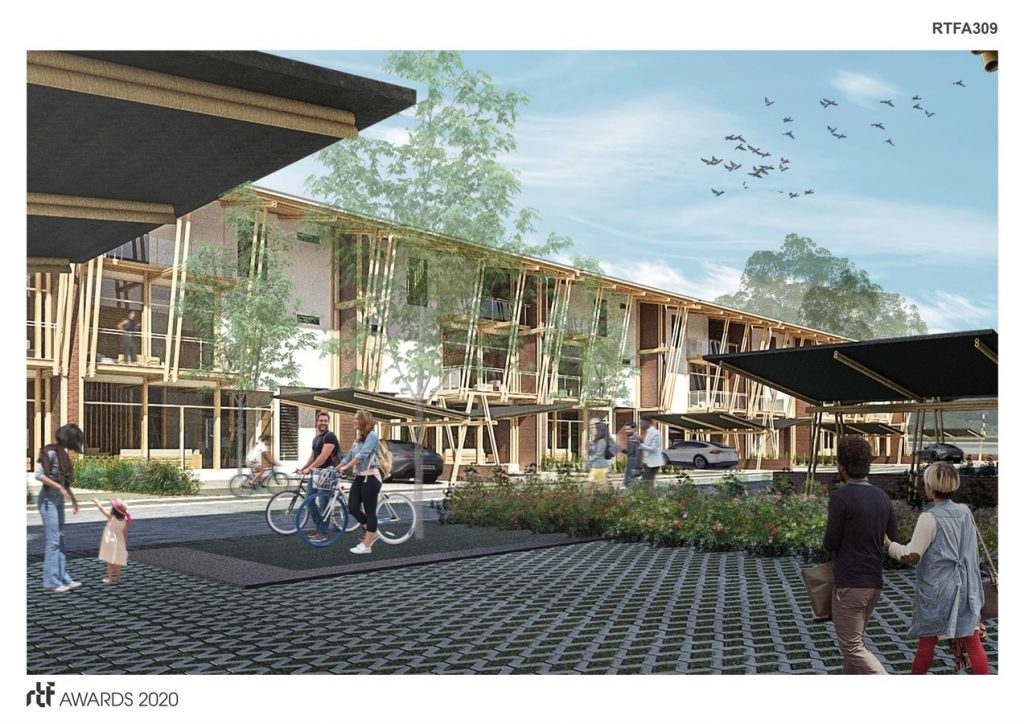 The underlying idea of this proposal is to demonstrate that it is possible to build permanent and comfortable contemporary homes in urban and suburban areas for the masses using local natural materials such as bamboo. It intends to propel the idea of bamboo as a modern and everyday construction material just like bricks, steel or concrete.   Bamboo grows very quickly where culms suitable for structures can be harvested within 3 years of cultivation. It is a remarkably strong material for building structures, and this is convincingly demonstrated by looking at 'informal structures' such as scaffolding for tall buildings in Hong Kong and large vernacular edifices in Indonesia and Vietnam and bridges in parts of rural Southeast Asia.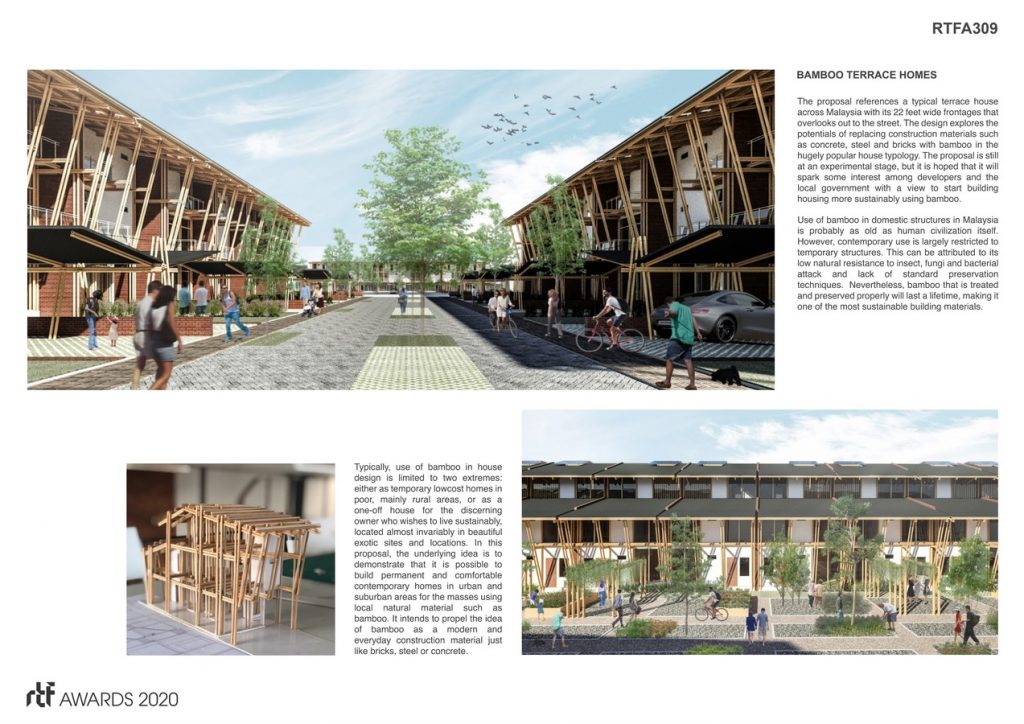 In this terrace house proposal, bamboo culms are used to hold up the floors and the roof as they span between the party walls. The party walls are full height masonry barriers between individual homes which adheres to the fire safety requirement to prevent the spread of flame across terraces. The main structure is wholly bamboo except for the bathroom enclosures where they are prefabricated lightweight concrete units used to contain the wet areas and keep moisture away from the structural bamboo components. Internal and external walls are lightweight bamboo-composite board system, whereas floors will be covered with engineered bamboo floorboards.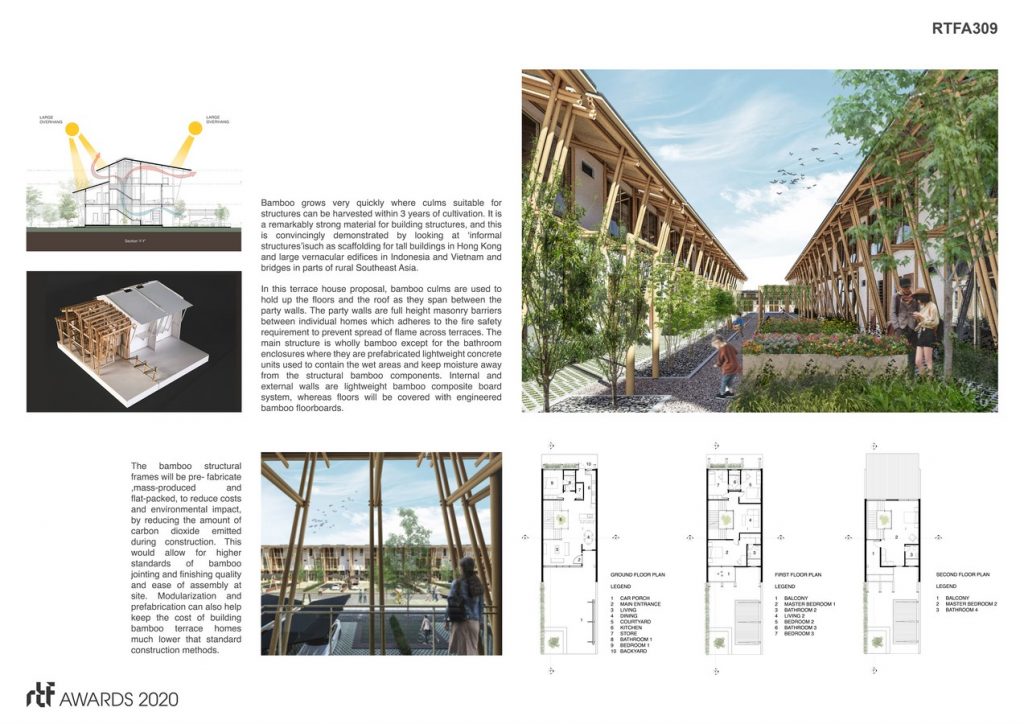 The bamboo structural frames will be pre-fabricated, mass-produced and flat-packed, to reduce costs and environmental impact, by reducing the amount of carbon dioxide emitted during construction. This would allow for higher standards of bamboo jointing and finishing quality and ease of assembly at site. Modularization and prefabrication can also help keep the cost of building bamboo terrace homes much lower than standard construction methods.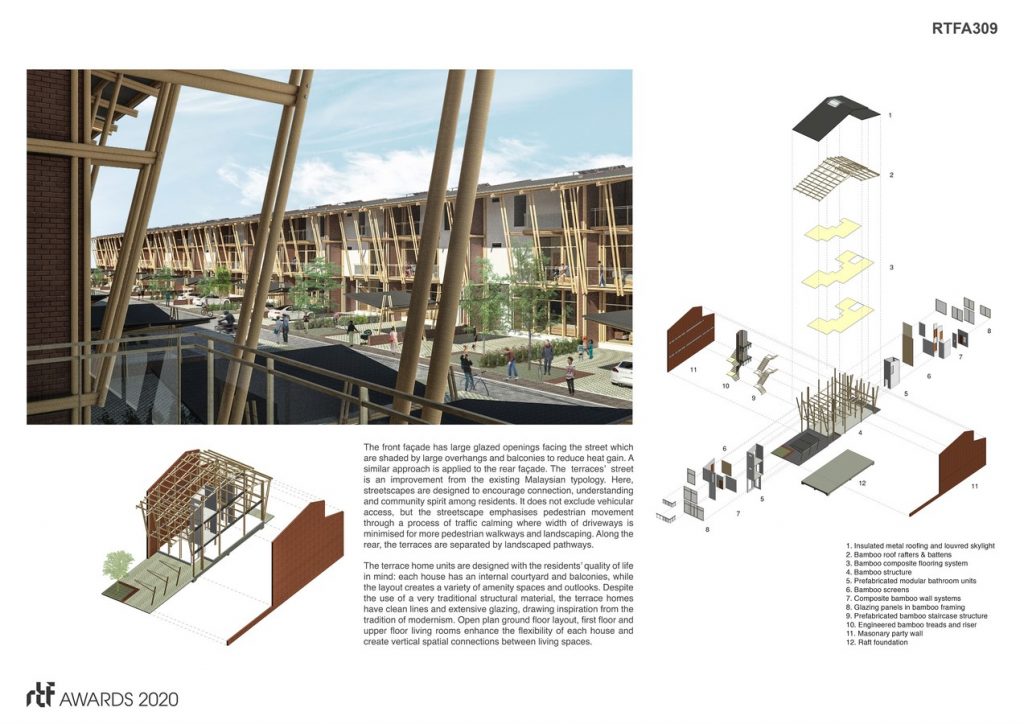 The front façades have large glazed openings facing the street which are shaded by large overhangs and balconies to reduce heat gain. A similar approach is applied to the rear façade. The terraces' street is an improvement from the existing Malaysian typology. Here, streetscapes are designed to encourage connection, understanding and community spirit among residents. It does not exclude vehicular access, but the streetscape emphasizes pedestrian movement through a process of traffic calming where the width of driveways is minimized for more pedestrian walkways and landscaping. Along the rear, the terraces are separated by landscaped pathways.  The terrace home units are designed with the residents' quality of life in mind: each house has an internal courtyard and balconies, while the layout creates a variety of amenity spaces and outlooks.