Standing sentinel on a narrow beach site flanked by the Atlantic Ocean and a large pond, the home has a form inspired by, and responsive to, its site constraints.  To maximize views, the two long sides of the house that run parallel to the shores were designed as curtain-walls of glass while the two short sides are more solid to enforce down-beach privacy.  The upper level, floating 42 feet above the ocean below, evokes the serenity of being at sea.
Global Design & Architecture Design Awards 2021
Second Award | Category: Private Residence (Large) (Built)
Project Name: Liquidity
Project Category: Private Residence (Large) (Built)
Studio Name: Barnes Coy Architects
Area: 11,000 sqft
Year: 2018
Location: Southampton, New York
Consultants: Builder: Men at Work
Interior Design: Pembrook & Ive
Lighting Designer: Radiance Lighting
Landscape Architect: Perry Guillot
Photography Credits: Michael Mundy, Edge Media Digital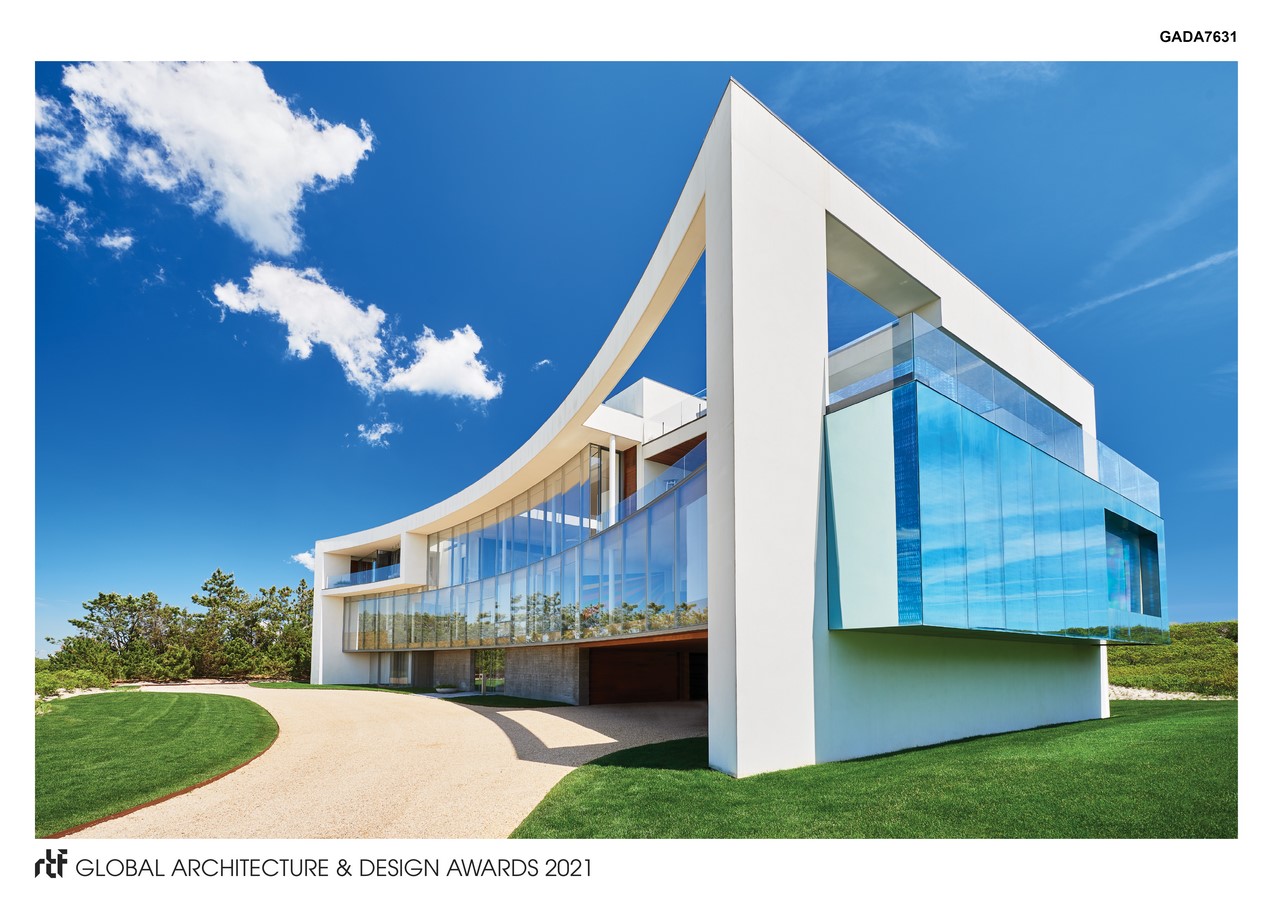 The form was further molded by flood zone regulations dictating that the first floor be raised above ground, while site regulations inspired a front façade elegantly curved, following a setback requirement.  A parti was devised in which a super-frame allows for the programmatic spaces to be seemingly suspended above the ground and, per the clients' request, the shared spaces and Master Suite were placed at the top.  To maximize sight lines and take advantage of the site's orientation, several floor plates were extruded to form balconies while the pool, accessed from the public upper level, was extruded and cantilevered from the side of the frame.  Three sides of the pool are glass: the two parallel sides allowing light into the owners' study and for views through the pool to the trees beyond while the third side allows for views out to the ocean.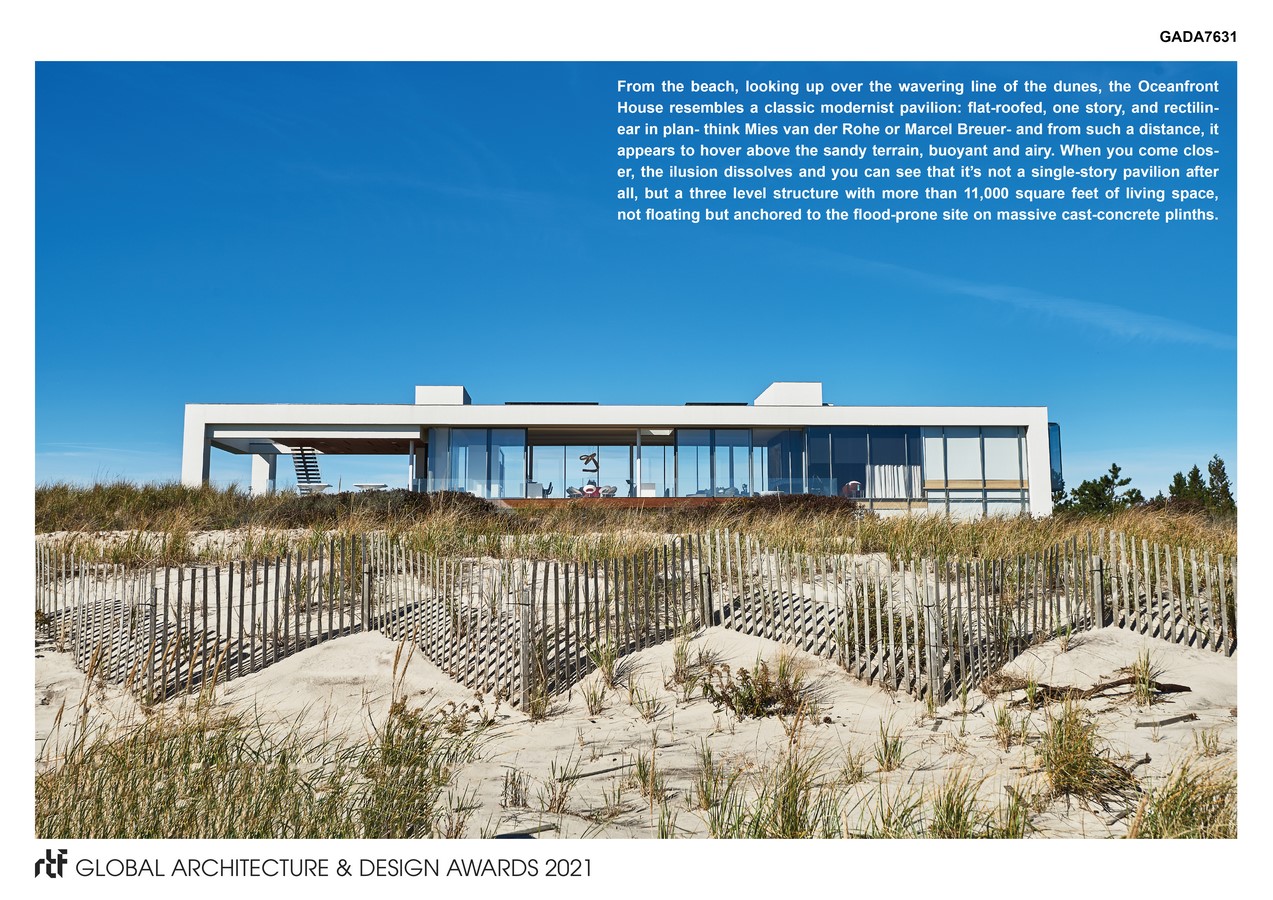 There's an inherent sense of performance and spectacle in the architecture, a breezy tranparency and restless shifting of planes, especially on the upper levels. Glass curtain walls on both north and south facades as if outer membranes had been peeled back to reveal the interior spaces in full disclosure. Even the floor plates are exposed behind the faceted  surfaces of glass.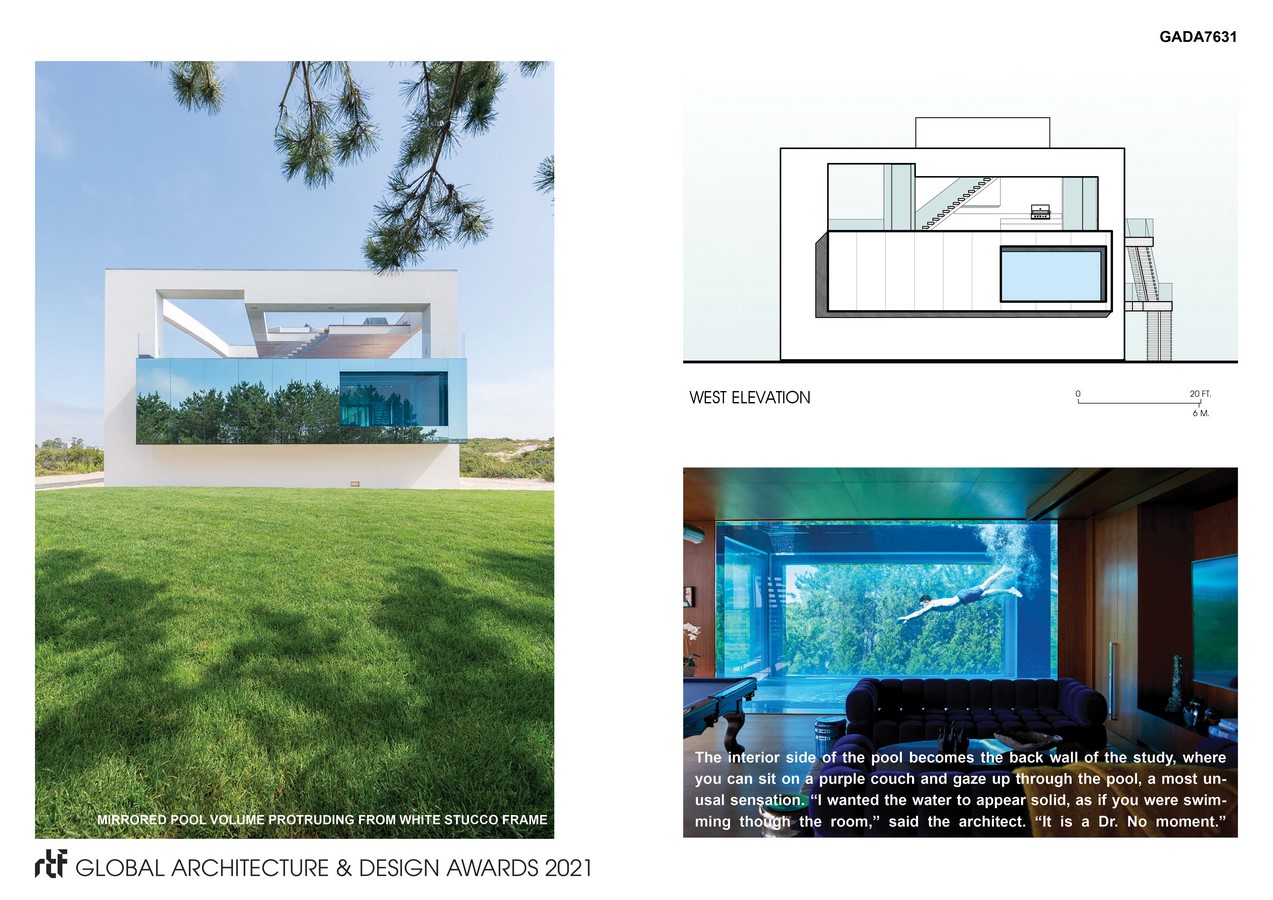 Dictated by the destructiveness of nature, the project also required careful material research and detailing of material intersections.  To withstand harsh weather and corrosive, salt-laden moisture, the super-frame was coated in stucco detailed to include drainage channels.  Also, any exposed steel was hot-dip galvanized and finished with seven coats of auto-body paint to withstand harsh conditions.  Finally, the aluminum curtain-wall system was designed to a hurricane and debris-impact rating and finished with a Kynar coating.