Adjacent to Rwanda's picturesque Nyungwe National Forest lies the isolated village of Banda.  Located on property donated by community in a valley of terraced farmland, this modern 'innovative community center', was designed in conjunction with Kageno Worldwide to serve this region, where relentless poverty reflects years of ethnic genocide, economic hardship, disease, and heartache.
Rethinking The Future Awards 2023
Second Award | Hospitality (Concept)
Project Name:  A New Place of Hope (Phase 2 – ECO-LODGE and TOURISM BUNGALOWS)
Category: Hospitality (Concept)
Studio Name: SPG Architects
Design Team: SPG Architects
Eric Gartner – Principal
Aries Liang – Design Team
Alexandra Daley, Yunji Seong – Renderings, Drawings
Area: 15350 SF
Year: In Progress
Location: Banda Village, Rwanda
Consultants: –
Photography Credits: Kageno Staff
Render Credits: SPG Architects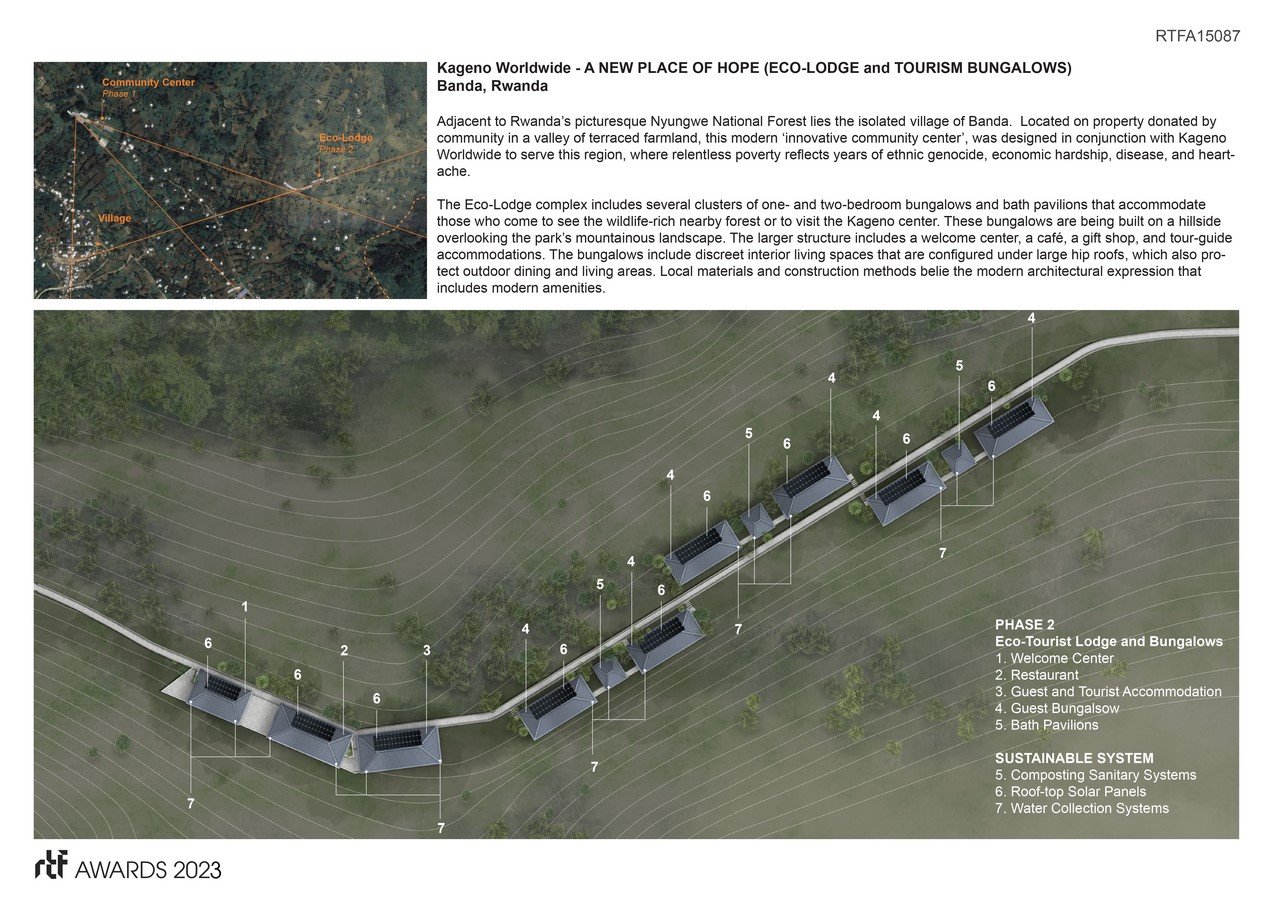 Based on their meetings with local community leaders, Kageno established the programmatic components needed to improve the welfare of this community and began the process of planning a new complex of buildings.  An explicit part of the mission was to create a bold but buildable architectural statement using modern architectural vocabulary that could symbolize a more hopeful future for the Banda region.
Now largely completed, the Phase 1 Community Center addresses the health care and educational needs of the village with an assemblage of buildings that include health clinics, a maternity center, classrooms for 300 students, indoor and outdoor gathering spaces, and a communal teaching kitchen with educational agricultural fields, as well as sanitary facilities.  The center's V-shaped configuration welcomes villagers to the center as part of their daily lives.
Phase 2 of construction involves the creation of an Eco-Tourist Lodge and Guest Bungalows that will provide accommodations for visitors to both Banda and the nearby upland rainforest Nyungwe National Forest, full of primate species and other wildlife that live within its borders. This group of buildings, with a range of tourist-friendly facilities will provide jobs for Banda villagers and bring outside income to the community.
Locally familiar vernacular materials, including brick, stucco and corrugated metal roofs can cost-effectively be built with local labor, creating jobs and skill-sets for the Banda community.  The villagers have learned brick-making and other construction skills that add layers to the community's role in the creation of this life-changing project.   Roof-top solar panels, water collection systems, and composting waste facilities provide basic creature comforts not broadly available in the region.  Natural ventilation takes advantage of air-movement on the steeply sloped sight with operable and louvered fenestration, helping maintain a degree of comfort in the highland rainforest climate.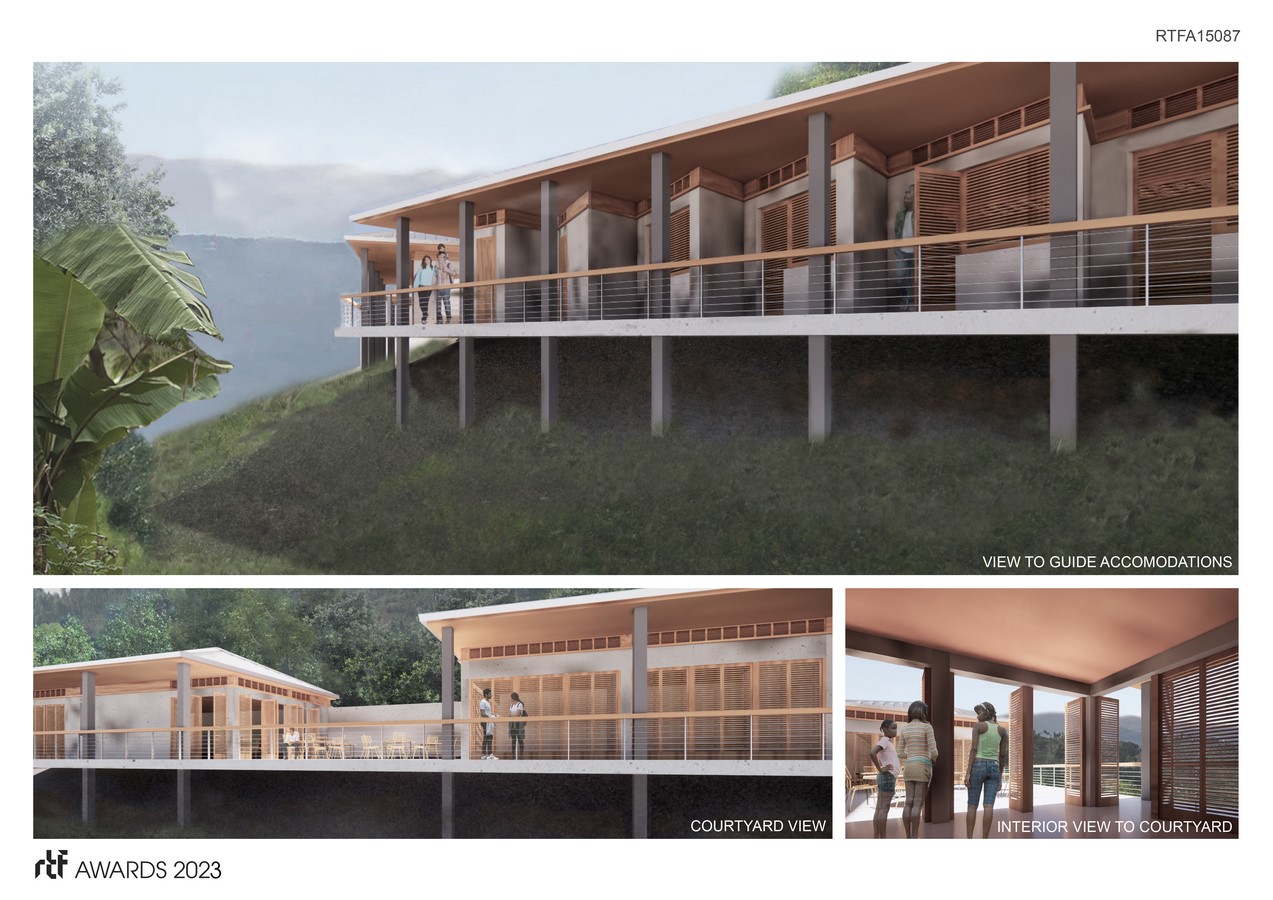 The eco-lodge complex includes several clusters of one- and two-bedroom bungalows and bath pavilions that accommodate those who come to see the nearby forest or to visit the Kageno center. These bungalows are being built on a hillside overlooking the park's mountainous landscape. The larger structure includes a welcome center, a café, a gift shop, and tour-guide accommodations. The bungalows include visitor accomodations that are configured under large hip roofs that also protect outdoor dining and living areas. Local materials and construction methods belie the modern architectural expression and  amenities.
Together, the facilities make visits to this beautiful but remote region possible for a broader range of visitors who can enjoy well-conceived and commodious accommodations while providing much needed outside income and job creation to the local economy, enabling the entire complex to be environmentally, socially, and economically sustainable and self-sufficient.