The metaverse – a buzzed-word concept that have been trending for the last years, at the moment is still and uncertain realm for architect to exlore. With the spread of the Covid 19 pandemic and the isolation measures, the general trend of exhibitions is gradually shifting to online virtual exhibitions, and continue to develop even after Covid in a global scale.
Architecture, Construction & Design Awards 2022
First Award | Exhibition Design (Built)
Project Name: ITU DIGITAL WORLD 2021
Project Category: Exhibition Design (Concept)
Studio Name: XMArchitect
Design Team: Nguyen Xuan Man, Trinh Quoc Bao, Nguyen Bao Han, Phuong Hong Phong, Ngo Dang Minh, Trinh Tien Vinh
Area: 50000m2
Year: 2021
Location: Metaverse
Consultants: Vietsoftpro (Technical Platform), NOAH (Rendering)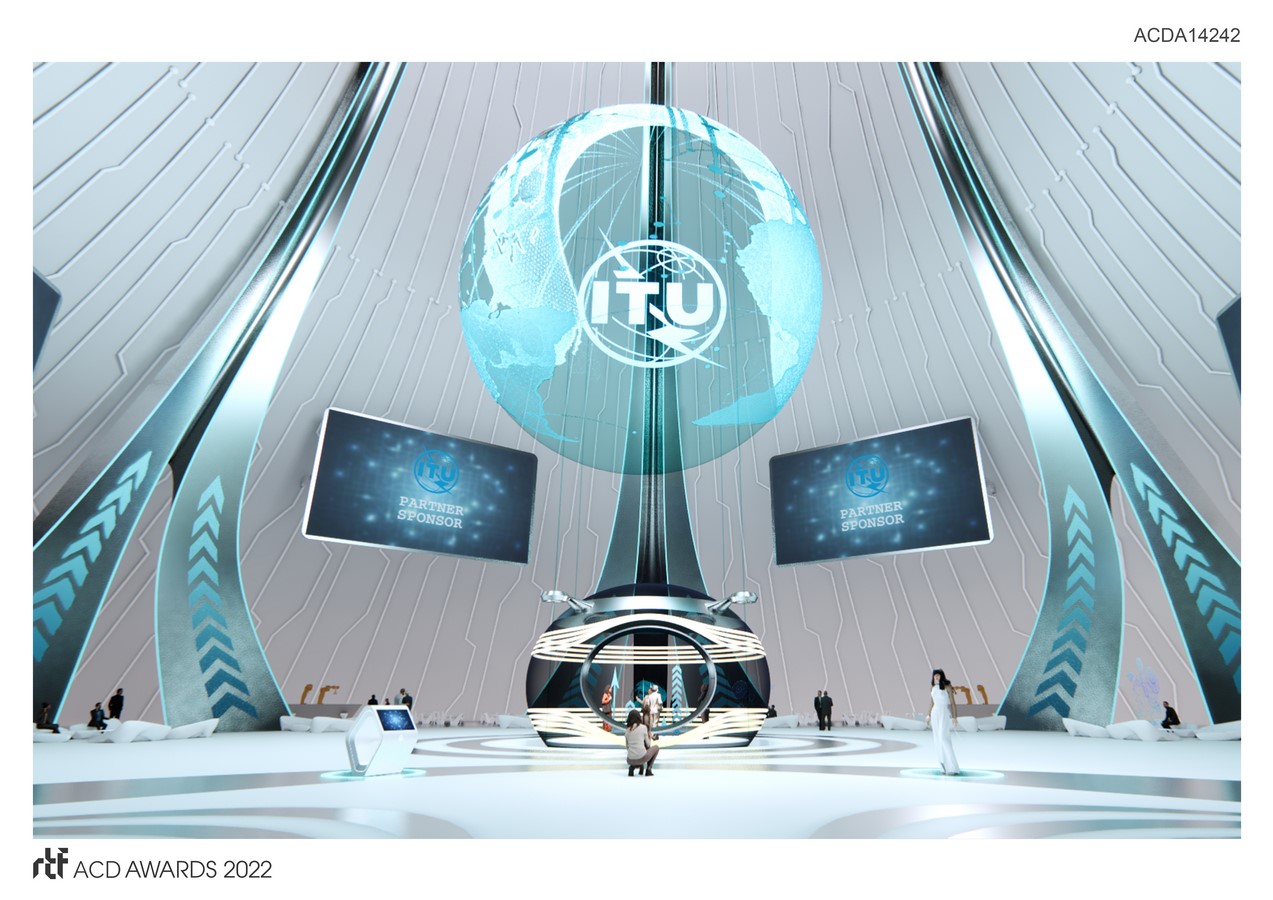 This is not only an effective alternative to conventional costly – wasteful – polluting physical exhibitions, but also boosting a new era of commercial transactions for the digital economy in the global Web3 Virtual World through digital technologies such as blockchain and NFTs.
However, many virtual exhibitions currently are designed with architectural forms that imitate boring real exhibition in factory spaces. The design for this exhibition aim to unleashes the creative imaginations of architects, and work towards a larger goal: creating a astheticaly prioritiezed metaverse – a virtual world with enhanced visual experiences, where users not only enjoy spaces and creative works without being limited by physical factors and common building conditions.
With the annual event ITU DIGITAL WORLD 2021, The International Telecomunication Union is aim to creating a exelence virtual place to introduce latest telecommunications technology products of countries. On the occasion of ITU Telecom's 50th anniversary with the theme: "Building the digital world together", the virtual exhibition's goal is to strengthen strong global connectivity and a unification process of digital world which is jointly built by all paticipating countries is opened on October and November 2021, with Vietnam as the host country.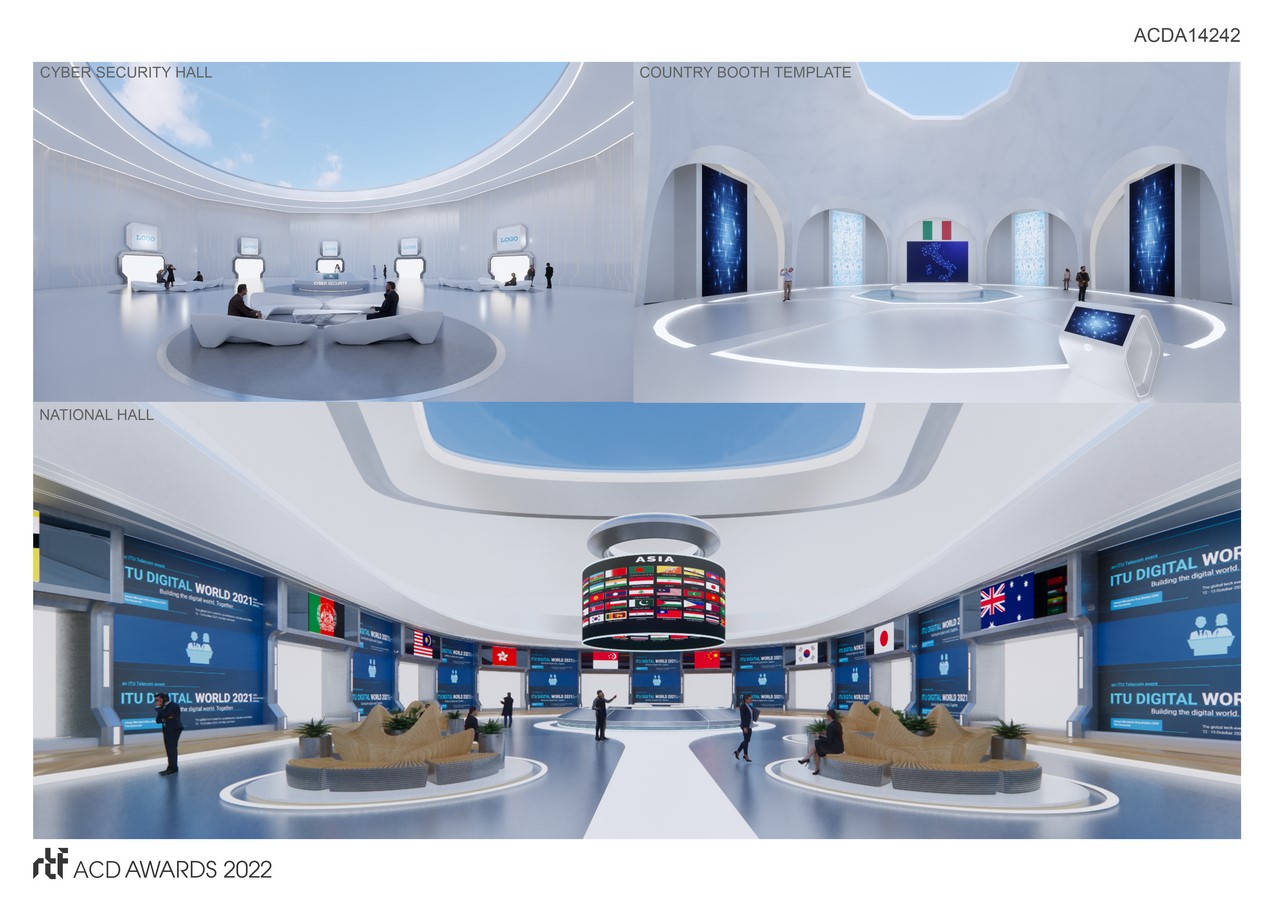 The form of the ehibition represent a virtual structure " on the clouds", create a globally connected network infastructure. Main structure is located in diffirent landmarks of Vietnam, with lobby spaces and booths designed in a futuristic style but still combining traditional cultural elements of Vietnam, creating a new identity of Vietnamese architecture in the digital era. Using parametric and computational design method, the design optimized the use of digital tool to create space that can be experience in multi devices, create a exprientail journey from ground to sky, form cutural to technology, from national to global developments.
Transforming into an online exhibition can expand the interactive market to all over the world, increasing the vibrancy of each product on display. With the development of blockchain technology, digital currency, NFT, virtual display products will gradually increase in real value and turn this into an attractive exchange market in the new normal. Traditional stalls are often built for a short time and generate a large amount of waste for the environment. Hence, virtual exhibitions can reduce the environmental impact which are created by advertising through traditional methods.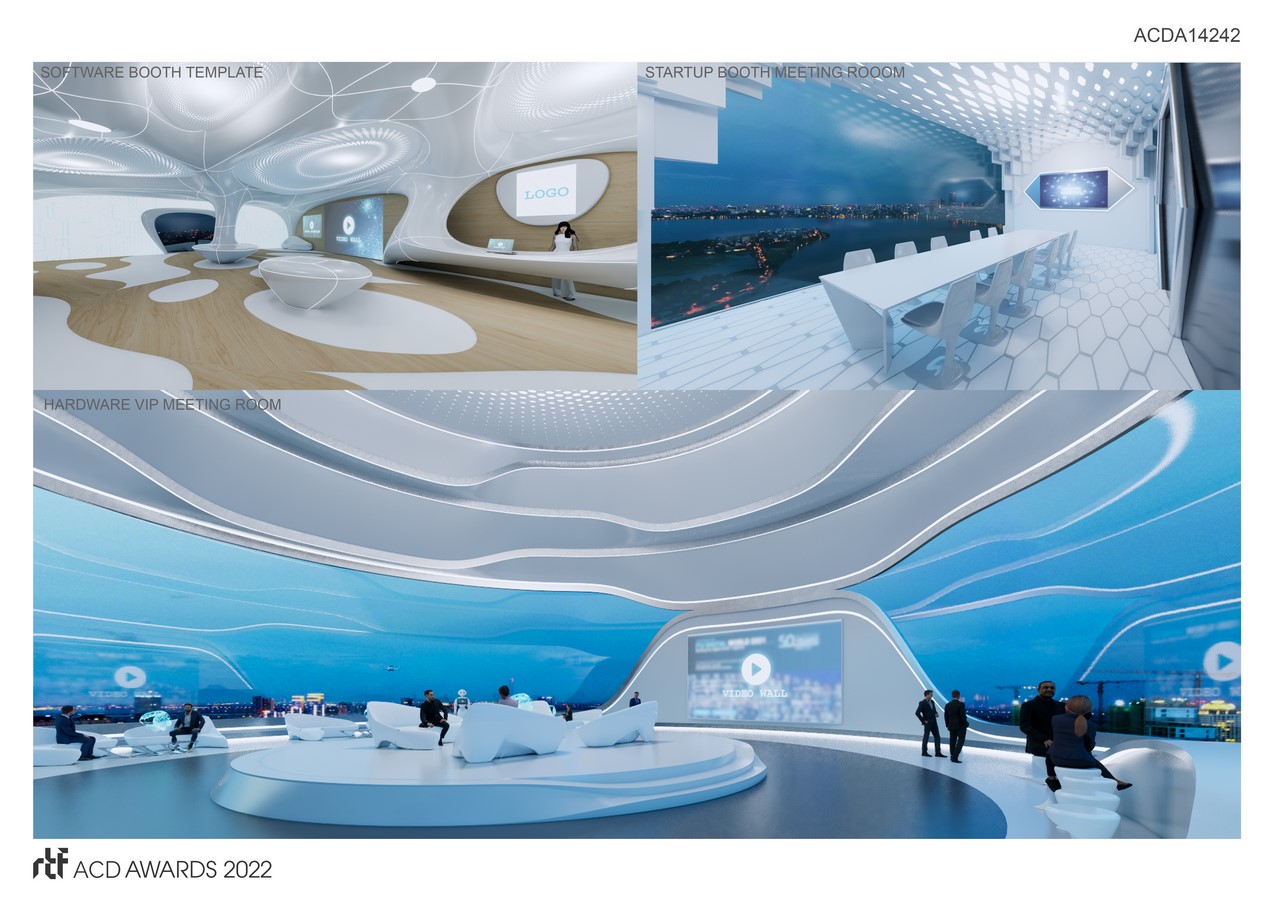 Virtual spaces (trade exhibitions, museums, galleries) will contiune to contribute to bringing cultural – artistic – historical – public values ​​to the global community without being limited by distance or boders. At the same time, it also helps architects to be more creative in an limitless design environment, creating a new playing field for architects around the world disregarding the regional construction technology limitation.
Links:
Design Trailer


Hightlight ITU Digital World 2021 Video
360 Tour
https://orbix360.com/t/8Zf5dXD68IeO9XCxmEgSCs9z1pL2/5894641643683840/itu-digital-world-2021?edit=yes#
Spatial Main Hall
https://www.spatial.io/s/ITU-635b94534e85b600017bb56e?share=2955460237008483734