When modular flooring company Interface, Inc., decided to design a corporate headquarters, they knew that the space would have to demonstrate their commitment to sustainability leadership. The goals from inception were to create an iconic presence and provide a healthy, high-performance, user-focused experience. Interface selected an existing, uninspiring 1960s-era building in the vibrant Atlanta, Georgia Midtown Arts district, central to regional transit and walkable amenities. The building was partially deconstructed and over 90% of the interior and exterior materials were diverted or recycled. What remained was a classic concrete structure with the potential of open, day-lit spaces to encourage creativity and collaboration.
Global Design & Architecture Design Awards 2019
First Award | Category: Office Building (Built)
Studio: Perkins and Will
Architect: Jerrico Roland
Country: United States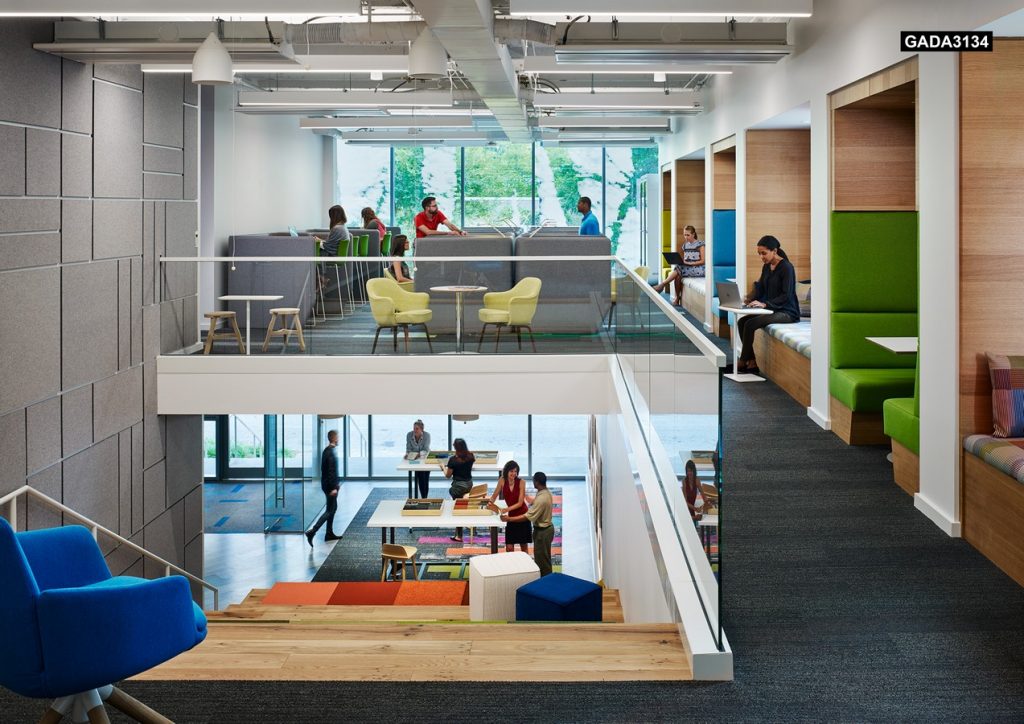 Building on Interface's leadership in sustainability, this design looked to nature for inspiration. It incorporates Biophilic design as a key focus throughout, ensuring that occupants have a clear connection to the natural world, through the conceptual metaphors of a Cave, a Forest and a Bluff. Sited on a natural rocky ridge in the city, the lowest "Cave" levels house the refurbished parking garage, provide electric-vehicle charging and bicycle storage and showcase a 15,000-gallon rainwater cistern. The "Forest" comprises the three floors of existing office structure, each with a unique feel and destination. The "Bluff" consists of the new penthouse featuring the Learning Center, Roof Terrace and green roof where employees enjoy a natural respite with remarkable views. Horizontal and vertical circulation is organized as a continuous journey throughout the building. Along this path are myriad work-choice offerings that also function as product vignettes for Interface, decentralizing the traditional idea of a showroom. Employees are free to work from any location or type of furnishings that best support their tasks or mood.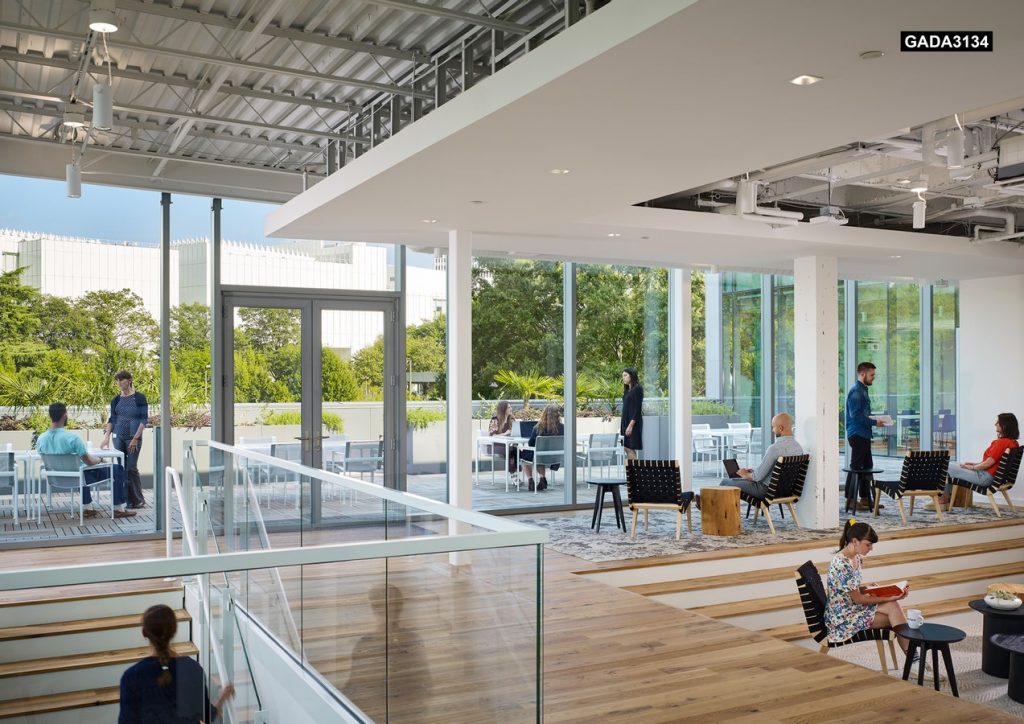 The most striking feature of Interface's new headquarters is its skin: a high-performance curtainwall with a semi‐transparent polyester sheath, depicting a life‐size forest. The sheath's square pixel pattern is reminiscent of Interface's modular flooring systems and draws an unequivocal connection to the site's natural history of eastern-US Piedmont Forest. Besides creating an iconic presence on its busy corner, the patterned wrap protects against glare and solar heat gain while throwing a soft, dappled pattern on the interior floors.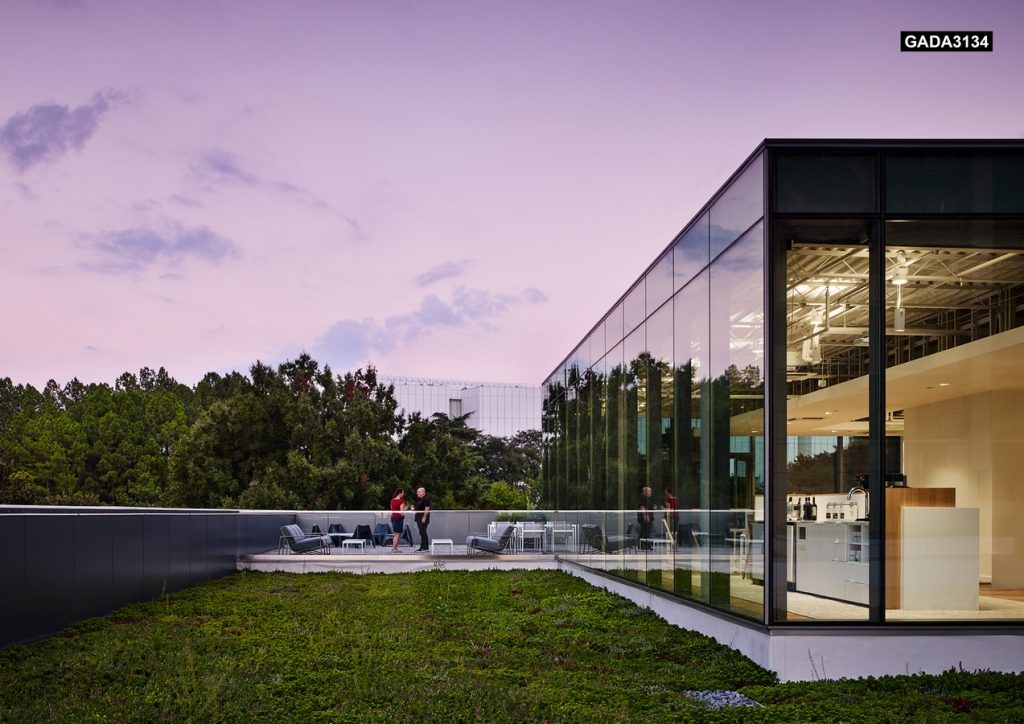 Inside, new high-performance HVAC and lighting systems reduce the building's total energy use by over 50% compared to typical office buildings, while the rainwater from the cistern eliminates the need for municipal water for restrooms or landscape irrigation. Additionally, wellness and "restoration rooms" are available for employee relaxation and meditation. To ensure relevance well into the future, the design is easily adaptable and changeable, including movable furniture, flexible seating, and of course, modular flooring. The completed project will earn LEED Platinum and WELL Gold Certification.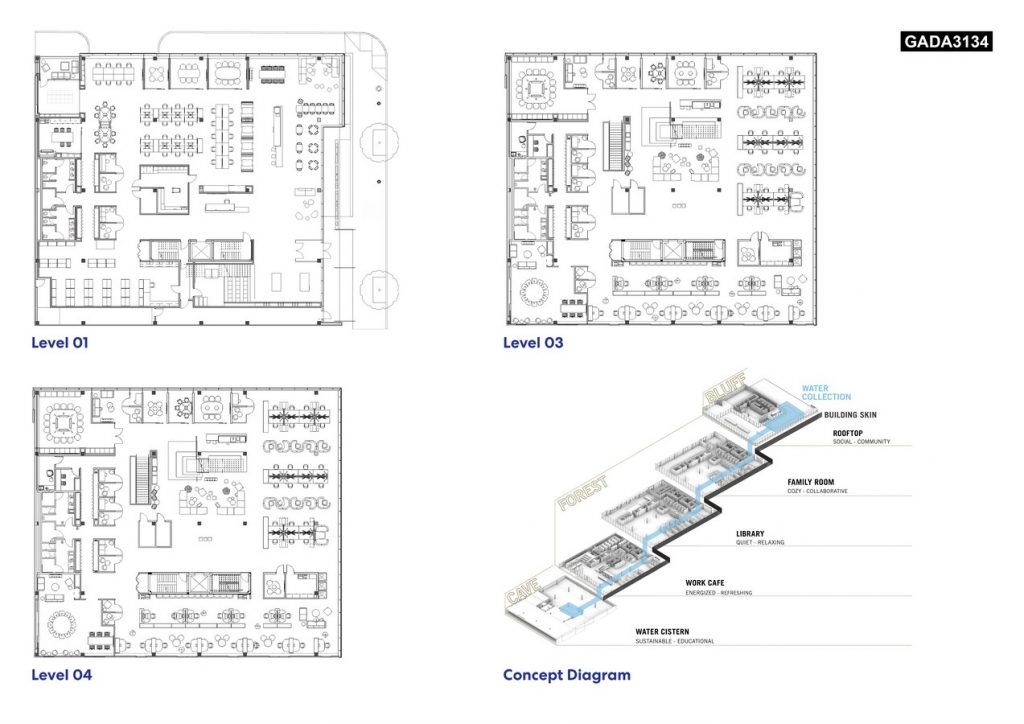 Although Interface's design was unique, the problem is not. Cities across the globe contain thousands of buildings which were not designed with access to nature nor to meet performance requirements of new buildings. Those existing buildings, if tackled in earnest, could be upgraded to help significantly reduce the negative impacts of atmospheric greenhouse gas emissions and provide healthy, beautiful, comfortable spaces for people.