Located in the Changfeng Ecology Commercial District of Shanghai, with MRT line 15 (under construction) planned to penetrate the site, Guocoland Changfeng City is a new interpretation of a contemporary transit-oriented development in a vibrant and energic urban landscape.
Rethinking The Future Awards 2023
First Award | Mixed Use (Built)
Project Name: Guoco Changfeng City
Category: Mixed Use (Built)
Studio Name: B+H Architects
Design Team: Susanna SWEE, Stephane LASSERRE, Hong HU, TOD (thosapond), Susan JIANG, Caroline LU, Jingzhong CHEN, Livia SIMA, Ralph BAUMANN
Area: Over 150,000 m²
Year: 2021
Location: Shanghai, China
Consultants: B+H Architects
Photography Credits:
Render Credits: GuocoLand China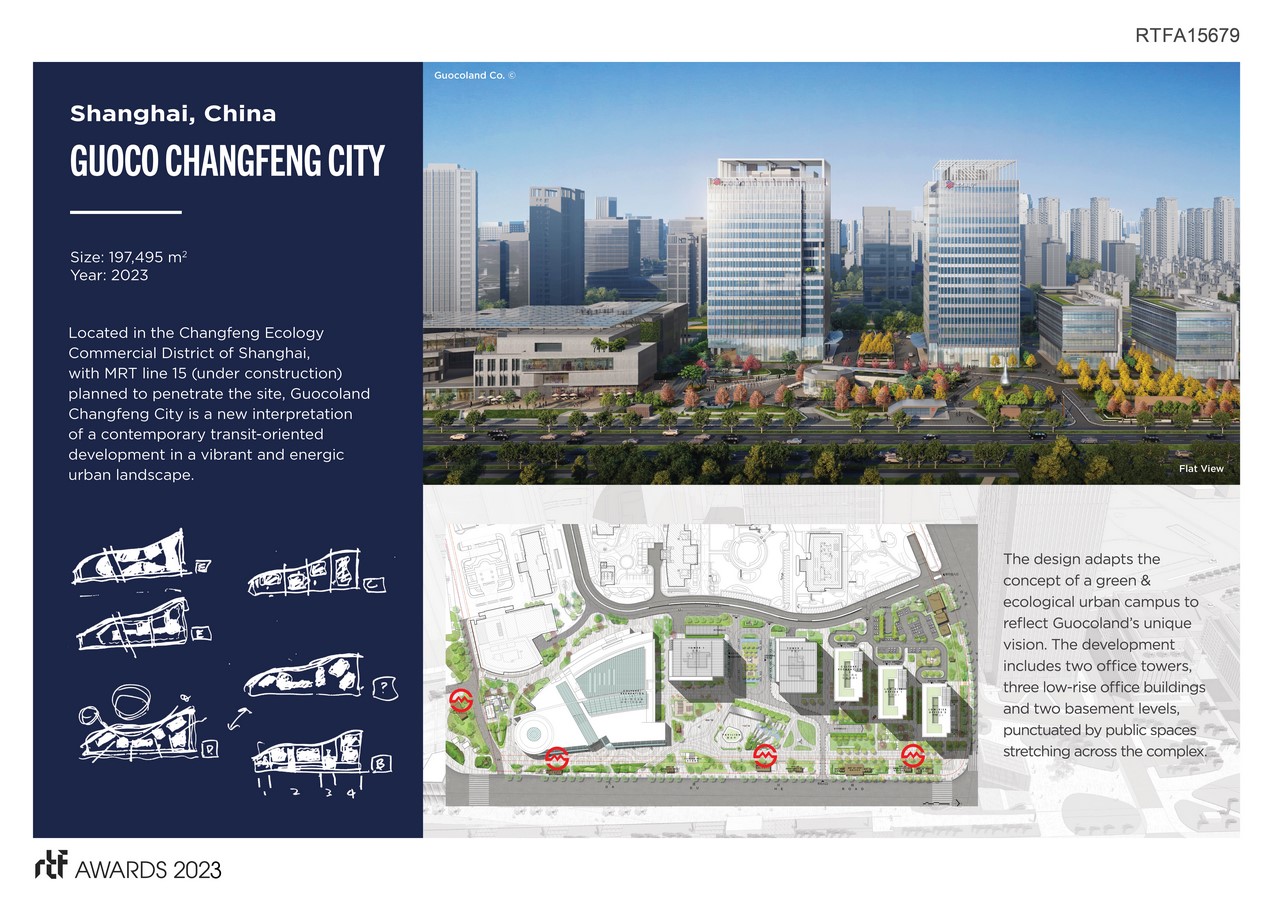 The design adapts the concept of a green & ecological urban campus to reflect Guocoland's unique vision. The development includes two office towers, three low-rise office buildings and two basement levels, punctuated by public spaces stretching across the complex.
The plaza also serves as the transitionary space between the northern campus and the more active retail quarter to the south. Anchored by a large, captivating piece of urban art, this civic piazza is deliberately designed to be spacious and open, offering inherent flexibility for different types of activations – whether it's the corporate crowd during the week or transitioning into a weekend market that attracts families and tourists and extends the community's retail activity.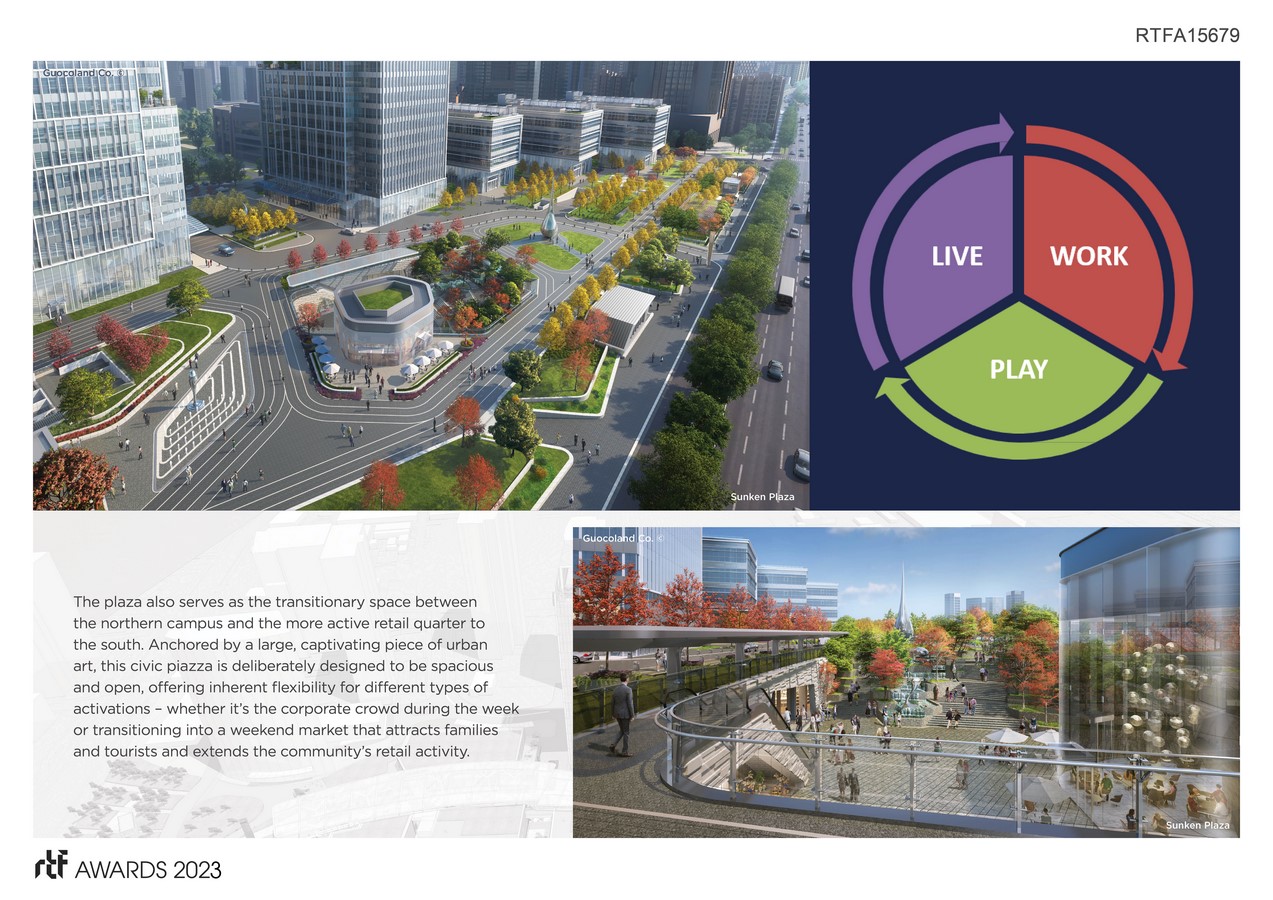 Through a series of tailored workshops, we helped the client define their aspirations for the development and gained a better understanding of the organization's culture, values, brand, and identity. Designers shared the same vision with the client – to create resilient, healthy environments that make positive contributions to their communities and are characterized by vibrant human experiences. Central to our vision is our commitment to delivering solutions that are contextual, economical, and sustainable.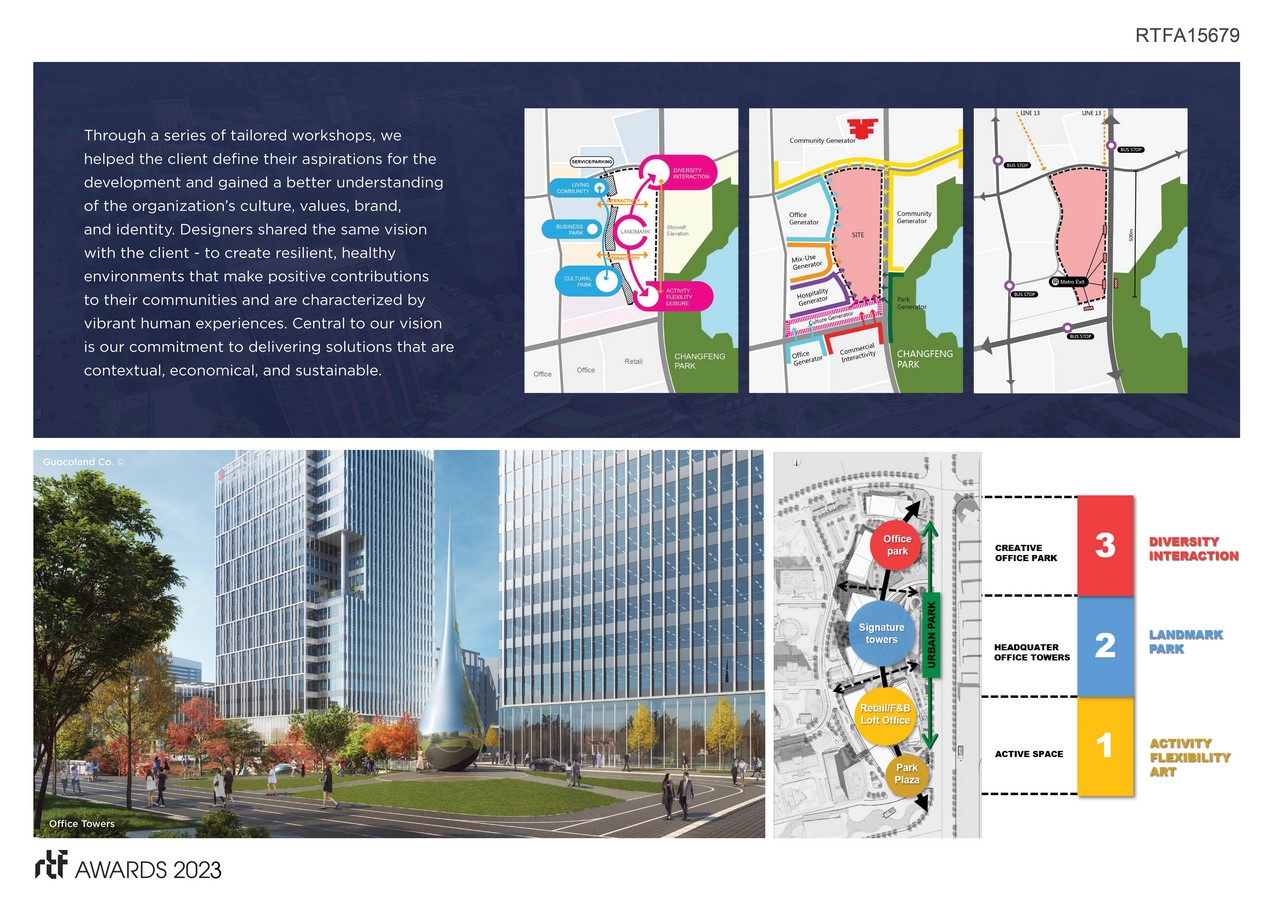 The shape of the tower is the result of deep collaboration between the designers, the client, and various project stakeholders. Considering the project's location and context, there was a desire create a destination that evoked a sense of timelessness through its form. The shape, orientation and massing were guided by stringent guidelines related to protected view corridors towards the lake from the existing towers. While the height limitation presented challenges in the articulation of the massing within the context its surroundings, it also provided opportunities to uncover inherent efficiencies and flexibility in the floorplates, providing added value for the client.