Located in Bangkok, Cloud 11 bridges the rich culture of Southeast Asia's creative industry with the future of entertainment technology. As a new creative playground, Cloud 11 will become the region's most sought-after community for creators in gaming, music, film and content creation with a mission to empower creators through our labs, studios, and Creator Fund.
Rethinking The Future Awards 2023
First Award | Mixed Use (Concept)
Project Name: Cloud 11
Category: Mixed Use & Commercial
Studio Name: Magnolia Quality Development Corporation Limited
Design Team: Snohetta, Architects 49, Design Worldwide Partnership, Shma
Area: 253,920 sq.m
Year: 2025 (Completion)
Location: Bangkok, Thailand
Consultants: Thai Obayashi
Photography Credits: N/A
Render Credits: AsymmetricA, Cosmoscube, MIR
Other Credits: N/A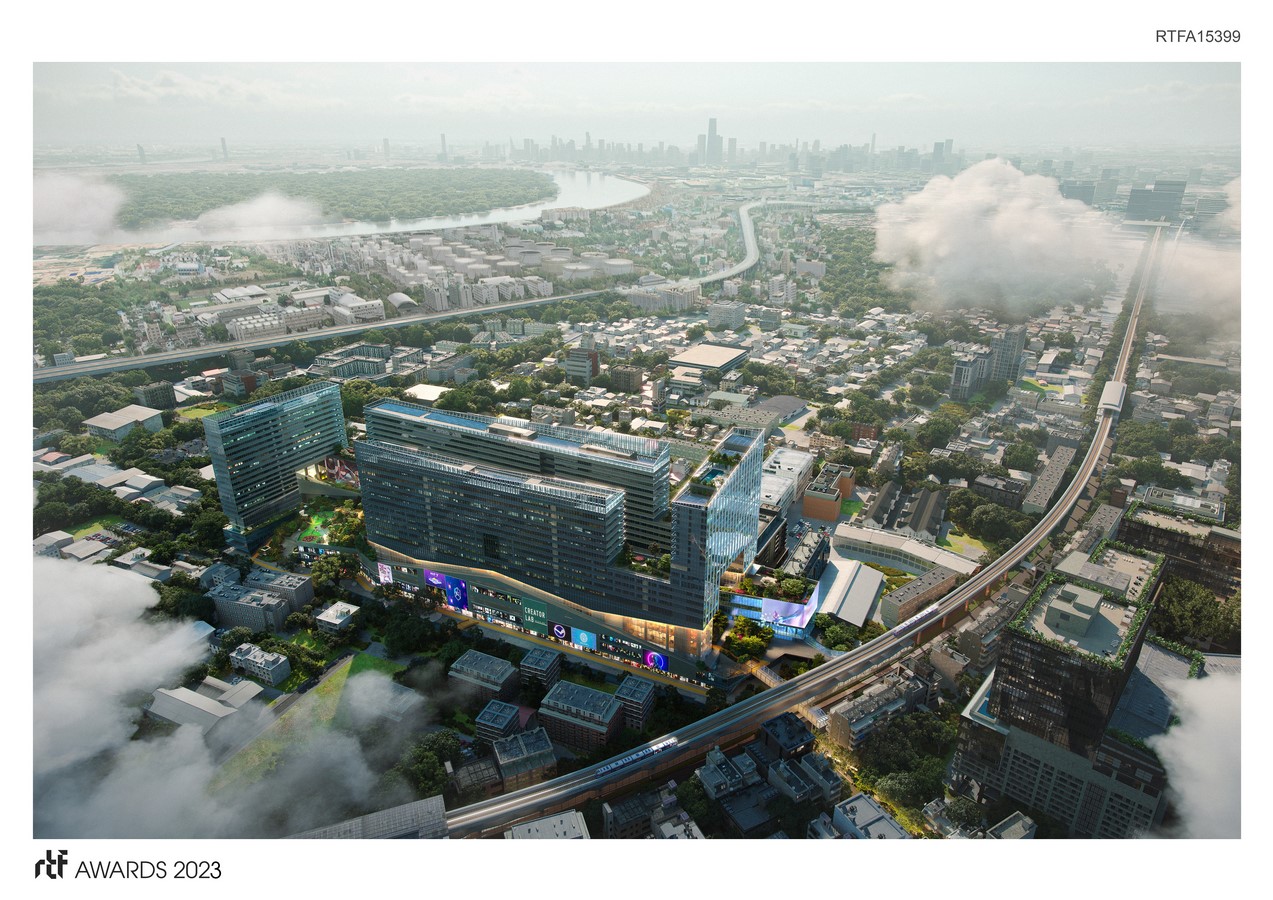 Bringing the entire ecosystem under one roof, Cloud 11 features a creator retail podium, creative workplaces, smart hotels, tech education, and an arena for live performances and e-sports competition. Inspired by its rich surroundings, Cloud 11 stacks three layers of urban contexts –shophouses, elevated paths and the city skyline – creating the captivating "in-between" void. Inherits and interprets the scale, rhythm, profile and skyline.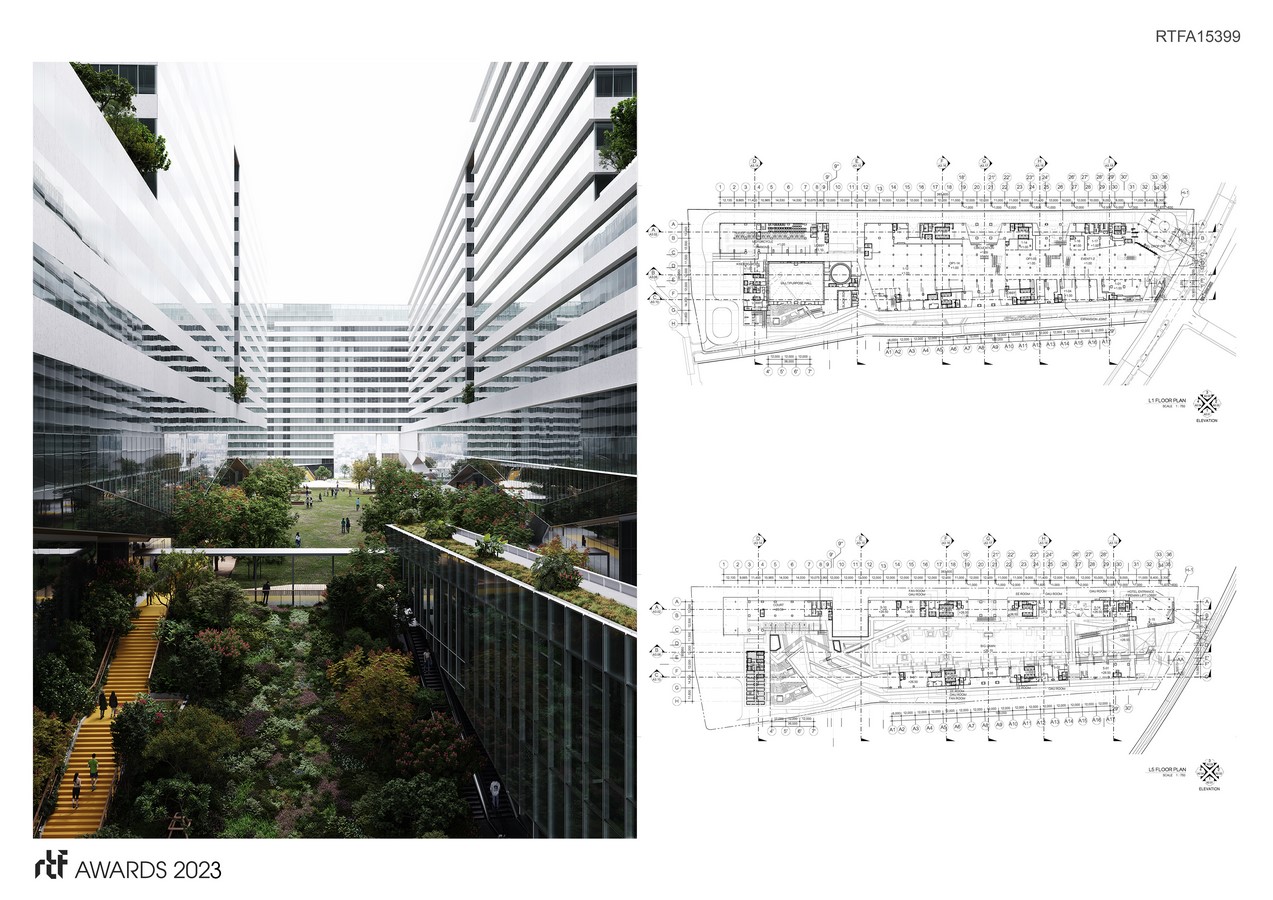 The two landscape ramps framed by striking architectural portals connect the elevated park – inviting the neighborhood to engage with the creator community at Cloud11. The public park serves as a resilient green pulse in the neighborhood, incorporating natural-driven systems and self-shading design. Cloud 11 addressed the elevated circulation network and the multilayered character of the city with an "upside down" skyline. Additionally, the project renovated an adjacent canal, and a public walk supporting a free-rent space for local street vendors. With creator community leverages local business through content and forms an inclusive growth with the neighborhood.
Innovation at Cloud 11 revolves around entertainment technology. As a leading creator economy hub, the project fosters an interconnected ecosystem for content creators and the entertainment industry. An end-to-end content creation ecosystem features content creation studios and academies. Cloud11 designed flex workplaces and shared facilities to support both startups and large companies. Cloud11 retail serves as a launchpad for creator brands, allowing creators to connect and cooperate through brand partnerships.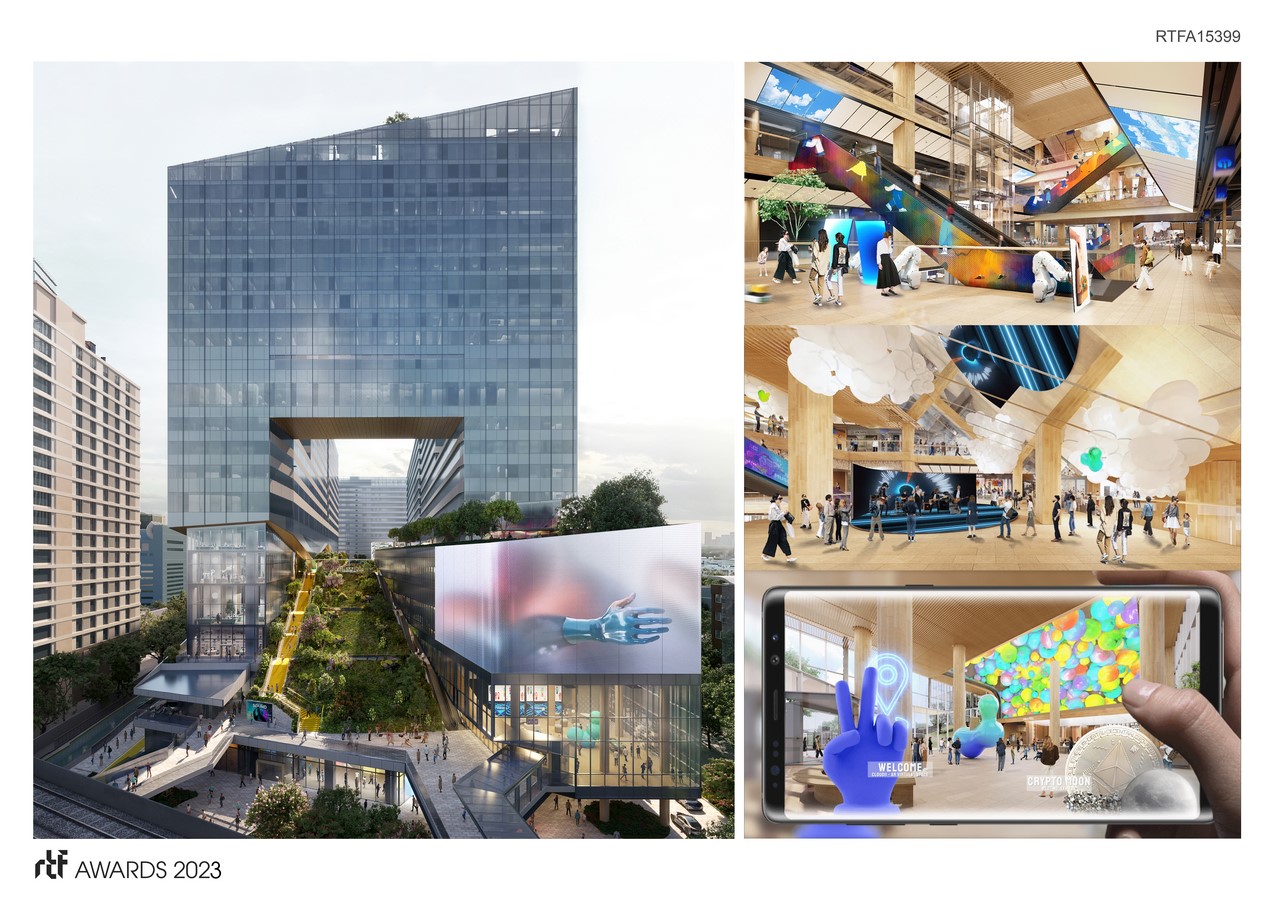 At Cloud11, customers can connect with creators seamlessly through augmented reality markers and extended reality stages. We embrace the rapid changes in the content creation industry and the upcoming Web3.0 technology. Developed in partnership with Accenture and Populous, Cloud11 will be on the Metaverse, bridging the physical and virtual worlds into one seamless experience. Creators are able to showcase their contents virtually and physically at Cloud11 public areas: the cultural arena, retail, or public park. The project will foster a complete and interconnected ecosystem for content creators and the entertainment industry in the gaming, music, digital art, and media sectors.