With an aim to provide Quality Healthcare in Rourkela, The Ministry of Steel initiated a project for establishment of ISPAT Super Speciality Hospital for Steel Authority of India (SAIL). The site for the new facility is located in the existing campus of ISPAT Rourkela, an already functioning General Hospital.
Global Design & Architecture Design Awards 2021
First Award | Category: Healthcare & Wellness (Built)
Project Name: ISPAT Super Speciality Hospital
Project Category: Healthcare / Wellness (Built)
Studio Name: ARCH-EN DESIGN      
Design Team: Ashok Kumar, Annkit Kummar, Sakshi Mathur, Atul Singhal, Samshul Anwar, Prashant Sharma, Pankaj Sharma
Area: 40,000 sqmts
Year: 2021
Location: Rourkela, Odisha
Consultants: Structural Consultants : Constructure Designs Pvt Ltd, MEP Consultants : ARCH-EN DESIGN, Landcape Consultants : Mukul Goyal and Associates
Photography Credits: Abhishek Shekhar
Text Credits: Annkit Kummar, Sakshi Mathur
Other Credits: Project Contractors : URC Constrcution Pvt. Ltd, Client : Steel Authority of India, Ministry of Steel, Government of India.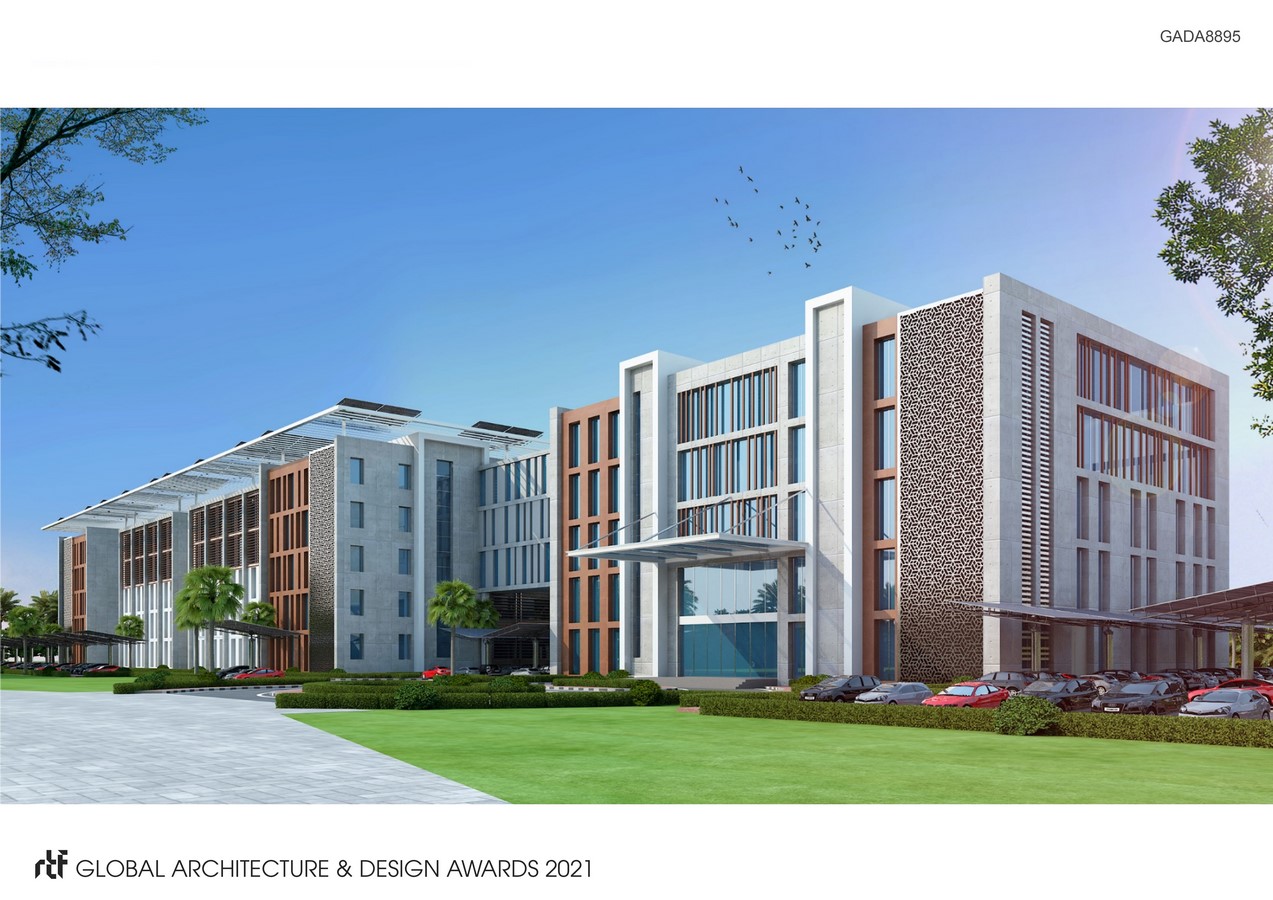 The brief for the establishment of the Super Speciality Hospital included branches like Cardiology, Cardiac Surgery, Neurology, Neurosurgery, Nephrology along with Diagnostic facilities with high end equipment, Endoscopy Room, Administration Area, CSSD(Centralized sterile system) Facility, OT Floor with 04- Modular OT (with Pre-Op & Post- Op beds), For effective patient monitoring 20 bedded centralized ICU, 10 bedded HDU (High Dependency Unit ), 10 bedded NICU,  10 Bedded dialysis Facility with 500 liter RO System (with 02-Continuous Renal Replacement Therapy (CRRT) Machine Support).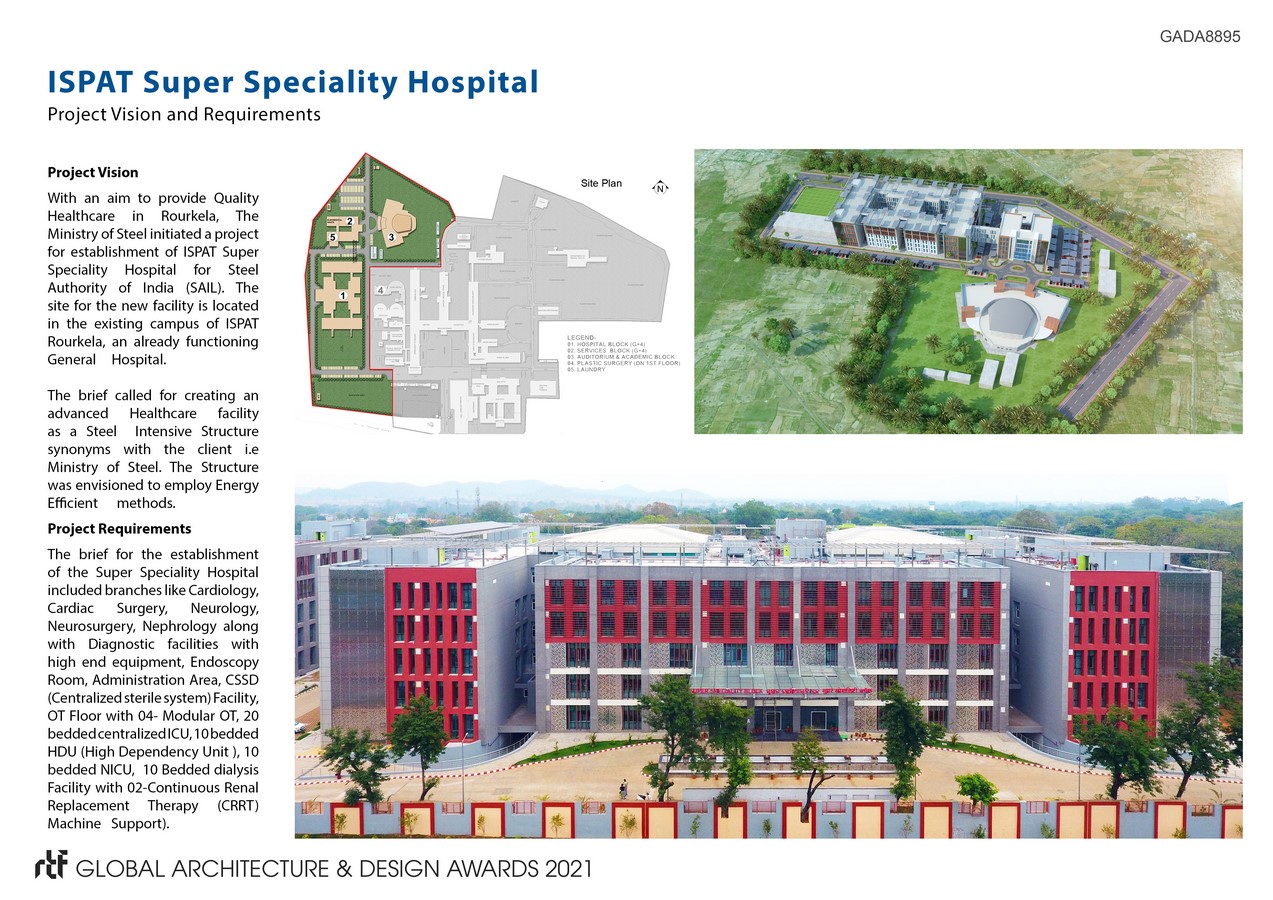 The building was planned in a courtyard arrangement to allow light and ventilation to all individual rooms. The project comprises of the following components:
Hospital block (Basement+G+4 floors)- 31909.69 sqm
Service block (G+ 4 floors) – 4417.96 sqm
Academic cum Auditorium block (G+1 floor)-4653.30 sqm
The proposed hospital will have 156 beds accommodating super-specialties like Cardiology, Cardiac surgery, Neurology and Nephrology.
The design of the building has been conceived as a 'Steel Intensive' structure deploying energy efficient and green-building technologies, such as LED light fittings and occupancy sensors, optimum use of natural light, an internal courtyard & atrium, solar water heaters & PV system, rain water harvesting and provision of STP & re-use of waste water, use of permanent, durable and local materials, Low Flow fixtures/faucets, Heat Resistant Tiles on Terrace, Double Glazed Units, Low VOC Paints etc.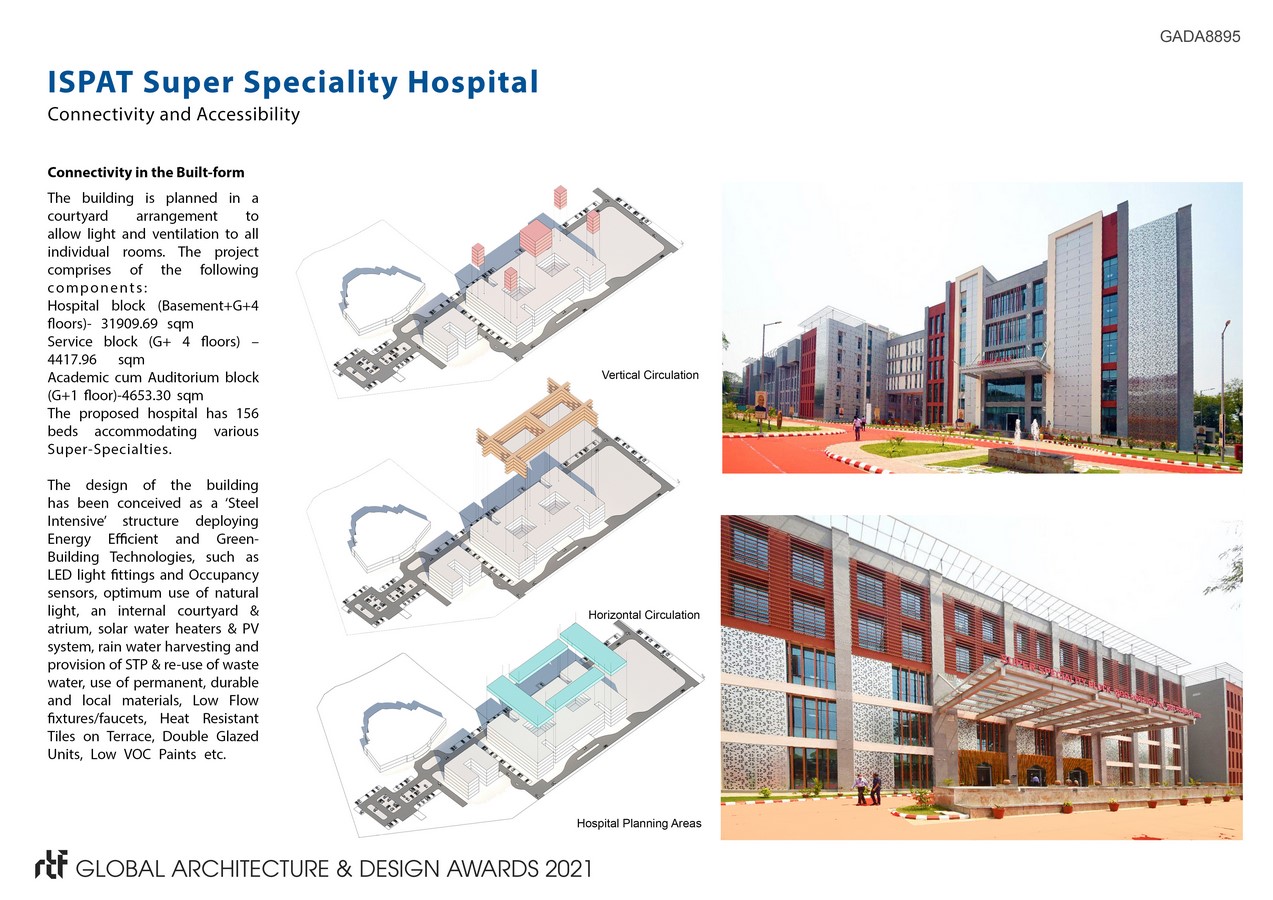 As per the stated objective, the Main Hospital, Service Block & Auditorium were all conceived as a steel-composite structure. However, the Roof Truss System for the Auditorium was primarily a 3d-truss frame. The total structural steel quantity was about 1110 MT.
Structural System: The floor plan layout of the building is such that it is unsymmetrical with respect to vertical axis and as well as horizontal axis. A composite steel frame structural system has been adopted with sufficient stiffness by providing vertical bracing or shear wall to control lateral displacements within limits. Steel–concrete composite columns have been chosen to reduce the column sizes. Further, composite floor system has been introduced using corrugated steel deck sheeting for economy and fast construction purpose. The lateral resistance system shall be OMRF + R.C.C ductile shear walls to control lateral forces/displacement.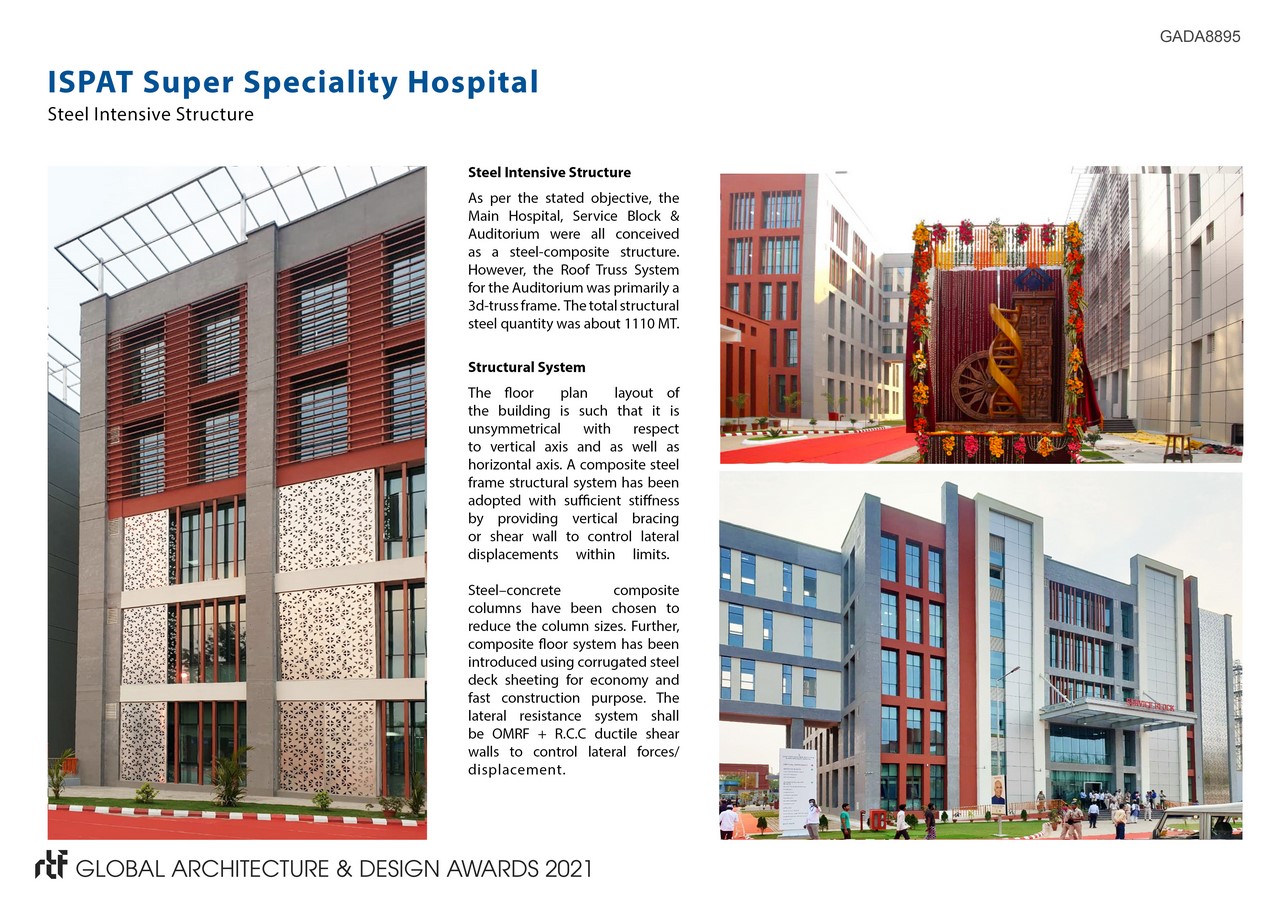 Steel-concrete composite systems have become quite popular in recent times because of their advantages against conventional construction. Composite construction has the biggest advantage of combined action of steel and concrete in structural design as well as construction. This system results in speedy construction with a possibility of working on parallel front. Encased-steel columns laid out in a rectangular grid according to architectural and structural needs.
The floor system consists of primary and secondary steel beams supporting an overlaid deck slab. All beams both primary & secondary are designed as composite beams connected to deck slab with shear studs. Deck slab is 150mm deep, with 1mm thick TR 60 sheet designed to with stand 2 hours fire rating.
With steel and glass as the main materials, use of DGU  glass for the exterior  in the hospital, with a total area of 5000 sqmts quantity, to make the overall hospital building a Green Structure.