The building was conceived as an expansion of an existing hospital which values are patient oriented and that has an important iconic image to maintain in the city as a strong institution that sees for the whole wellbeing of Colombia. Brick has characterized the hospital since its beginning; the idea was to represent all of these ideas in a single building that described the hospital´s values as a whole.
Architecture, Construction & Design Awards 2020
First Award | Institutional (Built)
Project Name: Fundación Santa Fe de Bogotá
Studio Name: El Equipo Mazzanti
Design Team:
Arq. Giancarlo Mazzanti AIA,
Arq. Sebastián Negret, Arq. Fredy Fortich, Arq. Alberto Aranda, Arq. Jual Gil, Arq. Felipe Pombo, Arq. Rocío Lamprea, Arq. César Grisales, Arq. Juan Sebastián Muñoz, Arq. Lorenza Baroncelli, Arq. Marcela Gómez, Arq. Julián Gaviria, Dibujante téncico. Julián Otalora, Arq Tecnica. Clara Vila, Arq. Trinidad Guzmán, Arq. Sebastián Corredor, Arq. Daniel Cely, Arq. Ana Varona, Arq. Manuela Dangond, Arq. Juan Carlos Zúñiga, Arq. Dorotea Rojas, Arq. Diego Casas, Arq. Laura Luque, Arq. Juan Sebastián Tocaruncho, Arq. Iván Bernal, Arq. Maria Sol Echeverry, Arq. Patricia Gualteros.
Area: 32.000(m2)
Year: 2016
Location: Bogotà, Colombia
Photography Credits: Alejandro Arango
The project´s main idea is connection. Our comprehension of a metropolitan scale is essential at the moment of thinking of an integral architectonical answer therefore, our proposal looks forward to be a diagonal connector and work as a catalyzer for new flows, activities, human relationships taking healthcare to a whole new level.
The building´s image is an important element for the iconic design. Through its materiality and configuration, the façade becomes an element of meanings and functions; it turns into an element of identity, configuring an integral element of the whole campus. This façade allows the use of the brick wall as a membrane that helps to have a semi-private relation with the exterior.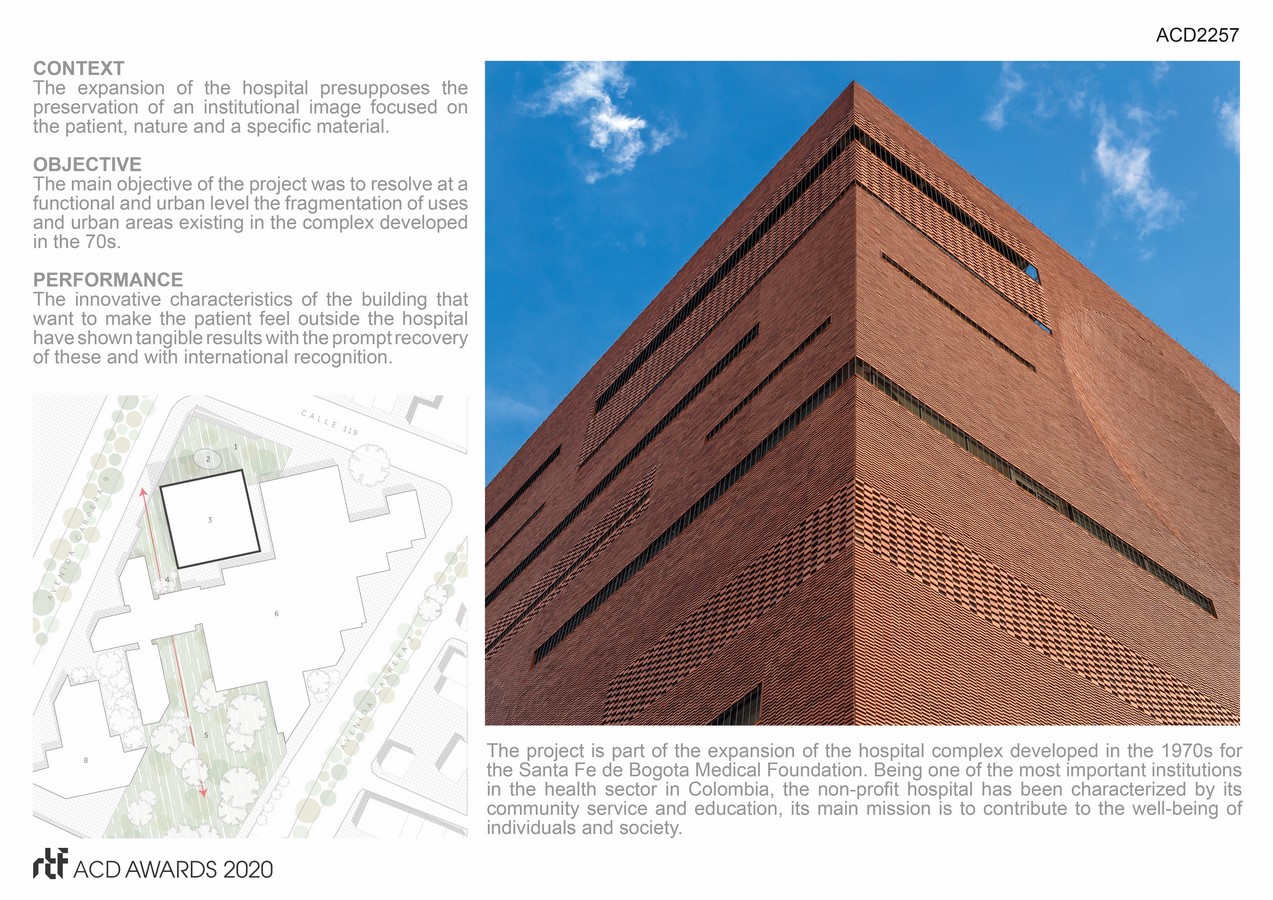 A healing space
The space is a stimulus that is a big influence in human behavior, architecture has the opportunity to link a person with place, a matter of actors and scenarios in which our work is to look forward to the expectations of the first and the potential of the second.
It is the patient who gives sense to the hospital and he has to be in the first place always. In second place it is the staff that requires adequate ambiences to do their work with the best attitude. A third group is the population that goes to the building for different reasons. Our conceptual proposal is to do a high, singular and emblematic building. We understand the foundation need as an architectonical idea and not a conventional hospital.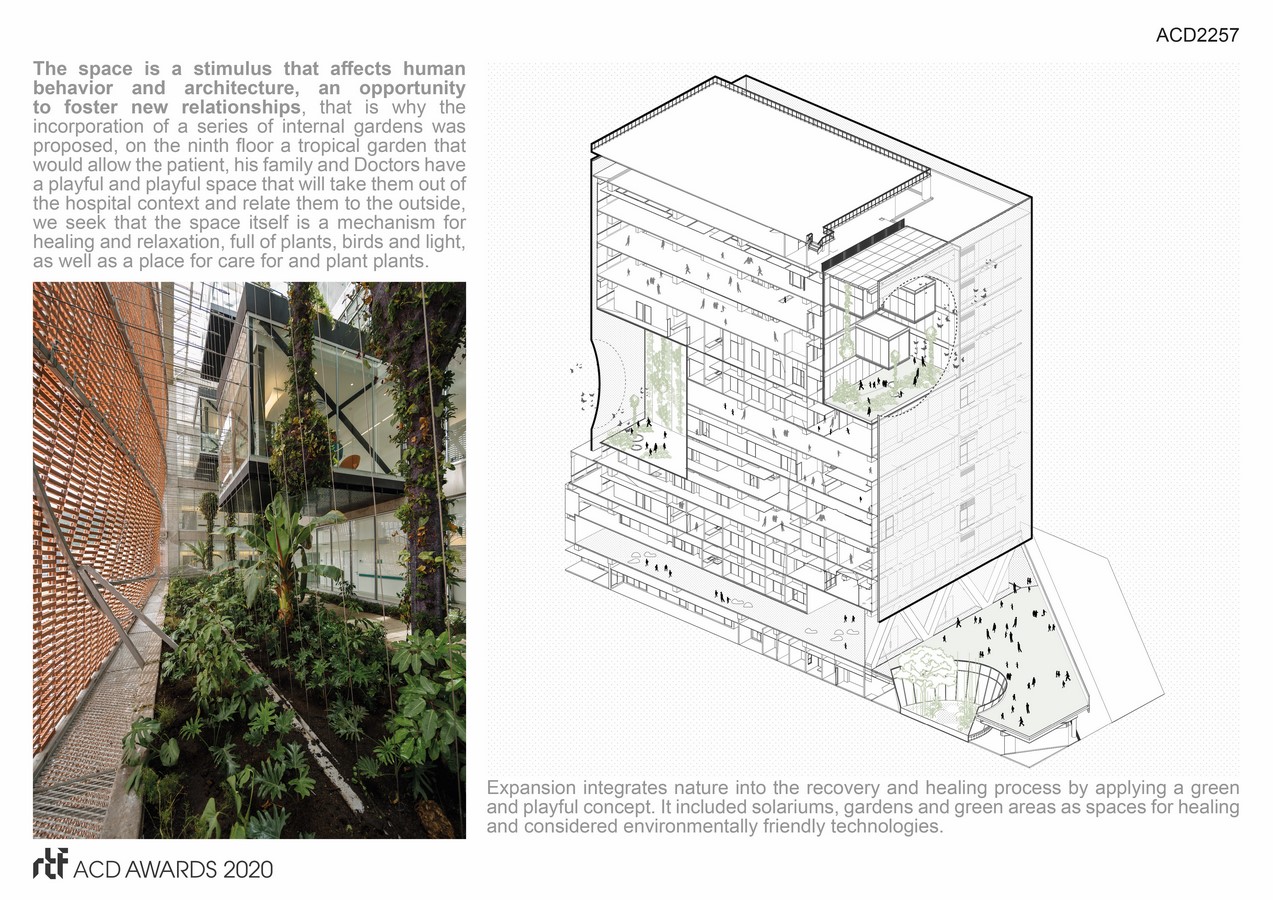 The hospital needs to be transforming and adapting continuously, a dialogue between offer of aid, physical resources, technology, process, functionality.
We propose in the 9th floor a new place that is totally different from the traditional; having a solarium full of plants in the middle of a hospital may sound a total mistake, but it increases health in patients that they not feel trapped in a hospital. The hospital design overall is made for accelerating healing process, light, views and nature help in the mind recovery after a surgery or a long stay in ICU.