The design of the Echo Investment office in Warsaw directly relates to the nature of the investor's activity – the development industry – and areas related to construction: including architecture, design and urban planning. Particular emphasis was placed on the scale of  activities carried out by the company (the biggest Polish developer) and on the unlimited possibilities of creation in the area of ​​city building.
Global Design & Architecture Design Awards 2022
First Award | Interiors – Workplace (Built)
Project Name: Echo Investment office
Project Category: Workplace (Built)
Studio Name: MIXD
Design Team: Paweł Panek, Alicja Dziedziela, Anna Stachi,  Małgorzata Trelińska, Anna Kosecka,  Jolanta Cioroch, Anna Szymańska, Stepan Symynets, Maja Ciszewska, Julia Iwańczuk
Area: 1200m2
Year: September 2021
Location: Warsaw, Poland
Consultants: –
Photography Credits: Studio Pion
Text Credits: Wanda Modzelewska
Other Credits:
Artworks: Ilustrations, collages: Nikodem Szpunar, Martyna Berger, Maciej Błaźniak, Desplans on-line gallery (various artist and architects)
Fit out: Tetris
Furniture provider: Bakata Design
Wodworking, custom furniture: Morrow Woods
Audio-video, IT and lighting control systems – Sonitum
Furniture: Iker, Muuto, Magis, Arper, Hay, Herman Miller, Kristalia, Thonet, Buzzi Space, Moooi, Misaform, Pedrali, Mobboli, Fritz Hansen, Tamo, Splot, Beza, Phormy, Wiesner Hager, Nowy Styl, Plus Halle, Maro
Lighting: Moooi, Wastberg, Artemide, Hay, Anglepoise
Floors and carpets: Ege, Tarkett,  Lusotufo UK ltd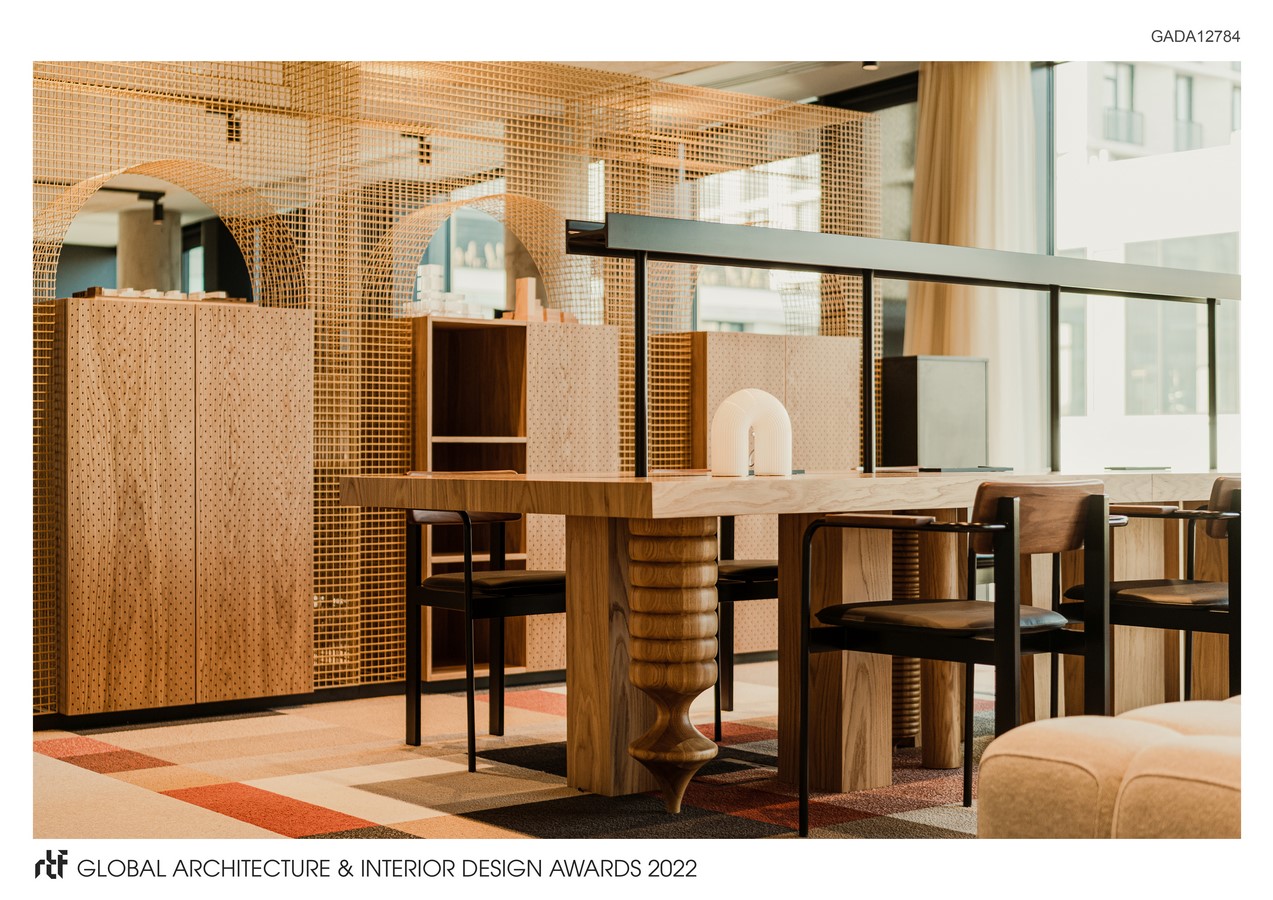 The main inspiration for the project was the film "Inception" directed by Christopher Nolan. Its main plot unfolds on increasingly deeper levels of sleep, each stage of which has been carefully planned by architects, often clearly against the laws of physics. Hence the idea for the first thing that catches our eyes after entering the office – the ceiling in the lobby area decorated with forms of abstract buildings. This directly refers to the iconic scene from "Inception", in which the city turns upside down. Each of the characters in Nolan's film had an artifact that distinguished dream from reality. One such artifact in the Echo Investment office are the Magis rocking chairs Spun, which are confusingly similar to the spinning top that appears in the film.
The office itself – very elegant and made with great attention to detail – undoubtedly has something homey about it. This is due to the noble materials: wood, ceramics, metal, fabrics and leather, as well as warm colours palette.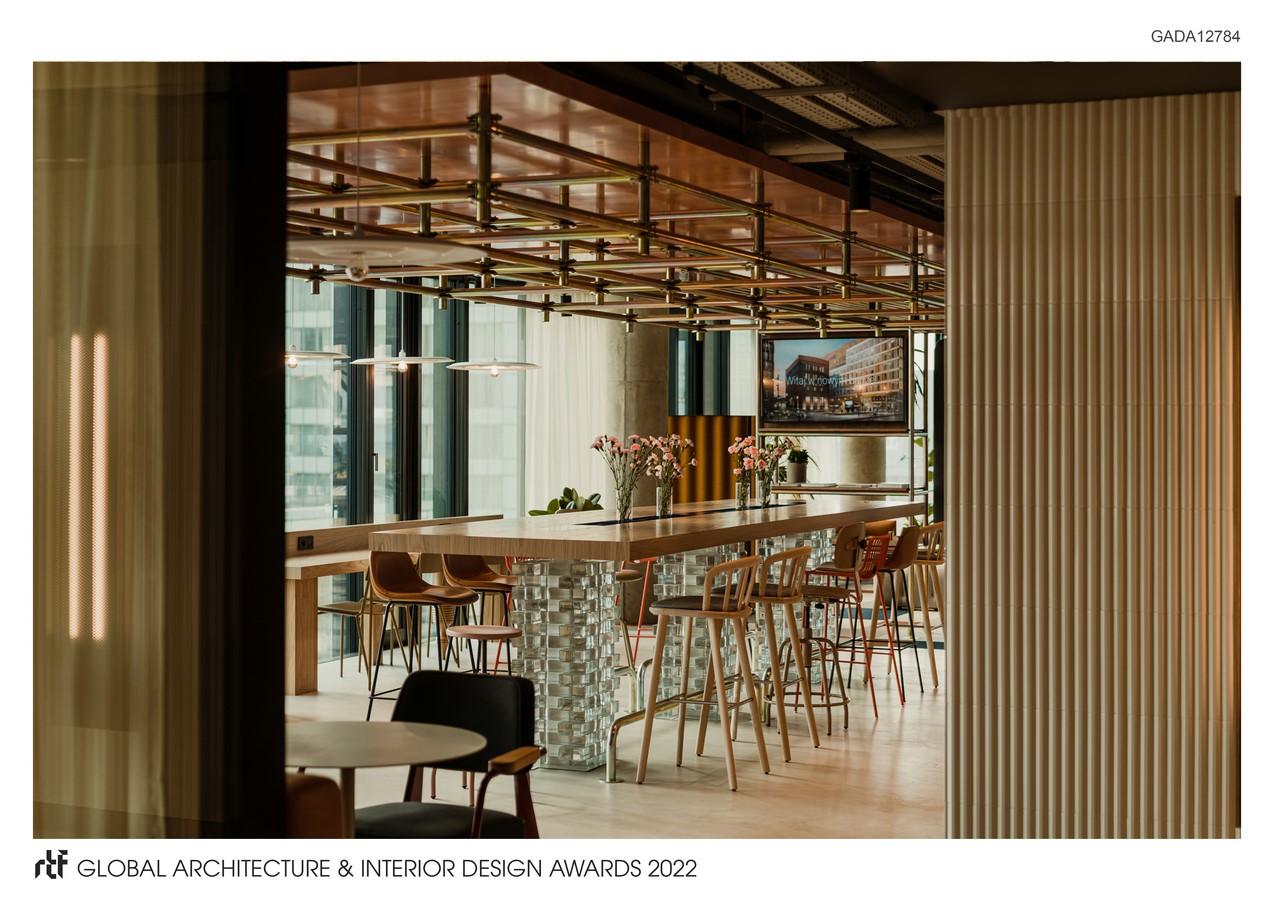 Another source of inspiration was Warsaw Breweries – the place where the Echo Investment office is located. Numerous copper details refer to the brewing vats. In addition to copper, the design uses original cast-iron poles from the demolition of the former breweries buildings, which have been given a new function – plant pots.
The entrance area is full of motifs straight from an architectural studio. Wooden model of Warsaw appears on the wall with Echo investments marked on it, next to it there is a large-format wallpaper with the capital city's urban plan. Cloakroom door handles are in the form of scaled brass setsquares – similar to those used by architects working on drawing boards. The reception desk stands on an unfolded sheet of "graph paper", it is illuminated by Artemide's Tolomeo drawing lamps  in XL scale.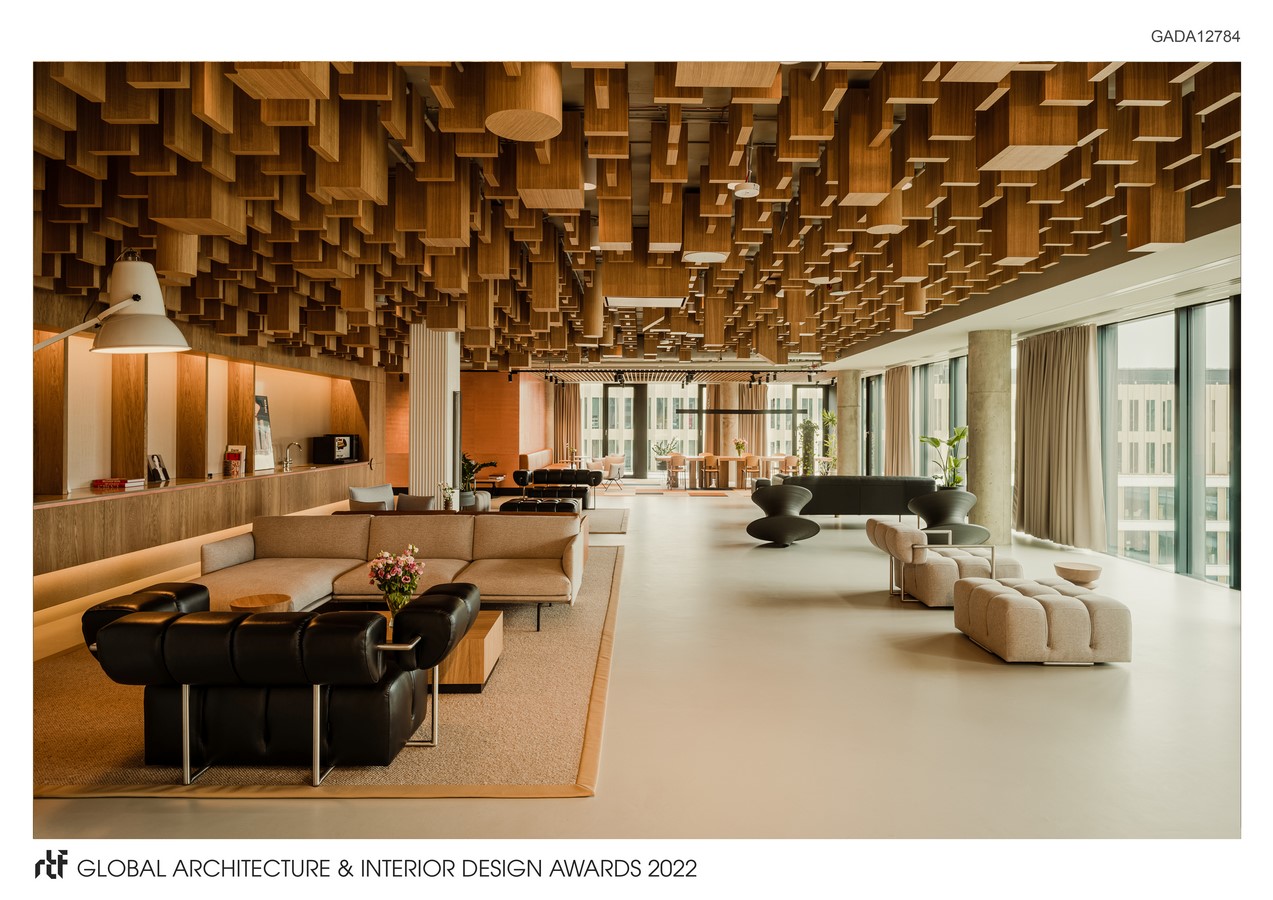 The thread of "Inception" found its continuation, among others. in conference rooms – each of them is a different stage of sleep. Just as in dreams, surprising, impossible, non-existent things and events often appear suddenly, in each of the conference rooms there is at least one characteristic element from the border of waking and dreaming or the sphere of optical illusions.
In the main kitchen of the office there is a galvanized scaffolding spatial installation and a table with a base made of glass bricks. Additionally, lamps are planned here, which are an interpretation of the Echo Investment logo.
The entire office is decorated with works by Polish artists (Martyna Berger, Nikodem Szpunar, Maciej Błaźniak) and an international group of architects associated with the Desplans internet gallery.