Dryft is a new dining hotspot located along one of New England's most vibrant public beaches. Situated within a new multi-family residential development, the restaurant's interior design celebrates its connection to the water and has become a popular destination for locals and beachgoers alike.
Rethinking The Future Awards 2021
Second Award |  Hospitality (Interior) (Built)
Project Name: Dryft
Studio Name: Arrowstreet Inc.
Design Team: Arrowstreet Inc.
Area: 4,120 square feet
Year: 2020
Location: Revere, MA, USA
Consultants:
Architecture & Interior Design: Arrowstreet Inc.
MEP Engineer: Wozny Barber & Associates
Structural Engineer: Goldstein-Milano Structural Engineering
Construction Manager: Callahan Construction Managers
Photography Credits: L.T. Rayne Photography & Arrowstreet Inc.
Other Credits:
Mural Fabrication & Design: Grand Image
Fish Scale Tile: Blue Iridescent Tile, Oasis Tile
Antique blue smoked mirror: Galaxy Glass and Stone
Pendant Lighting – Private Dining Room: Melt Pendants by Tom Dixon
Wood Paneling – Private Dining Room: Inceptiv Scale Reckt
Pendant Lighting – Main Dining Room: Hubbardton Forge Knot Pendants
Wood Paneling – Main Dining Room: Inceptiv – Metamorphosis
Paneling Vendor: Duchateau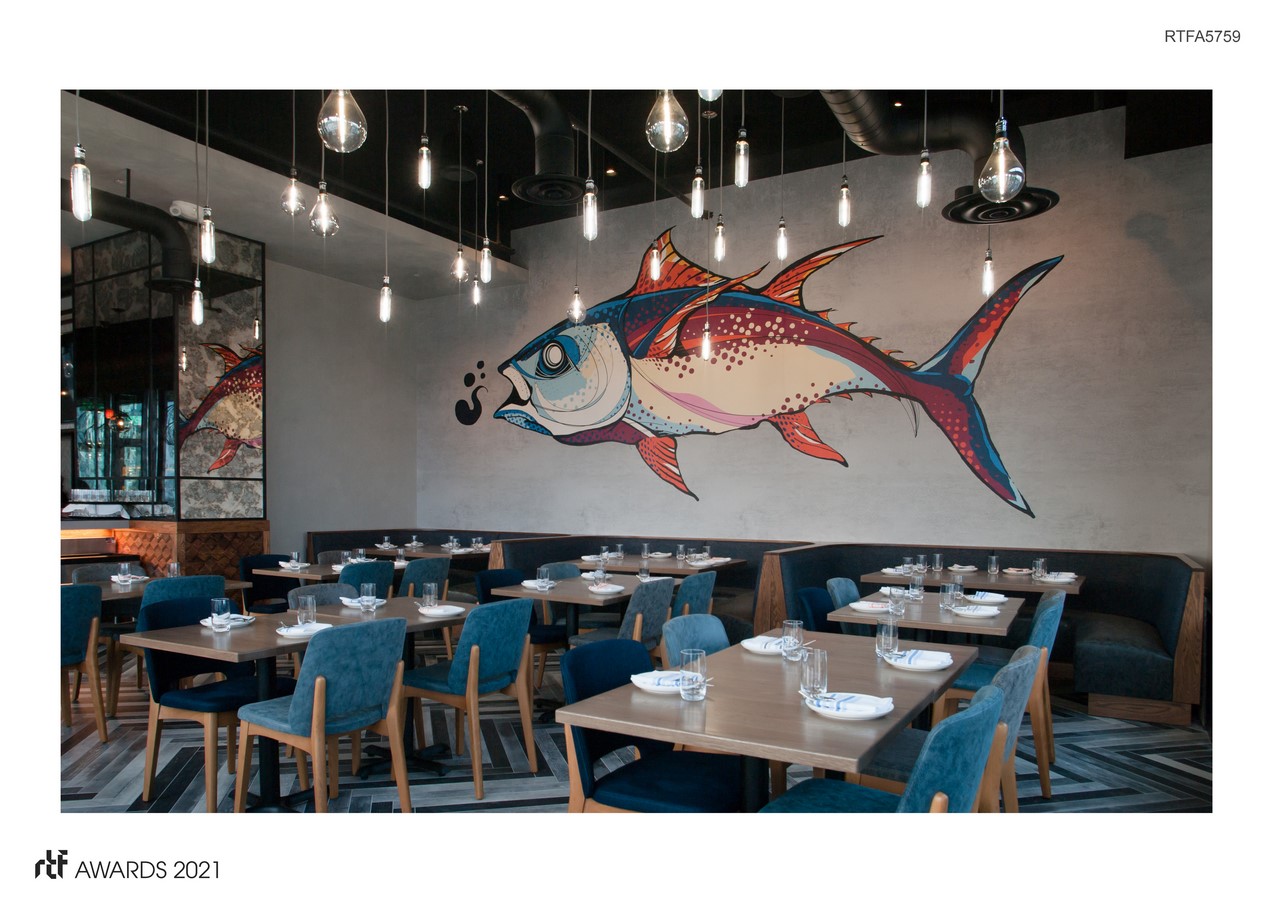 Drawing inspiration from its oceanfront setting, the design of Dryft is imbued with aquatic motifs that complement the space's views of the Atlantic Ocean. The color palette, anchored by tonal grays, is awash with cool blue hues and warm tones of teak and walnut, creating a space that is at once invigorating and intimate. Shapes throughout bring to mind marine elements with coastal shingle-inspired walnut paneling, fish scale tile, and net-like illuminated aluminum mesh.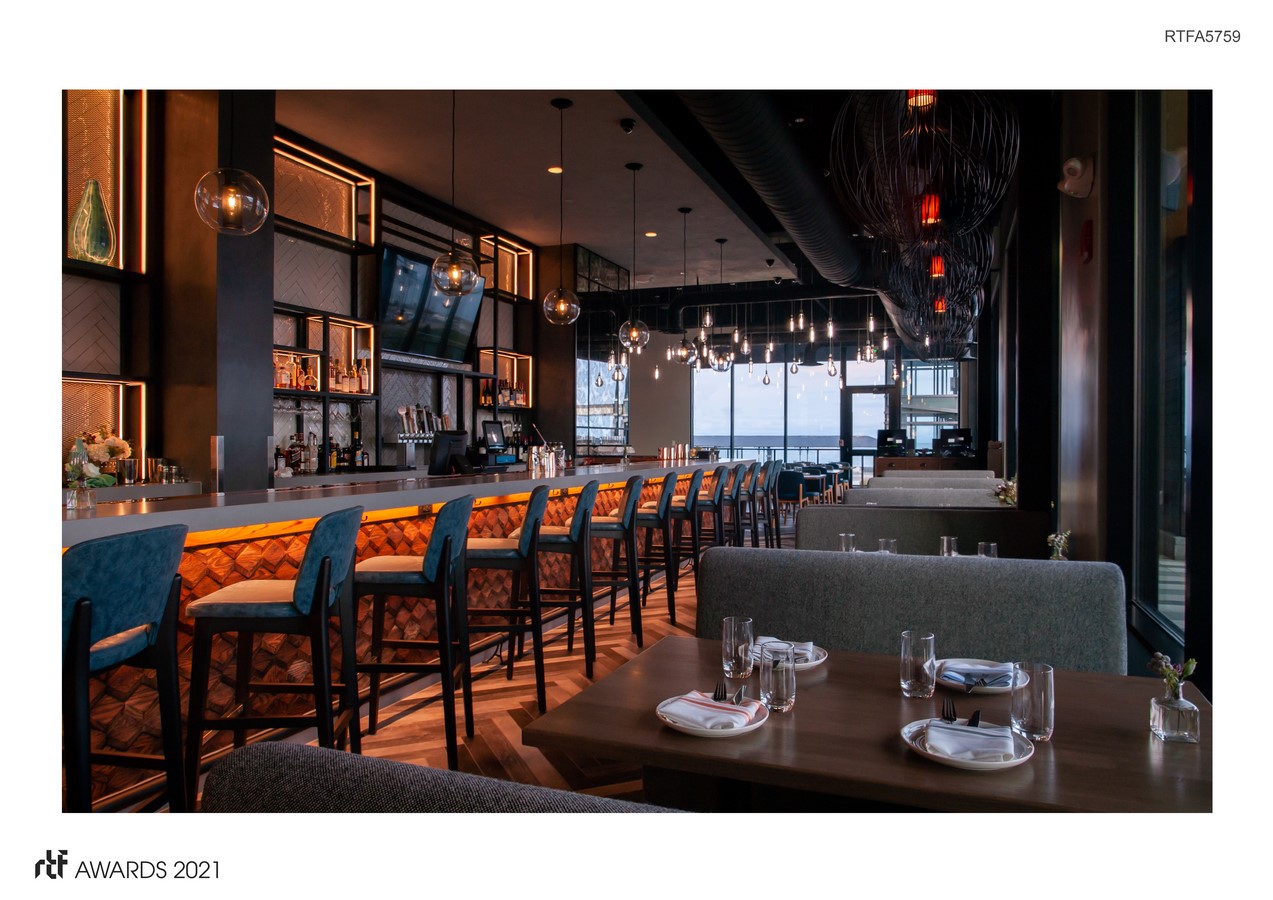 The main dining space, bar area, and open kitchen are designed to engage with the beach and adjacent pedestrian plaza. A custom 25' x 14' graffiti-style tuna fish mural, inspired by conversations with the chef about seasonal menu specialties, animates the space and doubles as public art visible from passersby going to and from the beach.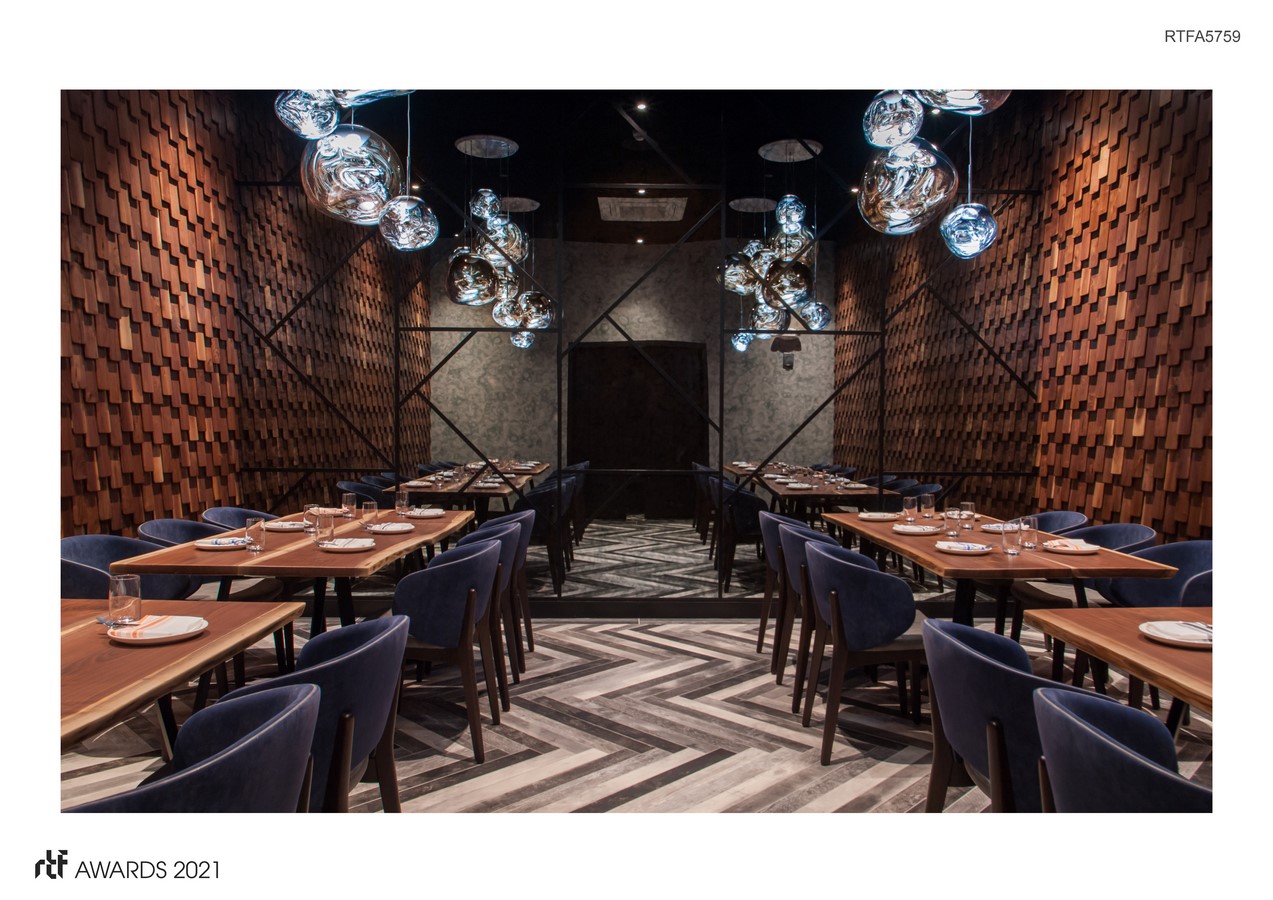 Globe and pearl drop pendants are suspended from 12' ceilings, and call to mind illuminated air bubbles, providing an eye-catching contextual reference to both patrons and those passing by on their way to or from the beach. A private dining room features antique blue smoked floor-to-ceiling mirrors that create the illusion of dining underwater. During the summer months, additional outdoor seating maximizes the location's ocean breezes and breathtaking views.