Striking in design, the Cal Poly Pomona Student Services Building marks a place of arrival and orientation for students, staff, alumni and visitors. Nestled into the landscape, the building's large, undulating canopy makes a powerful visual statement, establishes a new landmark, and shelters three accessible floors of student services and associated administrative functions.
Architecture, Construction & Design Awards 2022
First Award | Institutional (Built)
Project Name: Cal Poly Pomona Student Services Building
Project Category: Institutional (Built)
Studio Name: CO Architects
Design Team:
Paul Zajfen, FAIA, RIBA, Design Principal
Andrew Labov, FAIA, LEED AP, Principal
Alex Korter, AIA, RIBA, LEED AP BD+C, Project Architect
Crystal Martinez, CID, IIDA, LEED AP ID+C, Interior Designer
Area: Pomona, CA, USA
Year: 2018
Location: 3801 W. Temple Ave., Pomona, CA 91768
Consultants:
C.W. Driver, Inc. – Construction Manager
John A. Martin & Associates – Structural Engineer
Integral Group – MEP Engineer
KPFF Consulting Engineers – Civil Engineer
Spurlock Landscape Architects – Landscape Architect
Waveguide – AV/IT Consultant
KGM Architectural Lighting – Lighting Consultant
The Capital Projects Group – Cost Estimator
Photography Credits: Bill Timmerman Photography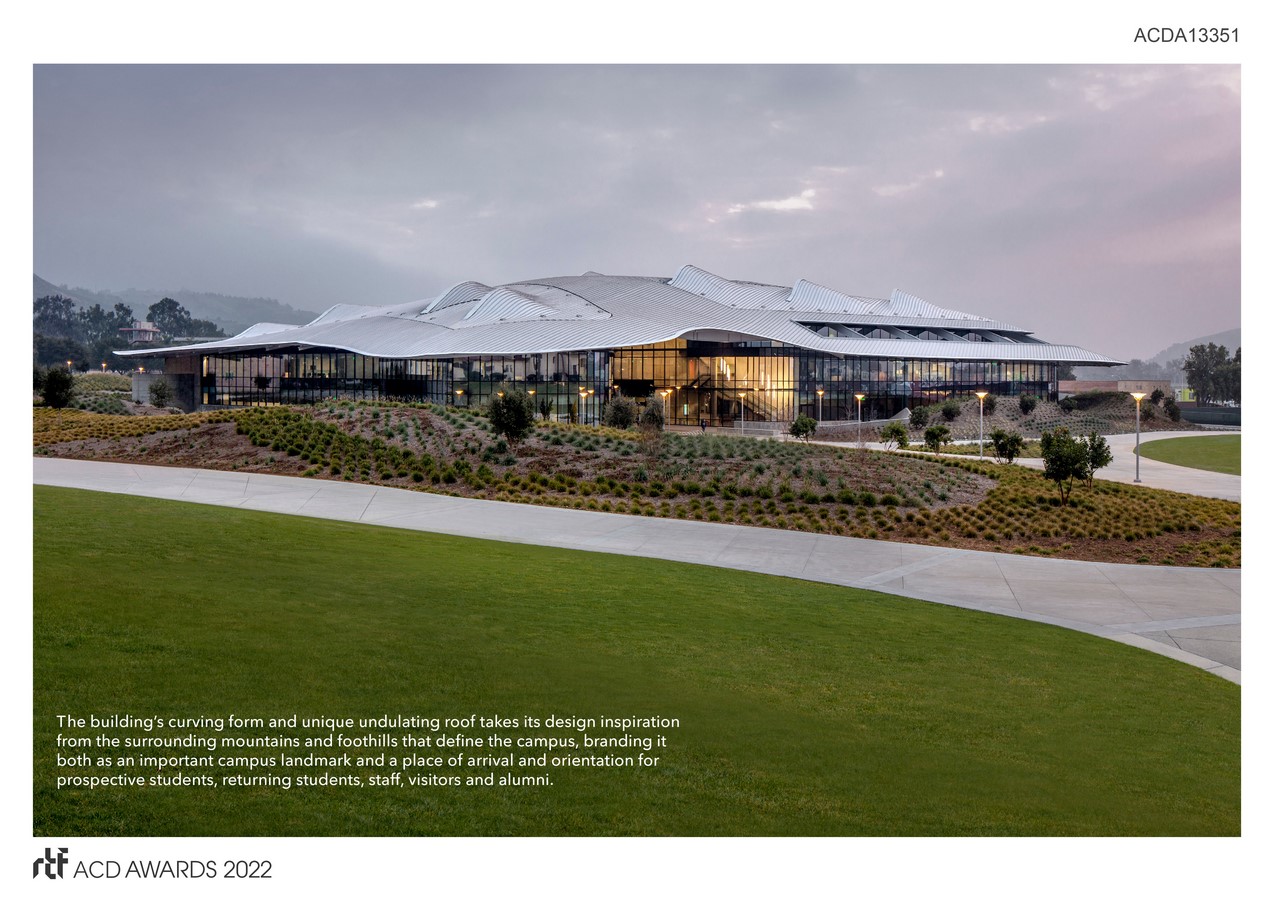 The design draws its inspiration from the surrounding mountains and foothills that are articulated in the building's shape and the form of its standing-seam aluminum roof, uniting it with the landscape and demonstrating a commitment to sustainable operations and practices in a dramatic way.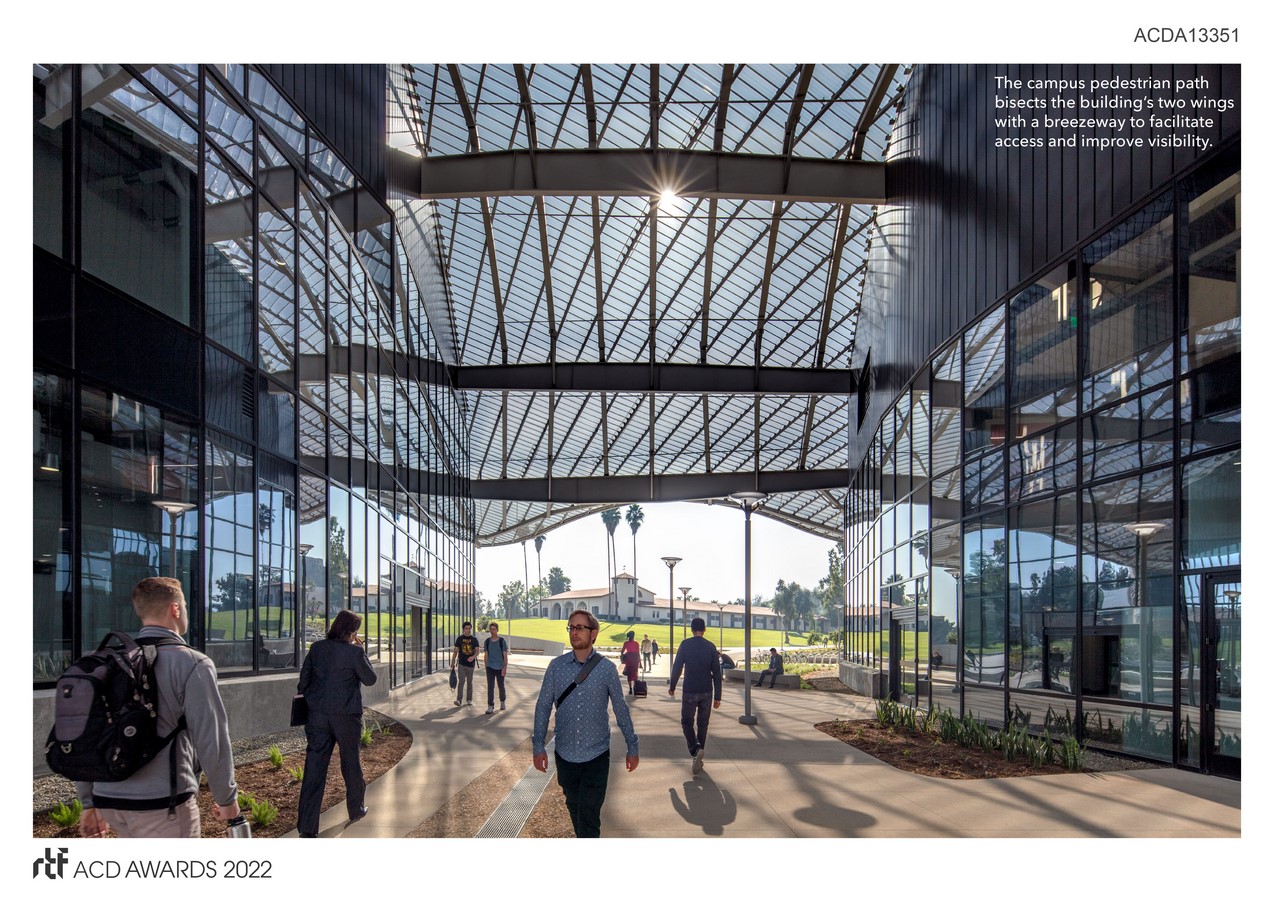 The building fulfills several campus goals: represent the university's aspirations and mission; provide a welcoming place of arrival and orientation; enhance delivery of services to students, faculty and staff; encourage administrative collaboration; and allow for future flexibility. Two programmatic approaches emerged that strongly supported the university's goals of increasing student enrollment, improving student retention, and creating lifelong supporters – student-centered delivery and team-based service.
The program provides a series of consolidated service centers for a welcoming, transparent and efficient student service experience. The design approach splits the program into two distinct buildings, covered by one roof to provide maximum visibility and accessibility to those functions. Expansive footprints – 60' wide – supply copious daylight throughout the interior spaces and pleasant views of the surroundings and intensely landscaped interior court. These large floorplates allow the 138,500-square-foot building to be predominately two stories.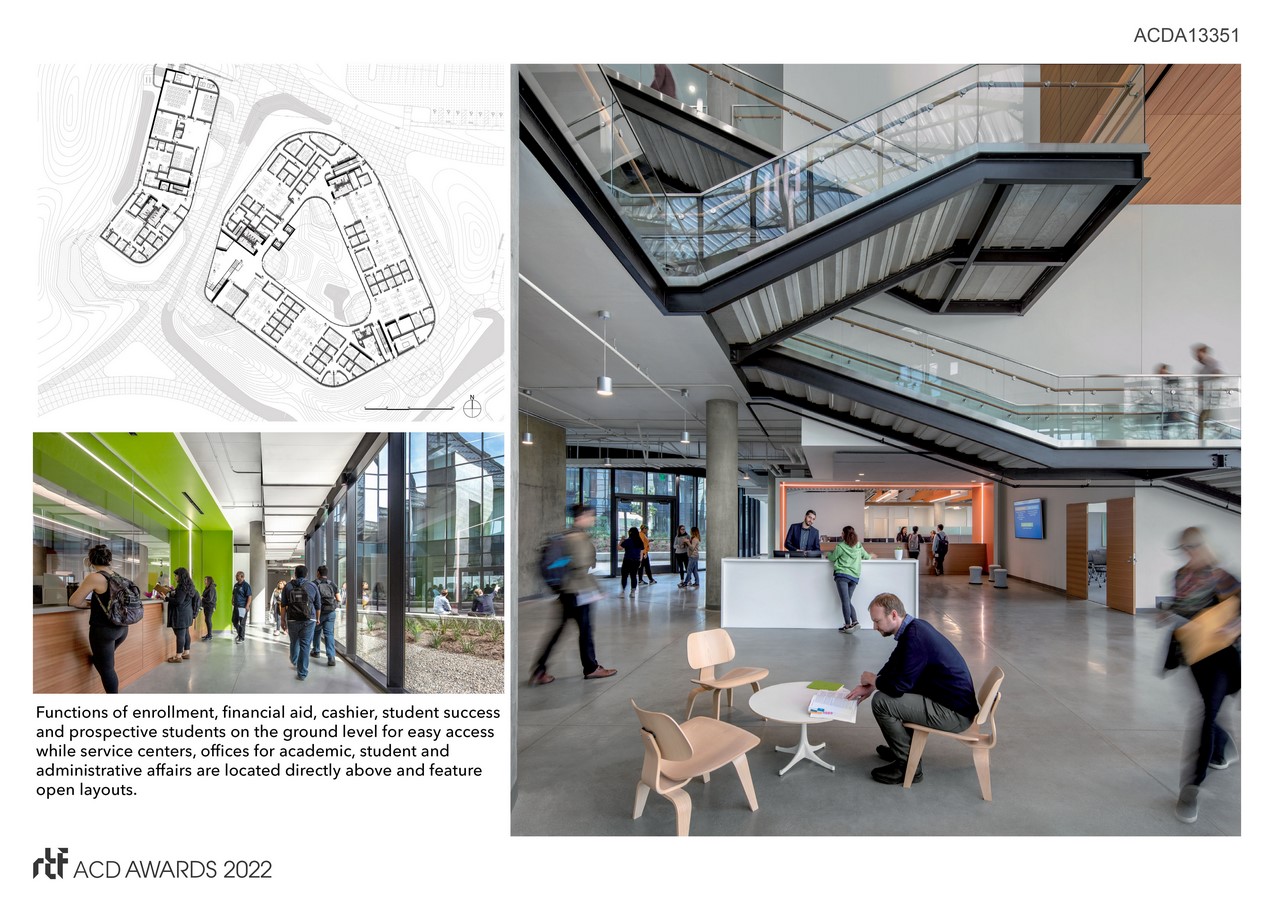 Functions of enrollment, financial aid, cashier and student success are located on the ground level. Offices for academic, student and administrative affairs are located above and feature open layouts, shared conference facilities, kitchens and break rooms to encourage collaboration across departments. The buildings are bisected by a central breezeway – or "street" – that continues a natural campus pedestrian path. The perforations in the canopy roof– combined with the deliberate shaping of the street – generate funnels that move air through the public space below, creating a pleasantly cool exterior space with ample seating for students, visitors and staff to enjoy.
The two-acre, curved aluminum roof serves as the main passive energy-performance driver. The standing seam assembly includes perforated overhangs that shelter the vertical enclosure and act as a shading device for the glazed areas filtering sunlight, maximizing daylight and minimizing glare. It achieves a complex, compound geometry with a modular panel system, connecting the project to its context and providing complete malleability to optimize solar exposure. Uniformity and life-cycle performance of the aluminum finish enhances the visual impact and provides the university with an assembly requiring no long-term maintenance. Conceptualization, documentation and fabrication of the metal roof solely used digital tools in a paperless delivery process. Individual panel geometry data was fed directly from the model into mobile, roll-forming machines on site, pre-fabricating all standing seam panels, saving time and creating zero waste.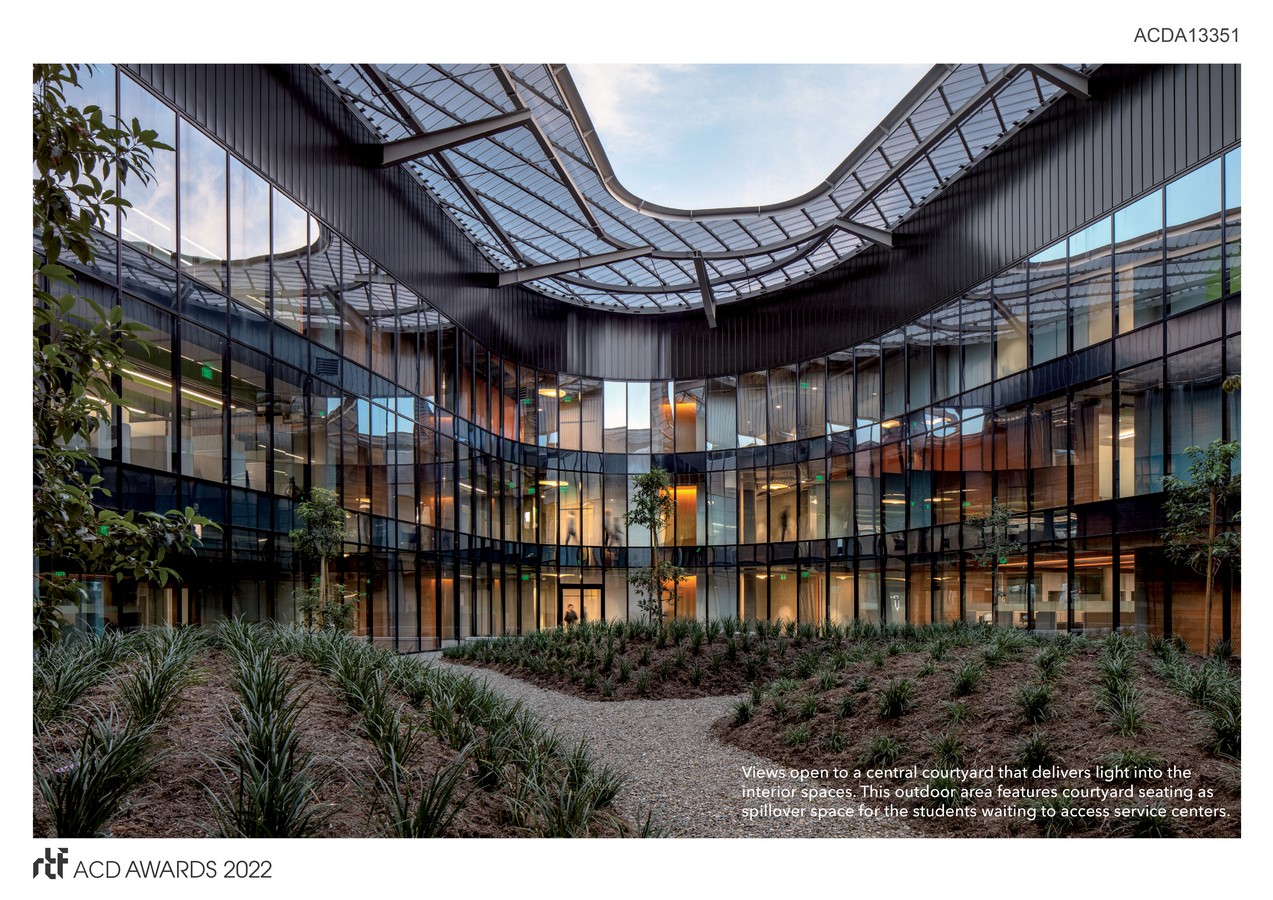 Adhering to a tight $60M budget set when this LEED-Platinum building was commissioned in 2010, the highly energy efficient, performance-driven design utilizes passive energy solutions to maximize the architectural experience for this state-funded institution.