Across the City's ever-growing five boroughs, there is a persistent need for comprehensive, adaptable affordable housing solutions in a variety of sizes and configurations. [Block Party] answers the call for affordable housing solutions for all New York residents regardless of borough, neighborhood, or site limitations, with a creative, as-of-right housing proposal that enriches neighborhoods, rather than gentrifying them.
Global Design & Architecture Design Awards 2019
First Award | Category: Private Residence (Built)
Studio: Dattner Architects
Architect: Vanessa Tom
Country: United States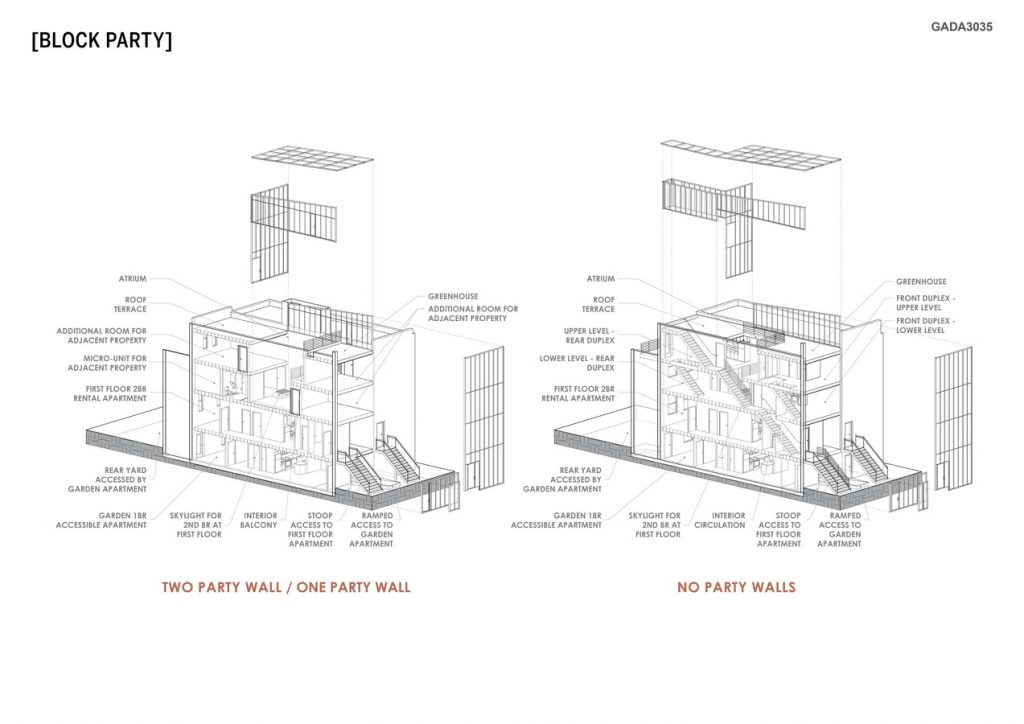 This proposal explores the redevelopment of narrow or awkward infill sites in NYC by taking advantage of the encroaching party walls on the site. A subject site was selected in Manhattan and encroaching party walls were utilized as the bearing walls of the building. Otherwise seen as a limitation, by utilizing these party walls, we were able to propose to take the necessary party wall agreement between neighbors a step further.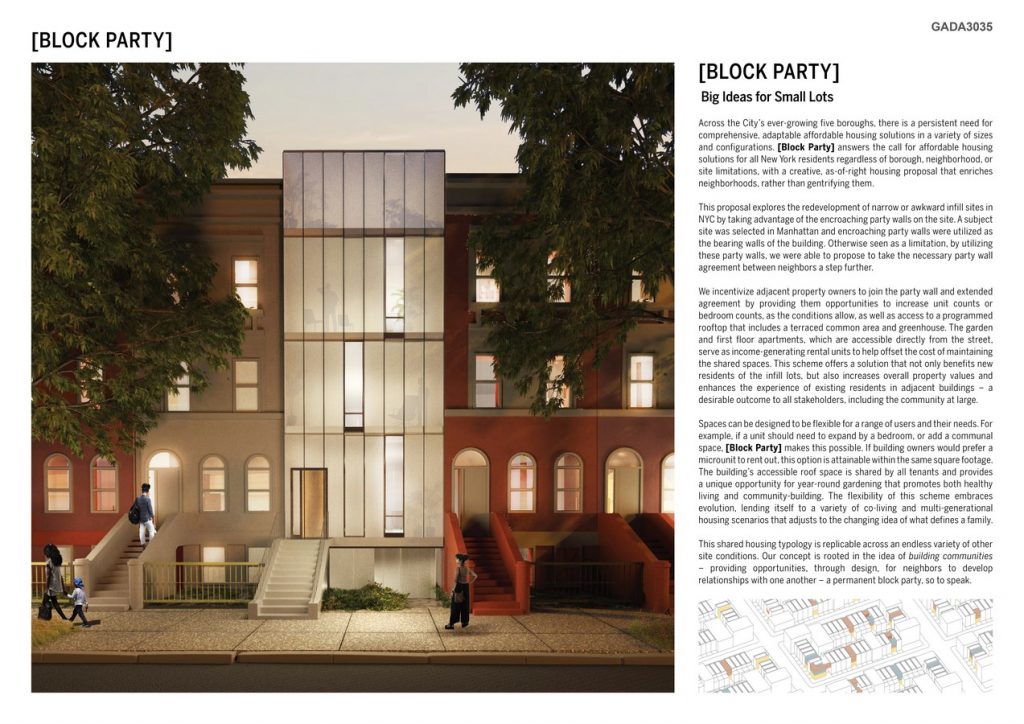 We incentivize adjacent property owners to join the party wall and extended agreement by providing them opportunities to increase unit counts or bedroom counts, as the conditions allow, as well as access to a programmed rooftop that includes a terraced common area and greenhouse. The garden and first floor apartments, which are accessible directly from the street, serve as income-generating rental units to help offset the cost of maintaining the shared spaces. This scheme offers a solution that not only benefits new residents of the infill lots, but also increases overall property values and enhances the experience of existing residents in adjacent buildings – a desirable outcome to all stakeholders, including the community at large.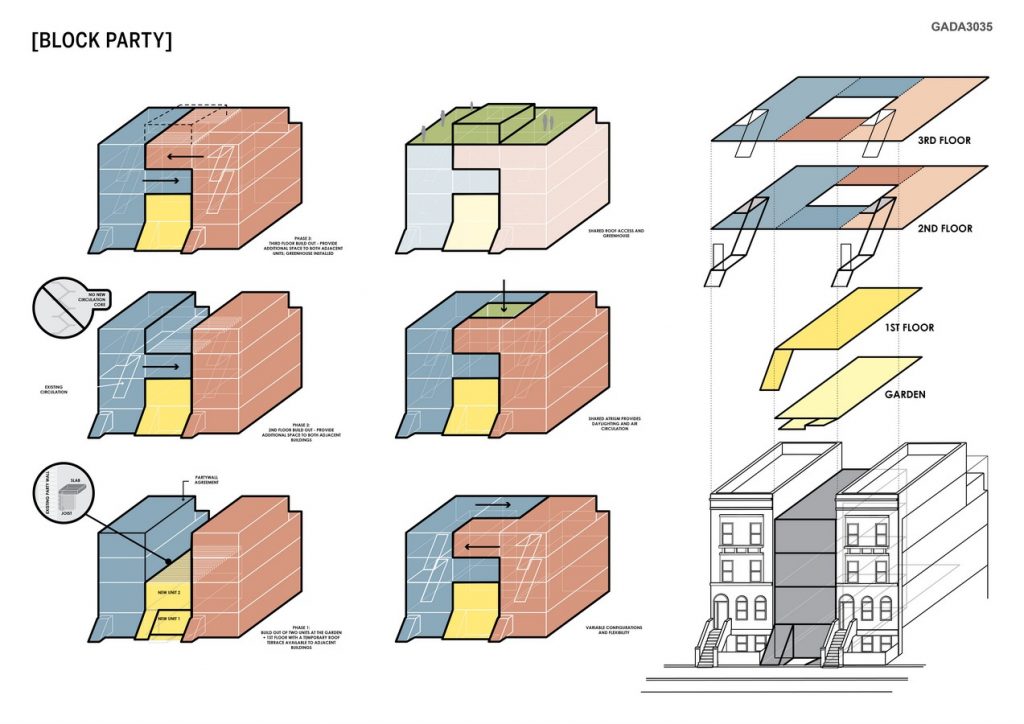 Spaces can be designed to be flexible for a range of users and their needs. For example, if a unit should need to expand by a bedroom, or add a communal space, [Block Party] makes this possible. If building owners would prefer a microunit to rent out, this option is attainable within the same square footage. The building's accessible roof space is shared by all tenants and provides a unique opportunity for year-round gardening that promotes both healthy living and community-building. The flexibility of this scheme embraces evolution, lending itself to a variety of co-living and multi-generational housing scenarios that adjusts to the changing idea of what defines a family.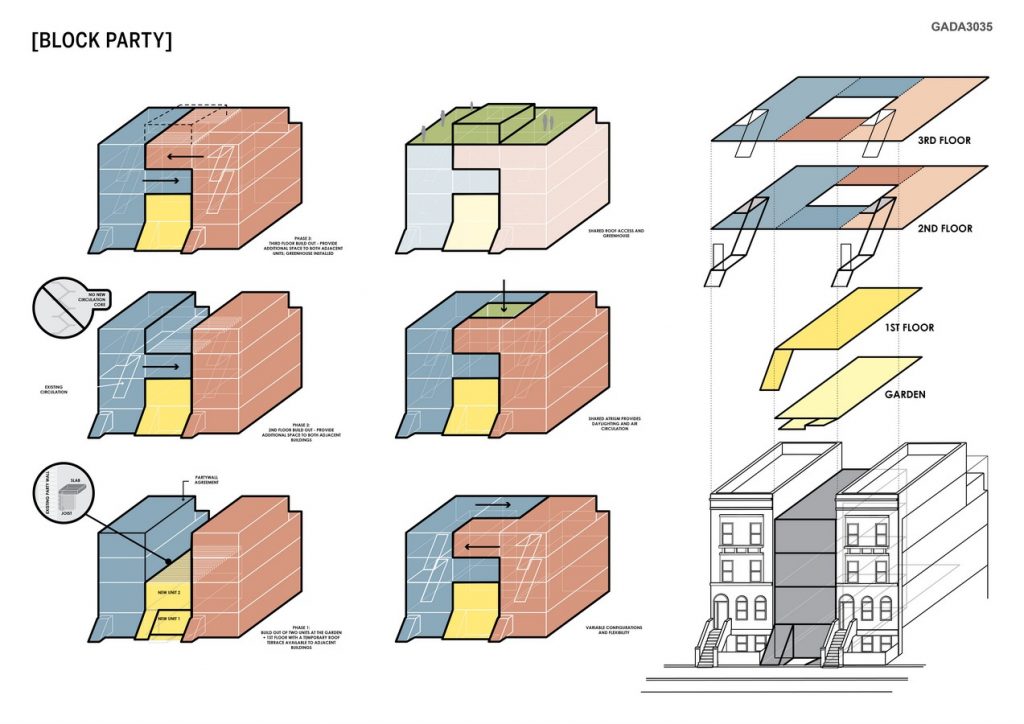 This shared housing typology is replicable across an endless variety of other site conditions. Our concept is rooted in the idea of building communities – providing opportunities, through design, for neighbors to develop relationships with one another – a permanent block party, so to speak.