The Mexico-Toluca train will connect the Toluca metropolitan area with Mexico City and will serve more than 300,000 passengers each day, although demand growth is expected to reach 500,000 daily users in 2047.
Architecture, Construction & Design Awards 2020
Third Award |  Transportation (Built)
Project Name: TOLUCA TRAIN / TRAIN STATION
Studio Name: SENER Ingenieria y sistemas  -TEN ARCHITECTS
Design Team:
ARCHITECTURAL DESIGN: SENER & TEN ARCHITECTS
ENRIQUE NORTEN (TEN ARCHITECTS)
JORGE TEJEDA    (SENER)
PELAYO SUAREZ  (SENER)
ARCHITECTURAL DESIGN TEAM
FERNANDO ALANIS
MELISSA FUKUMOTO
DANIEL VALDEZ
SENER Ingenieria y Sistemas
SARAHI BAUTISTA
CYNTHIA CHENA
SOFIA MORELOS
CLAUDIA ESCANDÓN
YOLANDA YÁÑEZ
FELIPE PEÑA
SAÚL RODRIGUEZ
JESUS PONCE
GERARDO CERVANTES
YESICA ORTEGA
DANIEL RODRIGUEZ
XAVIER GARCIA
STRUCTURAL DESIGN
CARLOS LLOPIS
MEP & TELECOM
GUSTAVO ANGELES
LUIS JUAREZ
JOSE GRIFALDO
HASSAN ALMAIMOUNI
Area: 10,435 M2 (Each Station) – 62,600 M2 (6 Above ground stations)
Year: 2014-2020
Location: Toluca and Ciudad de Mexico, MEXICO
Consultants: N/A
Photography Credits: Lorena Darquea
Other Credits: N/A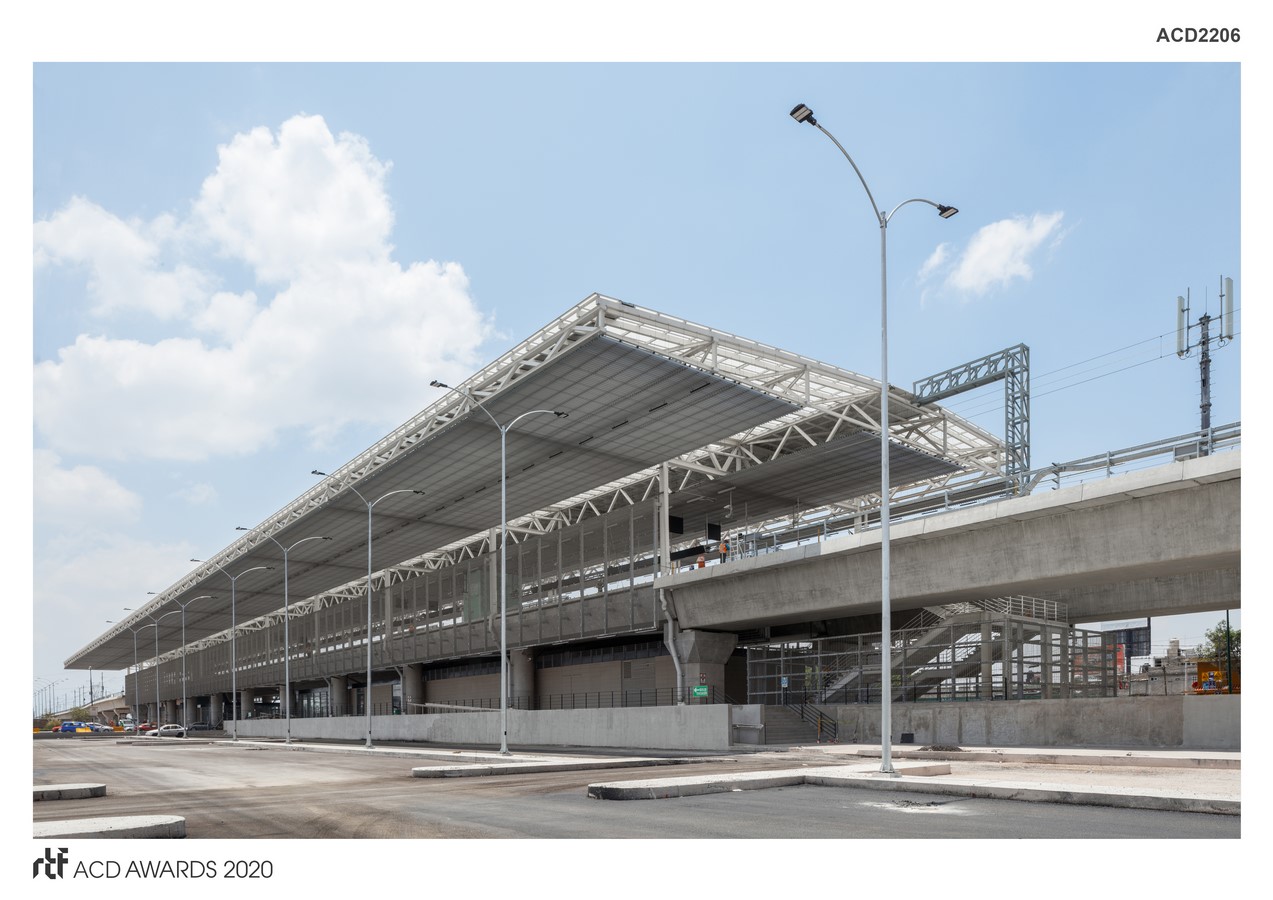 The new network has six above ground stations: Zinacantepec, Terminal de Autobuses, Metepec, Lerma,Santa Fe y Observatorio. It will have a route in which tunnels and viaducts account for 92 percent of the route. Throughout its 57.8 kilometers, there are 49 kilometers of viaducts in total, and a 4.7-kilometer bitube tunnel has been projected, connected with transversal galleries every 240 meters. The train will have a design speed of up to 160 kilometers per hour and a route time of 39 minutes, which represents a commercial speed of 90 kilometers per hour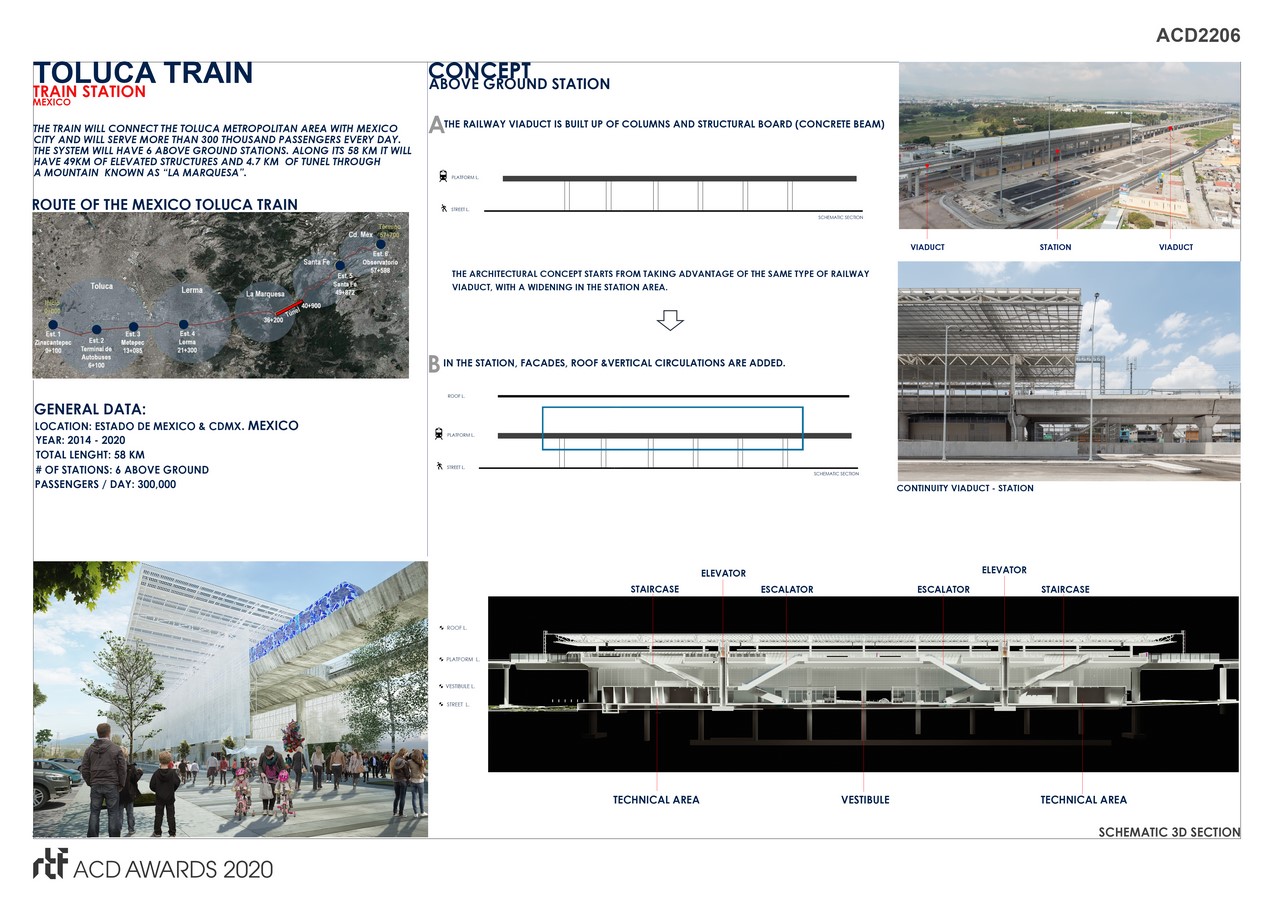 HIGHLIGHT IN THE DESIGN OF THE STATIONS
The stations were designedwith the same structural system of the viaduct, as a continuation of it (columns and supported viaduct) Only the structural board is widened to receive the platforms, facades and finishes.
Urbanistically the stations have a long and short stay parking adjacent to it, allowing users to leave their car and board the train. In addition, each of the stations are equipped with bus stops, with the Kiss and ride typology, to avoid accumulations of public service in the stations. The materials  (finishes) used are industrial, apparent concrete and galvanized metal elements.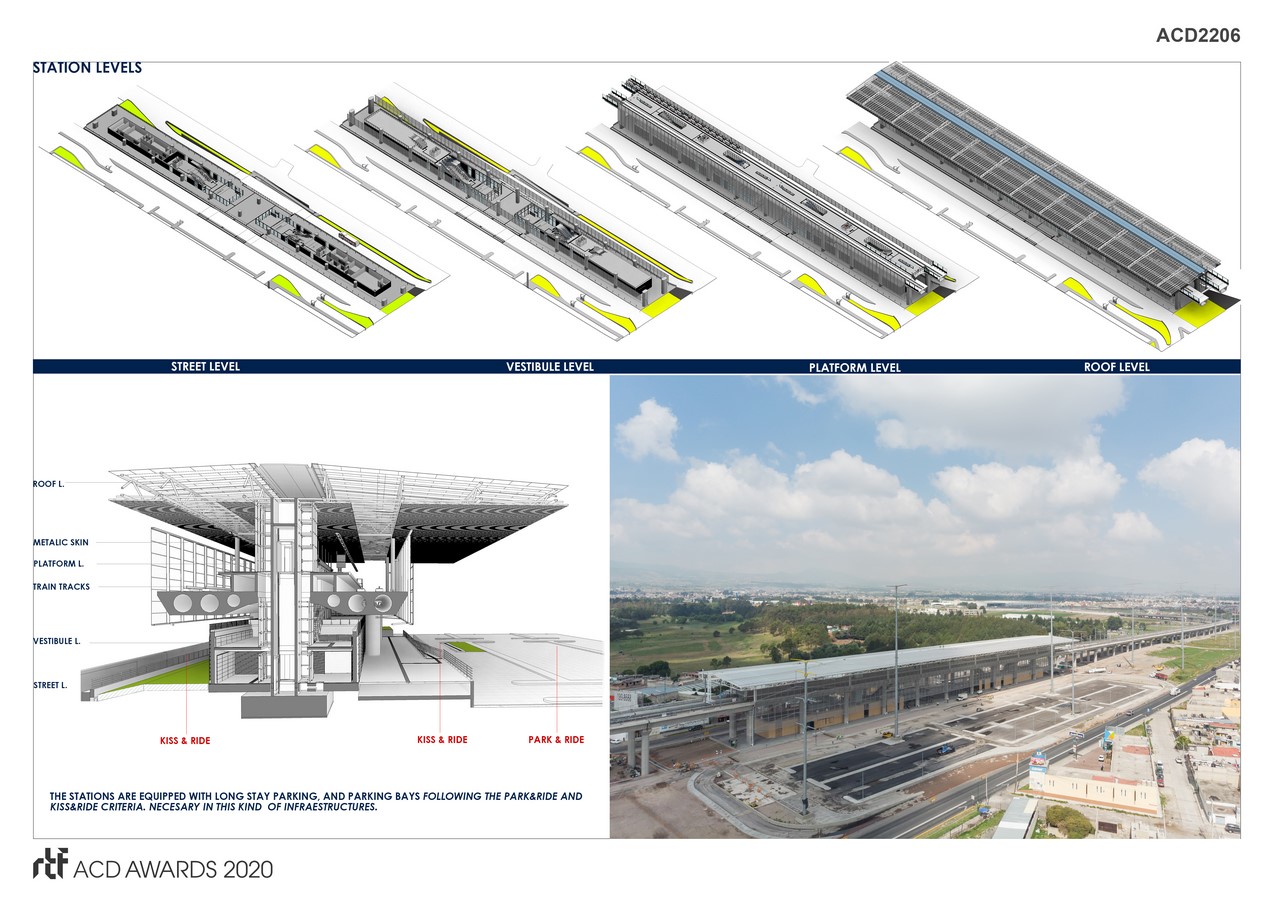 The station finishes were designed thinking of having a language similar to the high voltage towers located in Avenida las Torres. Also the color palet of these elements was taken as a criterion so that the materials were not so different in the seasons. (gray and metal)