The Al Wasl dome is the heart of Expo 2020 Dubai and the soul of the Legacy District. It shades, protects, and embraces the central public space and its users. As a public space, its function is to serve as a public convenor of conversation and experiences that can unite people. Al Wasl is not a programmable building; its purpose is to create opportunities for self-reflection and interaction among users.
Rethinking The Future Awards 2022
First Award | Cultural (Built)
Project Name: Al Wasl Plaza
Studio Name: Adrian Smith + Gordon Gill Architecture
Design Team: Gordon Gill, Design Partner
Area: 6,354 m2
Year: 2021
Location: Dubai, United Arab Emirates
Consultants:
e.construct LLC/The Fraser Nag Partnership: Architect of Record
Thornton Tomasetti: Structural Engineer
Klimaat: MicroClimate
Langan International: Civil Engineer
SWA:  Landscape
Obscura: Immersive Experience
OVI: Lighting
Crystal Fountains: Water Features
RLB: Cost Consulting
RWDI: Wind Studies
Hoare Lea: MEP Engineer
Altitude: Façade Access
Jensen Hughes Associates: Fire Life Safety
MIC: Crowd Modeling
Forcade: Wayfinding
Mediatech: Security and ICT
Tricon: Waste Management
Laing O'Rourke: General Contractor
Cimolai: Steel Manufacturer
Kinetica:  Projection Pod Manufacturer
Creative Technology: AV Integrator
Christie: Projector Manufacturer
Taiyo: Fabric Mesh Manufacture
Photography Credits: All drawings Adrian Smith + Gordon Gill Architecture; Professional Photography by Dubai Expo 2020 LLC and used with permission
Other Credits:
Client: Dubai Expo 2020 LLC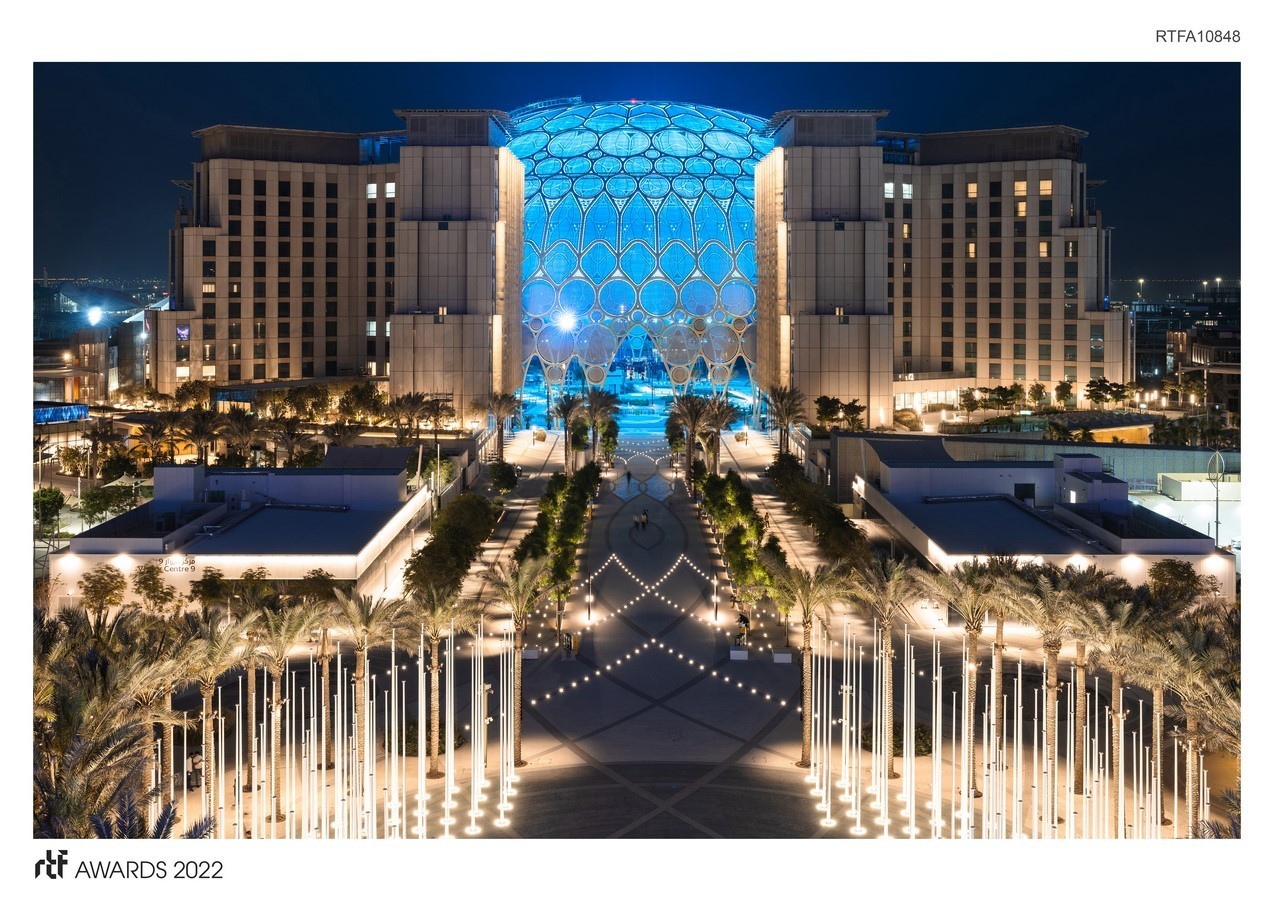 At 130m diameters at its base, the domed shade structure is an urban scale "room-for-living." Seven district streets converge toward the trellis with larger arched openings at the base. The user experience transforms from open environment to a protected space that is shaded and framed by the dome. Operating at an urban scale, the space offers Expo 2020 Dubai and the city of Dubai a new type of public venue.
The geometrical configuration of the dome structure is organized as a series of circular discs. Its distinctive crafted geometry was inspired by a 4000-year-old Bronze Age ring recently discovered in the Emirates. Along with the arched entryways at the base of the dome, the dome geometry embraces the opportunity of linking history with the future of Dubai and materializing its heritage into a more contemporary language.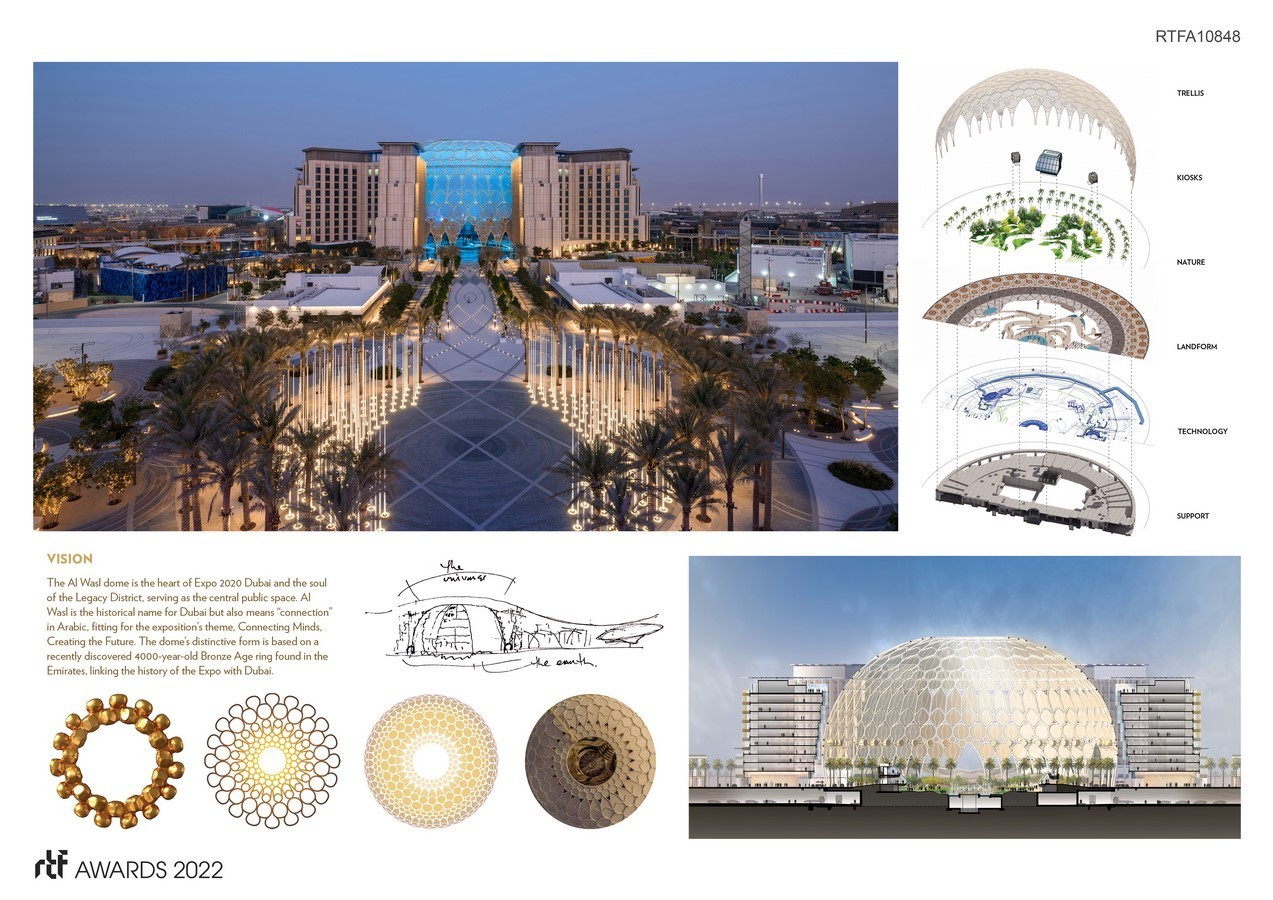 The project seeks to maximize the positive impact of the public space by extending its use past daylight hours. The space is a cultural and educational platform after dusk and throughout the night. The same fabric whose day-function it is to provide shade takes on a new vibrant role after dusk as the projection screen for a 360-degree immersive experience. The curated content is capable of transporting visitors through time and space. Education, inspiration, joy, and wonder are all qualitative aspects of the experience.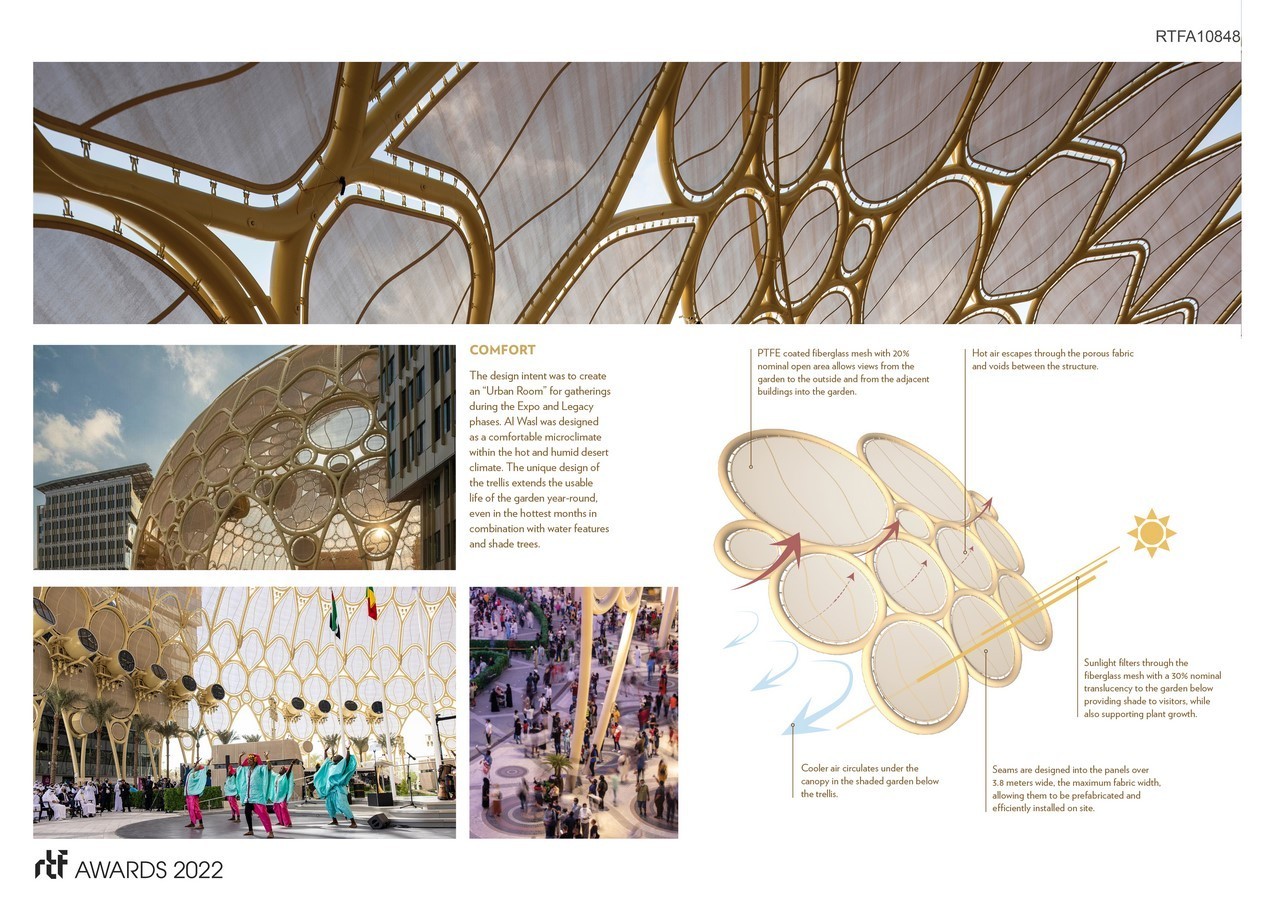 Even though the immersive experience is designed to be achieved from within the Al Wasl dome, its impact and reach was designed to go well beyond its site boundaries. During the night, the vibrant fabric skin of the dome transmits its projected content to the outside reaching far into the districts. Its light and ethereal materiality acts as an inviting lantern to capture and engage the community into the evening.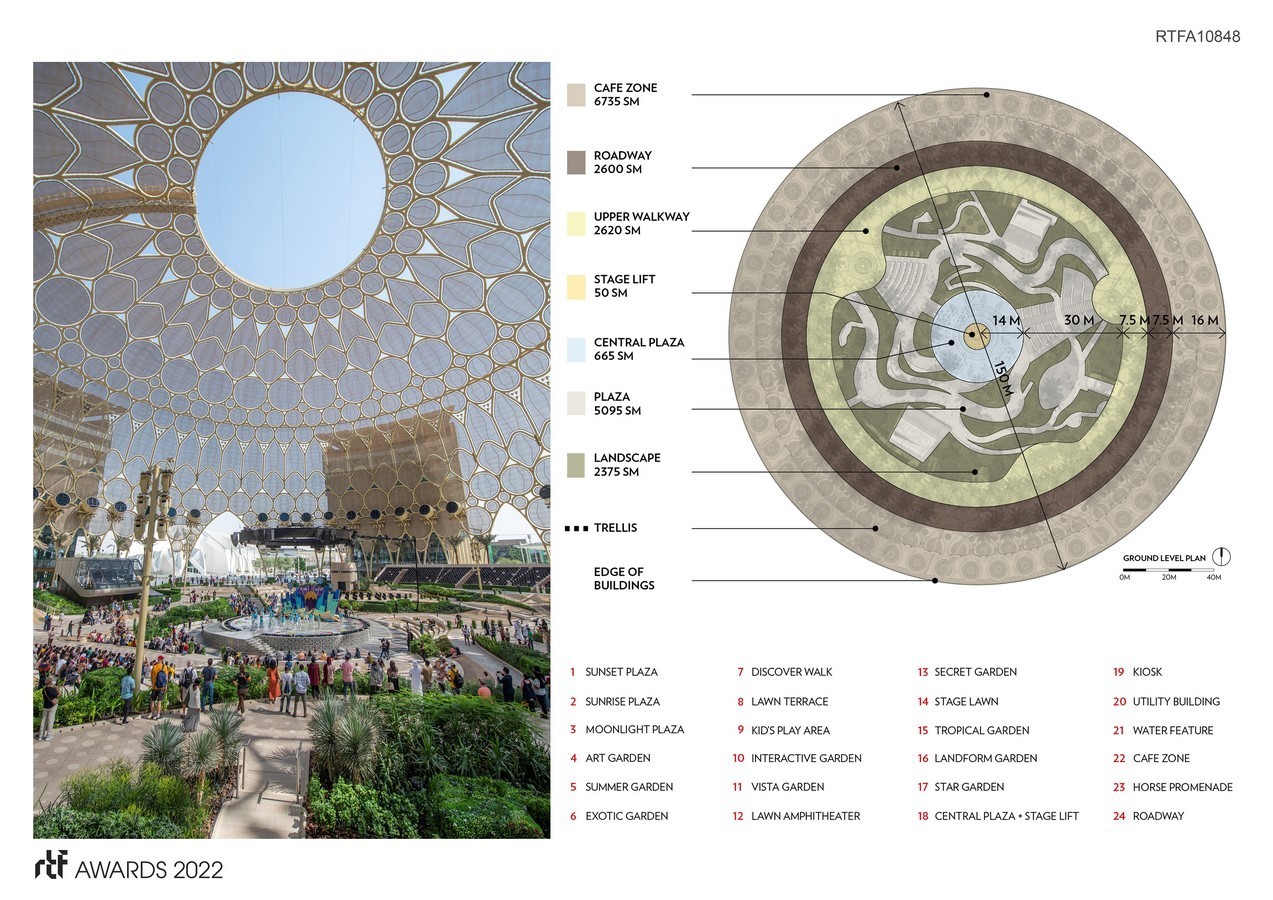 Al Wasl Plaza's design allows a variety of activities of different type and scales from small scale artistic performances to larger scale musical or theatrical productions. Beneath the central stage of Al Wasl is a back-of-house program of mechanical and support spaces including green rooms for actors, tunnels for vehicles that access each adjacent parcel, as well as the basements of the adjacent buildings.
The scale and rich detail of the Al Wasl dome provides a cultural reference for its district and its city. Its natural environment promotes an urgent re-encounter with nature. Its technology enhancements offer possibilities to reach limitless potential for communication, education, and cultural experiences. With its distinguishable features, the Al Wasl dome provides a culturally, environmentally, and timely sense of space for the local community to enjoy and embrace with a global outreach.